Who is Brad Stone?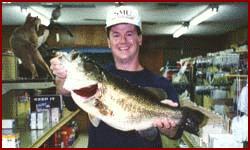 Well, I'm a 50-something year old kid who never quite grew up. I'm single, but still looking for that special gal. I was born and raised in Dallas, TX and work as a Visual Basic programmer for a small software company. I attended SMU here in Dallas during the late 80's and received a math degree in 1989. I adore animals, especially
my cats
. My friend, Nancy, and I have rescued numerous cats and dogs off the streets of Dallas and found them good, loving homes. I spend much of my time outside of work either camping in the deep woods of East Texas (i.e. at Brushy Land) or bass fishing at Lake Fork, TX.
Here's
a photo gallery of some bass I've caught (and released alive). There's not many things I'd rather do than hop in my bass boat and cruise across Lake Fork to my favorite honey hole - especially at night! I practice catch and release fishing, and I host a
bass tournament
each Spring at Lake Fork.
I also enjoy hosting an annual
Crawfish Boil
and an annual
Oktoberfest party
in my backyard. Oh, and I love riding my Honda XR400 dirt bike as often as possible - especially in the
Rocky Mountains
.

Return to my home page