Brushyland May 11, 2007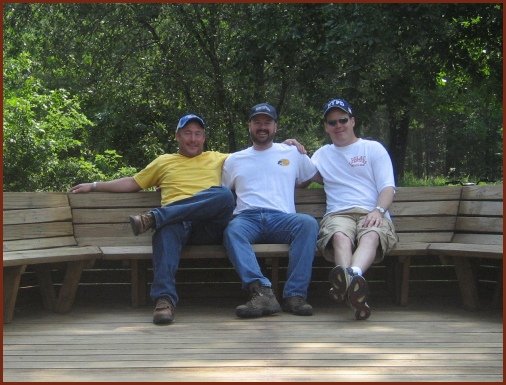 I met my old (and I do mean
old
) buddies, Jeff Cotten & Steve Cox, at Brushyland for a day-trip on a heckuva beautiful Spring day. This was the first time in several years that Jeff & I had seen Steve. The three of us were very close back in the day. Steve used to camp with us at Brushyland a lot during high school and college, but he had not been back to the land in nearly 20 years! So it was great having him out there again. The three of us had a ball riding 4-wheelers, shootin' skeet and remembering old times.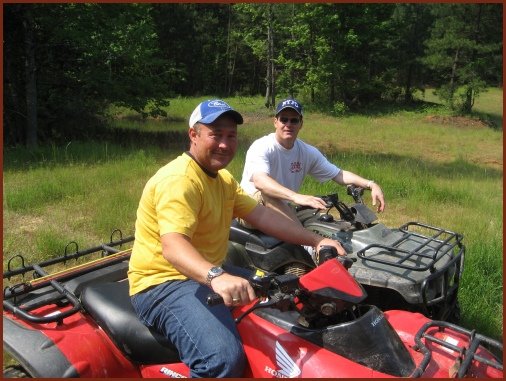 It was a little warm outside for me to try to kick-start three dirt bikes, so we rode 4-wheelers instead. You gotta love that electric start. Oh I still love riding my dirt bike, but now that I'm 41 years old I notice that I have an 80 degree max air temperature limit for kick-starting bikes :) I took the above picture of Steve and Jeff down near the pond site.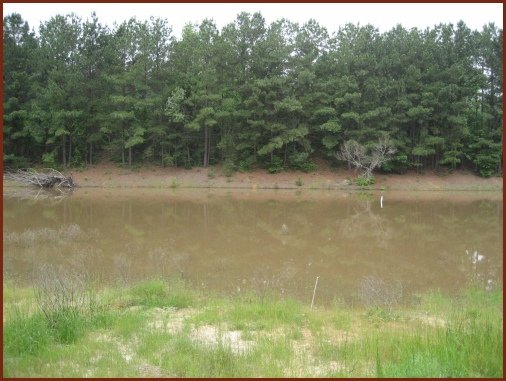 Speaking of the pond - heavy rains dumped nearly three vertical feet into it since two weeks ago. The deepest part of the pond is now nearly eight feet deep. Unfortunately, it will most likely continue to seep out at roughly one foot per month. From what we can tell over the past several months, it doesn't appear that our efforts to
seal the pond
with Sodium Bentonite clay worked.

Steve is working the skeet thrower as Jeff takes aim. All three of us shot very well that day. Jeff & I tied and Steve nudged us both out by one shot. One measley shot. Gee, do you think Steve gloated over his win? I'll get you next time Cox!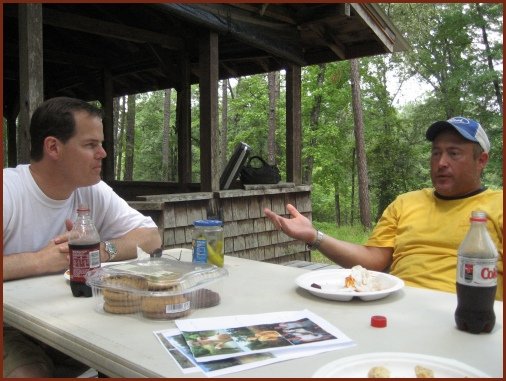 Steve appears to be explaining something profound to Jeff after lunch. Naa, can't be. I cooked us up some chili dogs for lunch. Pretty simple - but quite good. You would not have believed the number of Kosher Dill pickles Jeff packed away. Goodness, it had to be some sort of record. Take a breath son. I also busted out some old pictures of us at Brushyland from 1986 (on table). Hard to believe that's been twenty-one years ago.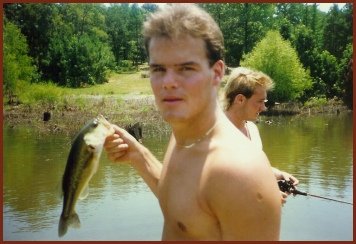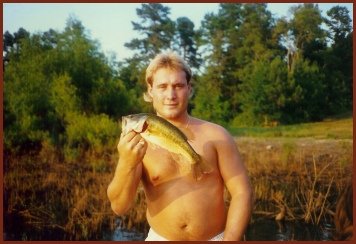 Speaking of Jeff & Steve in 1986, here they are fishing Brushyland's pond when it temporarily held the water we pumped into it.

Return to my home page