Brushy Land
March 14-15, 2009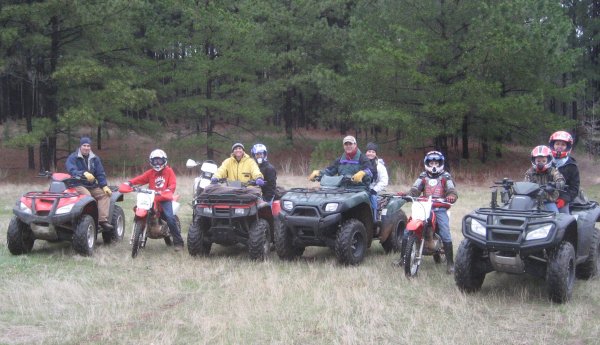 Thirteen folks visited Brushy Land for a late Winter weekend in the woods. It had been cold and rainy for the previous four days but the weather broke just in time for the weekend. Temperatures were chilly but not too cold, and the rain stayed away. Nice. The usual suspects were there: me, Dad, Chuck, Bo, Jeff, David, Teresa, Steven and Margaret. And we had some first-timers too: David's cousin, Greg, came out with his wife Shelli and their two kids Peyton and Parker. A fun group to be sure.
From left to right: David, Bo, Teresa & Margaret, Greg & Peyton, Steven, Parker & Shelli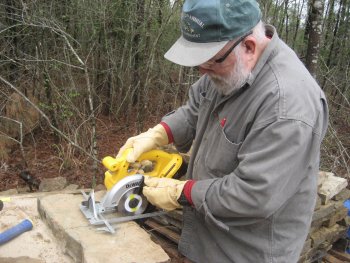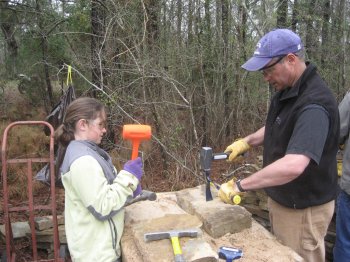 We didn't get a lot of work done on our
front entrance project
but we did manage to break a few rocks for the columns. In the left picture, Dad is scoring a rock with a DeWalt saw. We learned that scoring the rock with a hammer and chisel works just as well - if not better. In the right picture, David and Margaret try to break a rock so that it has a nice corner.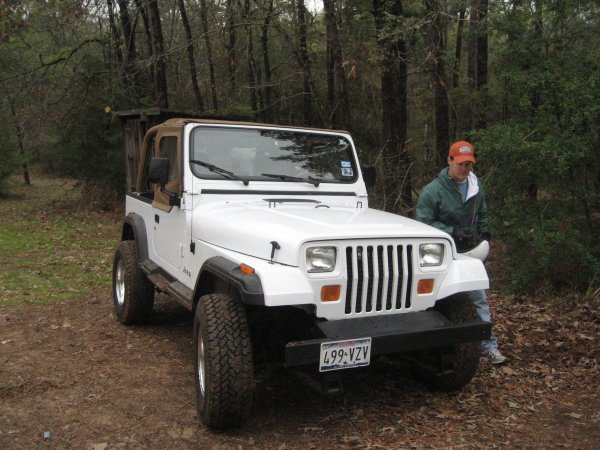 Jeff showed up in his cool Jeep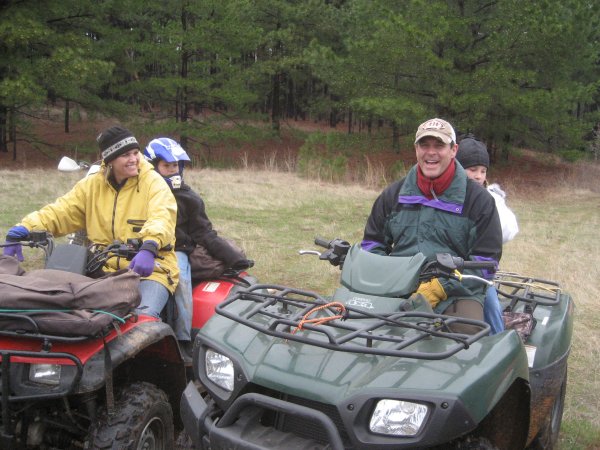 Relaxin on the 4-wheelers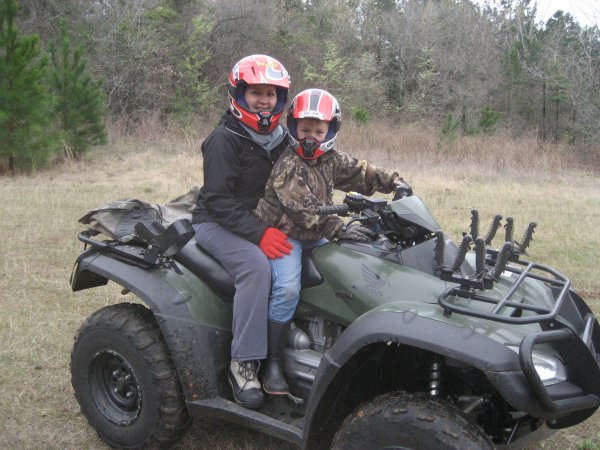 Shelli & Parker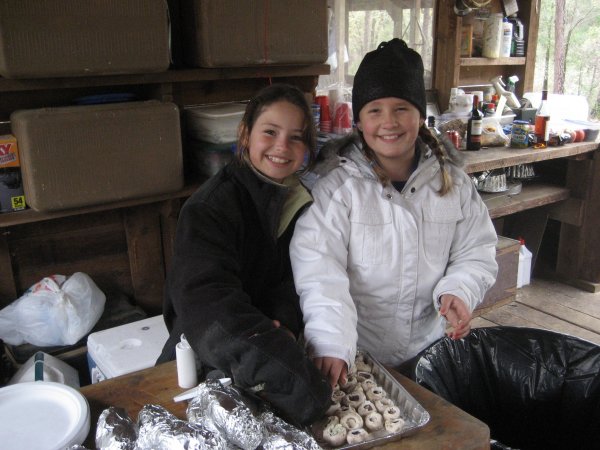 Margaret & Peyton helped me prepare the sautéed mushroom appetizer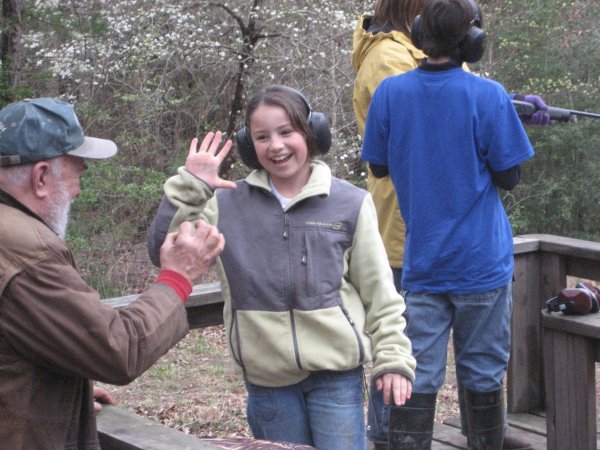 Margaret after shooting really well on The Shotgun Platform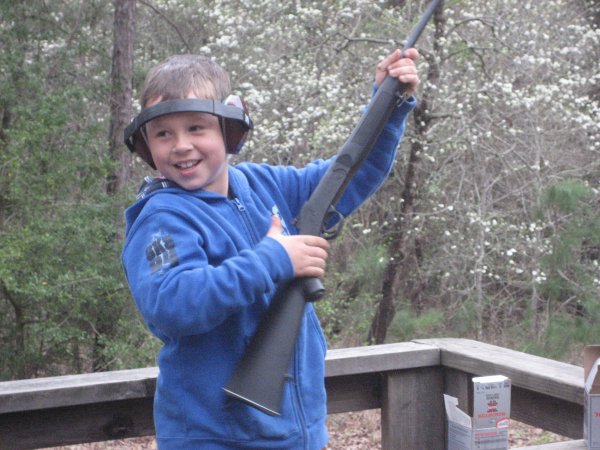 Parker with his 410 shotgun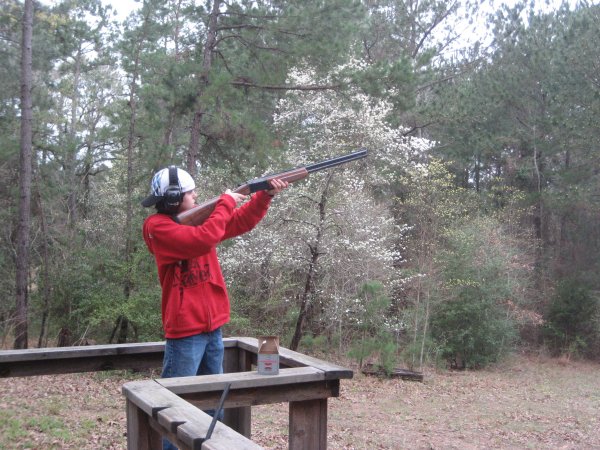 Steven shooting clay pigeons with a 20 gauge shotgun. Check out this video of Steven shooting my dad's .44 Henry replica into a Tannerite exploding target.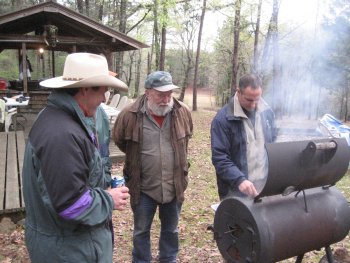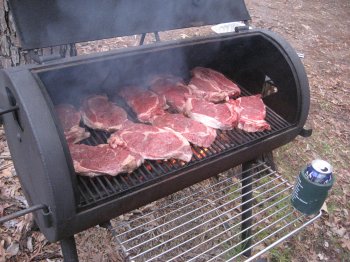 David did a great job with the steaks again. The baked potatoes, baked onions, and cobbler were all delicious too.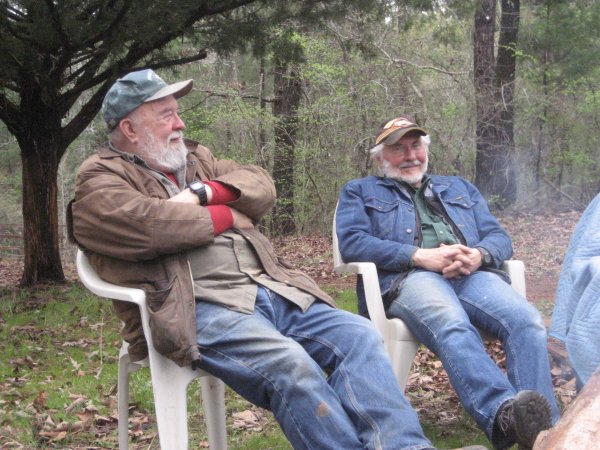 Dan & Chuck doing some pre-dinner campfire sittin'

Steven found a new use for an old piece of PVC pipe: pole-vaulting over firewood. He was quite good at it. Unfortunately his left knee caught the top of the woodpile on this particular attempt and he took a pretty good spill. But he shook it off and was soon back at it. Most of us would have been laid up for the rest of the weekend. Oh, to be young again.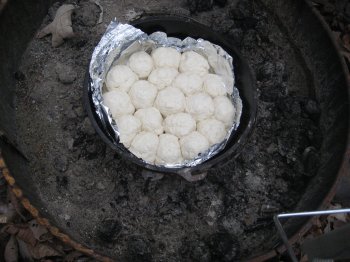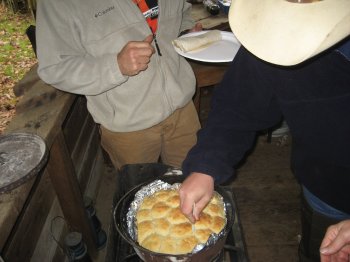 For breakfast, Greg whipped up some biscuit batter from scratch and then he & David cooked them the hard way: in a Dutch Oven over coals. And they turned out heavenly.
Very
impressive!

Windows Media Player Video Clips
If these clips won't play, you may need the most recent version of the Windows Media Player. Click
here
for the free version.

Steven shooting a Tannerite exploding target

Dan shooting a Tannerite exploding target

Steven, Bo & Parker using a PVC pipe as a catapult

The kids using PVC pipe for pole-vaulting

Greg & David cooking biscuits in a Dutch Oven

David & Steven riding the tough route up "The Widow Maker"

Return to my home page