Brushyland Improvements
Winter 2004/2005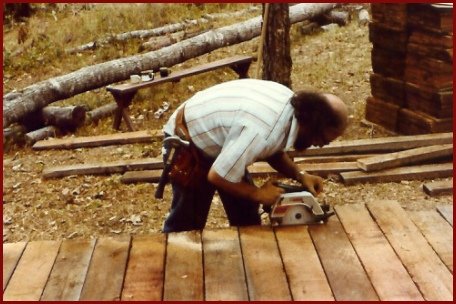 Dan Stone, Fall 1979

It's hard to believe that it's been 25 years since we built The Compound area. I was only 13 at the time - dad was only 40. We built nearly everything out of rough-cut cedar boards. Cedar has a certain outdoorsy look and feel that we love. Plus, it is naturally bug resistant - without having to periodically treat it. The boards lasted very well - the ones under the roof lines are still in near mint condition. But the ones out in the weather had weakened significantly. So dad and I decided to replace two large decks - one in front of The Lodge and one behind it. It took 5 or 6 Saturdays to complete, but it sure was a heck of a lot of fun working with dad in the deep woods of East Texas.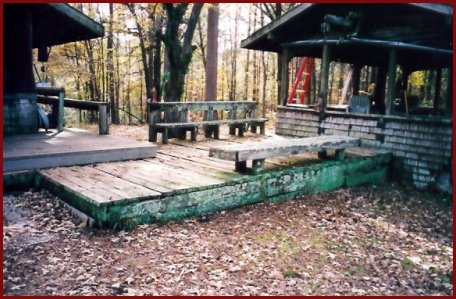 Our starting point. Those boards were so weak, you could almost step through them.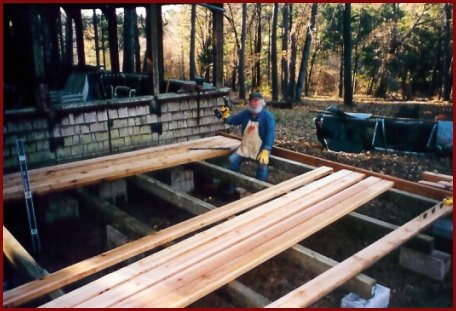 The weather for almost all of this project was near perfect. Cool, clear days with the occasional majestic red-tailed hawk circling above for added grandeur. Good times. Like before, we used cedar boards for the flooring, but this time we used treated pine posts under the floor for support. Pine is much cheaper than cedar, and it will probably last about as long as cedar.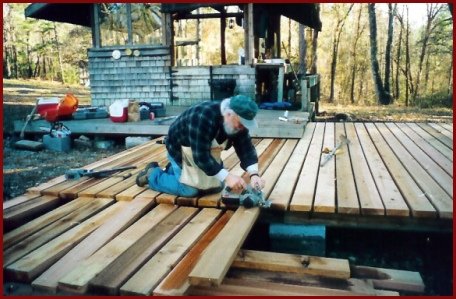 Dad is using his 19.5 Volt Porter Cable cordless skill saw as we near completion of the front deck. Our cordless power tools made re-building these decks much easier than when we originally built them in 1979. The cordless drills (used as screwdrivers) are worth their weight in gold. I guess the toughest part of this project was carefully positioning the heavy concrete pads which support the decks. Those pads need to be very level and each pad-column has to be the exact same height. It takes a lot of digging and a lot of repositioning.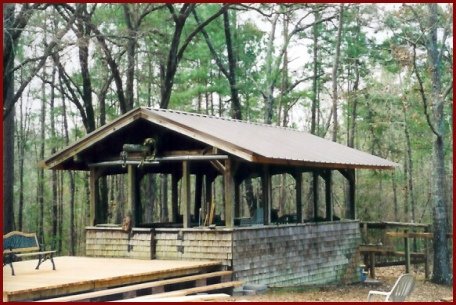 Here's a shot of the finished front deck - including our new steps. We built the steps out of 2x12 cedar boards and screwed the boards into very heavy concrete pads. We added similar steps to the back side of this deck too. Also, notice the new metal roof. We hired some locals to install brown metal roofs on The Kitchen and on The Lodge. While I prefer the look of our original cedar shingle roofs, they were deteriorating badly and were a bit of a fire hazard. To my surprise, the new metal roofs ended up looking pretty good.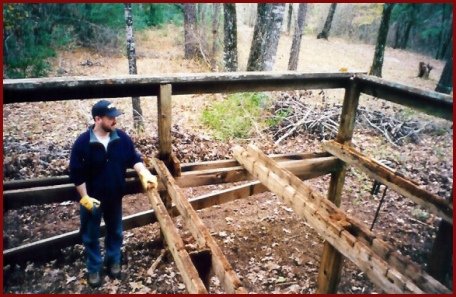 After we ripped the old floor boards from the back deck we discovered that the support beams were not as badly deteriorated as the ones under the front deck. So we left many of them in place and simply reinforced them with new treated pine.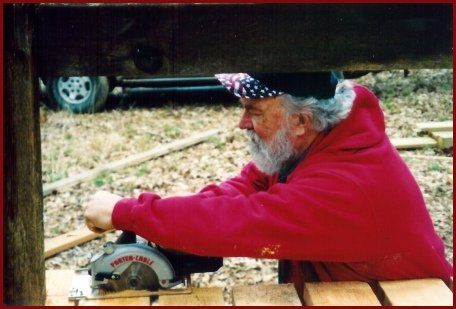 Dad sawing on the back deck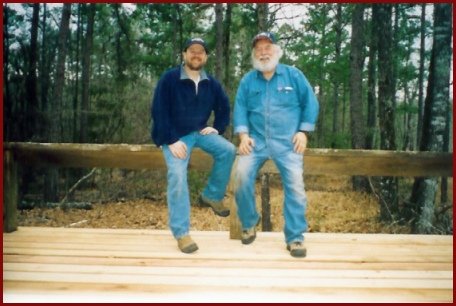 Brad & Dan upon completion of the back deck

Return to my home page