Dad's 70th Birthday Party
September 5, 2009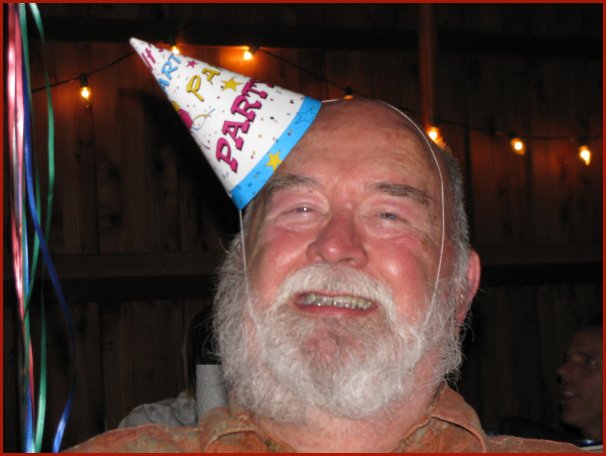 Over 70 friends & family showed up at my house to celebrate my father's 70th birthday. And what a party it was! It was a little warm in my back yard, but it could have been much worse. And the much forecasted rain never materialized. Good weather, good food, good friends.
A few week after this party, Dad handed me a speech that he had written for the occasion but never read. I thought it was a pretty good speech.
Here
it is.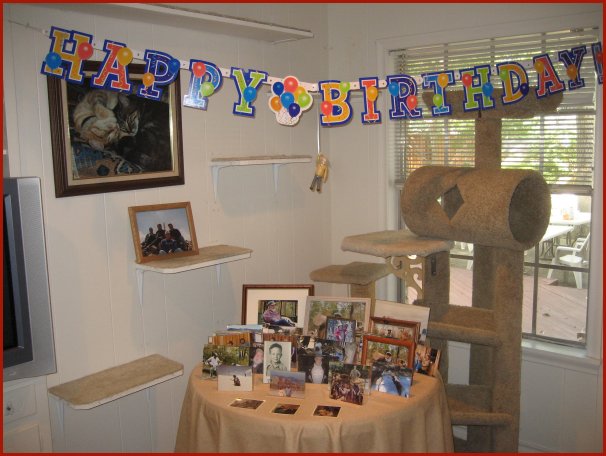 The Dan Stone Shrine
. I displayed a couple of dozen pictures of Dad in my den. That's an Einstein doll hanging from his hand under the Happy Birthday banner (for those that don't know, Dad loves math & science). I also played a video that I made for Dad ten years ago for his 60th birthday party. The video contains many still photos as well as video clips from his life. It still holds up.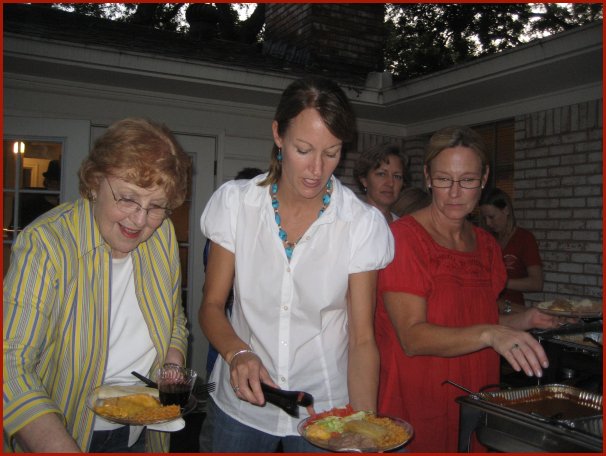 I had Blue Goose Mexican restaurant cater the party. The food was quite good - their soft cheese tacos are to die for. And the caterers (Marcus & Rian) were nice as could be.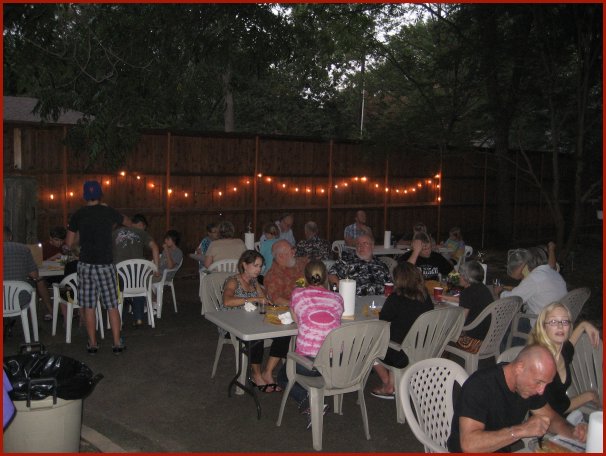 Chow time. There were also a few tables set up in my grass.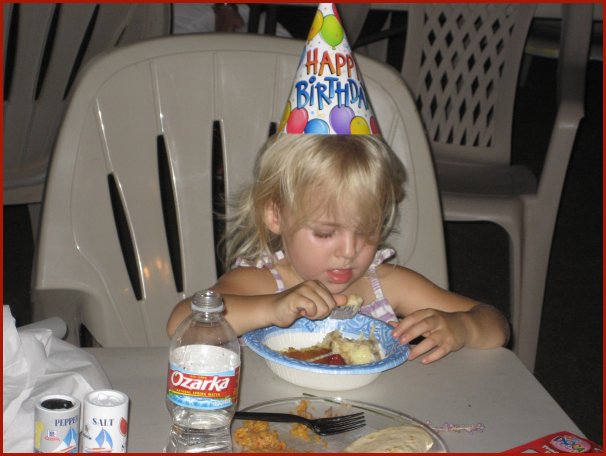 Mmmm...dessert! Debbie Speck made her famous cheesecake (actually
two
cheesecakes - plain and coconut). They were heavenly of course. Billie Hale made her equally famous lemon pound cake (again,
two
of them). And Laurel Dowd brought a delicious cake too! Very nice!!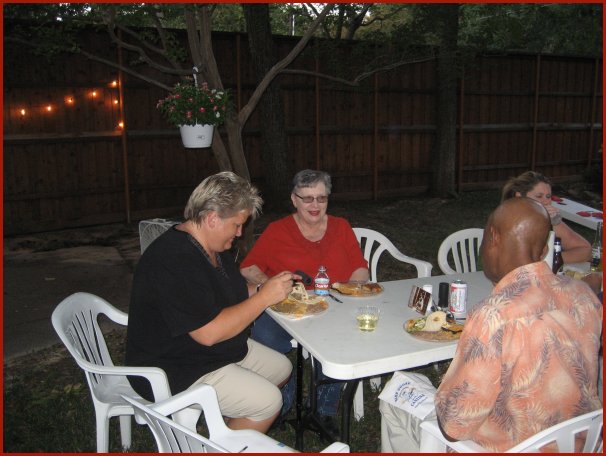 It was nice seeing Dad's sister Joyce (red shirt) there.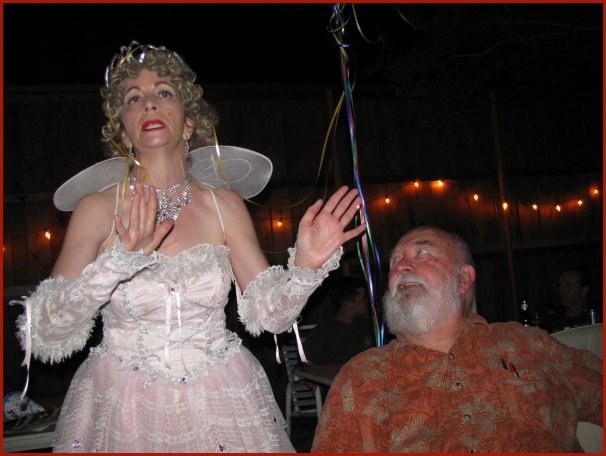 One of Dad's friends couldn't make the party, so she hired a fairy to come instead! It was hilarious. Here's a video of her singing to Dad.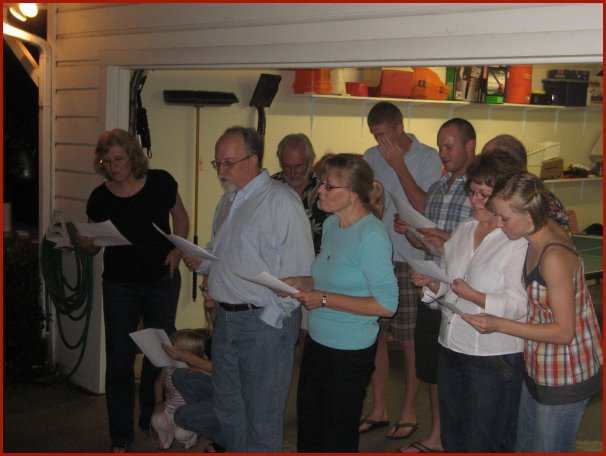 After the fairy finished singing, I gave a short toast and then several of Dad's friends sung him a song to the tune of On The Road Again. Nancy wrote the lyrics of course. It was very cute.
Here's
a video of their performance.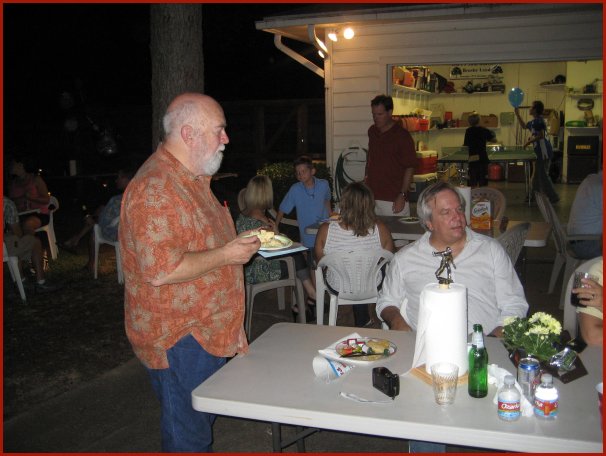 Dad was pretty much a social butterfly that night.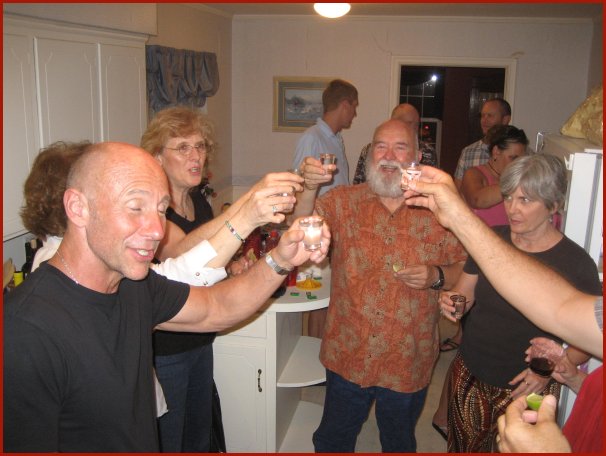 It's not a party until folks start doing tequila shots!

Windows Media Player Video Clips
If these clips won't play, you may need the most recent version of the Windows Media Player. Click
here
for the free version.

"The Fairy" serenading Dad

Dad's friends serenading him

Return to my home page