Father's Day 2002 Trip


Dad and I took a neat trip to the Texas Hill Country over Father's Day Weekend 2002. Amazingly there was a cool front that reached all the way down to our final destination, the Luckenbach/Fredricksburg area. So we had wonderful travelling weather - especially for mid June in Texas.

We left on Saturday morning around 9am and returned Sunday afternoon around 3pm. In those 30 hours we put 650 miles on my truck and experienced some wonderful places and people in Texas. Most of these little gems were far off the beaten path to say the least but well worth the effort to get to. I put some links in the text below for more information on the places we visited - just incase some of you end up wanting to visit them too.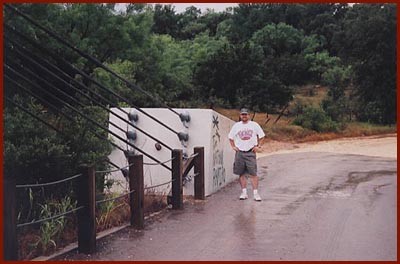 Our first stop was at the "Regency Suspension Bridge". Dad had visited it before and really wanted me to see it. This sucker was well off the beaten path, but worth the trip. We drove many miles down a dirt road in fairly thick forests and then...bang!...we were suddenly driving over this really cool suspension bridge that spans the Colorado River (no, this isn't the same Colorado River that formed the Grand Canyon). It's fairly rare to have a suspension bridge built for an old dirt road. Only in Texas!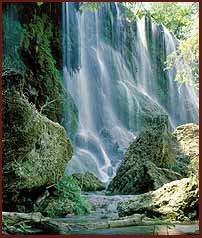 We next headed down to the Gorman Falls - often called the prettiest spot in Texas! The Gorman Falls are located in the Colorado Bend State Park west of Lampasas. To get to the park we again drove many miles on a small dirt road which wound through the pretty hills and forests of central Texas. Dad had never seen the falls so it was going to be new to both of us. It turns out that to get to the falls you park your car and walk a mile or so with park rangers. But because it was lightly raining they weren't doing the hike that day. Rats. So we never actually got to see the falls! I found the above picture of the Gorman Falls on the web.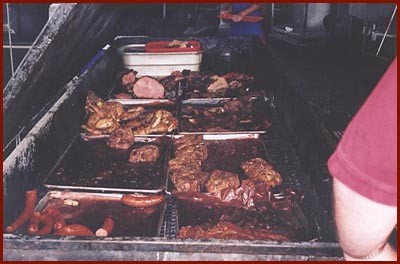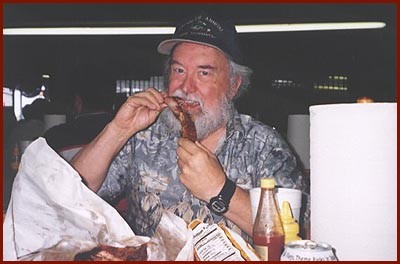 After missing the Gorman Falls, we drove down to Llano for lunch at the world famous, Cooper's Barbeque . It was heavenly. Wonderful ribs and brisket - my mouth is watering just thinking about it.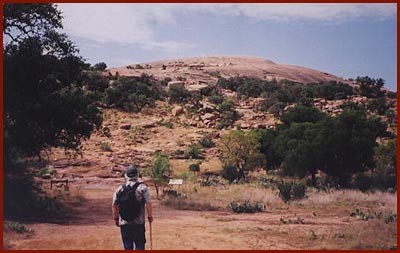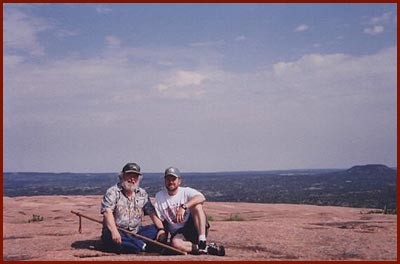 Amazingly, Dad and I managed to hike up Enchanted Rock after eating several pounds of beef at Cooper's. Enchanted Rock is a giant mound of granite - 95% of which is still underground! It used to be completely underground until it was pushed upward about one billion years ago, causing a small portion (1,800 feet) of it's top to be exposed above ground. Interestingly enough, the top of the rock was still not truly exposed because it was under the ocean until the ocean retreated around 100 million years ago exposing the rock and all of southern Texas for the dinosaurs to see. It takes about 30 minutes to hike the 1,800 feet to the very top. Famed Texas Ranger, Jack Hays single handedly fought off 100 Commanches while holding his ground at the top of Enchanted Rock back in 1841.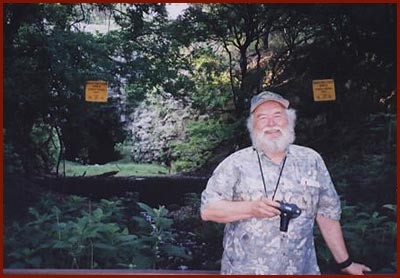 We next headed down to the Luckenbach/Fredericksburg area. I love that part of Texas! The above picture of Dad was taken near an abandoned train tunnel that now houses tens of thousands of bats and is an official Texas Parks and Wildlife Management Area. It's located near Bankersmith, home to my friend Maggie Montgomery who told me about it last year. Thanks Maggie! Each week several hundred people come watch the bats swarm out of the tunnel at dusk. There are several nice viewing areas with wooden benches and hand rails. Dad and I had a hoot talking with an older Texas Parks & Wildlife Ranger at the main tourist site above the tunnel. That guy was a real gem.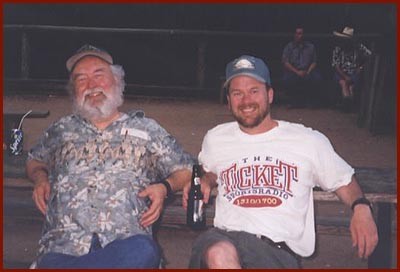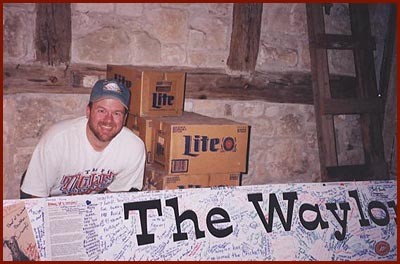 After the bat tunnel, Dad and I drove down several tiny hill-country roads to get over to Luckenbach. What a pleasant drive. Man, I love those old roads. Dad and I had a beer in Luckenbach and listened to some wonderful local guitar pickin' and singin'. Because it had rained earlier in the day, they had taken down the "Waylon Wall" - a tribute wall the folks in Luckenbach constructed just after Waylon Jennings' death. But I managed to convince a nice fellow to unlock a nearby shed so we could see it. Very cool!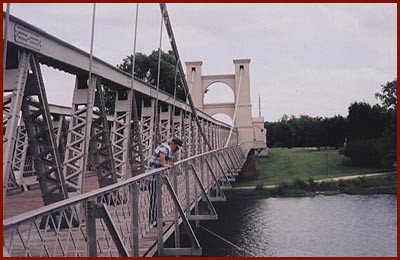 Dad and I spent the night in Fredericksburg and then headed home the next morning. We took a round about way back to Dallas, of course. Eventually we ended up in Waco and visited the Texas Rangers' Museum and the above "Waco Suspension Bridge" built in 1866 to span the Brazos River. Both were definitely worth seeing.




Yep, that was a fun 30 hours! Thanks for some great memories Dad...

Return to my home page