Lake El Salto, Mexico
May 5-9, 2006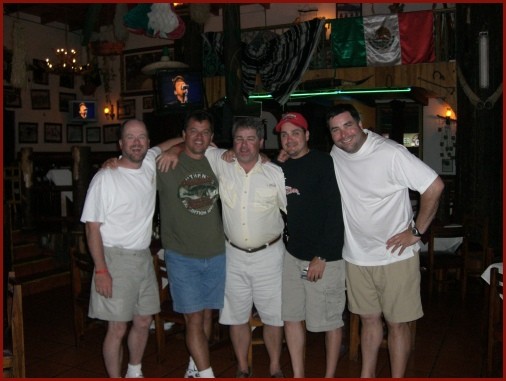 A Motley Crew
From left to right: Brad Stone, Brian Bergstrom, Lee Ward, Wayne Zartman, Walt Zartman


It was another fun trip to one of the best largemouth bass lakes on the planet. The above picture was taken at a restaurant in Mazatlan on the way home. Last year just Jeff Cotten and I made the
trip
to Lake El Salto. This year, five of us took the adventure.
And what an adventure it was. Oh, the fishing was quite good. Everyone caught at least one fish over five and a half pounds and there were several six's and seven's and one over eight. I think we all lost some monsters too. Fun stuff. But there were, however, a few non-fishing-related small hiccups along the way. Our luggage did not make our flight from Houston to Mazatlan. Which meant we didn't have much fishing tackle for the first day of fishing. Luckily we got our luggage in time for day 2 and 3. Lesson learned: bring lots of fishing tackle in your carry-on luggage. I really like the rustic feel of
Club El Salto
and the staff was wonderful - the food was great. But the electricity in our rooms would periodically shut off. It wasn't a disaster, but it was a little annoying. The folks at Club El Salto have already assured me that they are fixing the problem immediately. That's good - because all five of us (and maybe some others) are returning just eight months from now, in January 2007. LOL.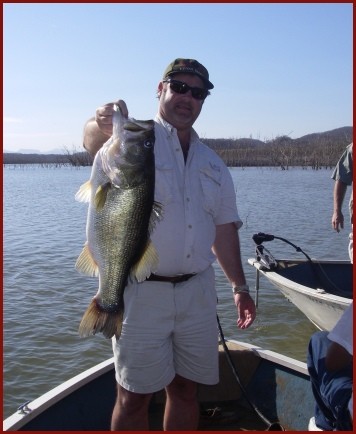 Lee Ward's 8.3 Pounder
This was the big fish of the trip, which earned Lee $50 from the rest of us. Lee also caught the most fish (81), which earned him yet another $50. But we should expect nothing less from a guy who has his own
online tackle store
! I came in second to Lee in both the biggest fish category and the numbers of fish. I'll get you next year Lee Ward!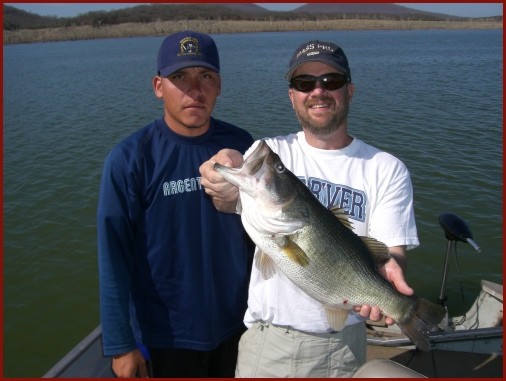 Brad with a 7.6 Pounder
This was the biggest fish I caught on the trip. You can't tell from this picture, but this bass was very fat. She must have been a late spawner and was still full of eggs. Otherwise she would probably have only weighed 6 pounds. Like most of my fish, I caught her on a Texas-rigged 8-inch Zoom magnum lizard (green-pumpkin color). The lake was very low, so there was a lot of exposed timber; perfect conditions to work a Texas-rigged lizard. As usual, we released the fish and she swam off just fine.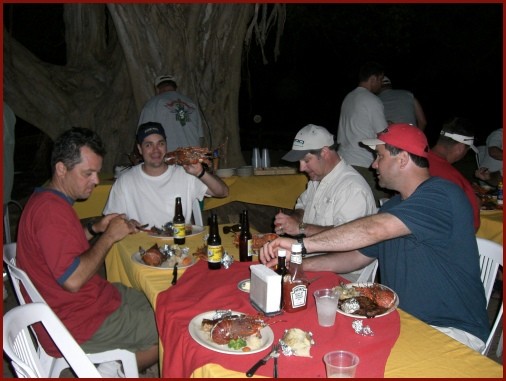 We ate most of our meals inside the screened-in pavilion, but we ate our steak and lobster dinner outside - under an enormous, muy bonita tree. No, I don't know the type of tree. Unlike last year, the lodge was at full capacity - probably around 20 anglers. The staff did a good job of keeping everyone fed and keeping lots of cold beer on ice.

Some Other Cool Fish Pics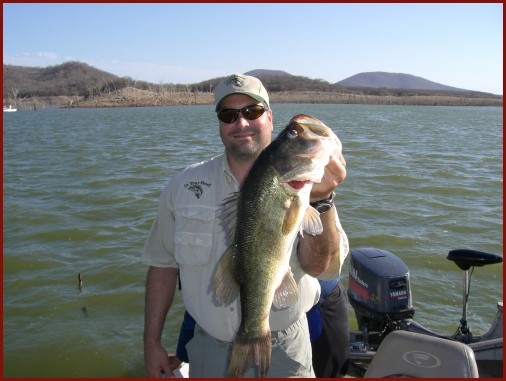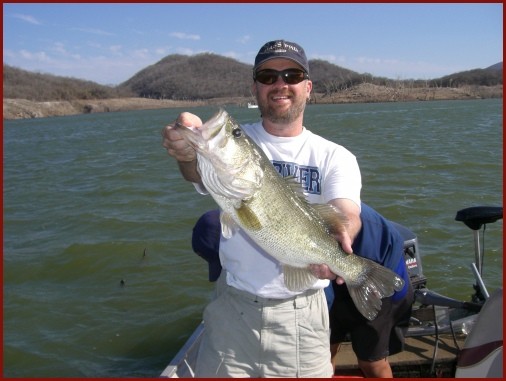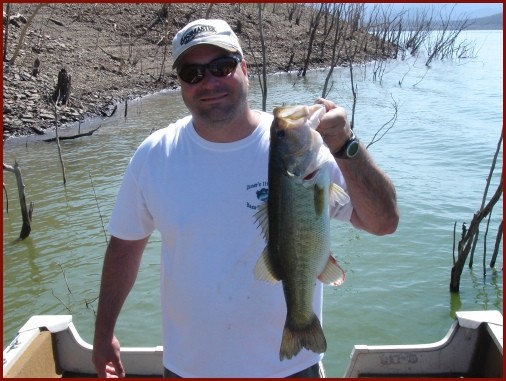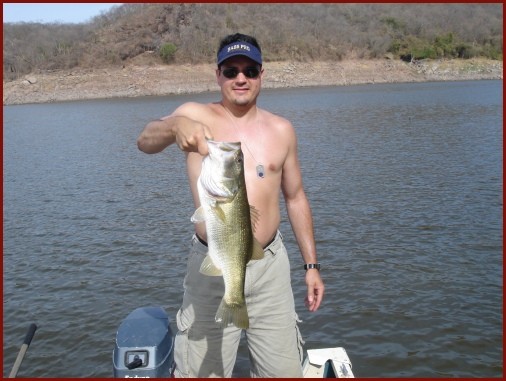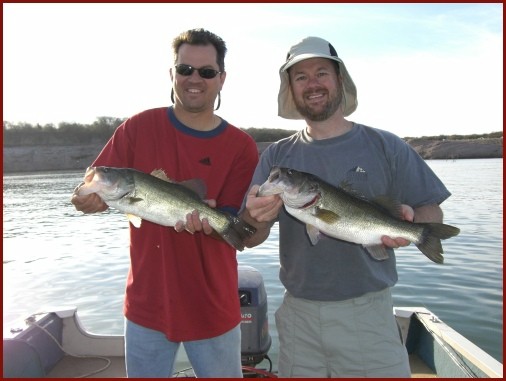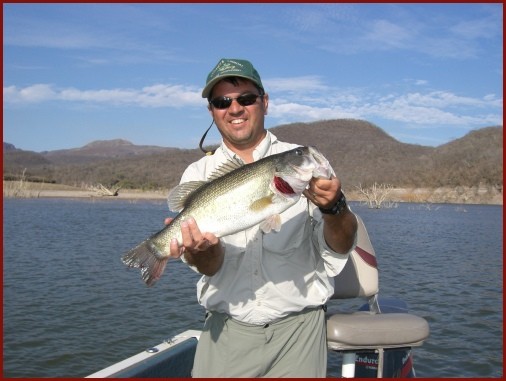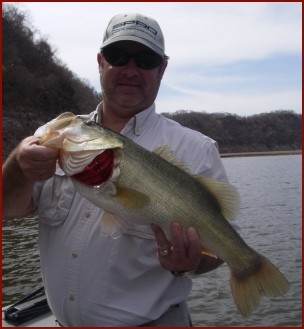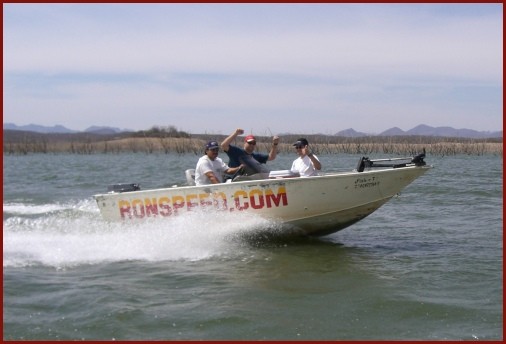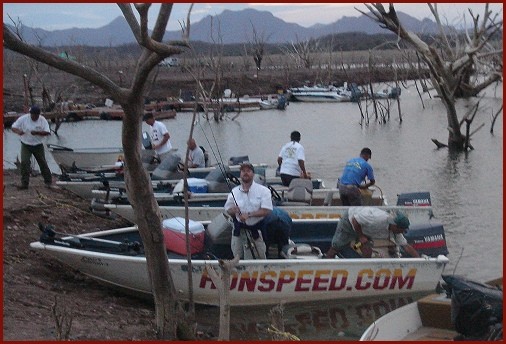 This is the type of boat our guides used. Most were powered by a 60 horsepower Yamaha engine. They're actually pretty good little fishing boats - complete with small front & rear fishing decks. That's Wayne and Walt in the left picture embarking on the afternoon session of fishing. In the right picture, that's me standing in the first boat with the white shirt - preparing for the morning fishing. Each morning there would be several dozen boats heading out of the same small cove. It was a pretty neat sight.

Windows Media Player Video Clips
If you don't have the latest version of the Windows Media Player you can get the free version by clicking
here
. On some connections, the video may be a bit jerky as it "buffers" while streaming in the video.   In that case you might let it completely finish and then play it again.

Brian caught a small bass (20 seconds)...05/06/2006

Walt caught an even smaller bass (11 seconds)...05/08/2006

Moving boat scene (19 seconds)...05/06/2006

Return to my home page