Lake El Salto, Mexico
January 26-30, 2007

| | |
| --- | --- |
| | |
| Walt Zartman - 7.2 pounds | Lee Ward (on the left) |
Another enjoyable trip to Lake El Salto, Mexico is in the books. This was the first January trip down there for us. Usually we go in May when it's 100 degrees in the shade. So the highs of around 85 and the lows of around 50 felt great! But the fishing was off a little. The locals are allowed to set tilapia nets this time of year. The nets were absolutely everywhere. They put a dent in the scenic beauty of the lake, they make it harder to fish the lake, and they may be accidentally killing too many largemouth bass. Still, plenty of bass were caught (and released) but maybe not as many as in previous trips. The number of medium-sized fish was down too.
Last year
there were several three to five pounders caught, but this year those fish were almost nonexistent; most fish were two pounds or smaller.
But it was still a fun trip...on any cast, you can still catch a double-digit bass on that lake! Walt caught the biggest fish of the trip - the beautiful 7.2 pounder shown above. And for the second year in a row Lee "Diaward" Ward caught the most fish. His fishing attire in the above photo may look, well,
unique
but the man knows how to catch bass.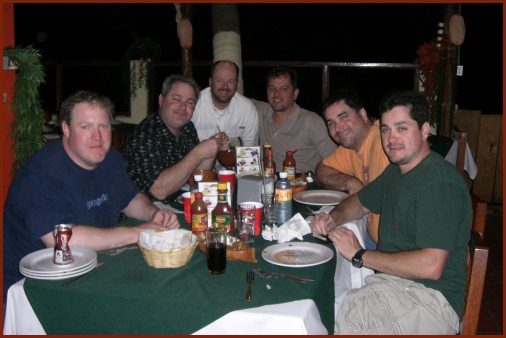 From left to right: Dean Norwood, Lee Ward, Brad Stone, Brian Bergstrom, Walt Zartman, Wayne Zartman
The same five guys from last May's trip went this year...plus we picked up Dean. Fun bunch of guys. This picture was taken at a restaurant in Mazatlan on our last night before heading back to the States. I may look pretty spry in that picture (in white shirt), but I was exhausted. Three days of hard fishing and four days of antibiotics for a sinus infection had me feeling pretty tuckered by that point.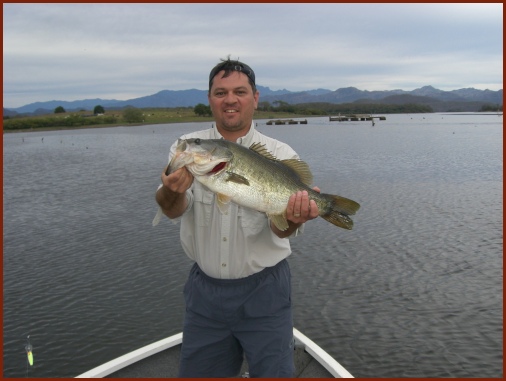 Brian Bergstrom
That 6.6 pounder is the biggest largemouth bass Brian has ever caught and it was the second biggest fish of the trip. Brian and I were fishing crankbaits over an underwater road bed when the big gal hit Brian's lure. When I saw the fish double Brian's rod I told the guide to
"get the net"
, which he did. Nice fish.

The Banyan Tree Bar
One neat feature at Ron Speed's
Club El Salto
is the outdoor bar, which is built into a huge Banyan Tree. After coming off the lake each evening you were greeted with a pitcher of margaritas and a plate of wonderful nachos. Nice touch. As usual, the staff worked their butts off for us and were friendly as could be.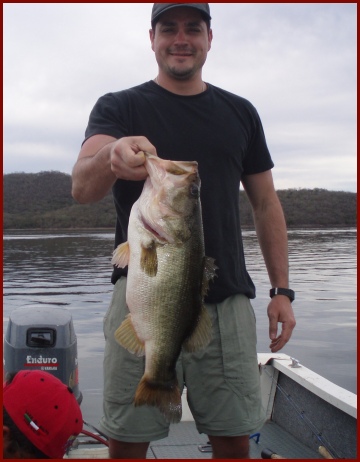 &nbsp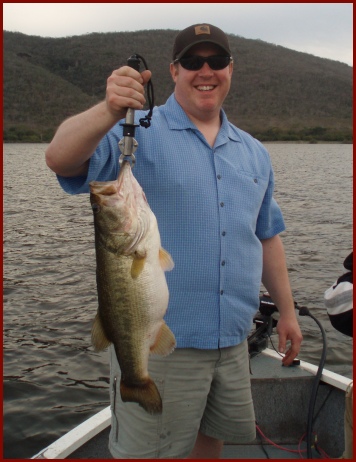 Wayne (left) and Dean with some nice 6-pounders!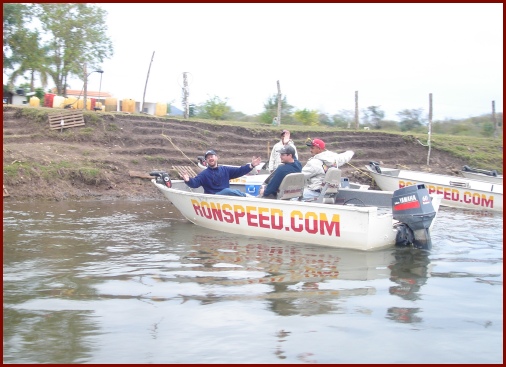 The lake this time of year is 20 feet higher than it is in May. So the tributary near "Club El Salto" was full of water, allowing us to simply walk out of our rooms and stroll down to the boats each morning to go fishing. Thus, unlike last year we didn't have to load up in buses to be taken to the distant shore.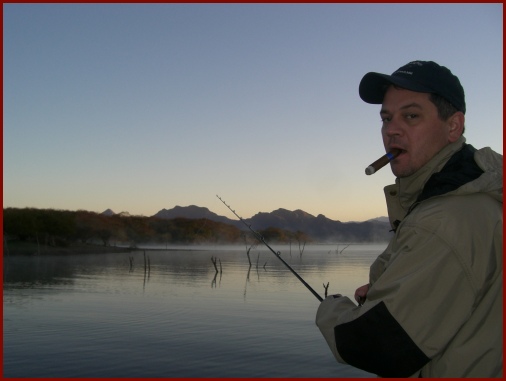 Early morning on Lake El Salto. There aren't many things Brian likes to do more than smoke a good cigar and go fishing.

Return to my home page