European Vacation - Fall 2014



After many years of saying I'm going to Europe - I finally went! I had never been to Florence or Rome, and I had only briefly visited Munich twenty-five years earlier. So several items were checked off my bucket list :)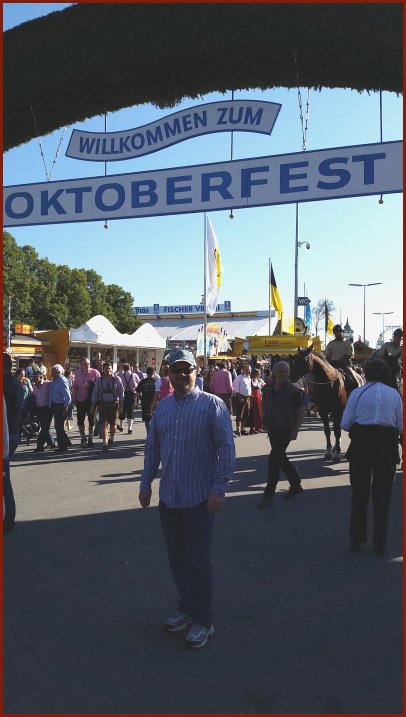 Oktoberfest! Thanks to Munich's awesome transportation system, I was at the Oktoberfest grounds within 30 minutes of landing at the airport. Over six million people visit these 100 acres during the 16-day fair. And it's a blast.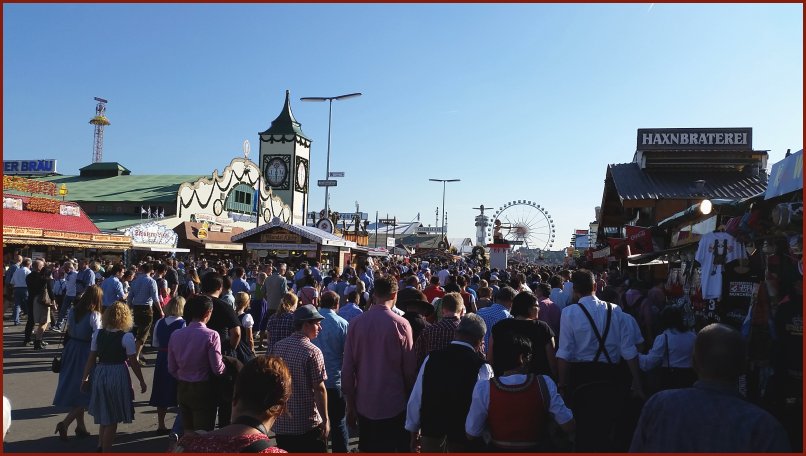 This picture was taken at 10am. By 6pm the Oktoberfest grounds are an ocean of humans - almost all in jovial moods. The grounds consist of six enormous beer tents, but there's also dozens of places to eat, trinket shops, rides, and games.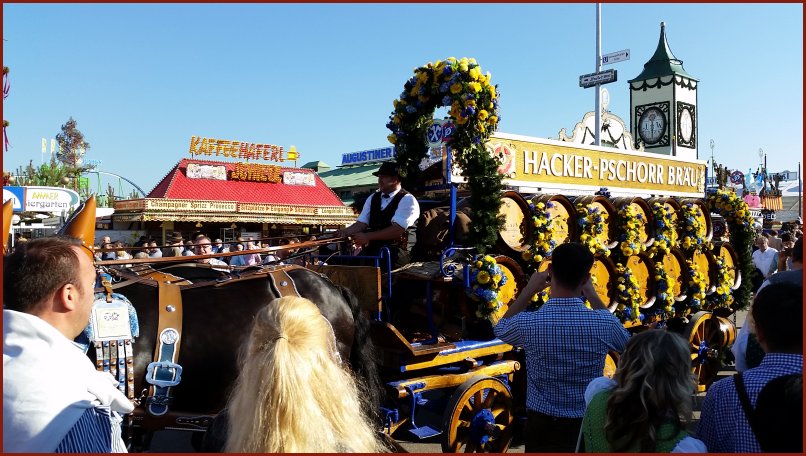 This very cool Hacker Pschorr horse-drawn wagon periodically drove through the crowd.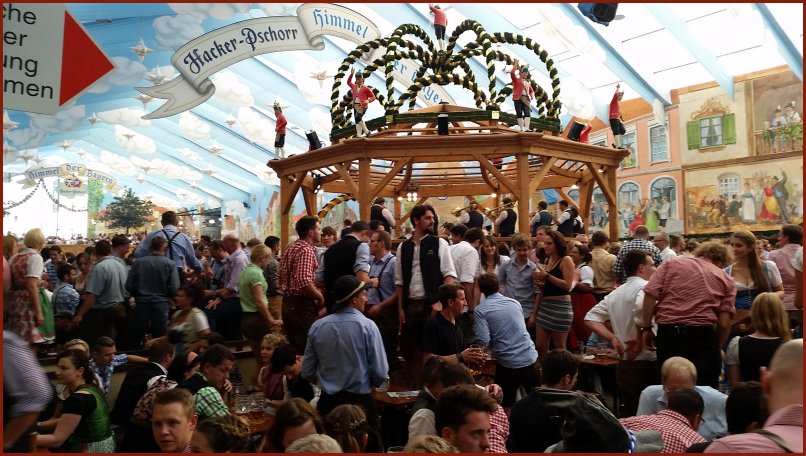 Inside the Hacker Pschorr tent. The beer tents hold 5,000 people each. Over half the folks in the Hofbrau tent were standing on tables singing and dancing - often to old American rock songs. It's a sight I'll never forget.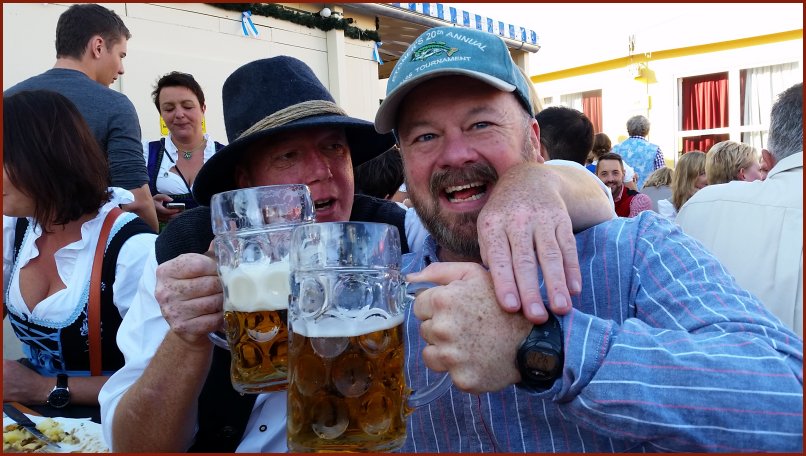 I met some friendly Germans at the tables outside the Hacker Pschorr tent. Their group consisted of some Swiss and Americans too. They pretty much took me under their wing for several hours. Prost!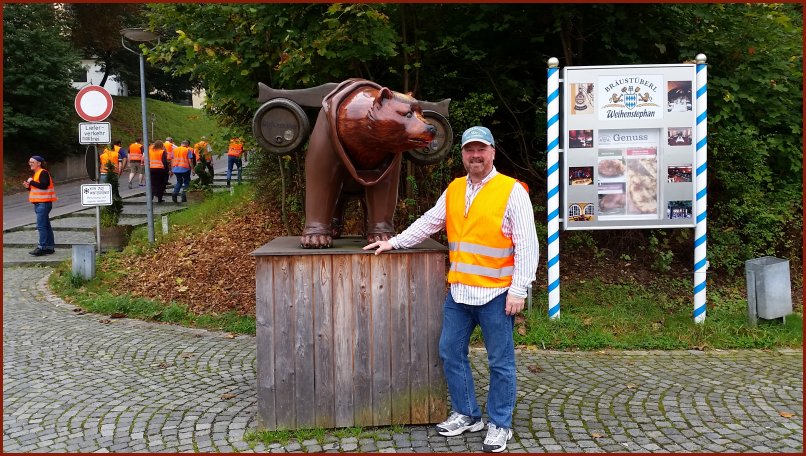 Just outside of Munich is the Weihenstepan brewery, the oldest brewery in the world (started in 1040). They make my favorite beer - the Weihenstephaner Hefeweissbier. I'm wearing that handsome orange vest because I was touring the brewery. I could've used that vest a few days later while walking the narrow streets of Rome with all those little cars speeding so close to us walkers :)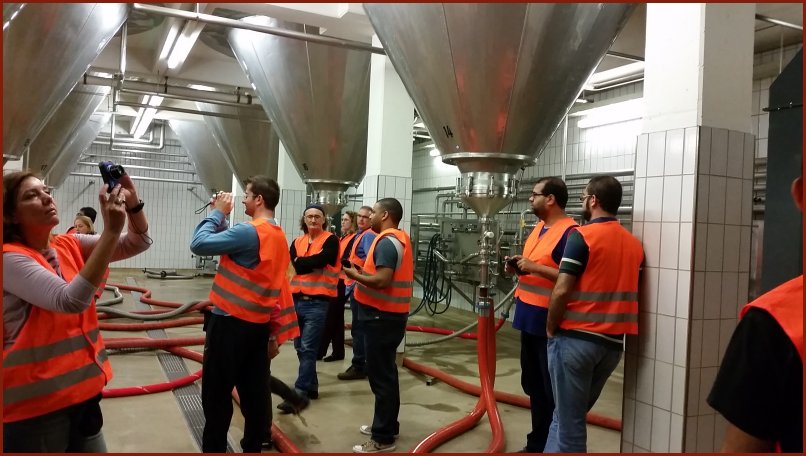 These tanks turn mash into wort. Those words don't sound very appetizing, but the finish product is!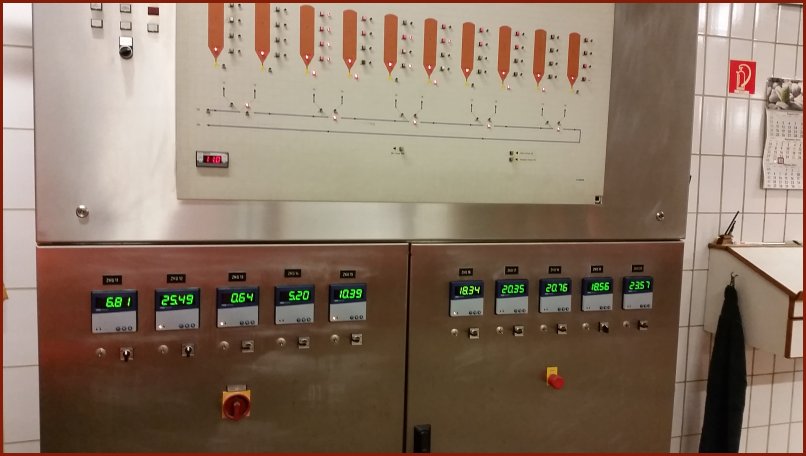 As you'd expect from a German manufacturing plant, the place is immaculate. And each stage of the brewing process is computer controlled, with tight tolerances.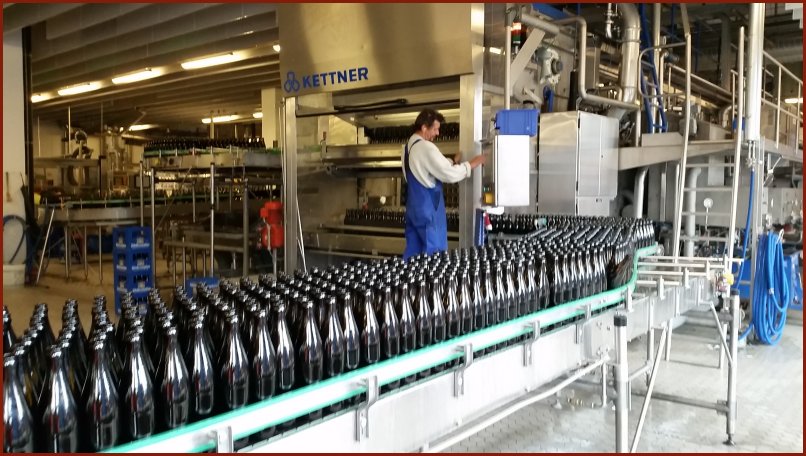 This is the only Weihenstephaner bottler in the world. So the one you are drinking started it's life by traveling down this conveyer line. At the end of the tour we had an instructional beer tasting with the brewmaster.
Click here for a short video I shot during the brewery tour.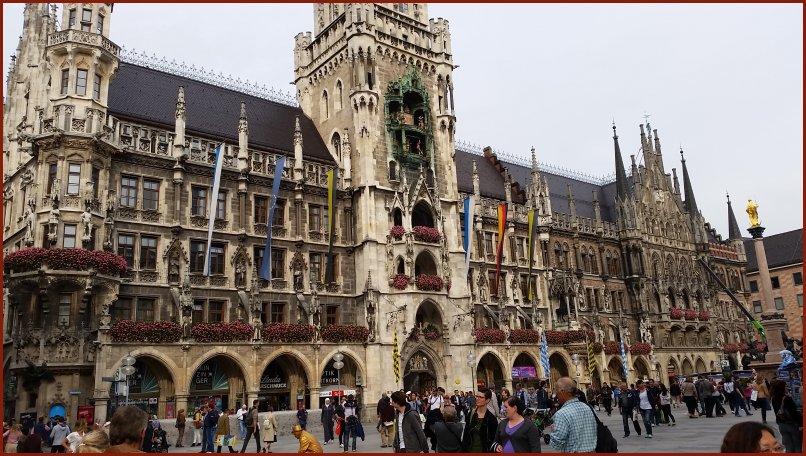 The famous Glockenspiel in Munich. Other places I visited in Munich include the English Gardens (a lovely Central Park with an awesome beer garden), and St. Peter's (a 12th Century Gothic Church). Oh, and the Hofbrauhaus :)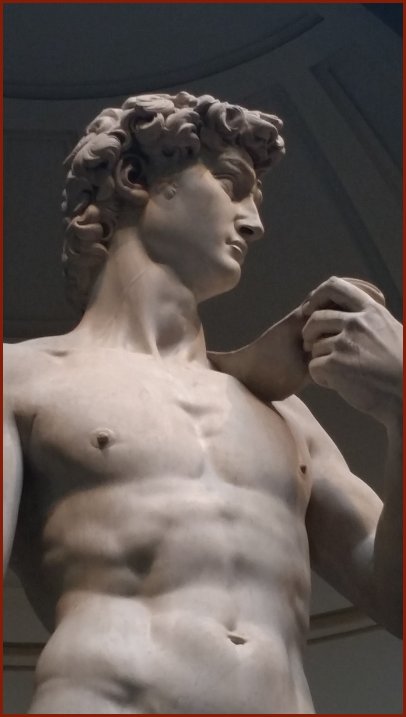 From Munich, I flew to Florence. First up, the Accademia Gallery. While waiting in line, I met a friendly twenty-something Aussie who had recently taken a vacation to Vietnam and Cambodia; adventurous fellow. Anyway, Michelangelo's sculpture of David did not disappoint. This remarkable statue looks so real that it feels like he's breathing. He stands 14 feet tall, and the veins and tendons in his hands makes you forget that someone actually chiseled him from marble.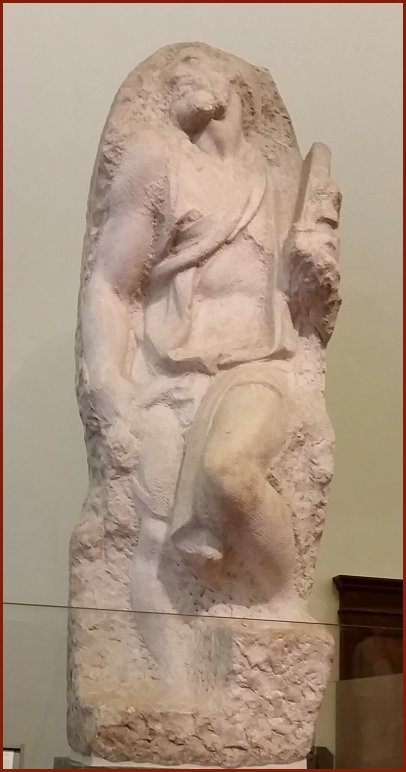 The Accademia Gallery also has several unfinished statues by Michelangelo, like the one above. And it has a musical instruments wing which contains old harpischords, and precursors to the piano, and a viola made by Stradivari in 1690.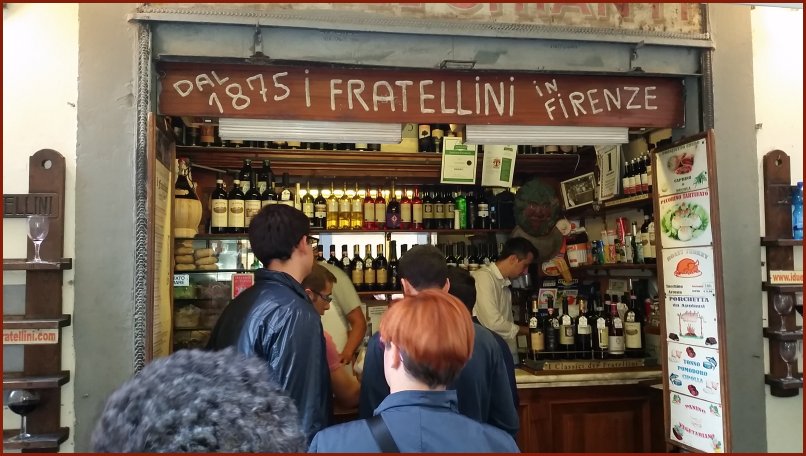 Most everything in Florence is within walking distance. So after saying arrivederci to The David, I strolled a few streets over to a small, outdoor sandwich/wine shop called Fratellini's (recommended by Rick Steves). Simple, but very tasty sandwiches.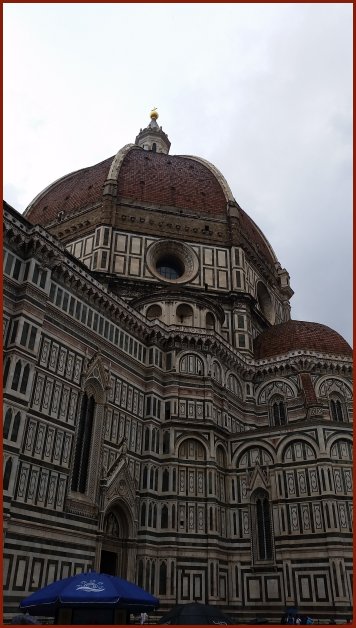 &nbsp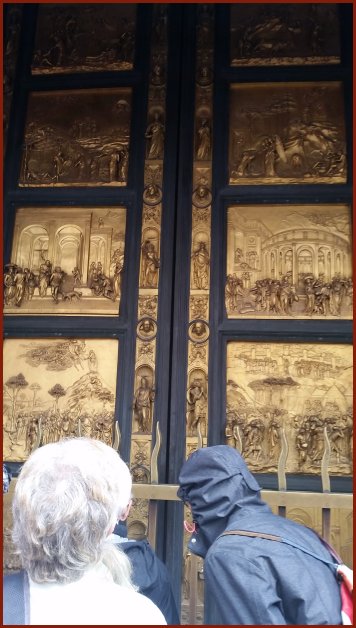 Still in Florence, I walked to the stunning Brunelleschiís Dome atop the Florence Cathedral (left). And then to the equally impressive bronze doors of the Florence Baptistery (right) created by Brunellschi's artistic rival, Lorenzo Ghiberti. Unfortunately, the nearby Duomo Museum (which has statues by Donatello and Michelangelo) was closed for renovations.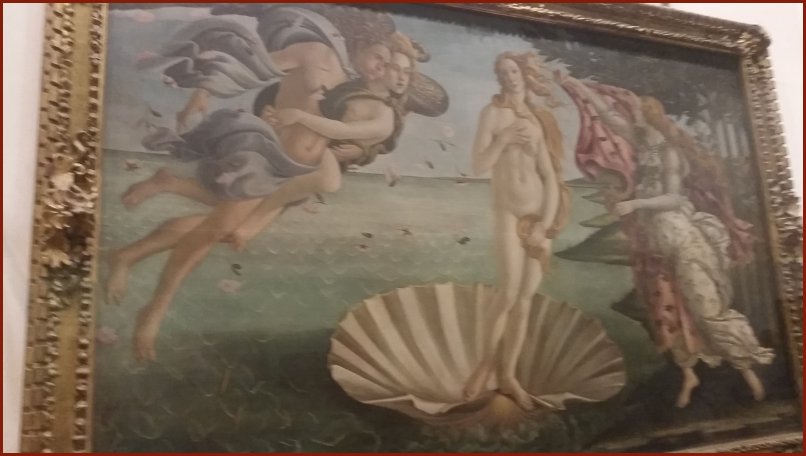 Next on my Florentine list was the Uffizi Gallery. It was remarkable, but perhaps a bit long. This picture is of the familiar "Birth Of Venus" by Botticelli. To my chagrin, this museum recently moved many of their paintings to different rooms, so my Rick Steve's audio guide app for this museum was of little help. Note that I found Rick Steve's videos, books and apps priceless for preparing for this vacation. And I still saw a lot of great art at the Uffizi Gallery. A lot. Lots and lots of art. My feet still hurt.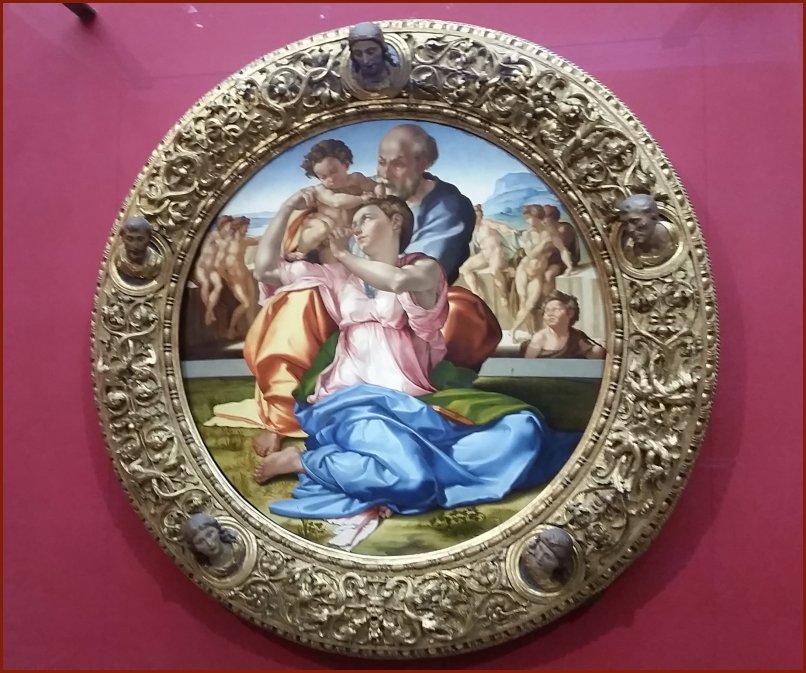 Michelangelo's "The Holy Family" at the Uffizi Gallery in Florence. The man could sculpt and paint.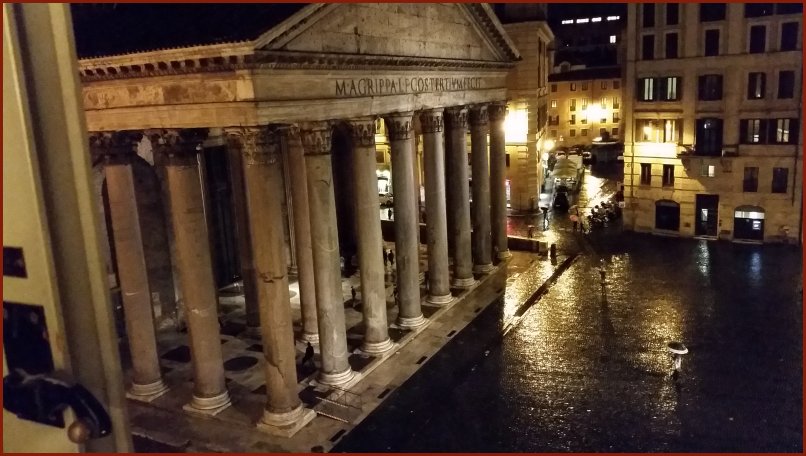 I arrived in Rome via a scenic train ride from Florence. This is the storybook view of the Pantheon I had from my hotel room for four days. The Albergo del Senato Hotel has a friendly staff, free wifi & breakfast, and is reasonably priced. I stayed in room 303.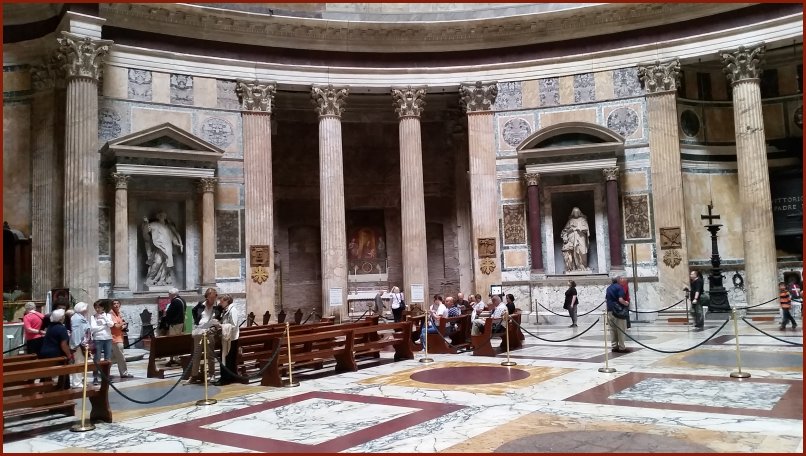 Inside the Pantheon, my favorite Ancient Roman site. Huge granite columns outside, beautiful marble columns and flooring inside. Like many Ancient Roman sites, this pagan religious temple was greatly modified by the medieval Catholic Church. Marble was taken, and ancient statues were destroyed and replaced with crosses & altars. On the Pope's orders, the portico's bronze ceiling was melted down for use at his castle. Still, it's captivating.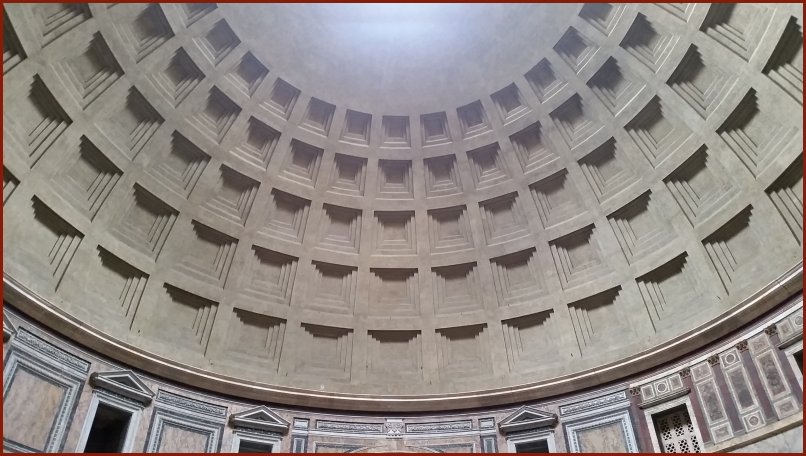 Looking up inside the dome of the Pantheon. Nearly two thousand years after it was built, this dome is still the largest unreinforced concrete dome in the world. A 142-foot diameter ball would fit perfectly inside the Pantheon.
Click here for a short video I shot in and around The Pantheon.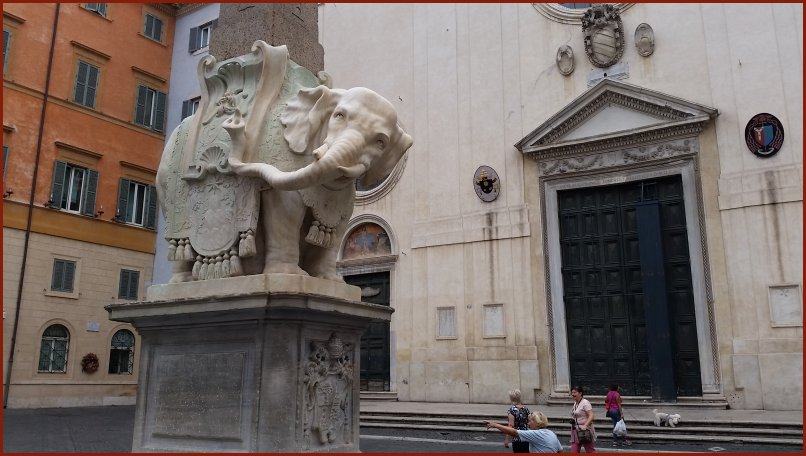 Just a block from the Pantheon sits the Church Of Santa Maria Sopra Minerva. This is the only Gothic (i.e. pre-Renaissance) church in Rome. The great Baroque sculptor, Gian Lorenzo Bernini, created that curious Elephant holding one of Rome's eleven ancient obelisks on its back.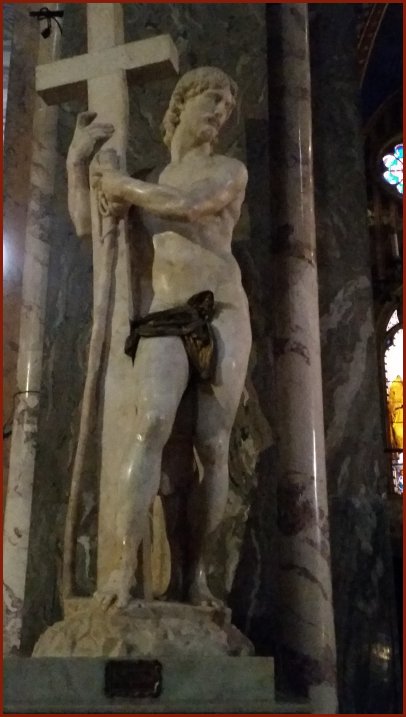 Inside the Church of Santa Maria Sopra Minerva is Michelangelo's impressive sculpture, "Christ The Redeemer". Trials of the Roman Inquisition were held in this church's monastery, and Galileo knelt at its altar when he was convicted of heresy by the Inquisition.



The Trevi Fountain was closed for restoration. Legend has it that if you throw a coin into the fountain over your left shoulder using your right hand then you'll return to Rome sometime in the future. Due to the restoration work, they wouldn't let us do that. So they provided a small, cheesy, tub of water for folks to throw coins into. Yes, I did it :)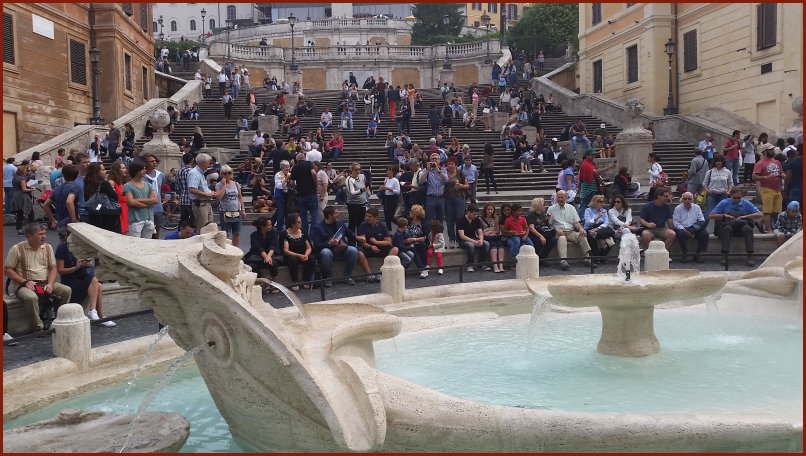 Bernini's "Sinking Boat Fountain" with the famous Spanish Steps behind it.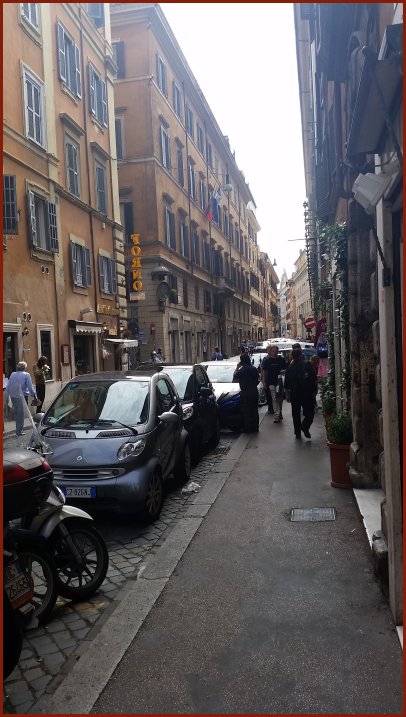 A very typical Roman street. Every few blocks there's a square ("piazza") which often has ornate fountains, people singing, and folks selling fresh vegetables. Great places to people watch.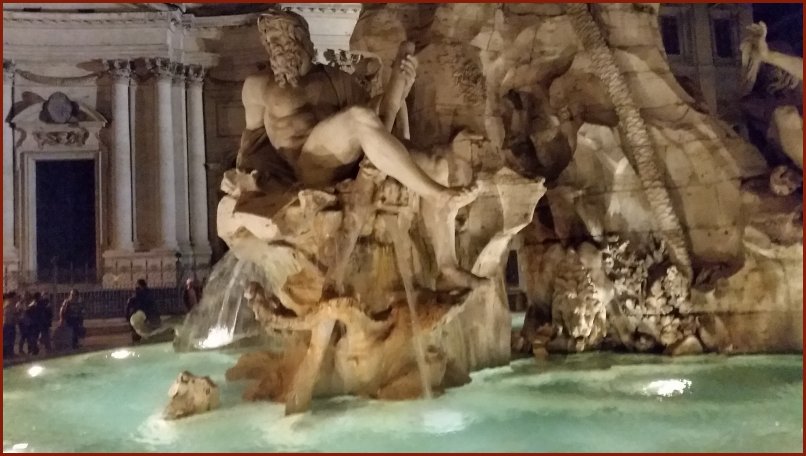 Berniniís famous "Four Rivers Fountain" sculpted in marble. The fountain represents the four continents where Papal Authority had spread by 1651 (Europe, Asia, Africa, South America). The fountain is located in Rome's Piazza Novona which is also home to Tres Scalini Restaurant, famous for its rich, chocolate ice cream. I still prefer Blue Bell.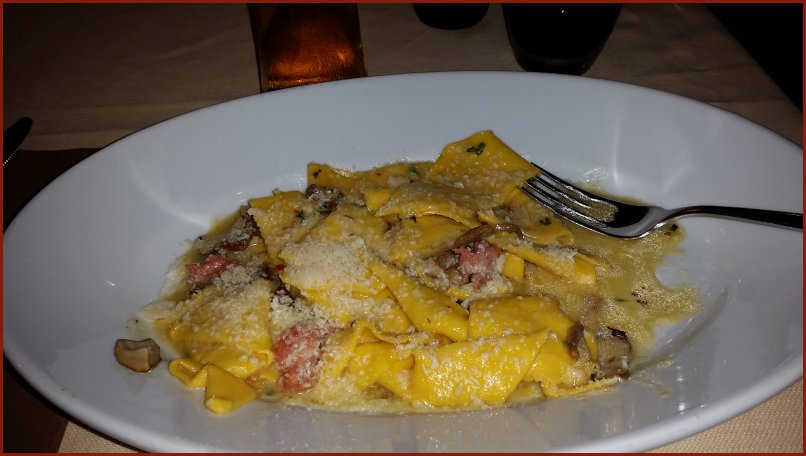 My hotel recommended the quaint Agrippas Restaurant just south of the Pantheon. The homemade pastas were heavenly. I had interesting conversations with several people eating near me at the outdoor tables, including two older American women who were fellow cat lovers travelling across Europe together. They were wine drinking hoots.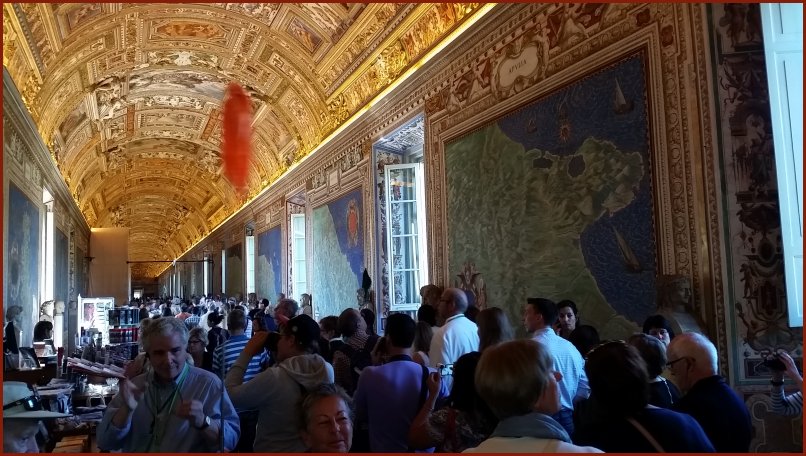 The Vatican Museum. And I thought the Uffizi Museum in Florence was long :) Granted, the Vatican Museum is awash with remarkable works of art. But it was a bit crowded, as seen in this picture from the "Gallery Of Maps".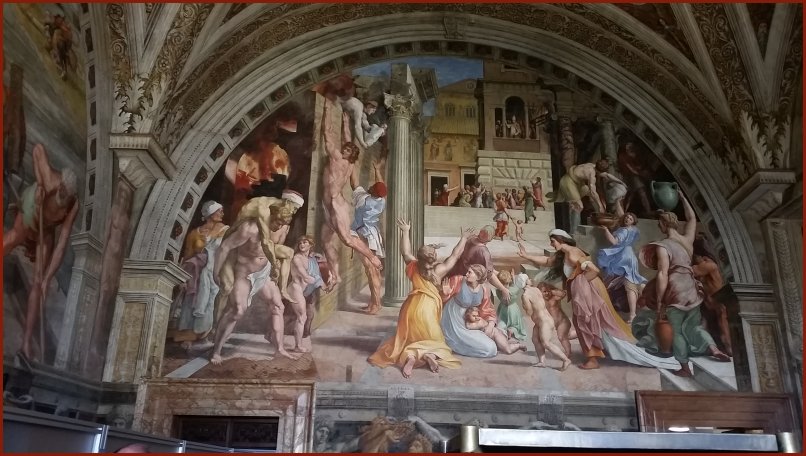 Raphael's "The Fire In The Borgo" in the Vatican Museum.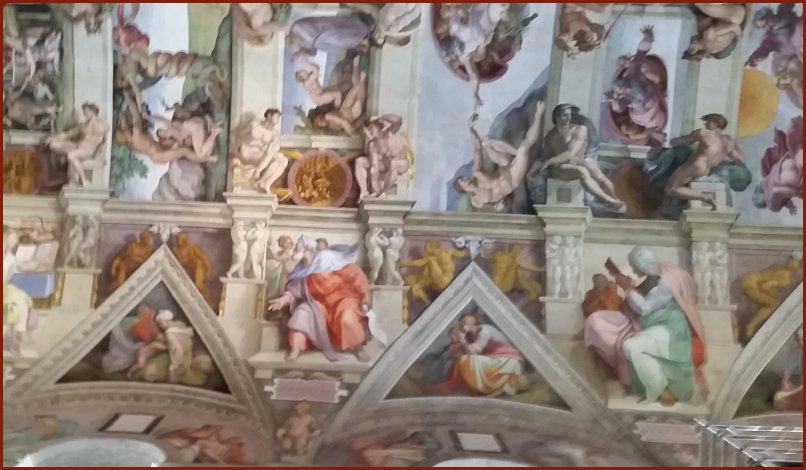 Taking pictures in the Sistine Chapel is not allowed, even without a flash. But my camera "accidentally" went off as it was pointed up at Michelangelo's famous ceiling.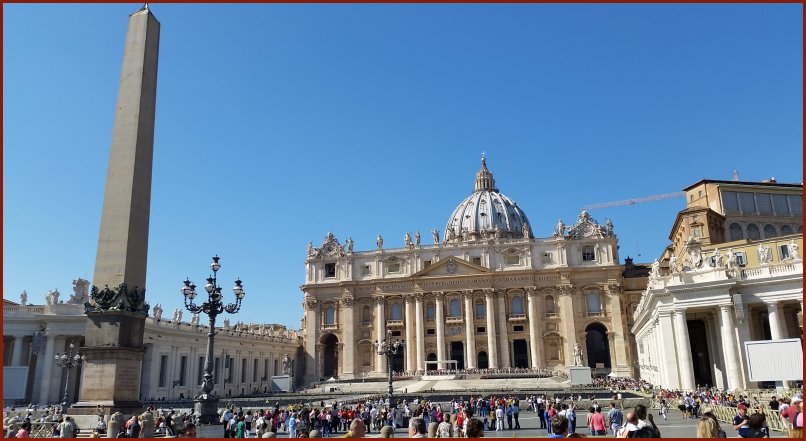 St. Peter's Basilica as seen from St. Peter's Square. The square, like so many things in Rome, was designed by Bernini.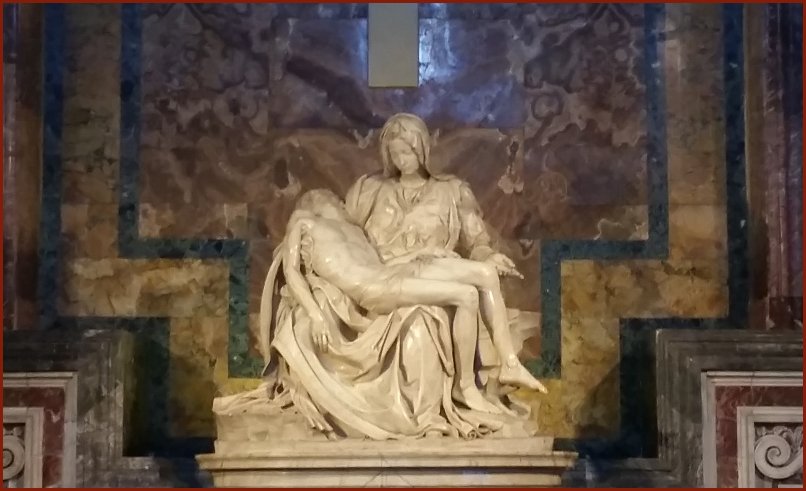 Michelangelo's breathtaking "Pieta" inside St. Peter's Basilica. Started in 1498, it took 23-year-old Michelangelo less than two years to chisel the single block of marble.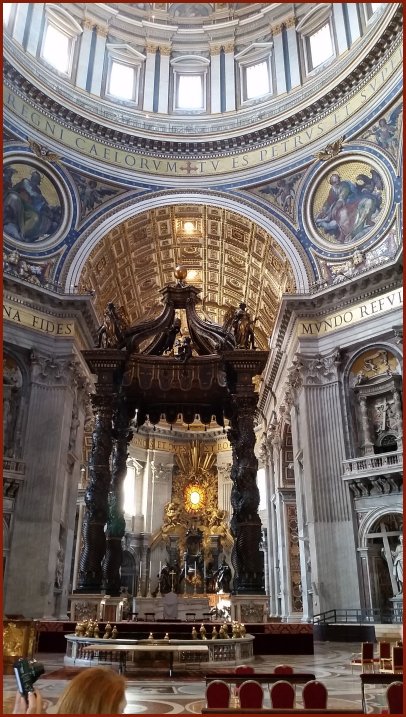 Bernini's famous bronze canopy over St. Peter's high altar.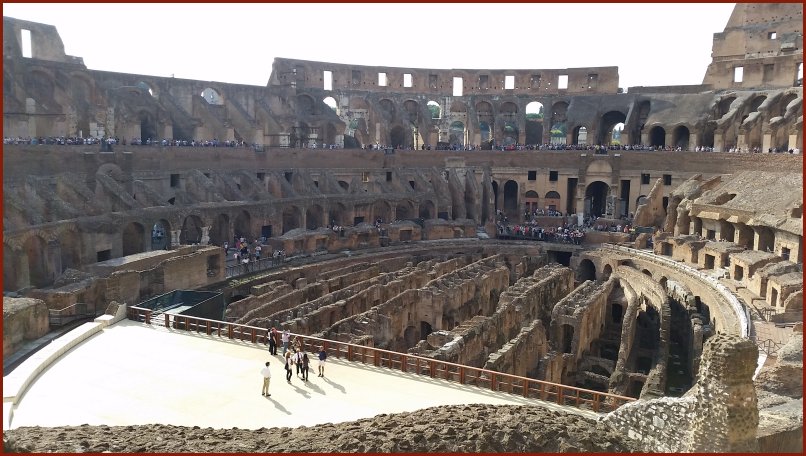 It was great to finally lay eyes and hands on the 50,000 seat Colosseum. Our modern day stadiums are designed remarkably similar to this 2,000 year old one. Stepping onto the partially restored floor was a thrill! You can almost imagine what it was like to be a gladiator. Almost.
Click here for a short video I shot at the Colosseum.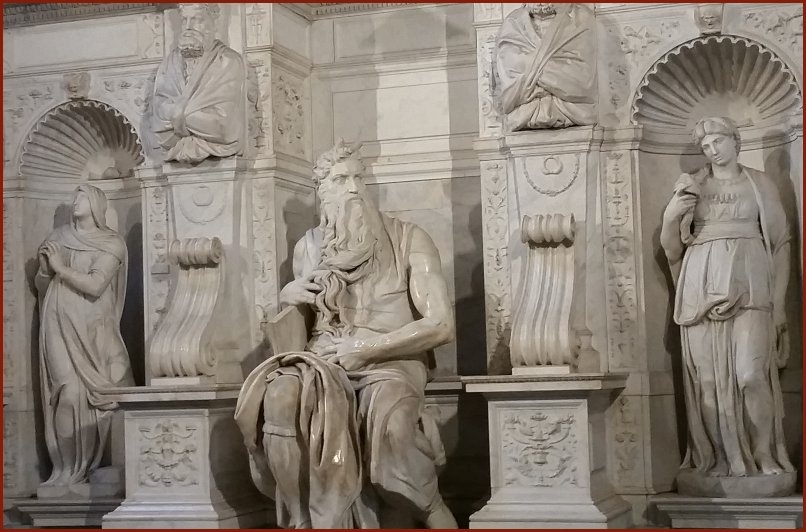 Within walking distance of the Colosseum is Michelangelo's amazing statue of Moses in the Church Of St. Peter In Chains.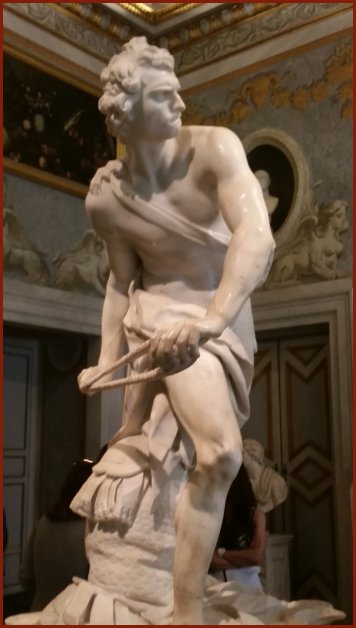 The Borghese Gallery in Rome. Besides having a nice park connected to it, and famous paintings by Raphael...it has some of the best sculptures by Bernini on the planet. And you can get within inches of them. Above is Bernini's statue of David. Unlike earlier sculptures of David (like Michelangelo's) this version conveys bodily movement as well as emotion through facial expression.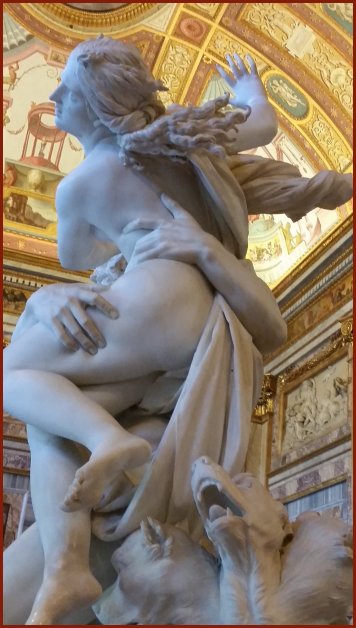 "Pluto and Proserpina" at the Borghese Gallery. Based on ancient Greek mythology. Also known as "The Rape Of Proserpina" where the Italian "rapire" means "abduction". Completed by 23-year-old Bernini in 1622. It's jawdropping - my favorite piece of art anywhere. The details (her hair, his fingers pressing on her skin) are amazing. Carved from one block of marble. Mind-boggling.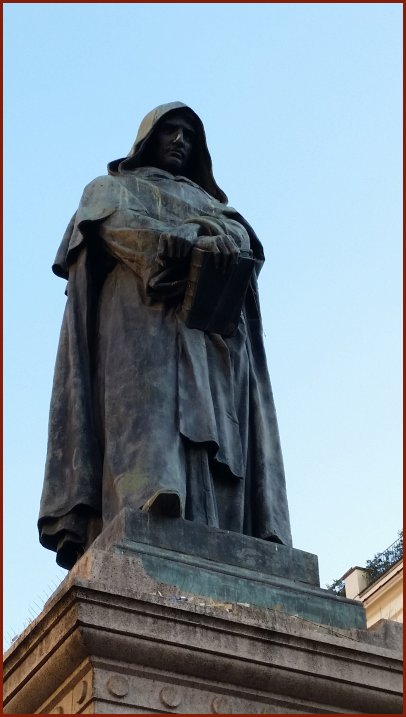 This statue of astromer Giordano Bruno is in the bustling square called Campo di Fiori (Field of Flowers). In 1600, Bruno was burned alive here by the Catholic Church for not believing in the divinity of Christ. Many others met similar fates here.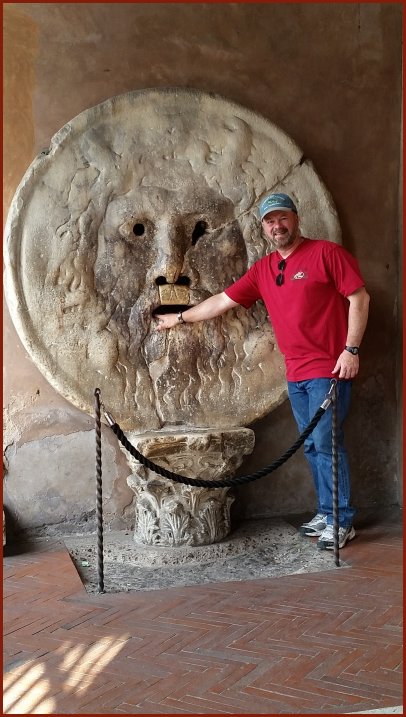 The Bocca della Verita ("Mouth of Truth"). Tell a lie with your hand in the mouth of this first century marble sculpture, and you get it bitten off! I played it safe and didn't speak a word. This was one of my last stops before heading home.





I visited a few other places not mentioned on this page, and there's much more that I hope to see one day on some future visit. It was a terrific vacation.

Experiencing Oktoberfest in Munich, and seeing The David in Florence were very special to me. But I have fond memories of the entire city of Rome. I enjoyed Rome's city squares and quaint shops & restaurants. And more than any other place on the planet, Rome contains remarkable sites from two fascinating periods in human history: wonderful 2,000-year-old ancient sites (e.g. the Pantheon, Colosseum, etc.) and jaw dropping 500-year-old Renaissance art (e.g. the Sistine Chapel, numerous Michelangelo & Bernini marble statues, paintings by Raphael, etc.). The art and history of Rome is fantastic.



Return to my home page