Replaced My Mercury Motor

July 13, 2007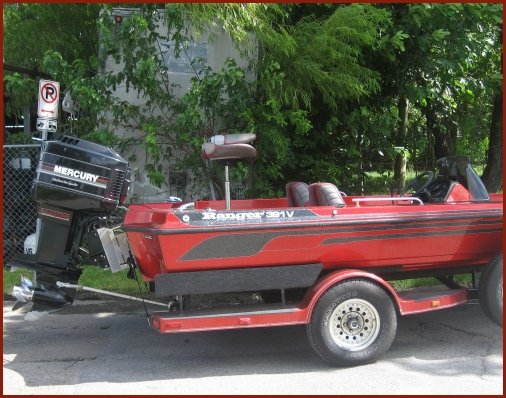 Last Picture Of My Old Motor
In May 2007 my 1993 Mercury 200hp XRi started having major problems getting up to speed. It turns out that I had poor compression in five cylinders and
zero
compression in the sixth. Uh oh. Two mechanics said that the motor was shot. My 1993 Ranger bass boat was in good shape so I opted to replace the motor instead of buying a new (or used) boat. But new engines are terribly expensive - a brand new Mercury Optimax 200hp costs around $15,000 installed! And
used
motors that are in good shape are very hard to find, especially the Mercury EFI which was the engine I was most interested in.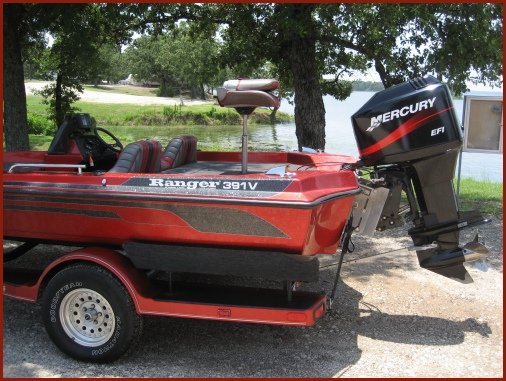 The 2003 Mercury 200hp EFI
Luckily my buddy Jeff Cotten called a marine shop down in Houston and they said that they had recently sold a 2003 Mercury 200hp EFI to Shaver Street Marine in Pasadena, TX. So I called Shaver and I was able to buy the motor for a third the cost of a new one. The onboard computer revealed that the motor only had 47 hours on it and that the RPM's were never abused. The previous owner had the motor on a 21-foot Champion bass boat and wanted a 250hp engine to push that heavy boat faster. So I pulled my boat all the way down to Pasadena early one morning and the mechanics swapped engines in 4 hours and I was home that night. The next day Jeff and I tested it out on Lake Fork. It ran great! Even with two full tanks of gas and two people in the boat, it hit 60mph without any problem. I could have gone even a little faster but I didn't want to push it. At 60mph it was only turning 5200 RPMs, which is pretty darn good. There's a little missing paint on the skeg, but other than that the engine looks brand new. And the red Mercury decal looks pretty good with my red boat. With any luck, this engine will last many years. Knock on wood...

Return to my home page