Mountain Trip - Fall 2006

From start to finish the weather was perfect for this year's vacation in Red River, NM. Highs around 75, lows around 35. Not a drop of rain. Deep blue skies. Very nice. The Aspen in the higher elevations had already lost most of their leaves, but the ones in the mid-elevations were perfect; golden yellow. The trails were a bit dusty this year, so a little rain might have been nice - just to keep the dust down. But that's a very minor complaint indeed.
The following 22 folks went this year:
Brad Stone, Dan Stone, Chuck Mandernach, Nancy & Stan Ferguson, Shelley & David, Tim & Debbie Speck, Audrey Speck, Chip & Judy Speir, Daniel Speir, Emily Speir, George Davis, George's sons Graeme & Dillon, George's girlfriend Rashmi, Neil Sanders, Chris Agnes, Steve & Sally Mills.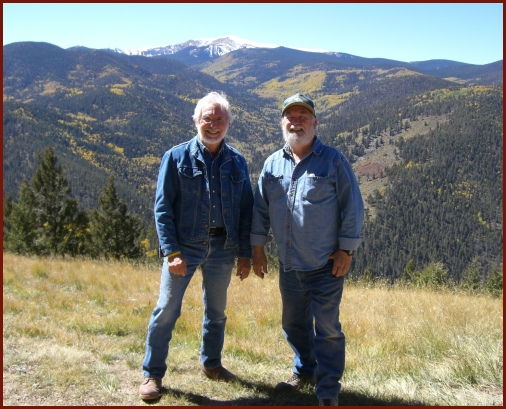 --- Chuck & Dan at The Old Pass ---
We hopped in trucks, on dirtbikes and on 4-wheelers for a jaunt up the Old Pass near Red River. Before eating a light lunch under the beautiful Aspen grove up there, we visited the scenic view at the pass. The pass itself is at 9,854 feet, but the spot overlooking the pass is probably around 10,000 feet.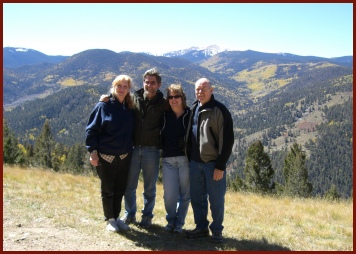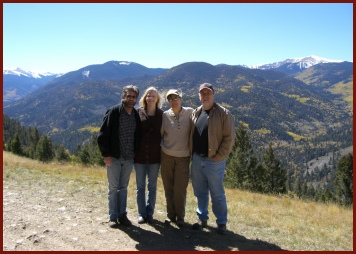 --- The Old Pass ---
Left picture, from left to right: Judy, Chip, Debbie, Tim
Right picture, from left to right: David, Shelley, Nancy, Stan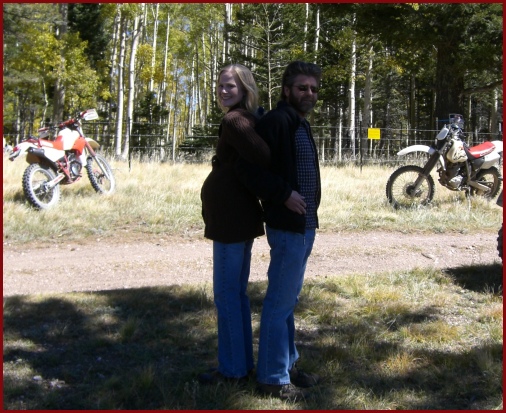 --- Shelley & David at the Old Pass ---
Shelley is showing you her cute pregnant tummy. She was roughly 30 weeks with-child when this picture was taken. It's pretty neat that she was willing to drive all the way to Dallas from California, then to Red River, NM to vacation with us, and then back to California. Whew, that would be a tiresome journey even if you were
not
pregnant. After dinner one night, I placed my hand on Shelley's shirt and felt the little kiddo kicko inutero. It was a very cool experience. Shelley is due on December 6th, 2006.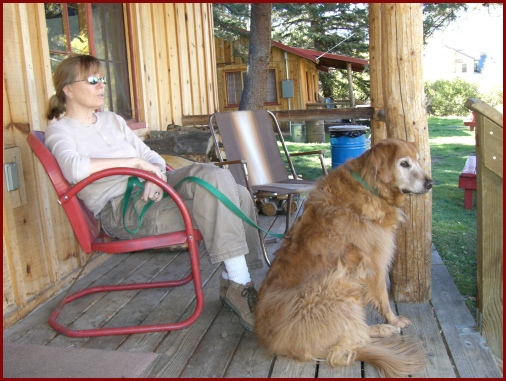 Stan & Nancy brought their canine kid, Bonnie, this year. Thanks to a roof-top luggage carrier that I borrowed from David Hood, we had plenty of room at the back of my Tahoe for Miss Bonnie. She turned out to be a very good traveller and added a lot to the trip. Her aging legs have been giving her a few problems over the past year, but being in the mountains with several of her favorite human friends perked her up a bit. She sure seemed to have had a great time up there.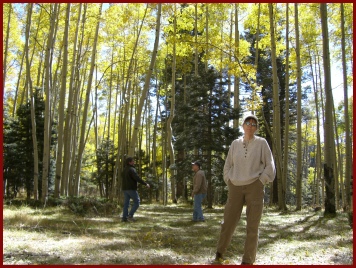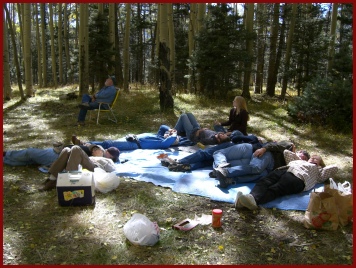 Lunch (and then a nap) under the Aspen trees atop the Old Pass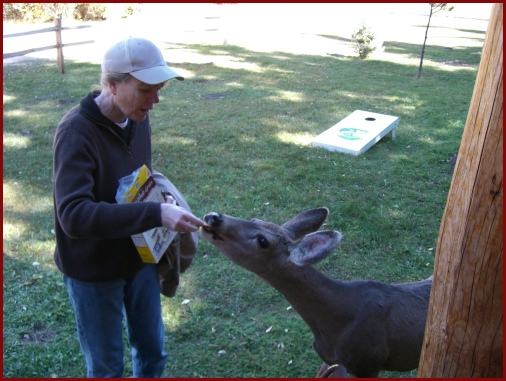 Nancy hand-feeding Triscuits to a deer near my cabin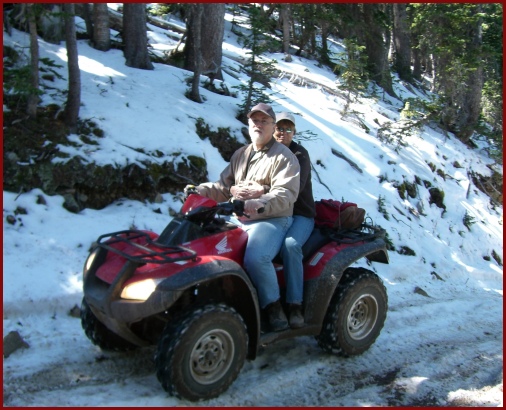 --- Stan & Nancy ---
We ran into some snow and ice on the way up to Goose Lake this year. Stan & Nancy were riding dad's new 675cc fuel-injected, fully automatic transmission, 4WD, Honda Rincon - try saying that four times quickly. The new four-wheeler traversed the frozen stuff without any problems. But I have to say that it was pretty squirrely on dirt bikes! Ice and off-road motorcycles just don't mix very well. The trail leading up to Goose Lake has been greatly smoothed out. We noticed people working on it two months ago during our
30th Anniversary trip
. The big boulders that used to make some of the steep sections fun & challenging have been bulldozed off the trail. I liked it better the old way.
On the way back down from Goose Lake, I stopped with Nancy, Stan & Chris to spread the last of my cat
Sali's
ashes at the very spot where just two months prior I received the cell phone call from Nancy saying that Sali had suddenly become very ill.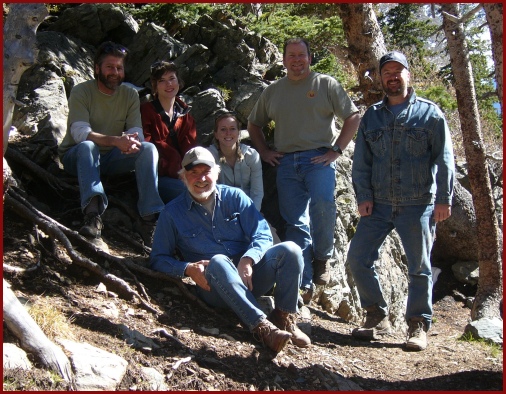 --- Goose Lake (elevation 11,630 ft) ---
I was lucky enough to go to Goose Lake twice this year; once with Stan, Nancy & Chris and once with these guys.
Clockwise from top-left: David, Emily, Audrey, Neil, Brad, Chuck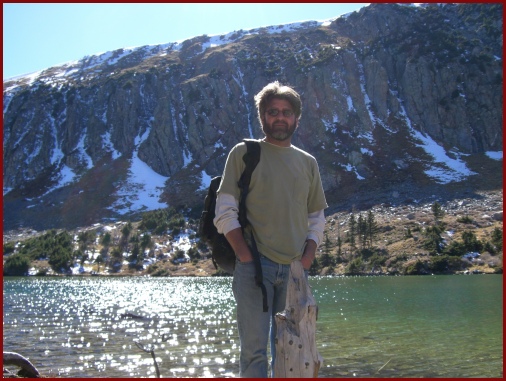 David at Goose Lake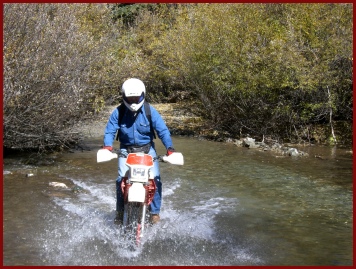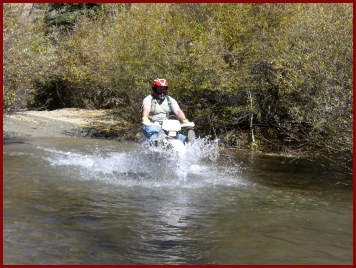 Chuck & Neil crossing The Red River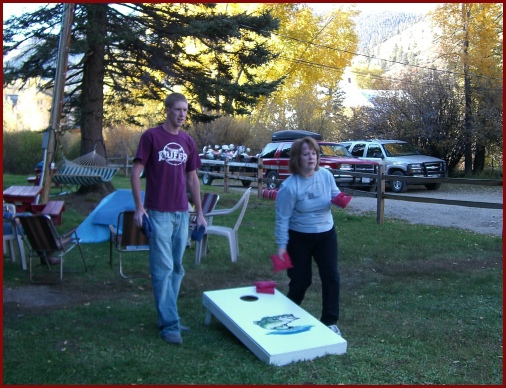 --- Daniel & Debbie Playin' Corn Hole ---
Debbie, as expected, was dang good at Corn Hole. I barely edged her out for Champion Of The Universe honors. But it was close. Daniel also turned out to be a very skilled opponent. On the Washers side of things, Chuck started off slowly this year - but he eventually got his A-game back and, as usual, he embarrassed most everyone he played.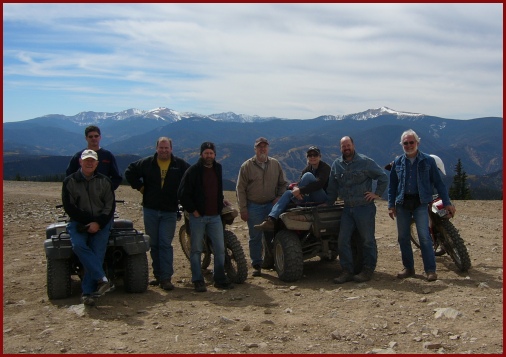 Greenie Peak (elevation 11,249 ft)
From left to right: Tim, Chris, Neil, David, Stan, Nancy, Brad, Chuck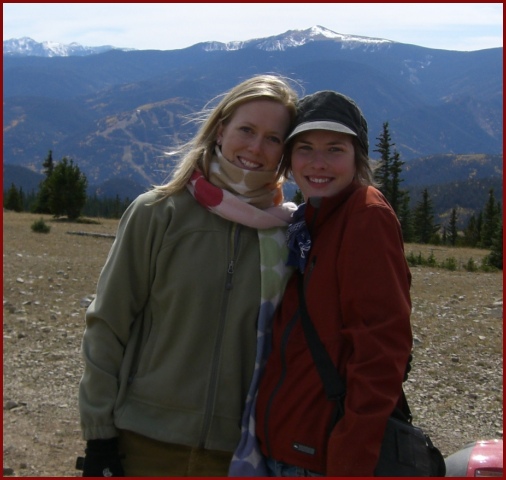 Audrey & Emily at Greenie Peak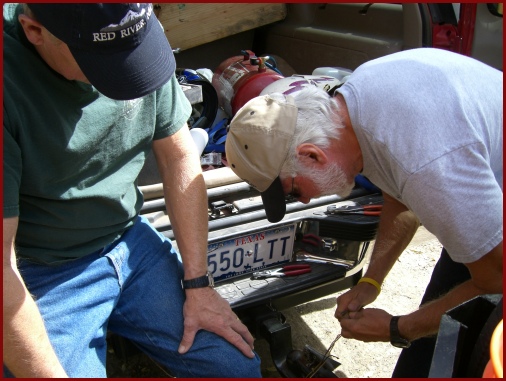 On the way up to Red River, my trailer's running lights stopped working. Before loading up for the long journey back to Dallas, Chuck & Tim were nice enough to track down the broken wire and fix it. Afterwards, they told me that their mountain rates were $85/hour. The check's in the mail guys...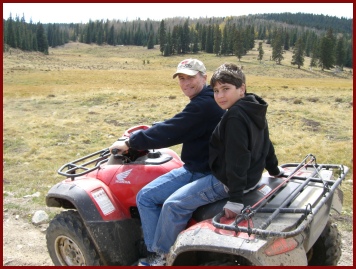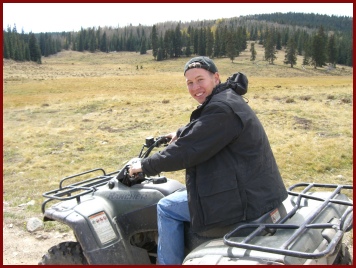 George, Dillon, Graeme near Midnight Meadows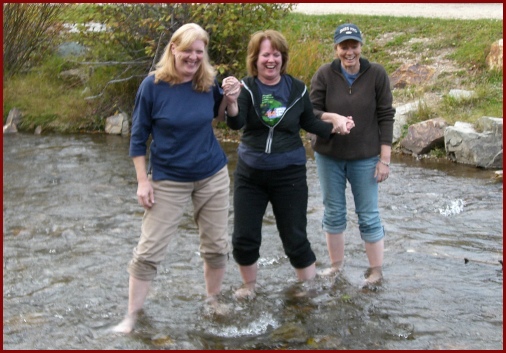 --- Wadin' In The Red River ---
From left to right: Judy, Debbie & Nancy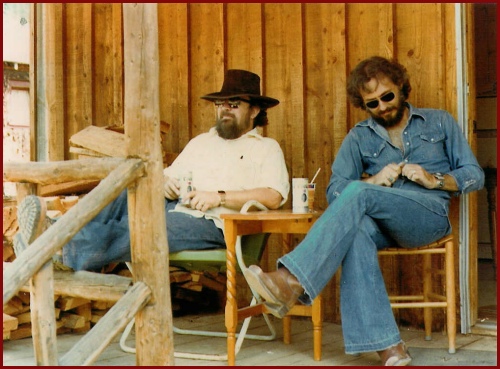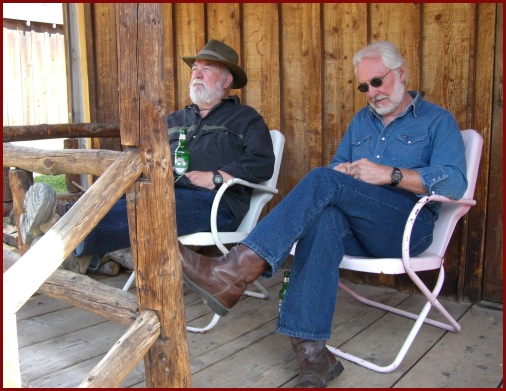 --- Dan & Chuck in 1976 and 2006 ---
Both of the above pictures were taken on the porch of cabin #4 at the Rio Colorado Lodge in Red River, NM. The top picture was from our very first group trip to Red River back in the Summer of 1976 - dad was 36 years old, Chuck was 39. The bottom picture was taken 30 years later in the Fall of 2006. Three decades later and they are still enjoying riding dirt bikes in the Rockies, sitting on porches and drinking beer. Some things never change - I like that.

Return to my home page