Mountain Trip - Fall 2007

We had a little wet weather towards the beginning of this year's Rocky Mountain vacation, but the trip ended with several beautiful Autumn days; deep blue skies, highs around 65, lows around 32. Very nice. The Aspens were a little late this year; most had not turned golden yellow and were still light green. But even the green ones were majestic and they stood out against the darker evergreens. Several people took a lot of wonderful pictures this year; so I apologize if this page contains so many pictures that it takes a while to load.
Be sure to check out the short video clips at the bottom of this page.
The following 17 people went this year:
Brad Stone, Dan Stone, Chuck Mandernach, Nancy & Stan Ferguson, Brooke Ferguson, Shelley & David & child, Tim & Debbie Speck, Audrey Speck, Trevor Speck, Chip & Judy Speir, Daniel Speir. And Audrey's friend Stephanie came down from Denver for a couple of days.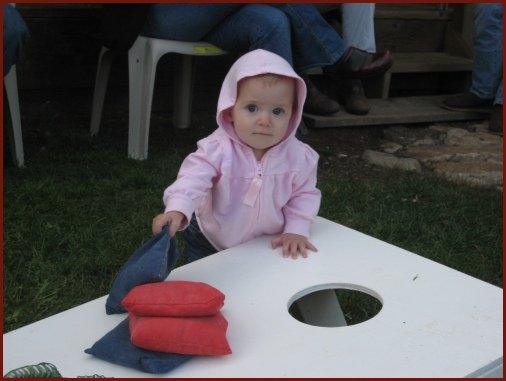 Learning to play games at a very young age. I don't mean to brag, but I beat her 2 out of 3.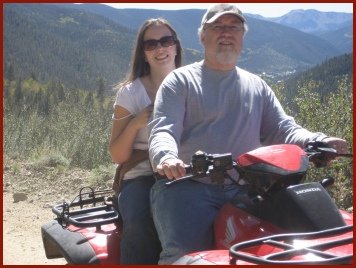 --- Stan & Brooke and Daniel riding up to The Old Pass ---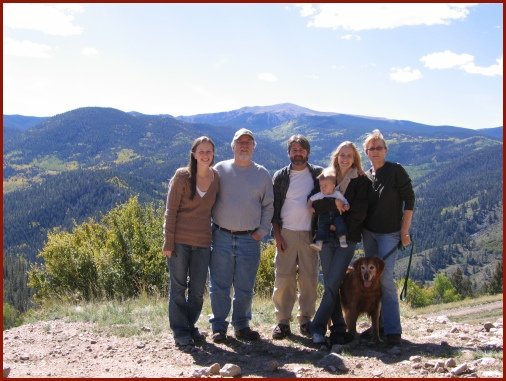 --- At The Old Pass ---
The pass itself is at 9,854 feet, but that spot overlooking the pass is probably around 10,000 feet.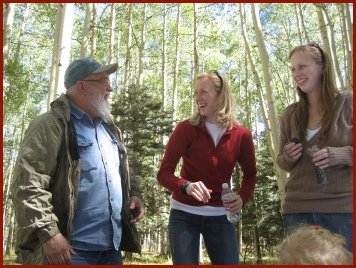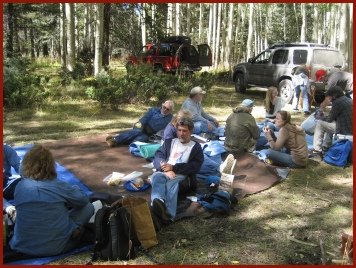 --- At the Aspen grove near The Old Pass ---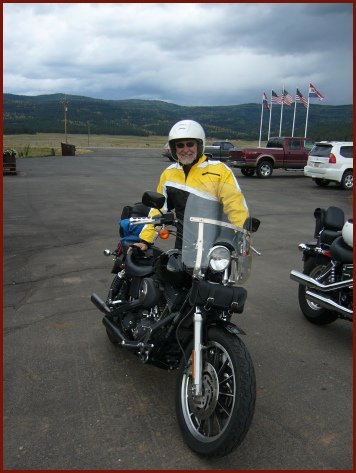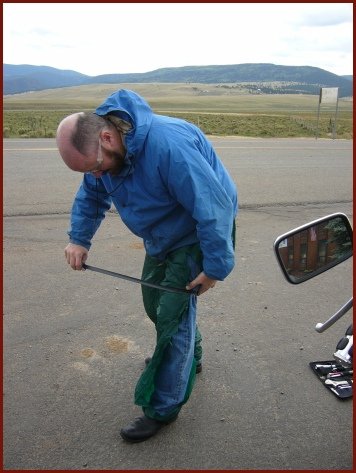 --- Street Bike Riding ---
Chuck & I brought our street bikes this year. We took a fantastic 165 mile ride from Red River to Eagle Nest to Angel Fire to Taos. Those roads were spectacular. In Taos, we walked the main square and ended up sitting a spell on a bench eating ice cream. Good times. It rained on us a bit, but that just added to the fun. Well, it was fun until my cheap pair of rain suit pants exploded in the wind and melted onto my exhaust pipes. LOL. That's me in the right hand picture using black electrical tape to hold the tattered remnants of the pants together. And that's Chuck in the picture on the left looking rather dapper in his structurally sound rain suit. I will soon be buying one similar to it.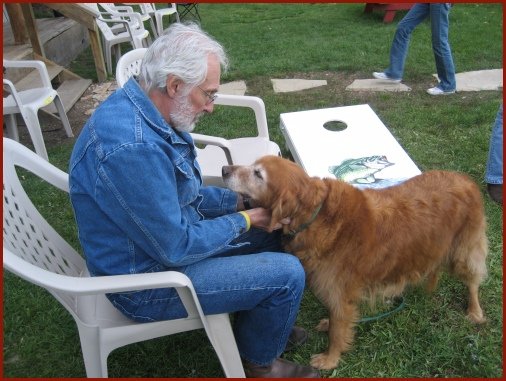 --- Bonnie ---
Sweet ol' Bonnie joined us again this year. She likes just about everyone, but she took a particular liking to Chuck.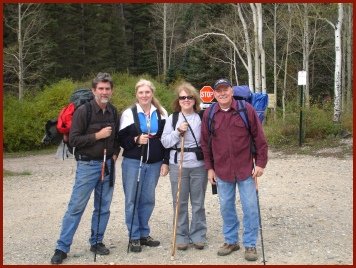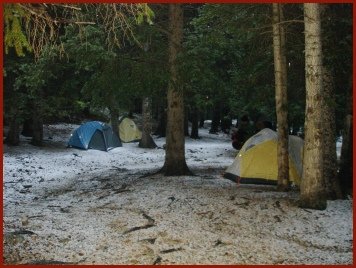 --- Middle Fork Lake (elev. 10,845 ft) ---
The Speck's and The Speir's ("Group A" as we lazy people call them) once again hiked up to Middle Fork Lake and camped there overnight. Unfortunately they picked a rather stormy night - complete with high winds, rain and hail. The picture on the right shows the hail that collected on the ground. Meanwhile, Group B was eating steak and being relaxing inside dad & Chuck's warm & cozy cabin.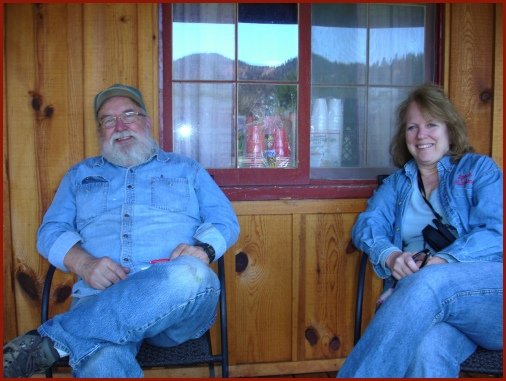 --- Dan & Debbie porch sittin' ---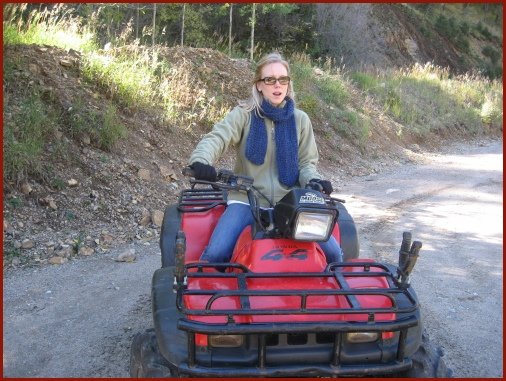 --- Audrey on the way to Greenie Peak ---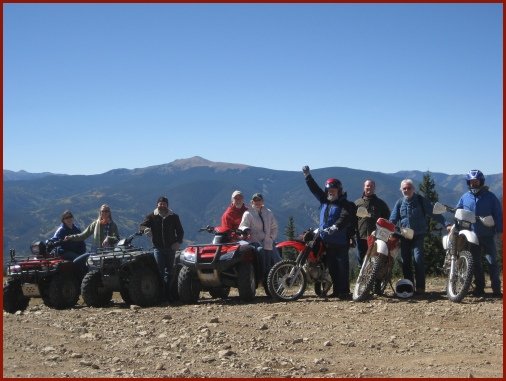 --- The gang at Greenie Peak (elev. 11,221 ft) ---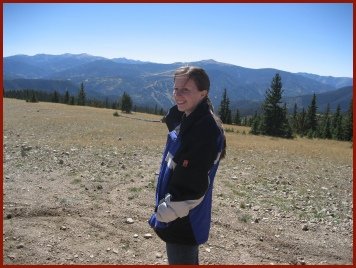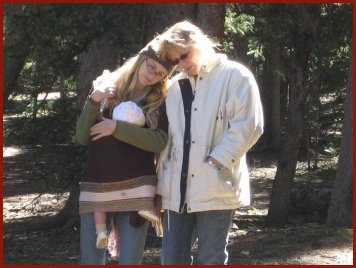 Left picture: Brooke at Greenie Peak
Right picture: Shelley & Nancy at Midnight Meadows near Greenie Peak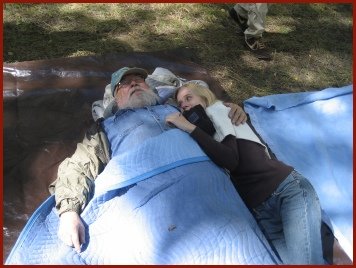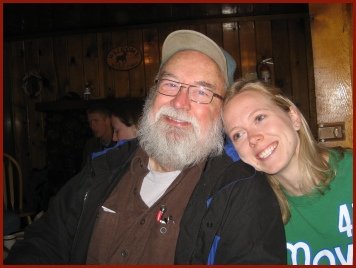 --- Dan and his friends ---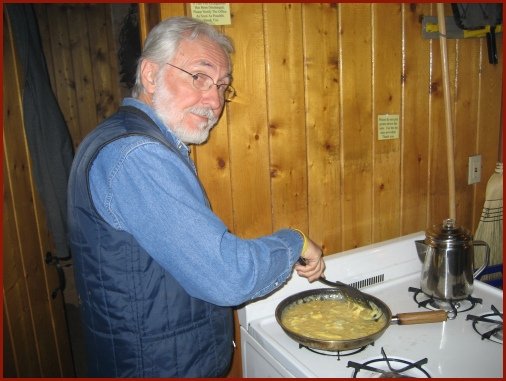 --- Chuck cookin' the gang some breakfast ---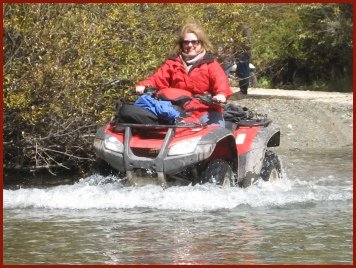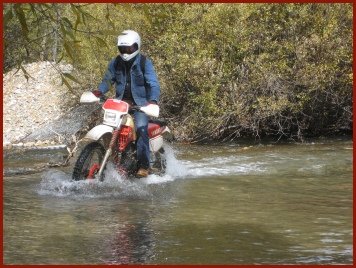 --- Debbie & Chuck on their way to Goose Lake ---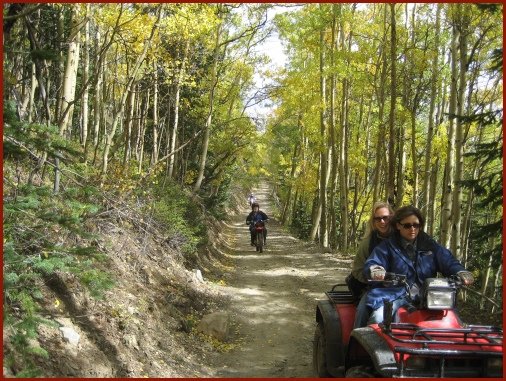 --- Stephanie & Audrey heading up to Goose Lake ---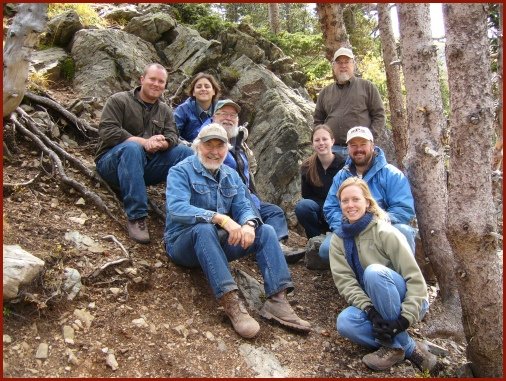 --- The gang at Goose Lake (elev. 11,630 ft) ---
Chuck & I road up to Goose twice that day - with two separate groups. You don't have to twist our arms to go up there!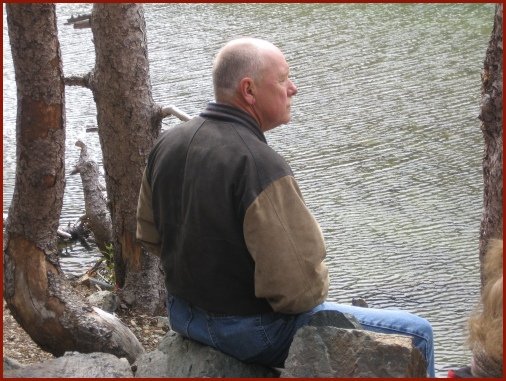 --- Tim Speck at Goose Lake ---
For my money, this is the best shot of the trip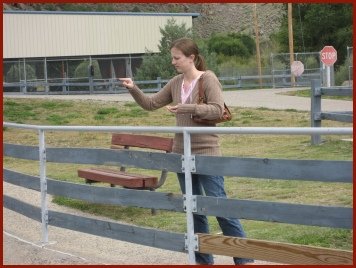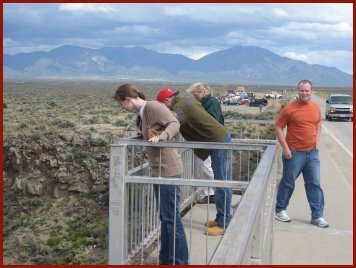 A few of us drove over to Taos, and along the way we stopped at the Questa Fish Hatchery (left picture) and then the Rio Grand Gorge Bridge (right picture). Both places will literally change your life. Well, they changed mine but I lead a pretty sheltered life.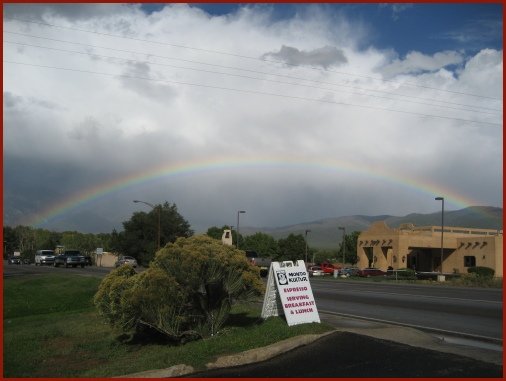 While in Taos, we witnessed a spectacular rainbow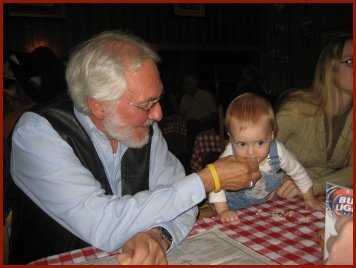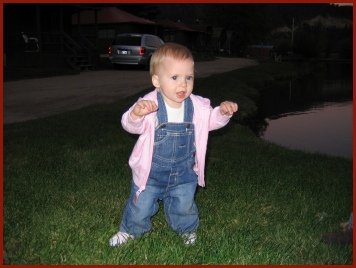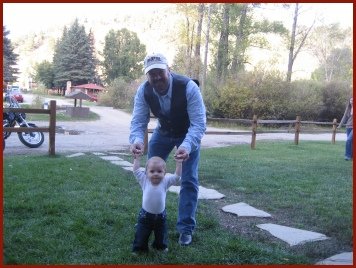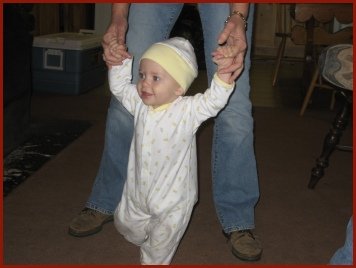 --- Some Cute Kid Shots ---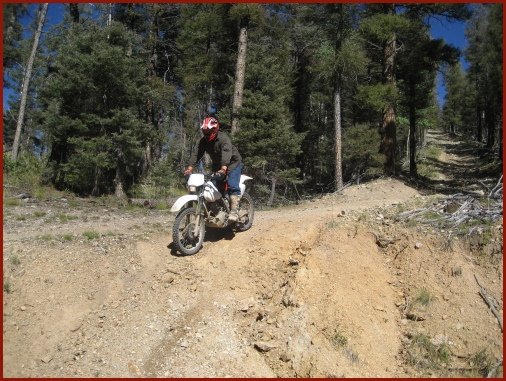 --- Trevor coming down Triple Hill ---
Trevor & I rode all three of the "hard hills"...Mogul Hill, No-Gas Hill and Triple Hill. They are all quite long and very steep; much steeper than they appear in pictures and videos. The entrance to No-Gas Hill in particular makes my knees a bit weak when I first see it each year. LOL. Trevor went up all three hills quite easily - very impressive.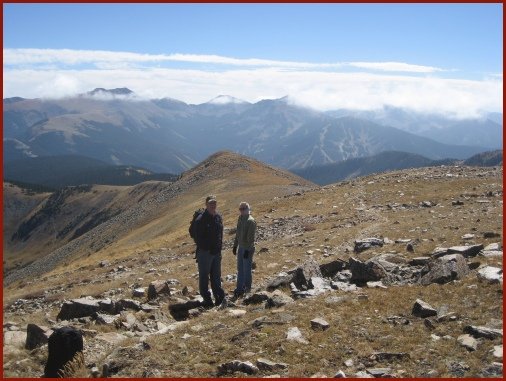 --- Gold Hill (elev. 12,711 ft) ---
Trevor, Audrey and I hiked to the top of the 14th highest point in New Mexico. There are a couple of routes up to the top; we chose to ride our dirt bikes and 4-wheelers to Goose Lake and then hike up the steeply pitched switchbacks to the left of the lake. It was a pretty exhausting hike...but certainly worth the view.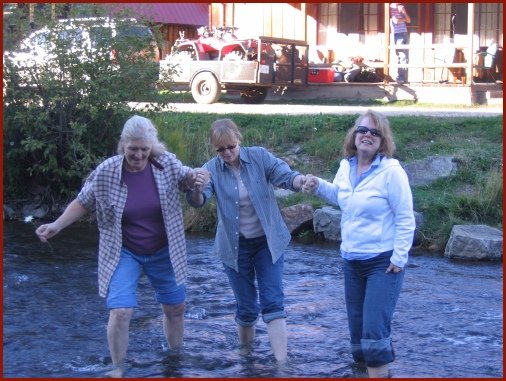 --- The Traditional Crossing Of The River ---

Windows Media Player Video Clips
If these clips won't play, you may need the most recent version of the Windows Media Player. Click
here
for the free version.

A young'un standing in Brad's cabin

Father and child walking at the Rio Colorado Lodge

Riding my street bike from Angel Fire to Taos

Breakfast in dad & Chuck's cabin

Stan & Brooke crossing the Red River

Tim Speck crossing the Red River

On top of Gold Hill

Coming down from Gold Hill

Riding down from Goose Lake

The annual crossing of the river

Return to my home page