Mountain Trip - Fall 2019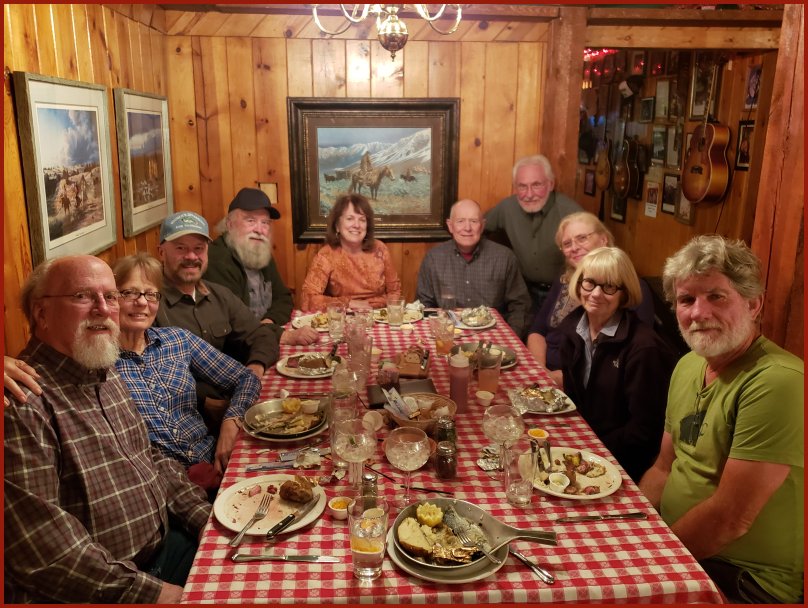 The gang at Texas Reds Steakhouse
Ten people went to Red River, NM this year. The Aspen were a little green due to the slightly warmer weather. But it was still very pleasant - high's in the upper 60's and no rain. Nice. Dad continued his generous tradition of paying for everyone's dinner at Texas Reds. And Chuck bought the drinks. Thanks guys!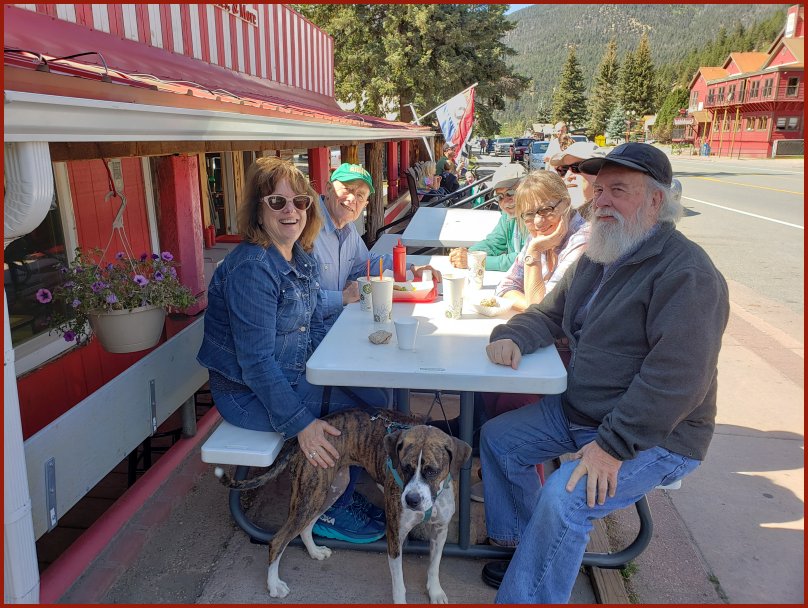 Lunch at the Dairy Bar in Red River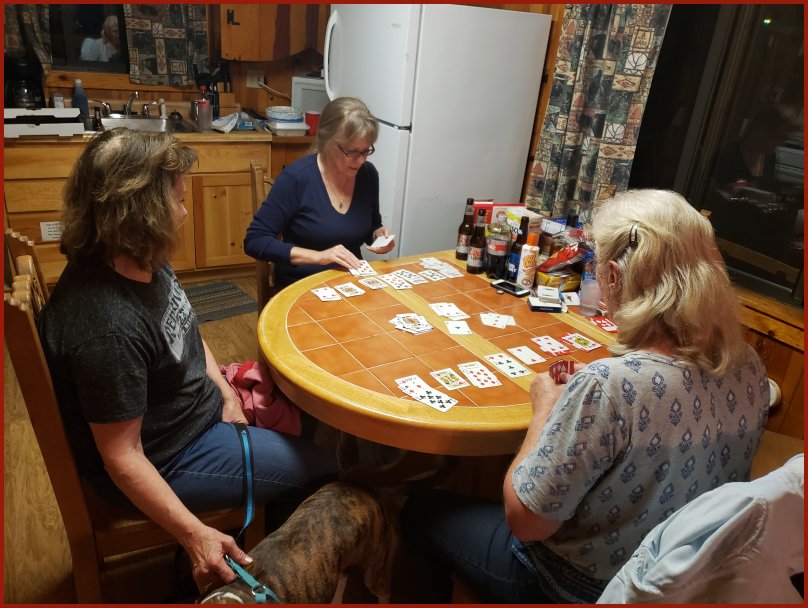 These three are very good at Double Solitaire!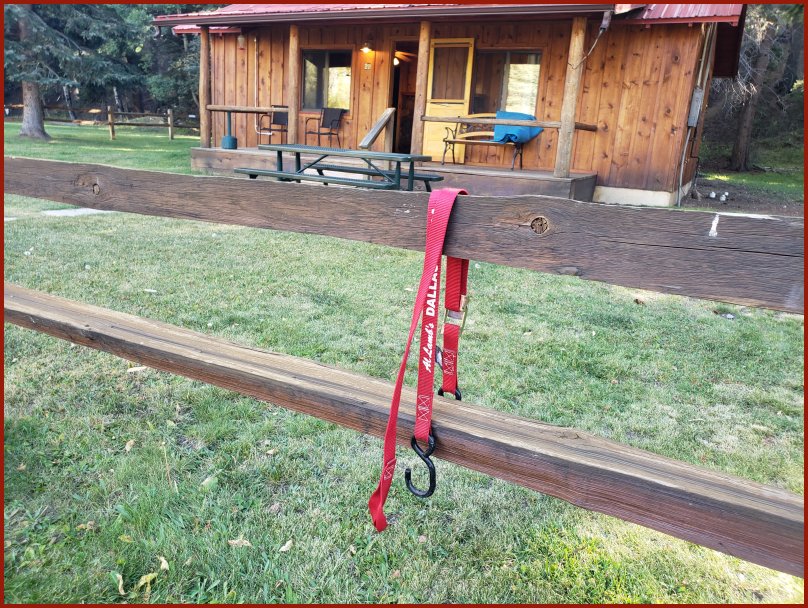 Normally the fence near our cabins at the Rio Colorado Lodge has a dozen red straps hanging from it. We didn't trailer any dirt bikes or 4-wheelers this year, so we really didn't need to bring any straps. But I hung one just for old time's sake :)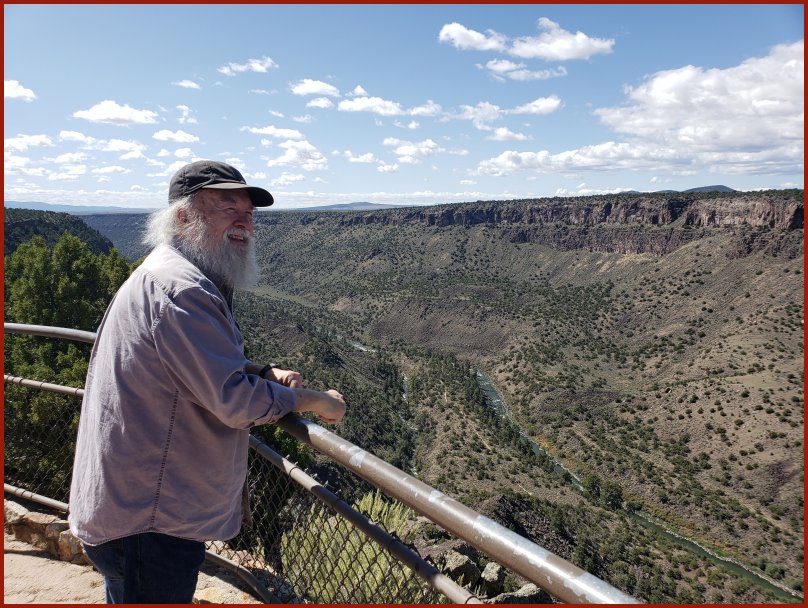 Dad with the intersection of the Red River and Rio Grande behind him. Note that this is the Red River that flows westward in northern New Mexico towards the Rio Grande, not the Red River that generally flows eastward between Texas & Oklahoma. Two different rivers. In the picture, the rivers flow from right to left, and they converge about 2 fists above Dad's right hand. The Wild Rivers Recreation Area is located within the Rio Grande Del Norte National Monument and is well worth seeing.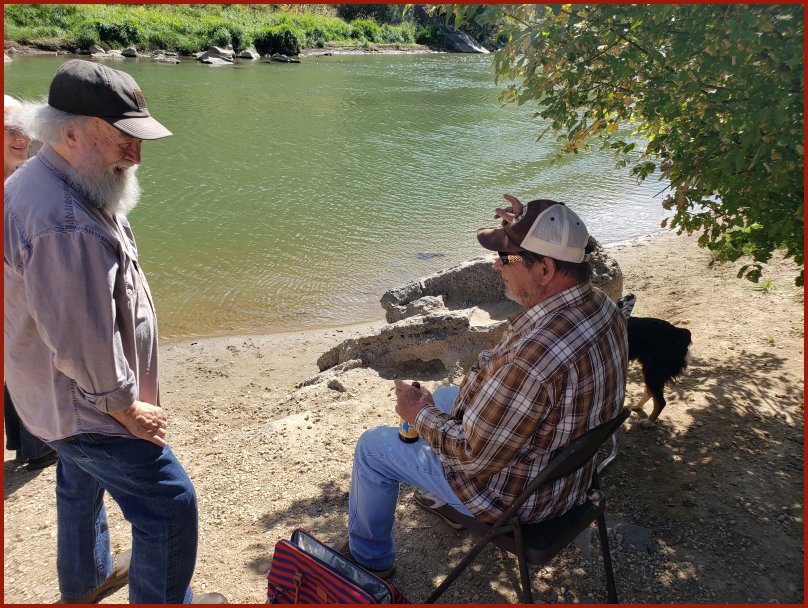 After we saw the confluence of the Red River & Rio Grande, a few of us drove to the John Dunn Bridge on the Rio Grande near Arroyo Hondo. It's a beautiful drive there. Dad is talking with an interesting local who told us a little history about that bridge.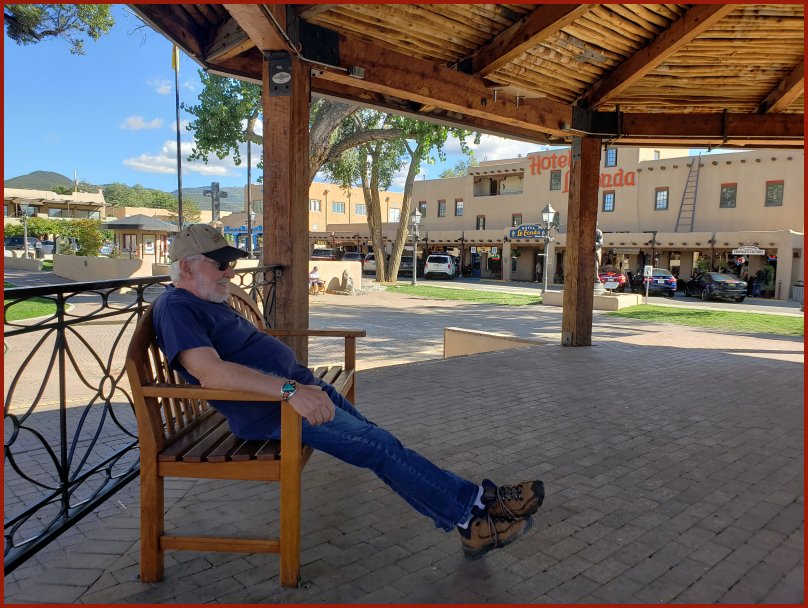 Chuck relaxing on the square in Taos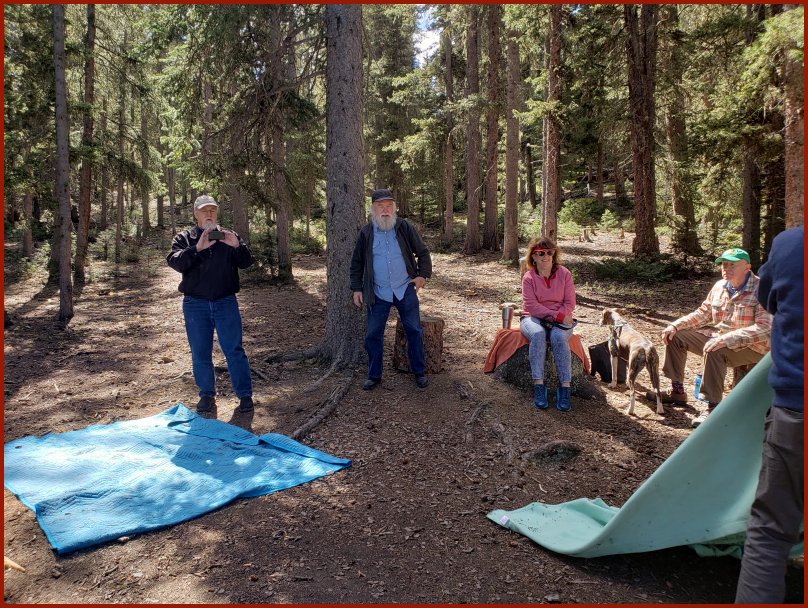 Preparing for lunch near Midnight Meadows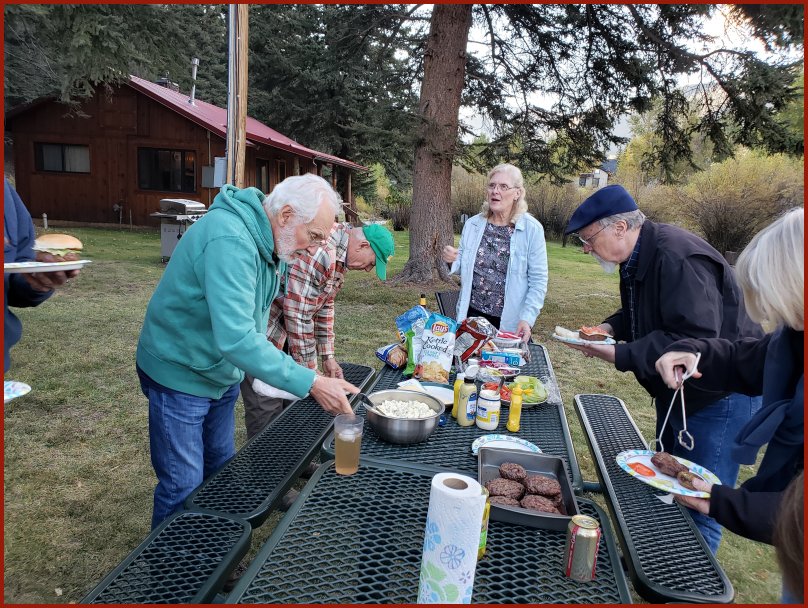 The hamburgers were delicious at the cookout near our cabins. And Chuck's potato salad was amazing.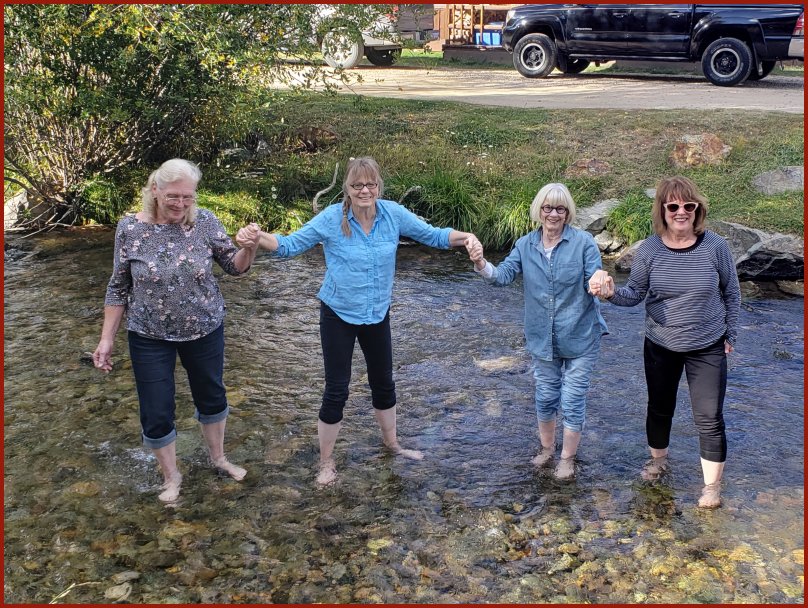 The annual Crossing Of The Creek!

The pancake breakfast at the Speck/Speir cabin was fabulous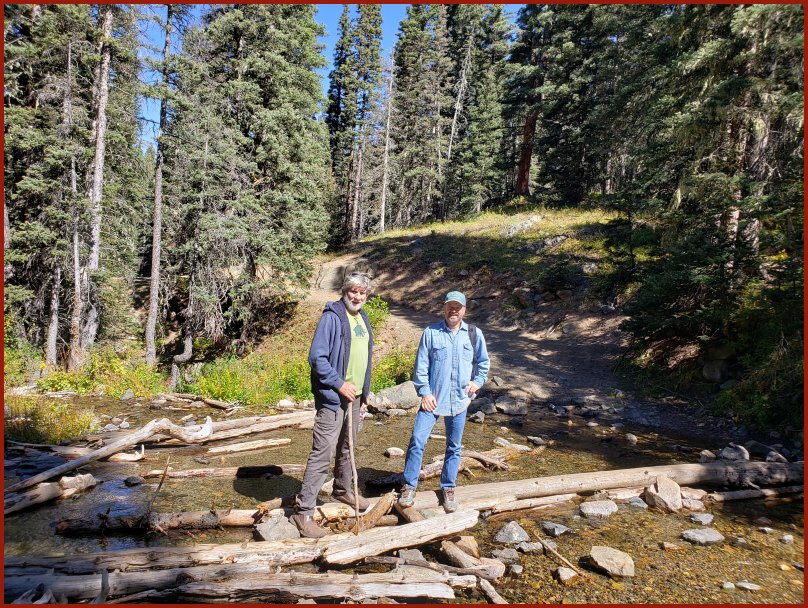 Chip & I on the hiking trail to Middle Fork Lake. Tim, who took the picture, was also on this hike.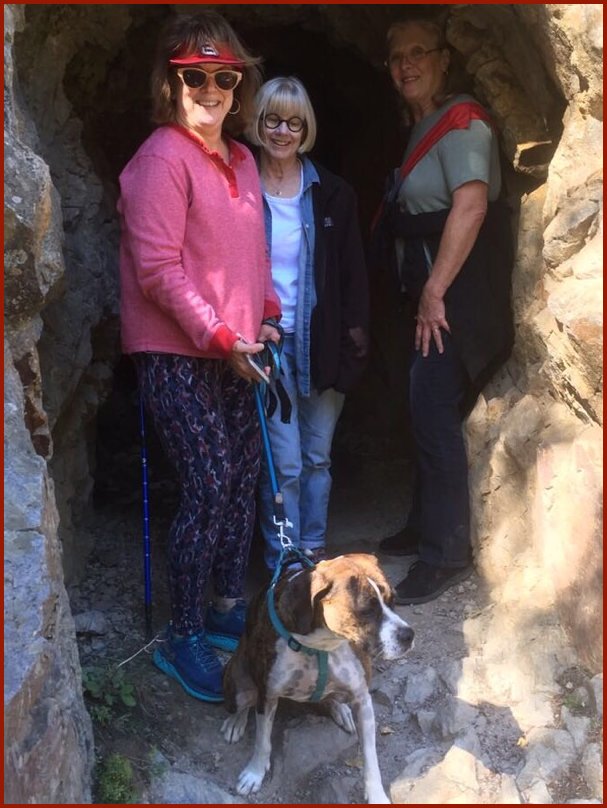 Debbie, P.J., and Judy in an old mine near the Carabel Mine trail. Nancy was on the hike too and took the picture.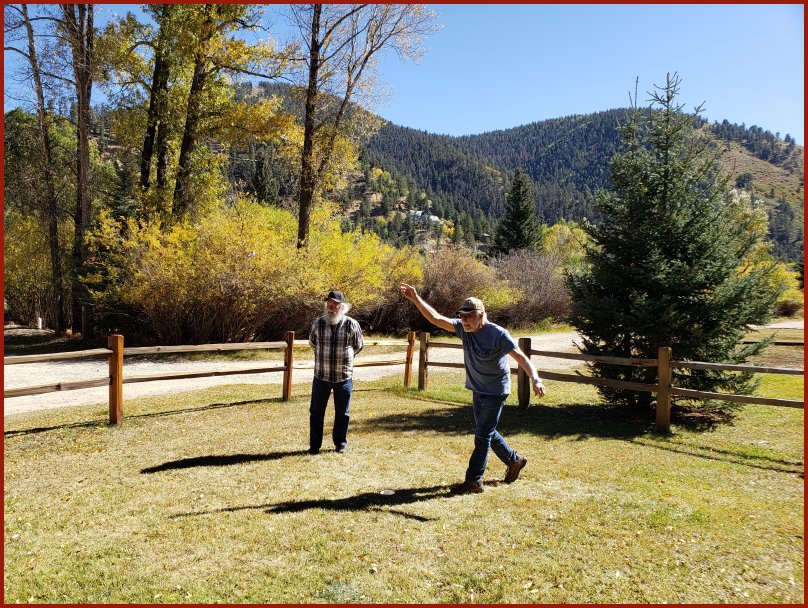 Chuck was washer pitchin' champion again this year. He is a machine!

Return to my home page