Mountain Trip - Fall 2021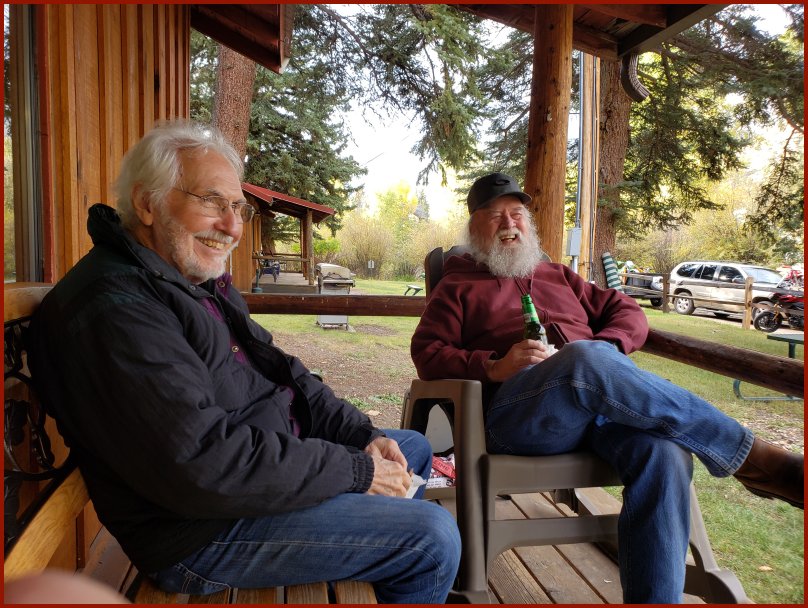 Chuck & Dan on the porch of cabin #20
We skipped last year's annual trip to Red River, NM due to Covid, so it sure felt good returning to the Rocky Mountains this year. With some social distancing and mask wearing, it felt fairly safe. It was rainy and cold for the first few days of the trip. But then beautiful Fall weather graced us for the last several days - deep blue skies, highs in the 60's and lows in the 30's. And the Aspen trees were beautiful.
We had 15 people make the trip this year: me, Dad (Dan Stone), Jason Hale, Chuck Mandernach, Marci Taft, Kent Mandernach, Marilee Mandernach, Nancy Ferguson, Stan Ferguson, Tim Speck, Debbie Speck, Audrey Speck, Debby Darby, Chip Speir, Judy Speir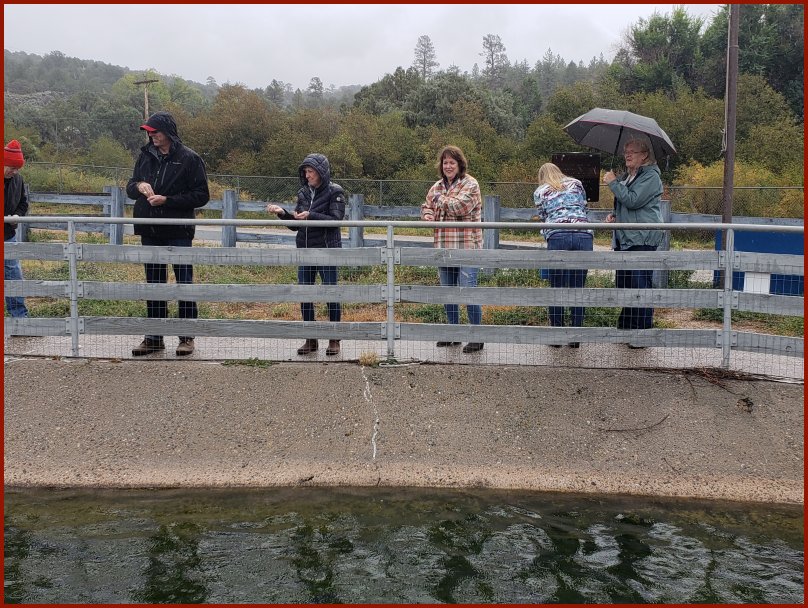 It was a bit rainy this year at the Red River Fish Hatchery, but it was still a hoot. They have fish pellets in quarter-operated dispensers - and the big trout go nuts fighting for it. I've loved this place since I was a kid.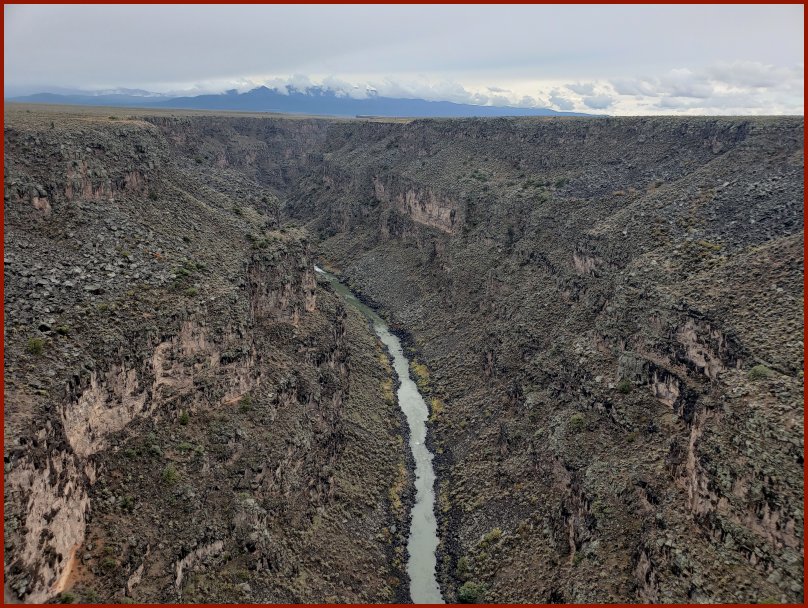 The Rio Grande, taken from the spectacular Rio Grande Gorge Bridge near Taos, NM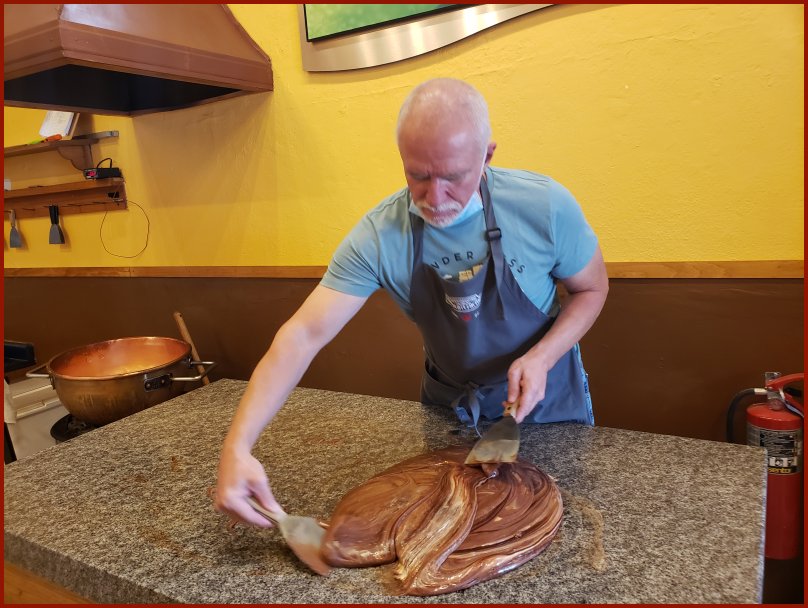 After visiting the Rio Grande Gorge Bridge, Jason & I drove over to Taos to visit the main square. It was mesmerizing to watch this guy make fudge.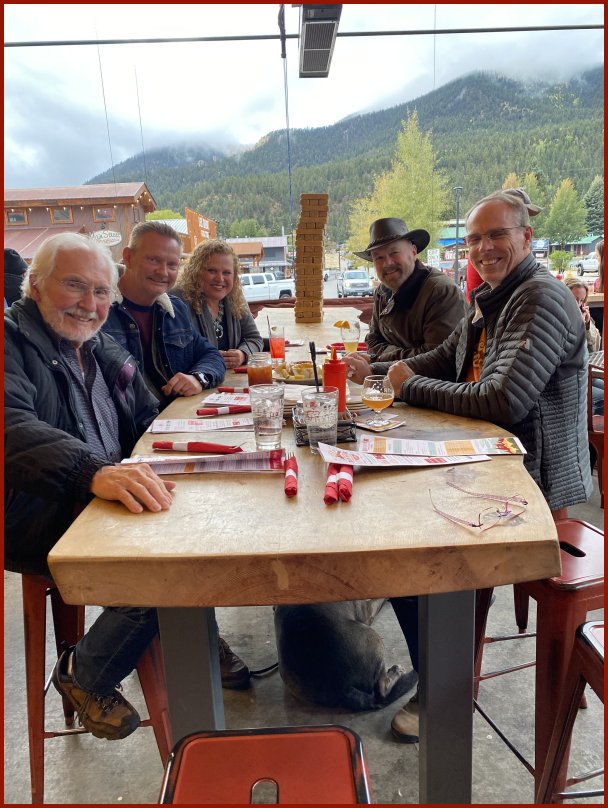 Celebrating Kent's 56th birthday at the Red River Brewery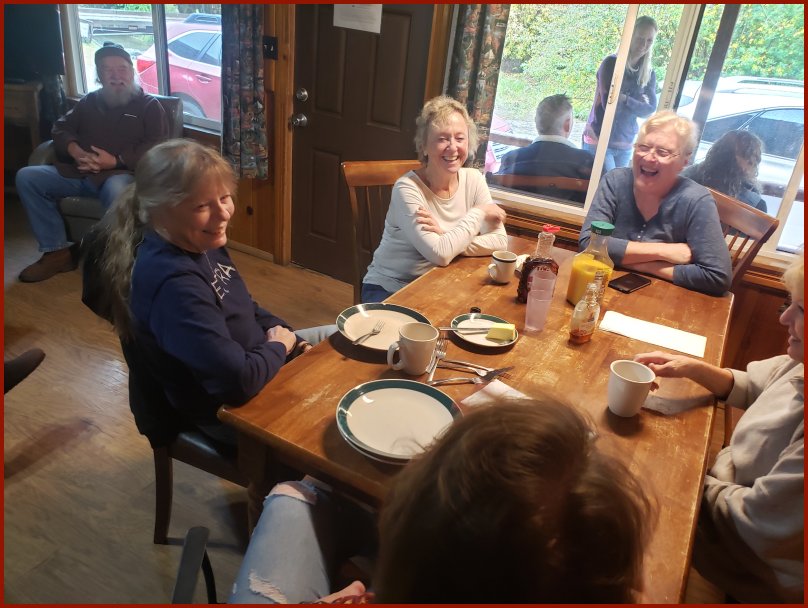 The annual pancake breakfast at the Speck's cabin was as fun and delicious as ever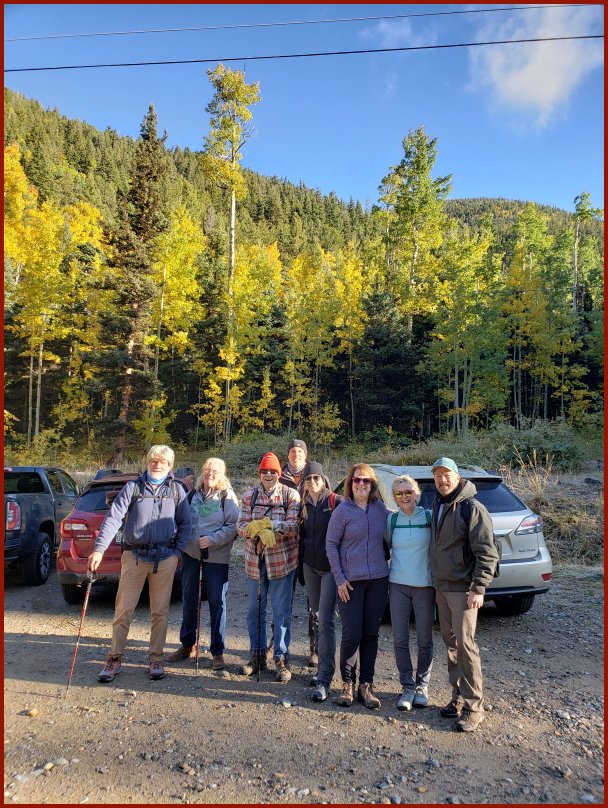 Preparing to hike up to Middle Fork Lake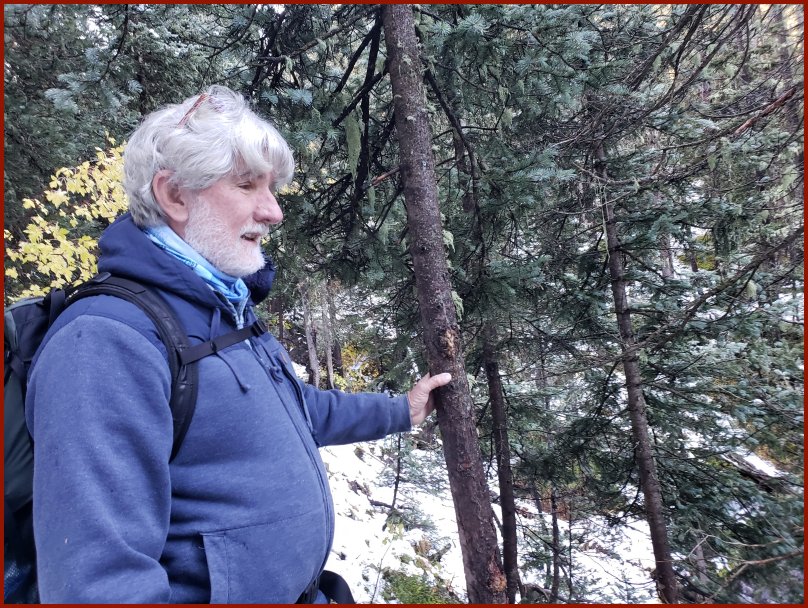 Chip on the hike up to Middle Fork Lake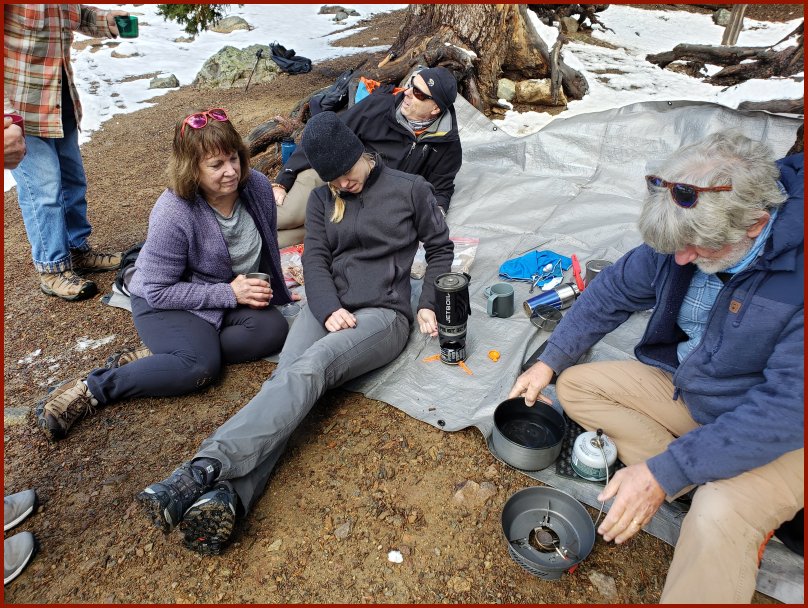 Audrey brought her Jetboil to Middle Fork Lake to heat up water. It worked great for making warm tea and hot chocolate.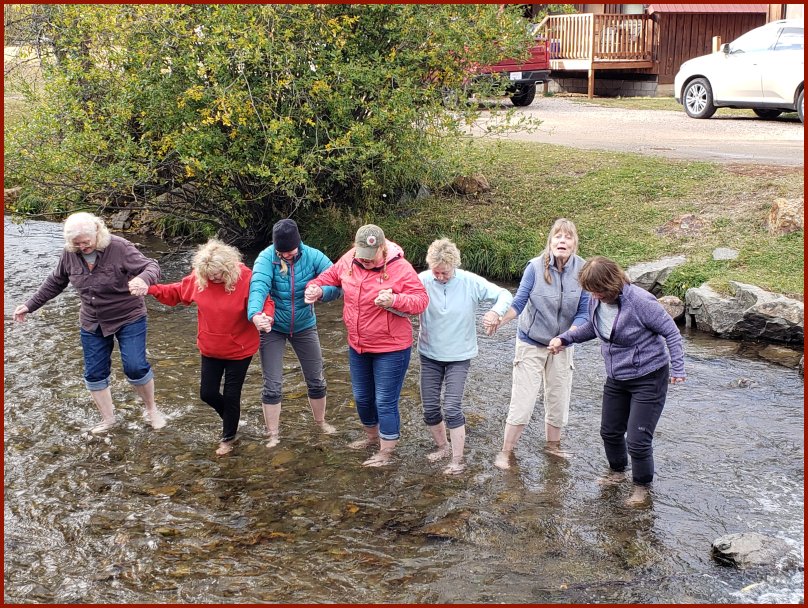 The annual Crossing Of The Creek!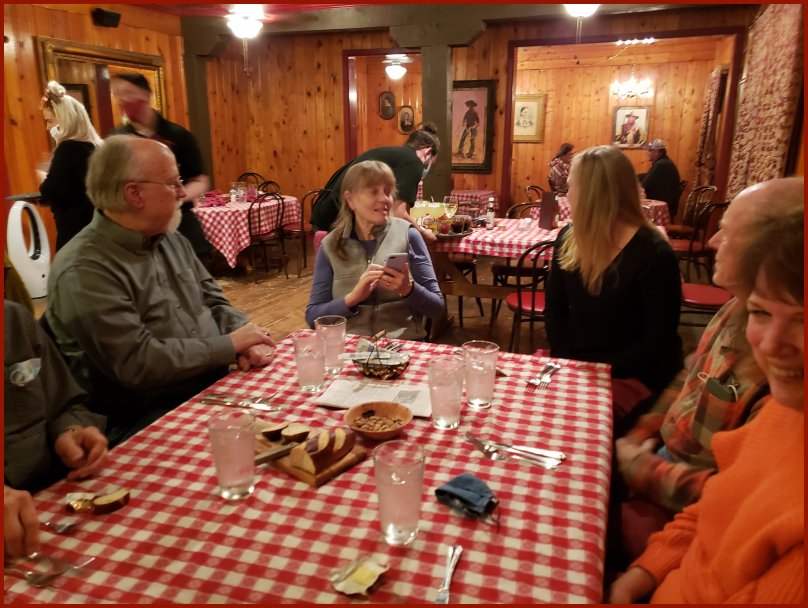 At Texas Reds there was a table of young women near us that were loud, drunk, and abnoxious. Or maybe I'm just getting old - hey, stay off my damn lawn! In any event, the steaks were delicious! And Dad bought everyone's meal and Chuck bought the drinks. That's a tradition that goes back several decades. Thanks guys!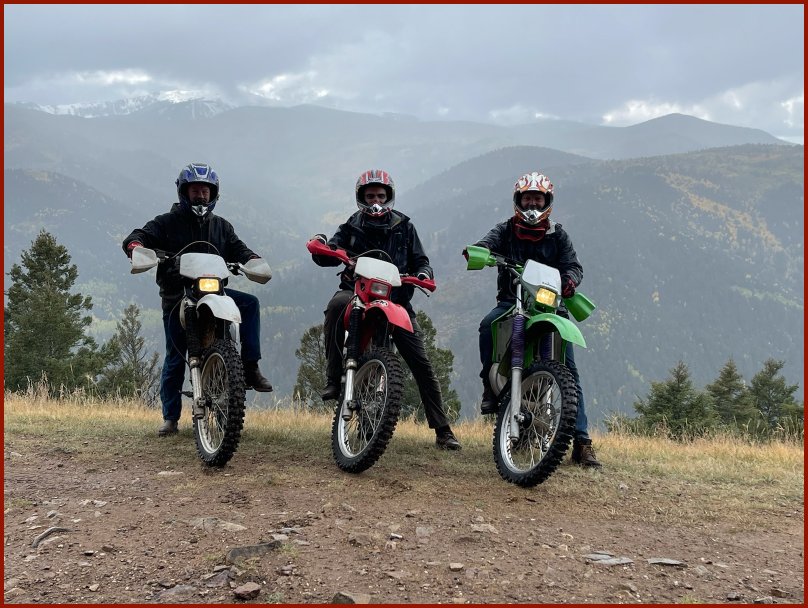 Brad, Jason, and Kent at the Old Pass. It was so nice riding dirtbikes with Jason and Kent - we first rode in the Red River area 45 years ago in 1976 when we were roughly 10 years old.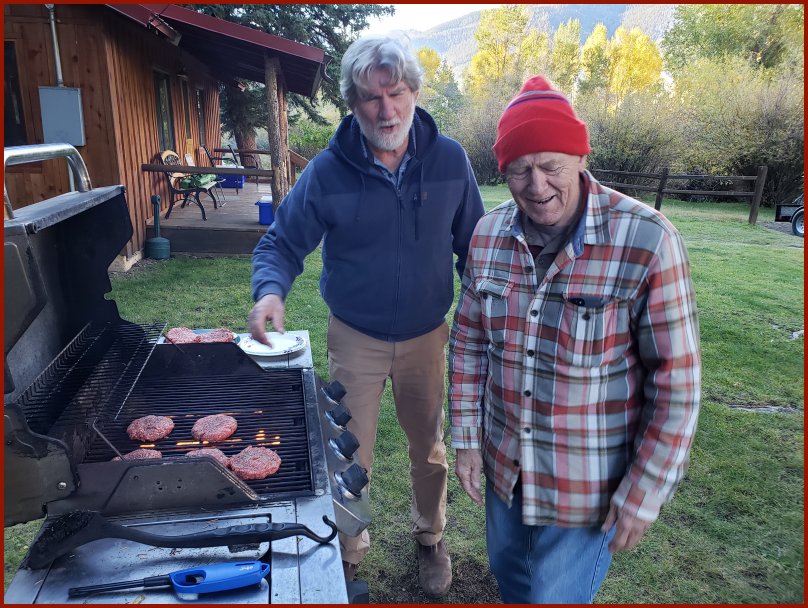 Chip & Tim did a great job cooking the burgers for a cookout near the cabins. Chuck made his delicious potato salad for it!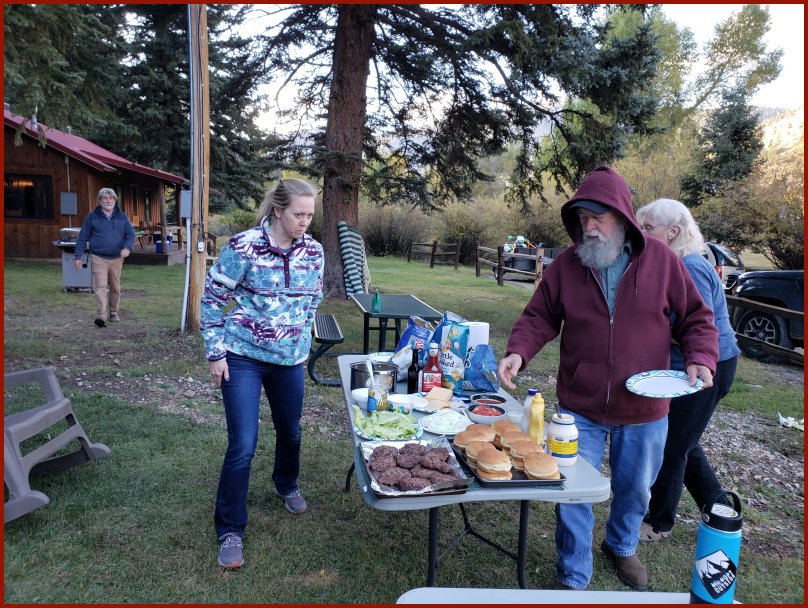 Preparing to chow down!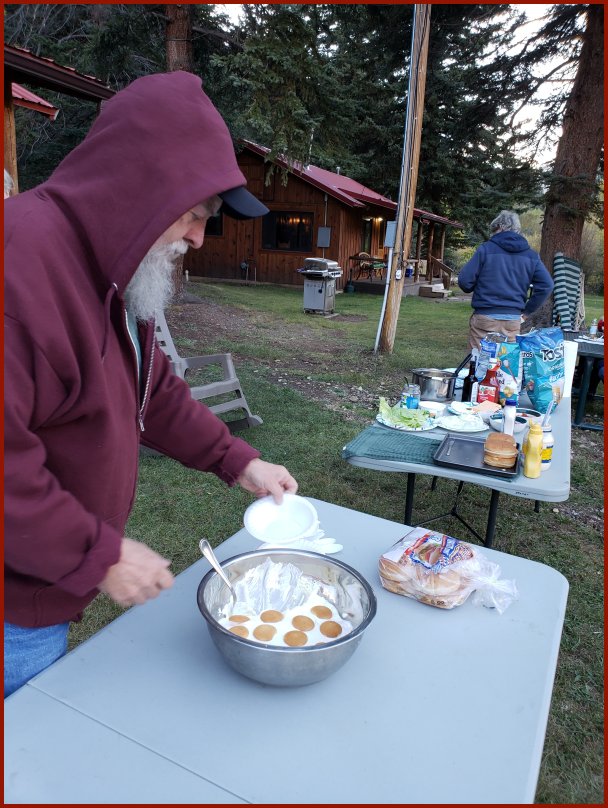 Dad getting a helping of my banana pudding at the hamburger cookout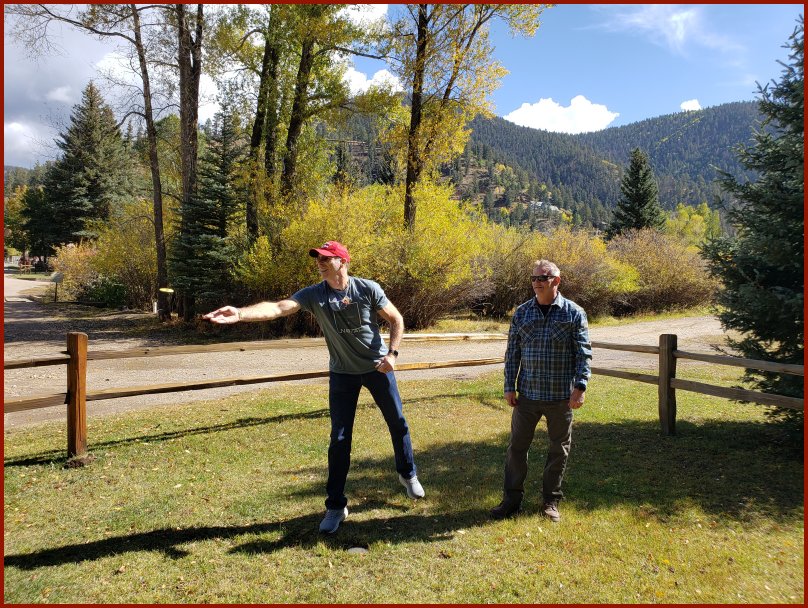 Jason & Kent pitching washers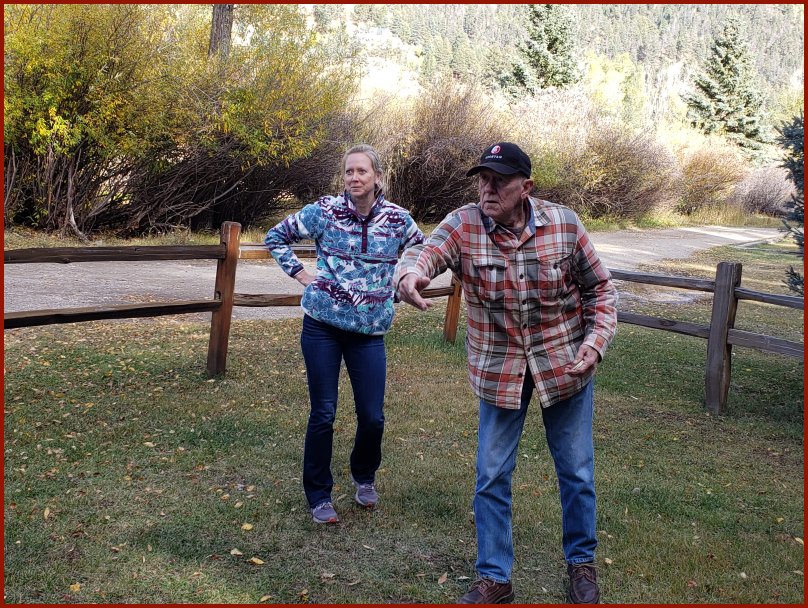 Audrey & Tim pitching washers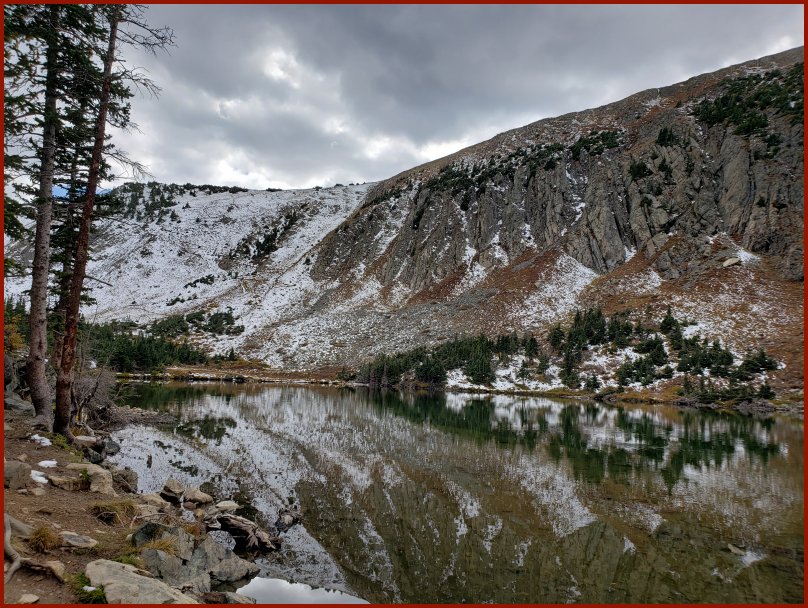 Goose Lake was gorgeous this year!

A great shot of Marilee & Kent coming down from Goose Lake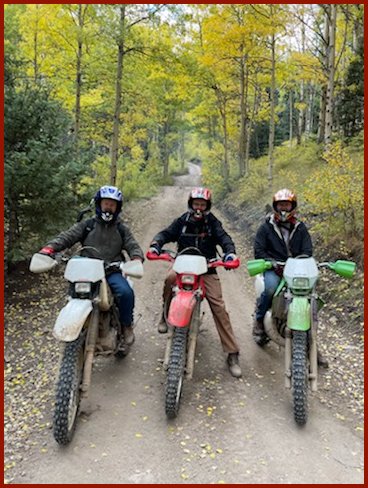 Me, Jason & Kent coming down the Goose Lake trail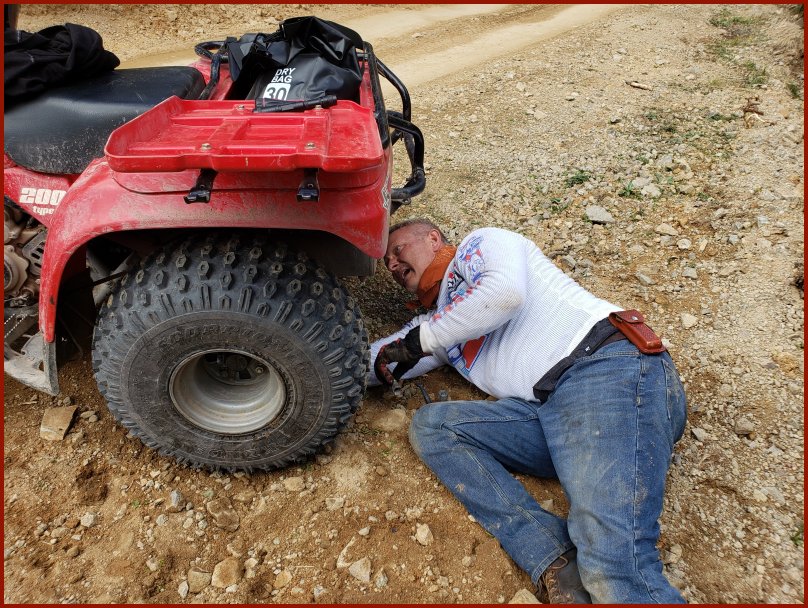 Heading up to Greenie Peak. We were a bit snake-bitten on the Greenie Peak ride. The chain kept coming off of Marilee's 4-wheeler - that's Kent trying to get it back on. And a screw holding the rear brake pads on my dirtbike came out, so I had no back brake. Then another screw holding my SuperTrap muffler came out - so the SuperTrap fell off. The high altitude caused a can of Coke to explode in my backpack, drenching my pants in sticky Coke. Oh, and then the piston in my non-working back brake wedged against the rear rotor which locked up my rear wheel. It took an hour for me & Kent to dislodge that piston. Needless to say, we never made it to Greenie Peak. Luckily, it was the last ride of the trip - and we did see some spectacular golden Aspen trees. But let's forget that this ride ever happened. LOL.

Return to my home page