Mountain Trip - July 1993


I didn't have a web site at the time of this trip so I'm having to create this page many years later.
Most of these pictures were "captured" from a video tape I shot of the trip. Thus, the pictures on this page look somewhat grainy.

This was the "father/son" trip. It consisted of me & Dad (ages 27 and 53), Chuck & Kent Mandernach, Richard & Byron Down. It was a wonderful trip. We camped out for the first few days in the Lake City, Colorado area - what a beautiful part of the country. From our campsite we took dirtbike rides into Ouray, Silverton and Teluride. And along the way we saw some majestic sites like California Pass, Black Bear Pass and Cinnamon Pass. After a few days in Colorado, we drove to Red River, NM and camped out north of the tennis courts there.

I had the pleasure of going on several wonderful family vacations to the mountains (especially Red River, NM) as a kid & teenager in the 1970's and 1980's. I missed a few trips during my college years, so I consider this 1993 trip to be the first in a new era of mountain vacations which lasts to this day.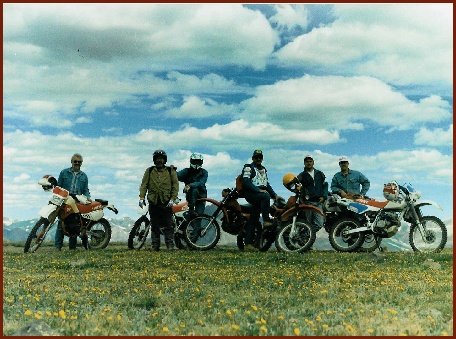 *** Cinnamon Pass (elev. 12,620 ft) ***

Here's a group shot of everyone that went on the trip that year. From left to right: Chuck Mandernach, Dan Stone, Kent Mandernach, Richard Dowd, Byron Down, Brad Stone (me). From our campsite near Lake City, CO we had to cross over Cinnamon Pass each day to get to the other trails. I didn't mind, it's a beautiful spot!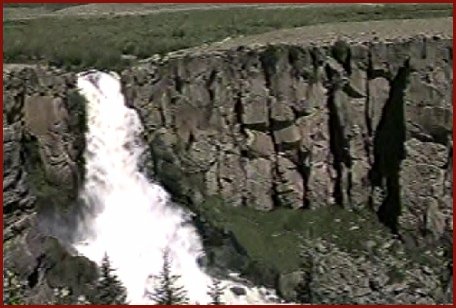 *** The Rio Grande River ***
On the way to our first campsite at Lake City, CO we stopped at the North Clear Creek Falls on the Rio Grande River. Very impressive!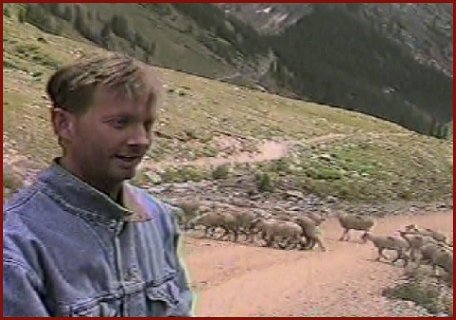 *** Kent Mandernach ***

We had to briefly pause to let a large herd of sheep move off the trail to Silverton. Once in Silverton we ate at our favorite hamburger joint, The Handlebars Restaurant, before riding back to camp.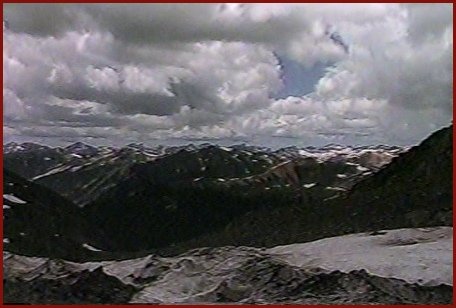 *** California Pass (elev. 12,930 ft) ***
Chuck, Kent and I took a beautiful ride over to California Pass, CO. This picture doesn't do the scenery justice - it was really something special.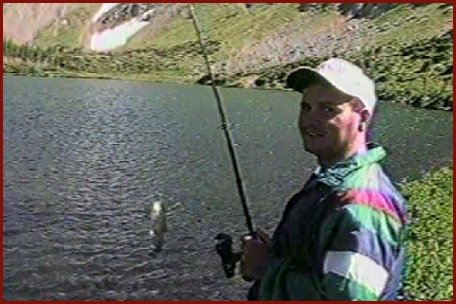 *** Byron Dowd at Goose Lake ***

After we left Colorado, we camped out in the Red River, NM area. The Goose Lake ride is one of my favorites. Goose Lake is a beautiful mountain lake not far from Gold Hill, NM. If I remember correctly, Byron caught several small trout that day including the one pictured.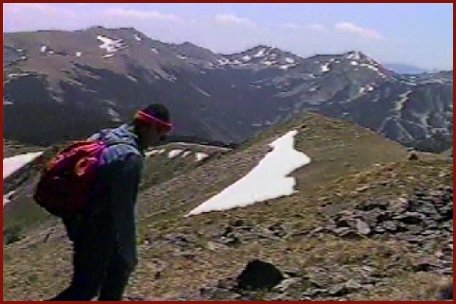 *** Richard Dowd summiting Gold Hill ***

Richard had recently undergone heart bypass surgery when this picture was taken. So climbing to the top of Gold Hill (the 14th highest point in New Mexico at 12,716 ft) was a heck of an achievement! The view from the top of Gold Hill is awesome.



Windows Media Player Video Clips
If these clips won't play, you may need the most recent version of the Windows Media Player. Click here for the free version.



Camp scene near Lake City and riding to California Pass

Return to my home page