Mountain Trip - July 2001


One day my buddy, David Hood, calls me up and says that a friend of his couldn't make a motorcycle trip to Tincup, CO but that I could use his friend's dirtbike (an XR400 similar to mine) if I could make it up there. So I hopped on a plane to Denver and then rented a car for the journey to Tincup. I even brought the seat off my bike with me (I removed foam from mine to lower me down a bit). Needless to say the borrowed bike felt almost exactly like mine and it ran great. Paul I owe you one.

The Pitkin/Tincup area of Colorado is beautiful and offers some great riding (both easy and difficult). It was certainly worth the trip!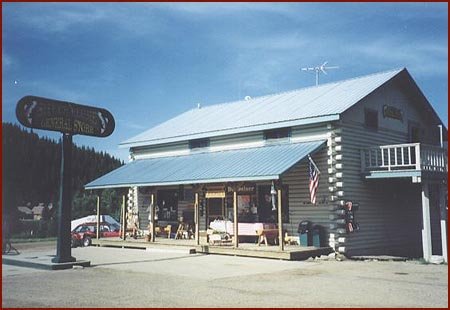 *** Silver Plume General Store ***

We spent the night in Pitkin, CO at the Silver Plume General Store. They have a couple of places to rent there - each with a kitchen, bedrooms, etc. Pretty nice place actually. And the people there were nice as can be.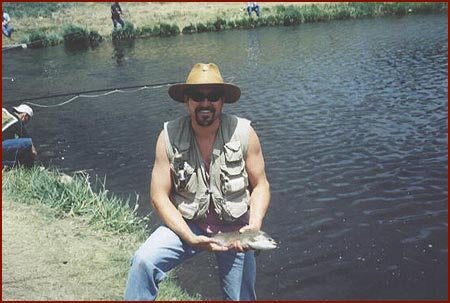 *** Jason Young ***

The fish hatchery near Pitkin discovered that their trout had a virus that was causing deformities in their offspring. Luckily the fish were still safe to eat because the hatchery placed all their trout in one pond and let us catch as many as we wanted! Needless to say we had quite a fish fry that night.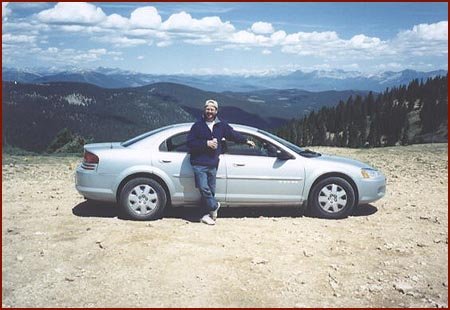 *** Cumberland Pass (12,056 ft) ***

On the way to Tincup from Pitkin you go over Cumberland Pass. I just had to get my picture taken with my rental car up there. It's an easy drive and very scenic.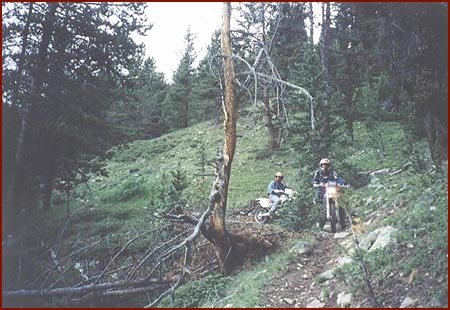 *** Timberline Trail ***

On our first day in Tincup we decided to ride the Timberline Trail (aka trail 414) starting well north of Taylor Lake and working our way southeast. This single lane trail (no 4-wheelers allowed) is beautiful but has some extremely steep and rocky sections. After a couple of hours we had only gone 4 miles and decided to find the nearest exit. We eventually made our way down via Trail 756. It was one of the toughest rides I've ever been on (on par with Blanca Peak near Fort Garland, CO). But looking back, damn that was fun! Above is a picture taken at an extremely easy section of the trail. That's Jason Young in front followed by David Hood.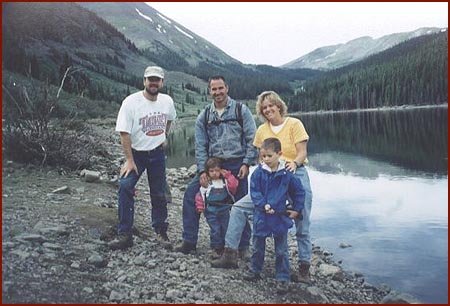 *** Mirror Lake ***

It's a fun ride from Tincup to Mirror Lake. Lots of folks ride 4-wheelers to it. That's me on the left standing with the Hood family. From Mirror Lake, David and I rode our dirtbikes over Tincup Pass to the small town of St. Elmo then down to Hancock Pass, over to Napolean Pass and then back through Tincup. What a great ride!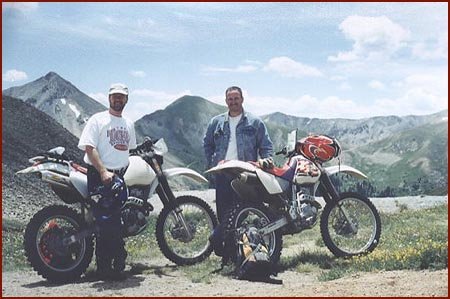 *** Hancock Pass (12,120 ft) ***

That's me and David Hood at Hancock Pass. It wasn't a hard ride to the top but we were still amazed when we saw a 6 year old on an XR50 go up it. His family was right there with him - each member on an XR. Very cool.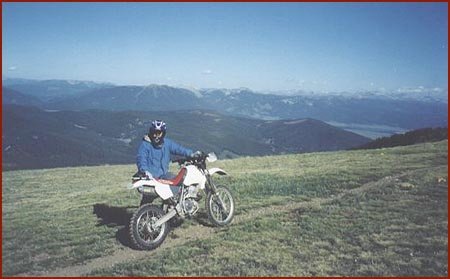 *** Timberline Trail ***

Jason Young and I took the last ride of the trip - and it was a great one. We went back to the tough Timberline Trail (see above) but this time we started at the south end of it near Mirror Lake and rode northward. It turns out that the southern end is a bit easier to ride and is beautiful - as you can see. This picture of me was taken somewhere near the Sanford Basin area of the Timberline Trail. If you look closely you can see Taylor Park Reservoir in the right of the picture with the Collegiate Peaks behind it.



Return to my home page