Mountain Trip - July 2006
30th Anniversary Trip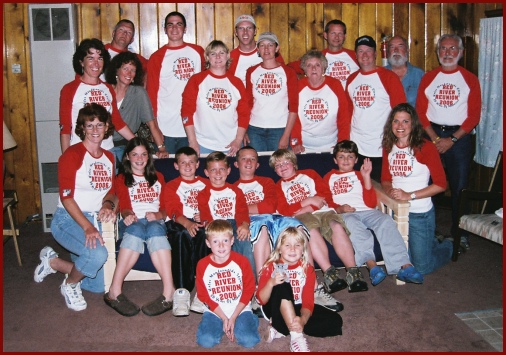 From left to right:
Bottom row: Luke, Brenna
Middle row: Diane, Chloe, Joel, Bo, Zack, Colt, Baily, Marilee
Top row: Susanna, T.J., Glen, Nick, Denise, Jason, Mykala, Billie, Kent, Brad, Dan, Chuck
What a group! Back in the 1970s and '80s, the Hales, Mandernachs & Stones (a.k.a The Group) vacationed several times together in the high-mountain town of Red River, NM. Our first trip together occurred in the summer of 1976; hard to believe I was only 10 at the time. Thirty years later, Diane Hale and I thought it would be neat to get the gang back up there for an anniversary trip. We lost Judy and Don to cancer several years ago, and Pat and Kelly didn't make the trip either. But the rest of the group were there and we thought of the ones who weren't. Marilee was nice enough to print up
"reunion"
T-shirts for everyone. I brought several old photo albums that mom made for me as a kid; the pictures from past Red River trips were a big hit. With the addition of children and spouses, we numbered 22 this year. Numerous fond new memories were made on this trip, which will blend nicely with the memories of old.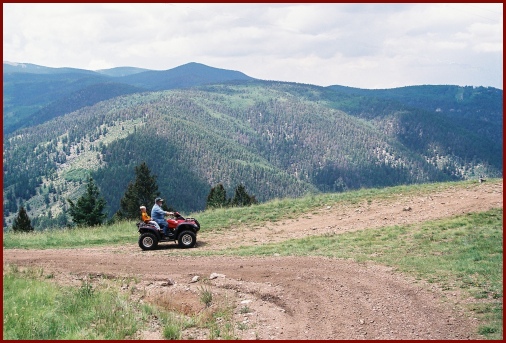 Dan & Luke at The Old Pass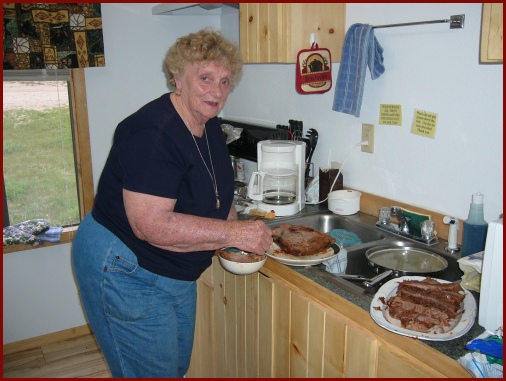 Billie cooked us all some wonderful brisket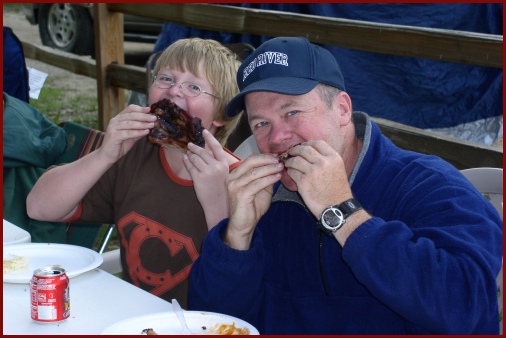 And on another night, Billie cooked up some of her world-famous ribs. Colt and I are demonstrating the proper technique for eating them.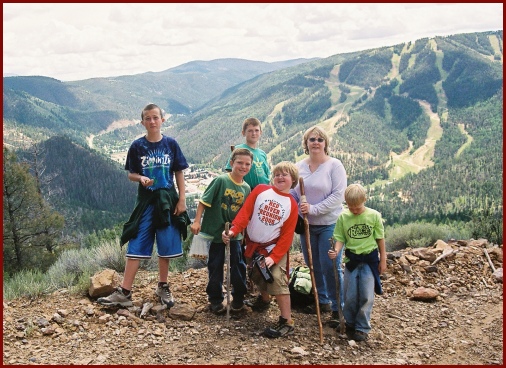 Denise probably deserves a medal for being willing to go hiking with these guys. Those are the Red River ski slopes on the mountain behind them.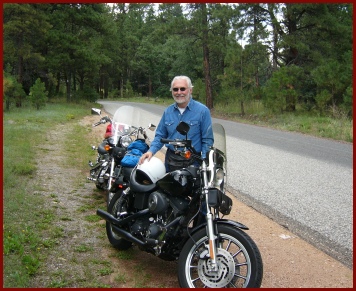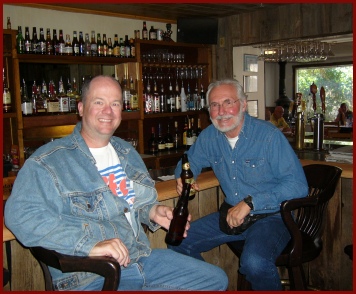 Chuck and I trailered our two street bikes up to Red River this year. We took a long and wonderful ride over to Cimarron, back through Eagle Nest, over to Taos, across the Rio Grande Gorge Bridge, and back to Red River. In Cimarron, Chuck & I visited several art galleries on a back street that we didn't even know existed, and we stopped to have a beer at the historic - and supposedly haunted - St. James hotel. Apparently, just about every gunslinger worth his salt stayed at that hotel.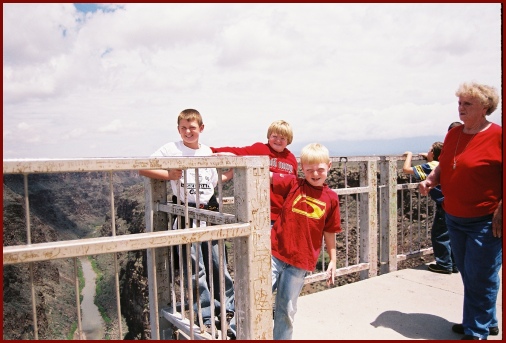 Speaking of the Rio Grande Gorge Bridge, several of us drove over to it from Red River. The kids and I loved it, of course, but I think it made Billie a little nervous. You
are
way up there!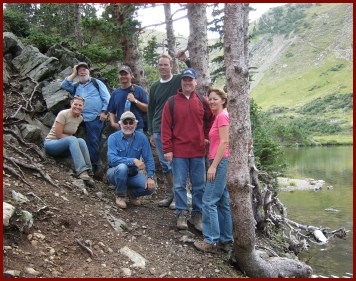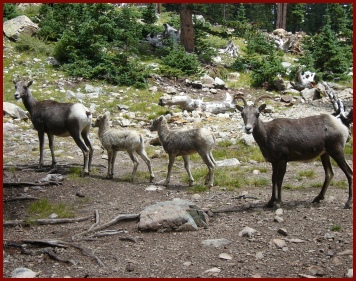 The trail leading up to Goose Lake (elevation 11,630 ft) was closed part ways up. They were in the process of smoothing out the trail (unfortunately). I guess they want to make it easier for Jeeps and such to get up there. So the seven of us parked our dirt bikes and 4-wheelers and hiked the two remaining miles to the lake. The thin air made it feel more like a
ten
mile hike! But it was worth it; what a beautiful lake. And this year we were greeted by several mountain sheep. Unfortunately, while hiking down to our bikes I received a cell phone call from my friend Nancy in Dallas who said that my beloved office cat,
Sali
, had suddenly become very ill. Sali turned out to have a very aggressive form of bone marrow cancer that was not allowing her to produce healthy red blood cells, so she quickly became extremely anemic and lethargic. Sadly, we put her down two weeks later.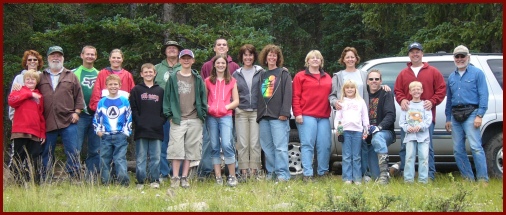 --- Midnight Meadows ---
We had sandwiches and snacks at Midnight Meadows again this year. Billie and Baily stayed back at the cabins in Red River, but the other 20 are pictured above. On the way up, Kent, Jason and I headed over to
"the three hard hills"
(Mogul Hill, Triple Hill and No-Gas Hill). The three of us conquered the hills and then met up with the rest of the riders at Greenie Peak before heading to Midnight Meadows. I hadn't ridden with both Kent and Jason in the mountains for quite some time. It sure felt good, like we were 14 again. From the Midnight Meadows area, it's a short ride over to Greenie Peak; I led several groups of 4-wheelers over to the peak. There are a few deep mud puddles on that trail, but it's a fun ride - and the view from Greenie Peak is worth getting your boots a little wet.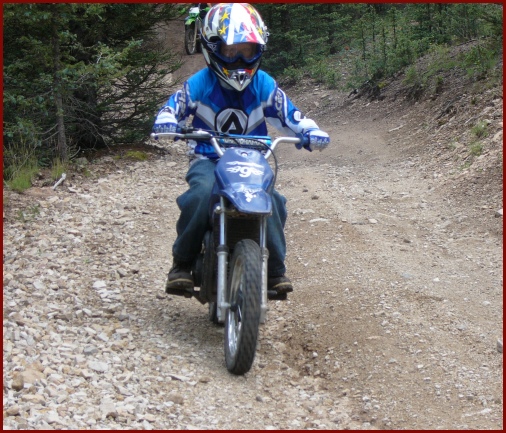 Bo heading up to Midnight Meadows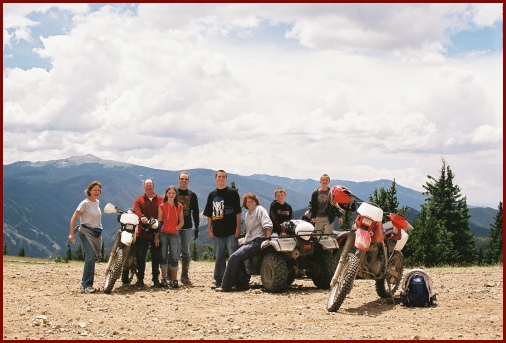 --- Greenie Peak (elevation 11,249 ft) ---
Left to right: Mykala, Brad, Chloe, Jason, Nick, Diane, Joel, Zack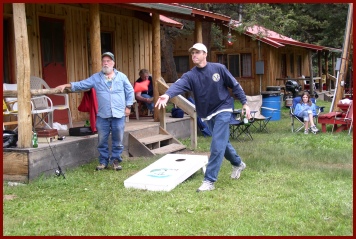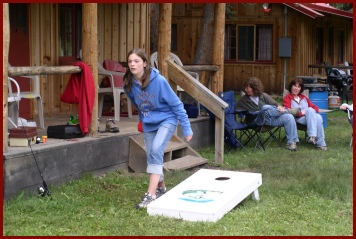 Corn Hole was a big hit. Look at the determination on Jason's face. LOL. I'm pretty good at throwing those corn-filled bags but ol' Chloe (right picture) bested me several games. She's a natural.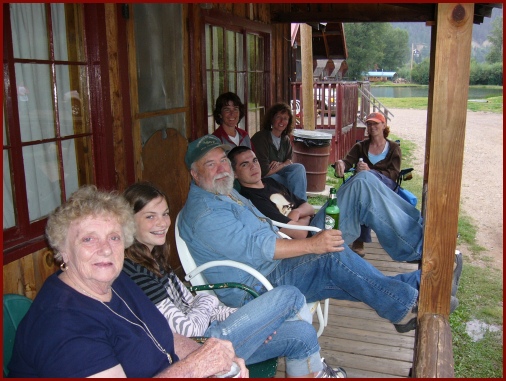 Porch Sittin'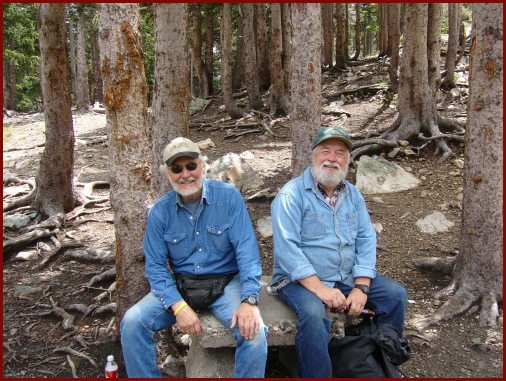 Chuck & Dan at Goose Lake

Return to my home page