Mountain Trip - October 1995


I didn't have a web site at the time of this trip so I'm having to create this page many years later.

This was the first mountain trip I took on my own (i.e. without a parent). Lucikly I paid just enough attention to my dad during all those previous trips that I was able to find all the trails. Thanks dad! Neil Sanders and Devin Dreiling accompanied me. It was fun watching them experience the Rocky Mountains from a dirt bike for their very first time. We had some wonderful rides. I don't have many pictures from this trip, but I managed to convert some video tape to Windows Media Player clips - so be sure to click on them at the bottom of this page.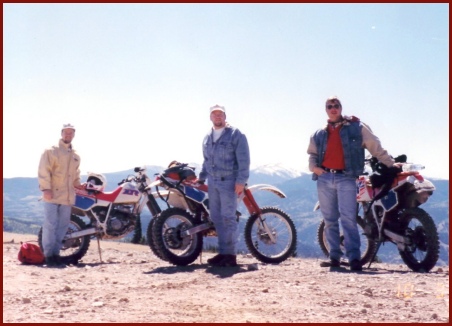 *** Greenie Peak (elev. 11,249 ft) ***
From left to right: Brad Stone, Neil Sanders, Devin Dreiling.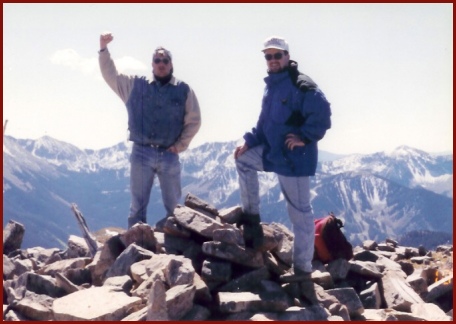 *** Gold Hill (elev. 12,716 ft) ***

The three of us hiked Gold Hill. That's Devin on the left and me on the right. You have to park your dirt bikes down in the trees and walk about an hour to the summit. It's a fairly tiring hike, but it's not very treacherous. There's a section of the ride, however, that's always a bit tricky. The rocks on the Pioneer Loop just above the Carabel Mine are quite nasty - you're basically riding over bowling balls for about 100 yards. But it's fun too!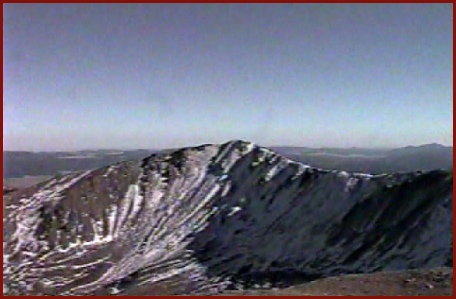 *** View from Wheeler Peak (elev. 13,161 ft) ***

Devin and I hiked to the top of Wheeler Peak - the highest point in New Mexico. Neil had the sense to stay at the cabin. Actually, he was nursing a sore foot. All three of us had gone to Middle Fork Lake and on the way down Devin and I decided to park our bikes and walk the trail toward Wheeler. We sorta decided this at the spur of the moment, next time we'll plan ahead. By the time we got to the top, I was out of food and water - and the trail had sorta disappeared during the last few hundred yards. Man, those final few steps were tough - but the view made it worth it! Unfortunately I don't have any pictures from the top, but I took some video with my camcorder, so I was able to get the above still from the tape. There's a link to a short Wheeler Peak video clip in the section below.



Windows Media Player Video Clips
If you don't have the Windows Media player you can get the free version by clicking here. On some connections, the video may be a bit jerky as it "buffers" while streaming in the video.   In that case you might let it completely finish and then play it again.



Wheeler Peak (26 seconds)

The Old Pass/Fourth of July Canyon (1 min. 9 seconds)

Neil on No-Gas Hill (41 seconds)

Devin on No-Gas Hill (29 seconds)

Click here to see me on No-Gas Hill in 2001 (43 seconds)


Mogul Hill/Greenie Peak (55 seconds)

Windy day at Goose Lake (34 seconds)

Return to my home page