Mountain Trip - October 2002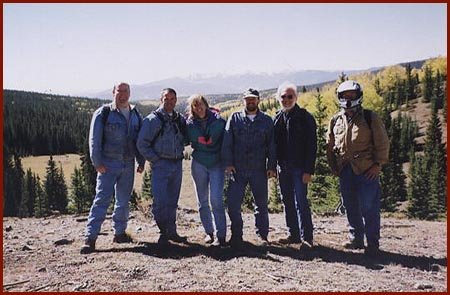 *** Group Shot ***

It was another great trip to the Red River, NM! Due to a drought, not all the Aspen trees had turned brilliant yellow yet - but enough had turned to make it very pretty in most areas. It was nice having Chuck Mandernach along for the trip - he hadn't made a mountain trip in eight years. He is the guy that got me and my dad into riding dirt bikes back in the mid 70's when I was a mere pup of nine years.

From left to right: Neil Sanders, David Hood, Teresa Hood, Brad Stone, Chuck Mandernach, Dan Stone.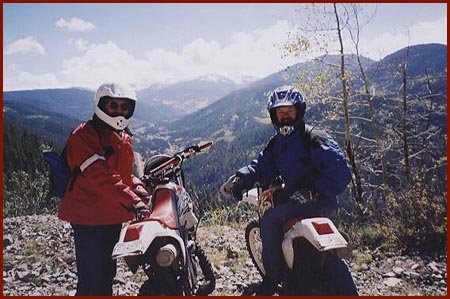 *** Chuck & Brad ***
This was taken as we were coming down from the Old Pass near Red River, NM. A very scenic spot!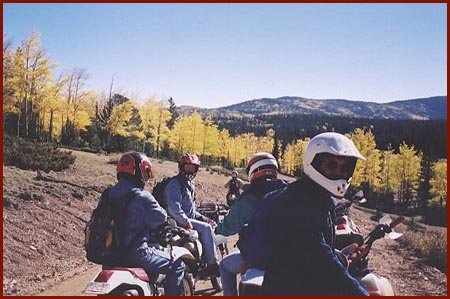 I snapped this picture after we had visted Greenie Peak (elev. 11,221 ft) and were in the Midnight Mine area. The Aspen in that area were near perfect. That's Chuck Manderanch in the white helmet.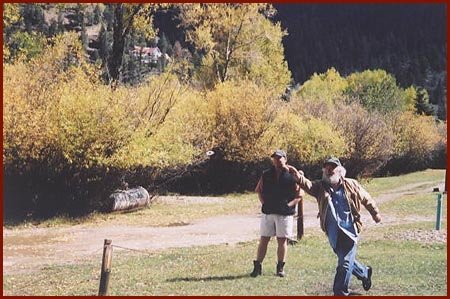 *** Dan & Neil pitchin' washers ***

Is that a beautiful spot for throwin' washers or what?! It was right outside our cabins. Near the center of the photo you can see the washer that just left dad's hand. Neil was pretty much the champion of washer pitching this trip, but dad and I cleaned house in Hearts.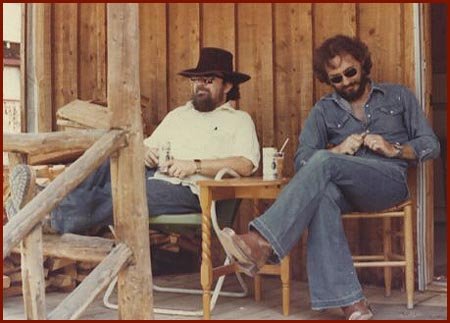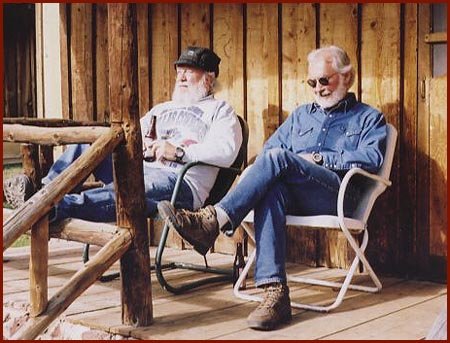 *** Then and Now ***

After showing dad and Chuck an old picture of them from our very first group trip to Red River, they wanted to re-shoot it. Both pictures were taken on the porch of cabin #4 at the Rio Colorado Lodge. The picture on top was taken back in the summer of 1976 and the one on the bottom was taken 26 years later in the fall of 2002. Pretty cool. Dad was 36 years old in the top picture - the same age I am now (as of Fall 2002).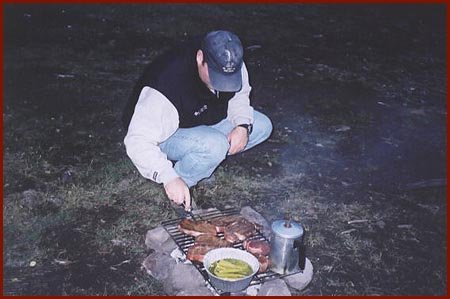 *** Aspen Hill ***

For the second year in a row we headed to "Aspen Hill" for a steak dinner in the great outdoors. Neil did a terrific job with the steaks...again. "Aspen Hill" is located part way up the trail to Goose Lake. I somehow managed to get my Tahoe up there in one piece. There were certainly some tight spots with very large drop-offs. As dad would say - it had a very high "pucker factor".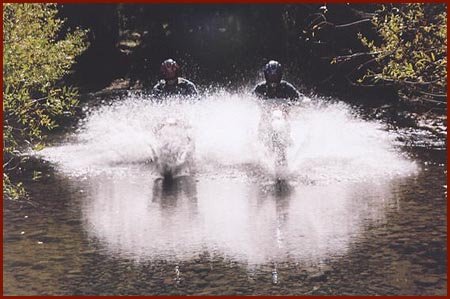 *** Neil & Brad ***

Chuck took this shot of Neil and me crossing the Red River (no, not the same one as in Texas) on the trail to Goose Lake. Pretty cool shot. A second or two later I decided to try to ride a wheelie through the water. It didn't work. My back tire, of course, couldn't grip on anything good enough to raise my front end so all it did was propel me forward a bit faster. Luckily, I didn't dump the bike but I did manage to soak Neil, Chuck and myself with icy-cold mountain water. Kinda fun actually.

Neil and I had just completed the "Pioneer Loop" when that picture was taken. Normally that's not too tough of a ride, but there were several large trees blocking the trail along the way. Lifting and pushing 250 pound dirt bikes over and around giant logs at 11,000 feet was a bit tiring to say the least. So actually the cold river water felt pretty darn good at the end of that ride!



Return to my home page