Mountain Trip - Fall 2005


It was cool and rainy when we first pulled into the Rio Colorado Lodge to begin our vacation in Red River, NM. But after a day or two of drizzle, we had near-perfect weather. The air was crisp and cool, the skies were deep blue and the Aspen trees were a majestic yellow. Great stuff.

The following folks went this year:
Brad Stone, Dan Stone, Chuck Mandernach, Nancy & Stan Ferguson, Shelley & David, Tim & Debbie Speck, Chip & Judy Speir, P.J. Ward, George Davis & his son Dillon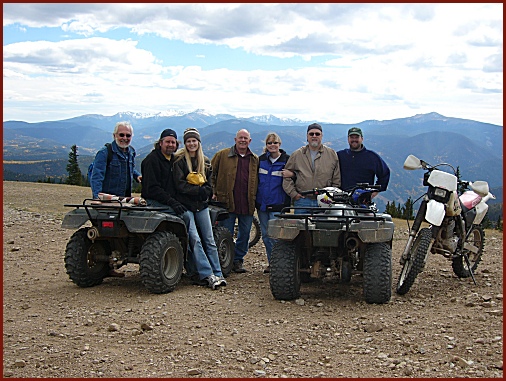 *** Greenie Peak (elevation 11,249 ft) ***

Chuck took this wonderful photo using the automatic timer on his digital camera. He placed the camera on the back of a motorcycle and used his pocket knife to give the camera just the right amount of tilt. The picture turned out perfect, but he forgot to pick up his pocket knife so it's probably still somewhere at the top of the Peak. A small sacrifice for a great photo.
From left to right: Chuck, David, Shelley, Tim, Nancy, Stan, Brad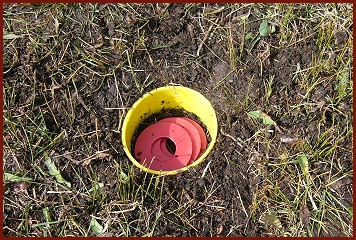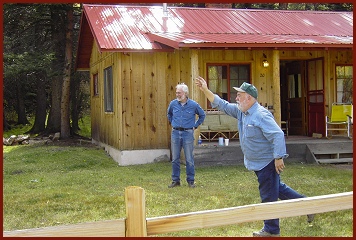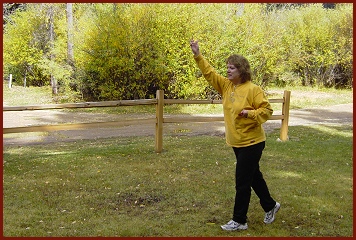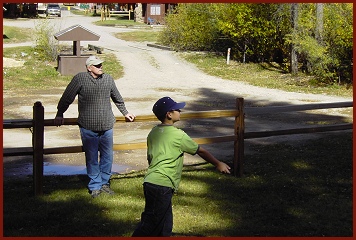 *** Washer Pitchin' ***

Washer Pitching was the favored past time at the cabins. And once again, Chuck pretty much kicked our butts. The guy is freakishly good. But even he hasn't sunk all three washers on one round as Tim did while playing against Chuck. And Chuck was gracious enough to snap a picture of it for posterity. Yes, that is an "official" set of powder coated washers that I bought here. The top right picture is of dad pitching a washer as Chuck watches. The bottom left picture is of Debbie - what form!. And the bottom right picture is of Dillon throwing with Tim looking on. Dillon had never thrown washers before and he caught on very quickly.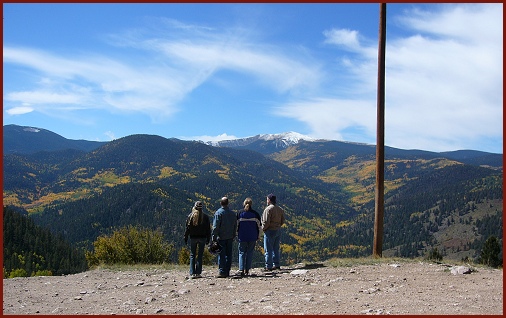 *** The Old Pass ***

I know, I know...the telephone pole sort of ruins the shot. I still like this picture though. We didn't know that Chuck was taking the picture and it caught our little bodies gazing at the vast splendor of the Rockies. It's always a fun 4-wheeler or dirt bike ride to the top of the Old Pass. The Pass is at at 9,854 feet but we were probably standing at around 10,000 feet (the Pass was below us).
From left to right: Shelley, Brad, Nancy, Stan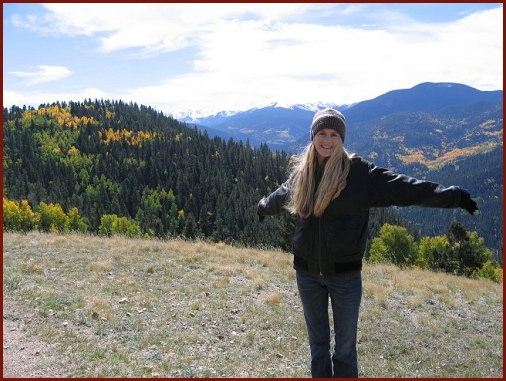 *** Shelley At The Old Pass ***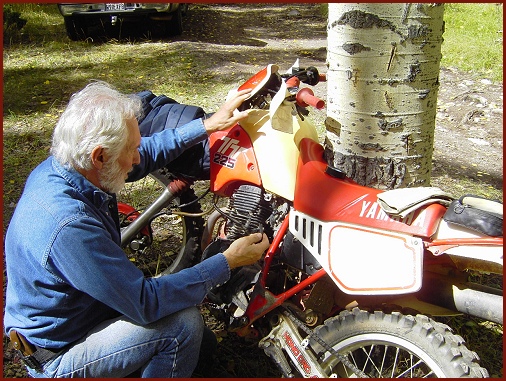 *** Cracked Fuel Line ***

While the rest of us ate lunch under the aspen trees at the top of the Old Pass, Chuck repaired a leaky fuel line. In MacGyver-like fashion, he snipped off part of the breather tube attached to his gas cap to create a new fuel line. Well done. To reward his efforts, I fashioned him a peanut butter and jelly sandwich.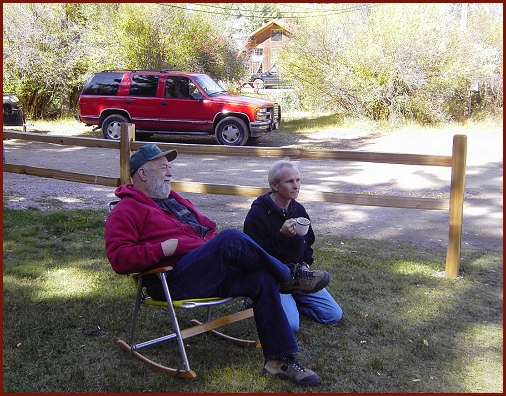 *** Dan & George discuss philosophy as they watch some Washer Pitchin' ***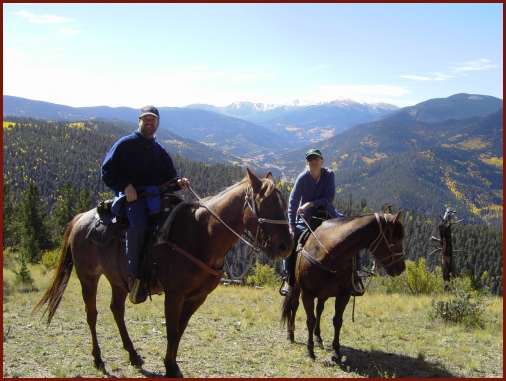 *** Horseback Riding ***

Nancy and I went horseback riding at the Bobcat Pass stables. Nancy grew up working on her dad's ranch in Colorado and is still quite the horse-woman. I, on the other hand, felt a bit awkward at first. But with some helpful tips from Nancy, I eventually got the hang of it. The horse trails were beautiful - many of them were aspen-lined and in the deep woods. And they occasionally popped out at scenic spots, like the one above which is located fairly close to Red River's Old Pass.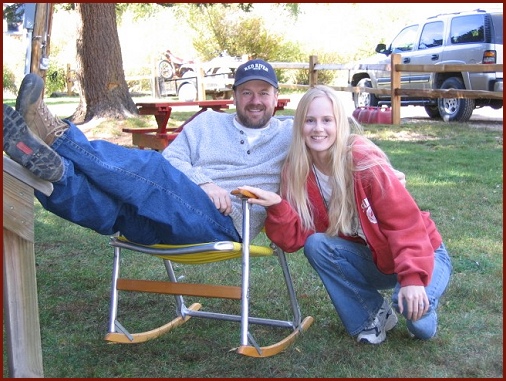 *** Brad & Shelley ***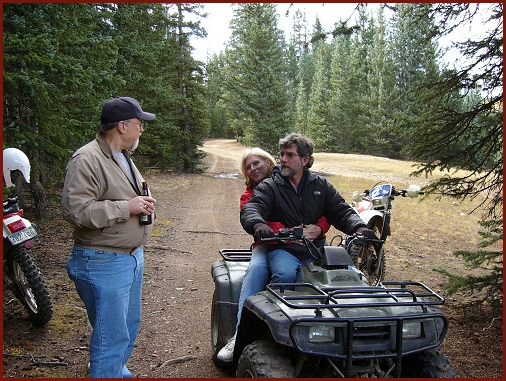 *** Midnight Meadows ***

We ate an early dinner at the Midnight Meadows. Dad did a great job with the hotdogs and Chuck made his world-famous Seven Layer Dip. Very nice. In the above picture, Chip & Judy are preparing to head over to Greenie Peak.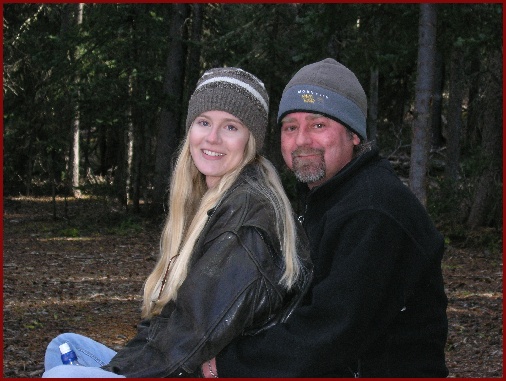 *** Shelley & David at Midnight Meadows ***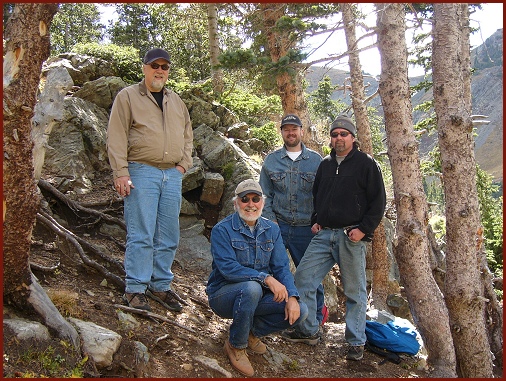 *** Goose Lake (elevation 11,630 ft) ***

There were only four takers for a ride up to Goose Lake this year. From left to right: Stan, Chuck, Brad, David
Chuck did another magical job of setting up his camera to take an automatic picture. This time he had to unfold his billfold and place it in the branch of a tree to form a suitable platform for his camera. It was cold and extremely windy at Goose Lake on this visit, so we stayed low and out of the wind as best we could. The lake is barely visible in this picture - it is located behind the trees in the right-hand portion of the photo. It's hard to believe that the lake is nearly 400 feet higher than the top of Greenie Peak.



*** Coming Down From Goose Lake ***

That's a bit of a nasty spot coming down from Goose Lake - it's much steeper than it looks in this picture. And the boulders add even more excitement. Chuck deftly handled it with ease, as usual. Nice aspen in the background.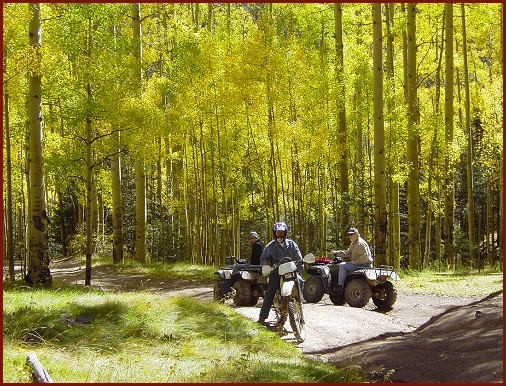 *** Still Coming Down From Goose Lake ***

I've always liked this spot - the aspen are nearly always spectacular there this time of year. That's me on the dirt bike, and David is near my right shoulder and Stan is on the other side.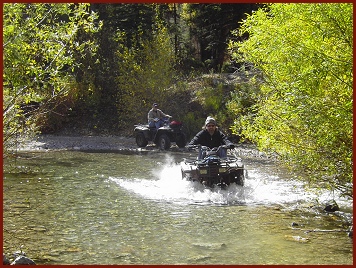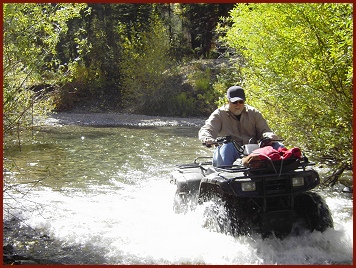 *** Crossing The Red River ***

At the bottom of the Goose Lake trail, you have to cross the Red River (no, not the Red River that divides Texas from Oklahoma). Due to recent rains the water was a bit deeper than normal - and it is always oh so cold. That's David on the left and Stan on the right.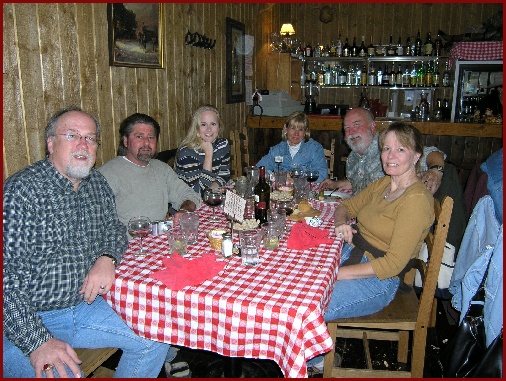 *** Texas Reds ***

The original Texas Reds Restaurant burned down last year, but they recently re-opened in a nearby converted gas station. It doesn't have quite the charm as the old place, but it comes fairly close.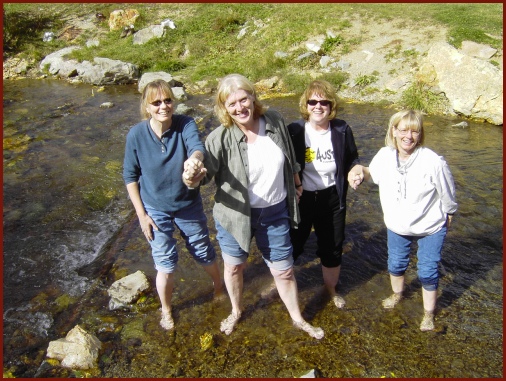 *** Gettin' Cold Feet ***
The tradition continues! From left to right: Nancy, Judy, Debbie and P.J.

Return to my home page