Mountain Trip - September 1998


We had a fairly small group going to the mountains this year. Dad & I met Richard & Laurel Dowd (long time friends of ours) in Red River, NM. Laurel is an incredible cook. I think I gained ten pounds on the trip, but it was worth it!

By the way, I haven't gotten my film from the trip developed yet. So all these pics were acquired by hooking up a VCR to the back of my PC and capturing stills from the video tape! Unfortunately I had my capture software set so that it saved the frames too small and I may redo it later, but I was pleasantly surprised at the quality of the pictures.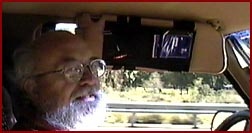 My chauffeur, Dan Stone

Dad did most of the driving this year. He loves driving his Suburban. I think we were somewhere near Ruidoso, NM when I took this video of him...probably listening to John Denver or Chet Atkins.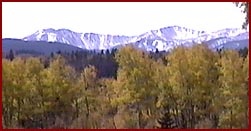 Wheeler Peak

The Aspen were as pretty as ever and most of the moutain tops were already covered in snow. This was a great view of Wheeler Peak (south of Red River, NM) as seen from the trail going up Fourth of July Canyon.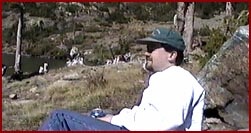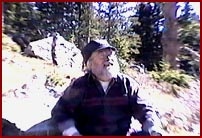 Brad & Dan at Goose Lake

We hit a few patches of snow & ice going up to Goose Lake this year. Dirt bike tires and ice do NOT mix...but luckily we didn't have any accidents. What a beautiful spot to relax.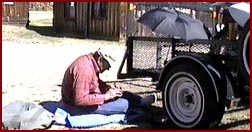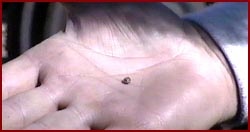 Our electrician, Richard Dowd

While dad & I rode up to Goose Lake, Richard decided to check out why dad's trailer lights were causing bizarre electrical problems. He found two problems: faulty wiring and a tiny piece of metal that was causing a short in one of the lights. Actually, it took dad's super near-sightedness to find the tiny piece of metal. By the way, Richard works for cheap...beer.



Return to my home page