Hill Country Ride
Nov. 16-19, 2007

In mid November 2007 Chuck, Barry & I took a wonderful 4-day, 1100 mile Fall ride through the Texas Hill Country. We stayed away from the major highways, riding the scenic backroads instead. Chuck planned all our routes and chose the places to stay and eat at. He did a superb job! I had been to the Fredericksburg area many times before and
thought
that I had been in the "Texas Hill Country". Well, as pretty as the Fredericksburg area is, the
real
Hill Country is about 50 miles southwest of there. It sure is beautiful country. And just like during
last year's trip
we ate at some great burger joints, met some interesting people and saw some mighty fine country. For those interested, I included a map of the general area at the bottom of this page.
Check out some of the video clips at the bottom of this page too.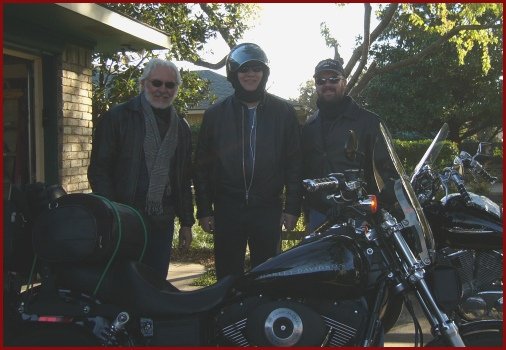 It was a little brisk in Dallas when we left. The lows were in the low 40's that morning. Luckily, we didn't get any rain and the temperatures quickly rose. That's Chuck on the left, Barry in the middle, and me on the right. Chuck rode his Harley Dyna Super Glide (center of picture), Barry was on his Triumph American, and I rode my Honda Spirit 1100. All the bikes did great - no mechanical problems. Well, we did have a
deer
problem but I'll get to that later.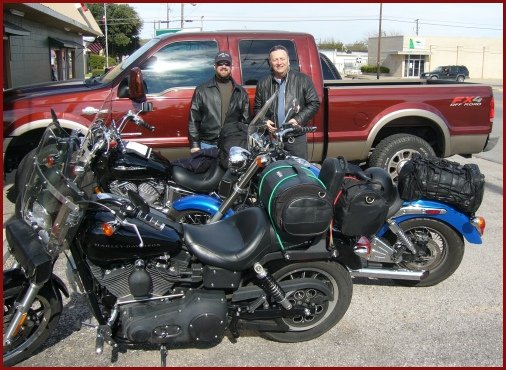 From Dallas, Chuck led us down to the "Hickory House" Barbecue joint in Lancaster for breakfast. It was surprisingly good. Then it was on to Copperas Cove for lunch. Of course, we only took small backroads down there. We cruised through small Texas towns like Maypearl and Meridian and Clifton. In Copperas Cove we ate at one of my favorite burger spots,
Mel's Burger Joint
. That's where the above picture of me & Barry was taken. We sure ate a lot of tasty (and fattening) food on this trip. As you can see, we each brought bike bags in which we crammed everything we would need for the 4-day trip. Amazingly, it all fit pretty well.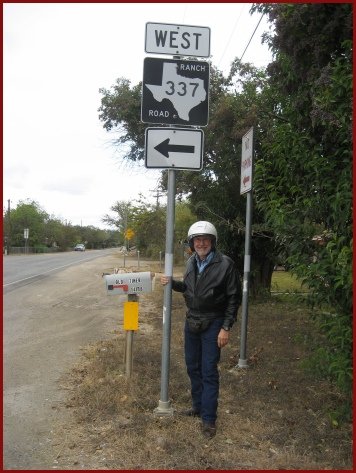 After spending the night in Fredericksburg we headed south on Hwy 16 to Medina. The stretch of Hwy 16 from Kerrville to Medina is curvy and hilly - fun stuff! In Medina we headed west on Ranch Road 337. R.R. 337, along with 335 and 336, form what is known as
The Three Sisters
and are a joy to ride!! They are located in the heart of the Texas Hill Country and are full of curves, hills and scenic vistas. Run, don't walk, to your bike and get down there.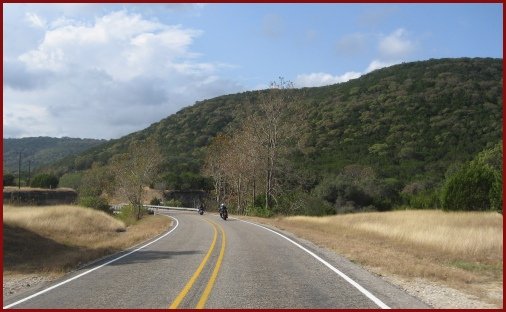 I took this shot while riding on R.R. 337 as we headed west toward Vanderpool. The hills (more like small mountains) in this part of Texas are impressive. I didn't take pictures of the most majestic parts (I was too busy concentrating on riding) so the area is even more scenic than this web page indicates.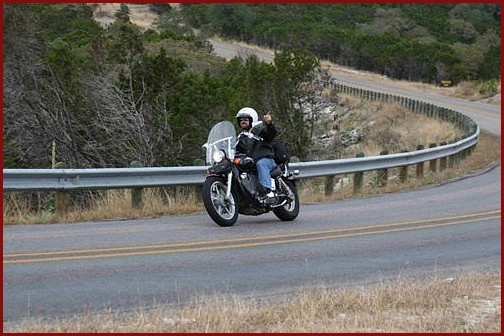 There's a father/son team who sit at various places in The Hill Country and snap photos of bikers driving by. Later, you can visit their web site,
TxMotofoto.com
and order prints. They took the above picture of me rounding a corner in the hills on R.R. 337.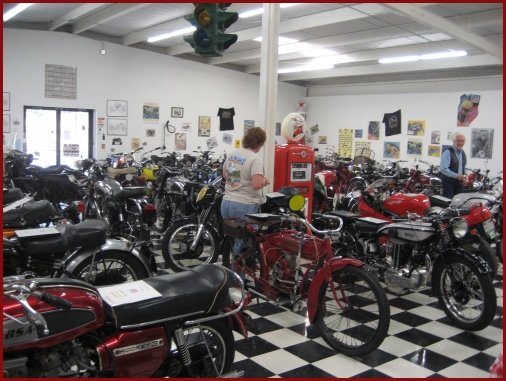 We took a temporary detour from R.R. 337 and headed north on R.R. 187 up to the
Lost Maples State Park
. In fact, the main reason we took this trip in mid-November was because that's when the maples usually turn red. But it was unseasonably warm this year, so they didn't turn. Bummer. But near the Lost Maples is the
wonderful
Lone Star Motorcycle Museum
. A really nice Australian man and his wife run the place. Not only do they have really cool old bikes (Nortons, Indians, etc.) but they also have a great cafe there too. I had a terrific burger on tasty jalepeno-cheese bread and Chuck had an Aussie meat pie which he said was quite good too.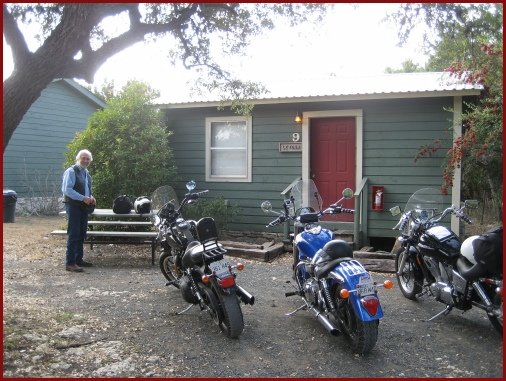 --- The D'Rose Hotel ---
We spent our second night in Leakey (pronounced Lay-key). Two of the Three Sisters (R.R. 336 & R.R. 337) run through Leakey, so this small town is very popular with motorcyclists. Leakey is also located near the Frio River, so in warmer weather it's also popular with folks wanting to
float the river in inner tubes
. The people in that town really cater to street bikers. In fact, the cool gal who runs the
D'Rose Hotel & Cabins
, where we stayed, won't let folks who are not on motorcycles or bicycles stay at her place. LOL. Many thanks to Al Lamb of
Al Lamb's Dallas Honda
for recommending the D'Rose to me.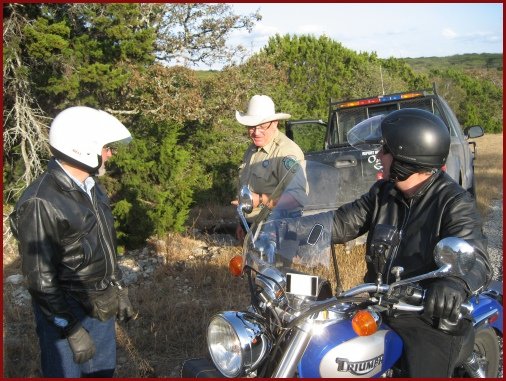 We only had one close call during our entire trip, but it was a doozy!! A medium-sized buck (probably 100 pounds) rammed Barry's bike while we were going 50mph - and Barry did
not
go down! The buck didn't appear to be simply trying to cross the road; it had its head down and appeared to be intentionally going after Barry's bike. There are lots of deer in the Hill Country and most motorcyclists know to watch out for them. But no one we talked to after the incident had ever heard of a deer
intentionally ramming
a bike. Very strange. Unfortunately the deer was severely injured so I called 911 on my cell phone and within minutes a game warden (see picture above) arrived to put the deer out of his misery. That pretty much ruined my day, but knowing that Barry didn't crash certainly helped my spirits. Needless to say, we rode pretty cautiously after that.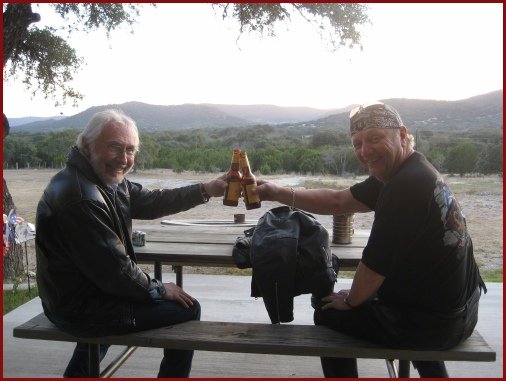 After Barry's close call with the deer we didn't ride much more that day. We made it as far as Camp Wood and then headed back to the D'Rose Hotel in Leakey. On the way back we drank a much needed beer from the "Bent Rim Grill" located inside the
Frio Canyon Motorcycle Shop
just outside of town. That night we had a pretty good meal at
Vinny's Italian Restaurant
in Leakey. I ordered the "Vinny's Special" pizza and it was heavenly. We also met a really interesting fellow there who ran a lodge not far from the D'Rose cabins. Vinny's is a bring-your-own-beer place, and this guy was kind enough to give us several cold Pacifico beers. Texas Hill Country hospitality!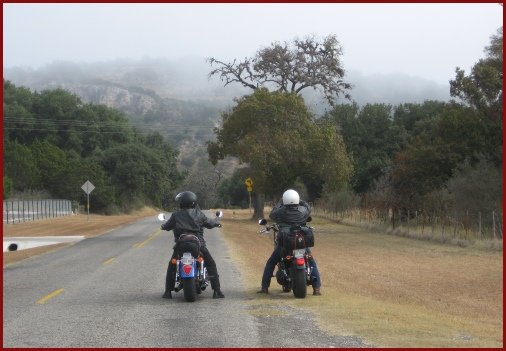 The morning after Barry's deer incident we awoke to thick fog. Not exactly the visibility you need when attempting to ride all Three Sisters. So we ate a
great
mexican-style breakfast at a place called Lala's in Leakey, hoping the fog would lift. When we began riding the fog was still on the ground but luckily it soon began to lift. I snapped the above photo on R.R. 336 just before entering some beautiful mountains. We rode the Three Sisters counter-clockwise (North on 336, South on 335, East on 337 back into Leakey). It was great riding!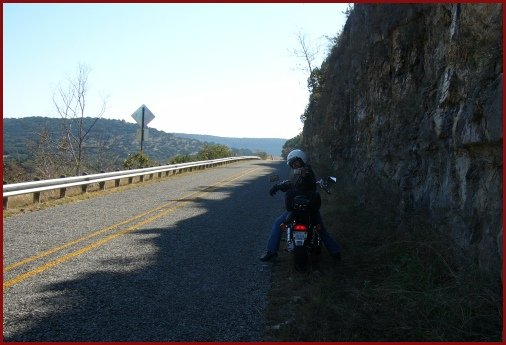 Up high in the Hill Country on R.R. 335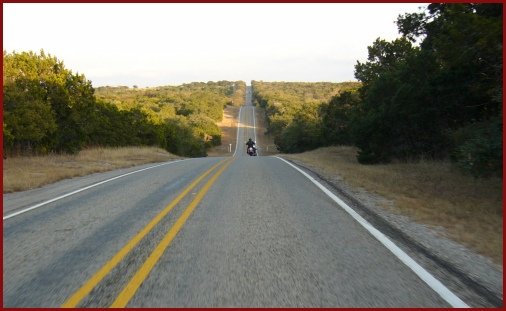 Heading East on R.R. 337 toward Leakey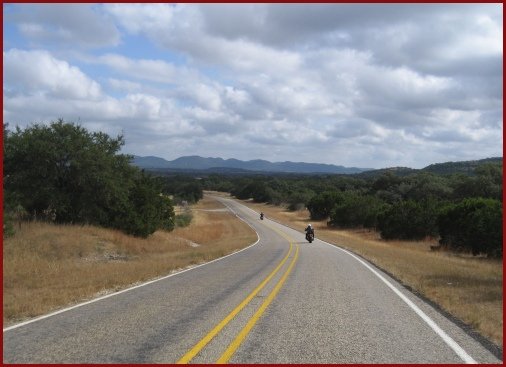 Still heading East on R.R. 337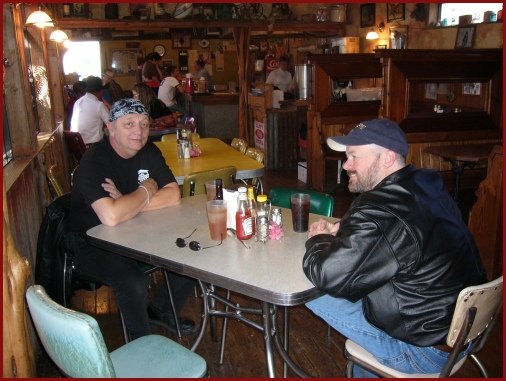 After "doing The Three Sisters" we rode down to Utopia, TX where we had lunch at the famous "Lost Maples Cafe". We also ran into a fun-loving group of
Vespa Scooter
riders in Utopia. They were a hoot. Kinky Friedman's
Utopia Animal Rescue Ranch
is located in Utopia. Being into animal rescue myself, I wish we had stopped by that place...but I forgot it was there! Next time.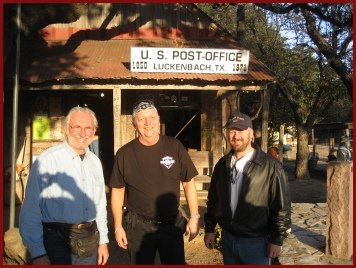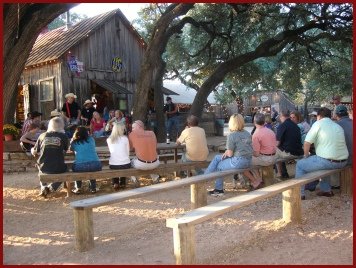 --- Luckenbach, TX ---
From Utopia we made our way up to one of my favorite spots on the planet,
Luckenbach, TX
. What a special place. It's a great spot to unwind. The oak trees, the music and the people always seem to put me at peace somehow. The cold beer there helps too :) We spent our last night in nearby Fredericksburg.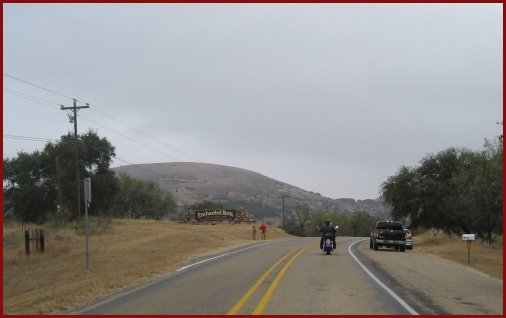 The next morning we pulled out of Fredericksburg, beginning the 350-mile journey home (Dallas). Not far out of Fredericksburg we stopped at the amazing
"Enchanted Rock"
. Enchanted Rock is a gigantic granite boulder with over 90% of it's mass still under ground! So that bulge you see (which is 425 feet high) is just the proverbial tip of the iceberg. The view from the top is spectacular, although we did not hike it this trip.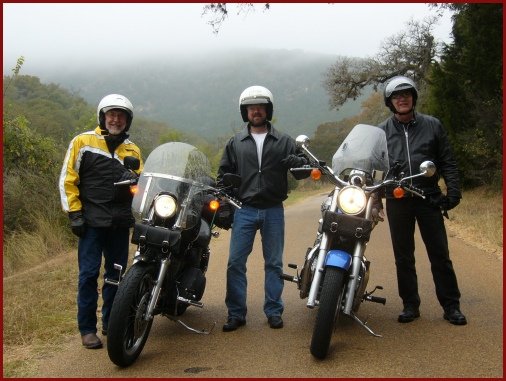 After visiting Enchanted Rock, we headed over to the
Willow Loop
which is located off of Hwy 16 roughly thirteen miles north of Fredericksburg. The Willow Loop is famous for its views of the Texas Hill Country and for its wildflowers in the Spring.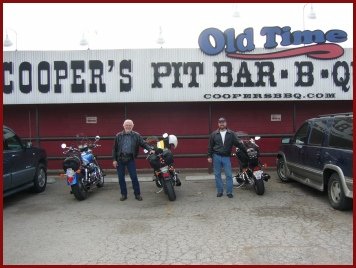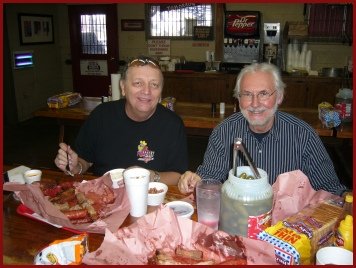 Famous Cooper's Pit Barbecue in Llano, TX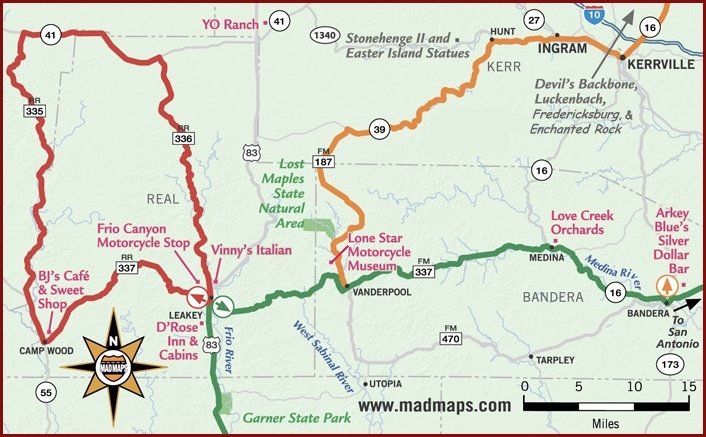 A partial map of the Texas Hill Country. The Three Sisters (335, 336, 337) are toward the left.

Windows Media Player Video Clips
If these clips won't play, you may need the most recent version of the Windows Media Player. Click
here
for the free version.

Riding on R.R. 337

Riding on R.R. 336

Riding on R.R. 335

Riding on R.R. 335

Musicians at Luckenbach, Tx

Musicians at Luckenbach, Tx

Return to my home page