Stoner's 10th Annual Bass Tournament
May 22nd, 2004 --- Lake Fork, TX



Windy! That one word pretty much sums up the 10th annual tourney. Well, it was fun too of course. But the wind never let up. We reportedly had sustained winds of 25 to 30 mph with gusts up to 40 mph. Yikes. It made the boat rides a bit dangerous and the fishing very tough. But everyone managed to have a safe day on the lake and amazingly most people caught fish. So all in all, it was a heck of a fun weekend.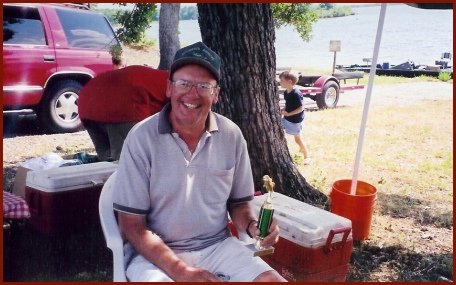 David Hughes - 2004 Champion

David and his friends have fished my tournament for years. I always enjoy seeing those guys and they are nearly always in the hunt for first place. Those guys are good.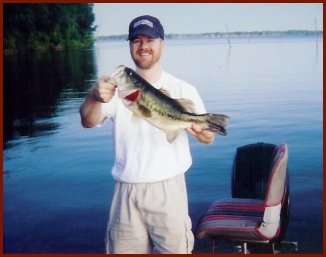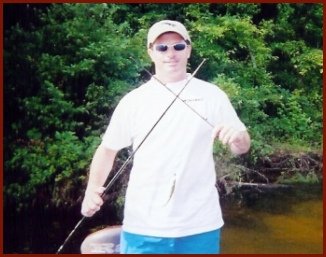 I only caught one "under slot" fish to weigh in but I managed to catch several nice slot fish during the tourney like the one I'm holding in the picture on the left. My buddy Jeff Cotten, Jr fished with his dad this year, so Chris Agnes fished with me - that's him holding a broken rod in the picture on the right. During one hour of pre-fishing on Friday afternoon, Chris managed to break one of my rods and let another rod & reel of mine fall out of the boat and sink to the bottom of Lake Fork where it no doubt sits to this very day. Oh, I have to admit that Chris and I did have some fun fishing together but I think I'll pay Jeff to fish in my boat next year - it would be cheaper than letting Chris fish with me. LOL.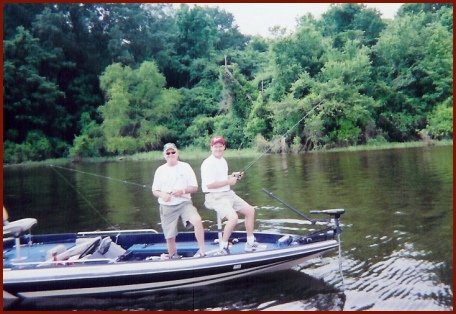 Jeff Sr and Jeff Jr

During the tournament, Chris and I headed to a favorite cove of mine to get out of the wind and found that the Cottens had already beaten us there. They were fishing out of a boat that Sr had recently bought for his son, Dustin, to use while at college. This cove is the spot where I (and I think both Cottens) caught some really nice slot fish. The bank enters the water at a steep angle and there are plenty of stumps in the area. Working a blue fleck Power Worm (one of my favorite methods of bass fishing) nearly always produces fish there.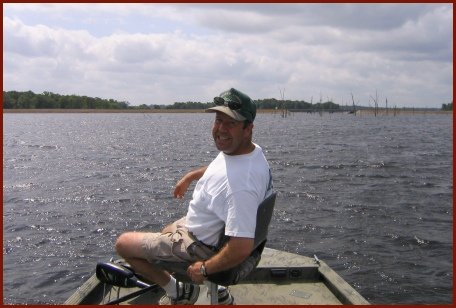 Mike Hill

Neil Sanders and Mike Hill rented a boat together this year. That's the same cheesy smile Chris had after he dropped my rod and reel in the water. Hmmm, I wonder what Mike just did. Neil, do you have all of your equipment?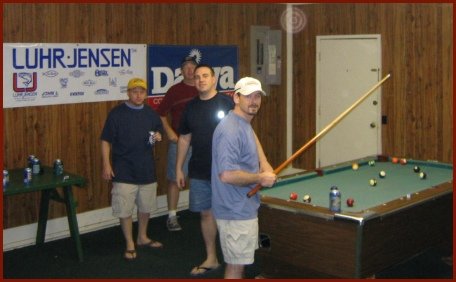 The Lodge

I rented the 17-bed Lodge at Oakridge Marina again this year. It's a great place to hang out with friends the night before the tourney. Of course, getting up at 5am on Saturday was a tad difficult, but the wind and heavy swells pretty much woke everyone up as soon as they left the dock in their boats!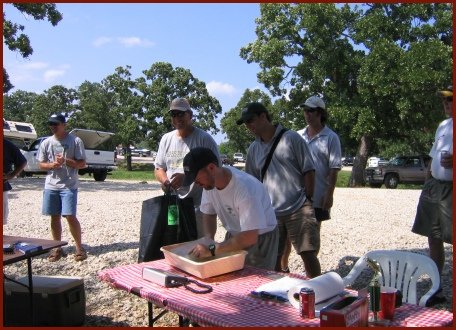 The Weigh-in

For some reason, the fish were much more lively than in the past. We quickly realized that my plastic retaining board isn't quit as long as the weigh-in container, so some of the smaller fish would periodically flop out. Note to self: get a longer piece of plastic to cover the fish with while weighing them!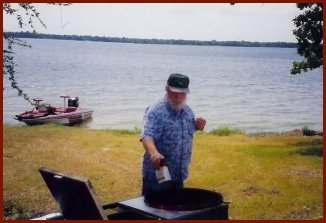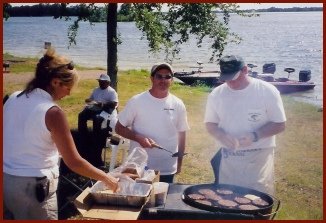 The Cookout

My dad (on the left) was nice enough to get the grill going before most of the contestants showed up for the weigh-in. Dad also grilled some wonderful mushrooms. Neil (far right) cooked most of the hamburgers again this year. I bet he cooked 45 burgers. Agnes occasionally helped too.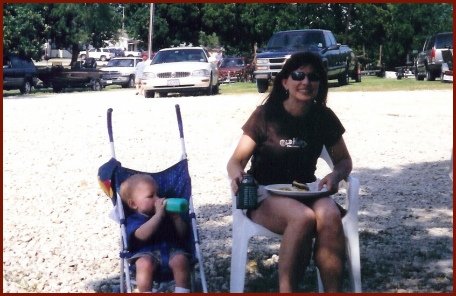 Linda and Reid McCullough
It's always great to see Linda and her kids at the cookout!

Return to my home page