Stoner's 13th Annual Bass Tournament
May 19th, 2007 --- Lake Fork, TX

We had
lucky
weather for tourney number
thirteen
. We had very light winds, highs only in the upper 70's, partly cloudy skies. Not exactly typical Texas weather for late May. And to top it off, the water clarity was just right. The weather felt great for the anglers and helped the survival rate of the bass (as usual all fish were released after the tourney) but the cool weather may have hurt the fishing a little. Several people caught fish, but perhaps not quite as many as in past years. Still, a good time was had by all.
We had 32 paid contestants; a slighly larger than usual turnout for the tourney. I really appreciate everyone who came out and fished this year. I know you guys spend a lot of money renting boats, travelling to the lake, getting hotel rooms, buying lures, etc. It is much appreciated. I sure had a great time and I'm already looking forward to Tourney #14!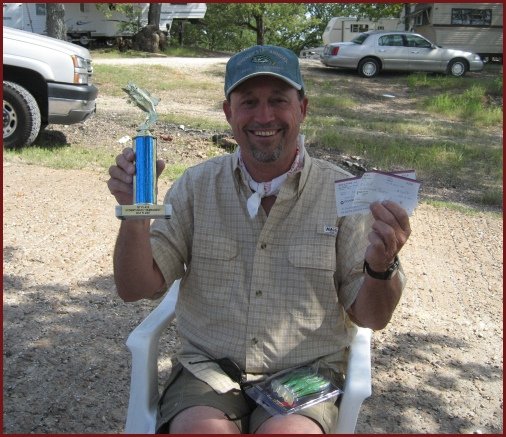 Lynn Hackfield - 2007 Champion
Lynn demolished the field this year. He brought in a 5-stringer limit of bass weighing 8.94 pounds - pretty amazing for a lake with a 16 to 24 inch slot limit. The second place winner had less than half that weight. Lynn's heaviest bass (2.26 pounds) also won him the Big Bass Pot. He caught four of his five fish during the final hour of the tournament. He mainly fished Senkos rigged wacky-style in 8 feet of water around grass lines.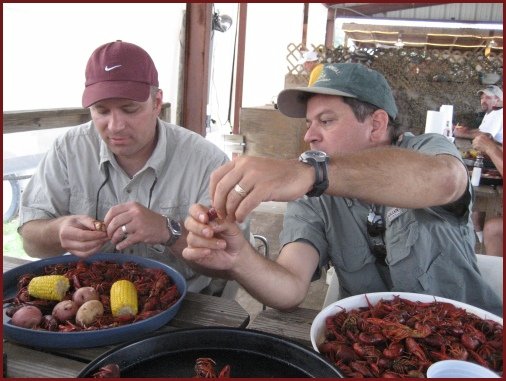 --- The Night Before The Tourney ---
A couple of years ago we started a new tradition for the night before the tourney; eating boiled crawfish behind the Fisherman's One Stop bait store on Hwy 515. As unappetizing as that may sound, the food is actually quite good. In the above picture Brian is showing his brother how to peel a crawfish. Instead of buying just a couple of pounds of crawfish like the rest of us did, Brian bought the All You Can Eat dinner. The restaurant definitely lost money on him; he put away four 3-pound platters of crawfish. That boy can eat mudbugs!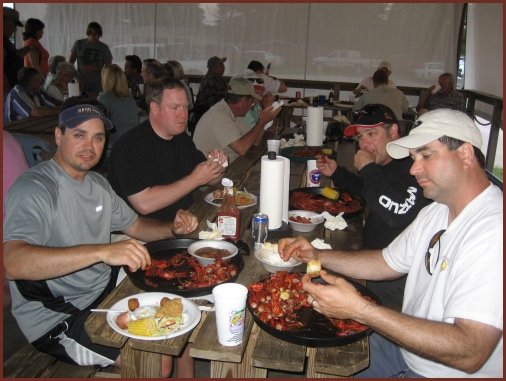 A few more characters eatin' crawfish.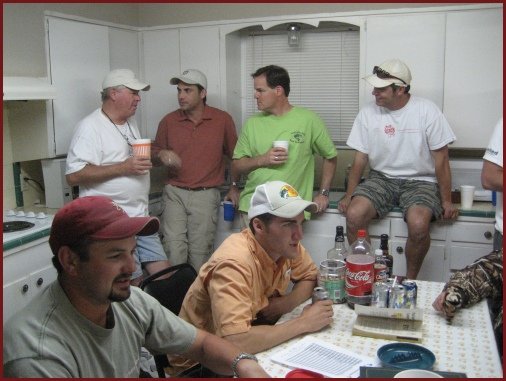 After dinner we came back to The Lodge at Oakridge Marina for a few after-dinner drinks. Good times.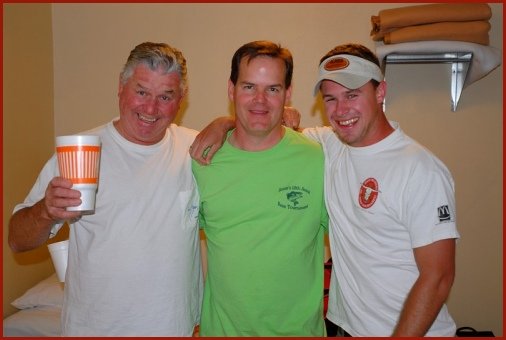 Jeff Sr. with his sons, Jeff Jr. & Dustin. Dustin fishes for the Texas Tech Bass Fishing team. Yes, colleges have bass fishing teams now. Too bad they didn't have them back when I was in college in the late 80's. I'm sure I would have fished for SMU and Jeff Jr. and Steve Cox would have fished for SFA. We probably would never have graduated, but it sure would have been fun!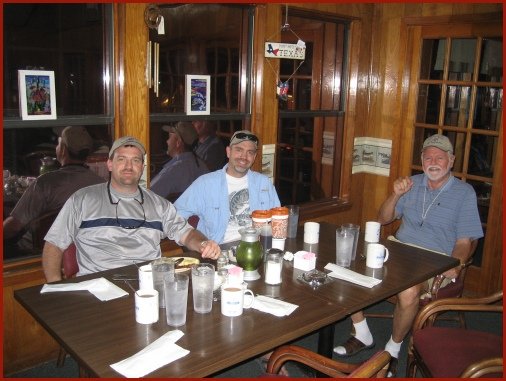 Brad Luna, Matt McCullough and Dale McCullough eating breakfast at 5:30am before the tourney.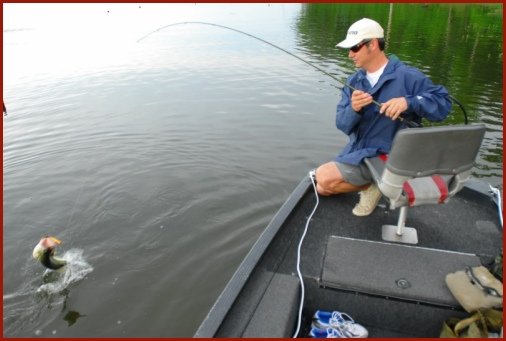 Kurt Cantlon catches a chunky bass during the tournament.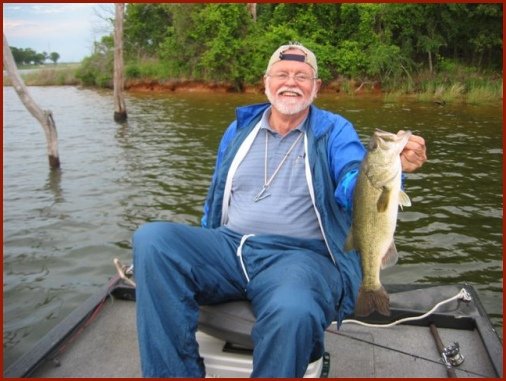 Dale McCullough holding a nice Lake Fork bass.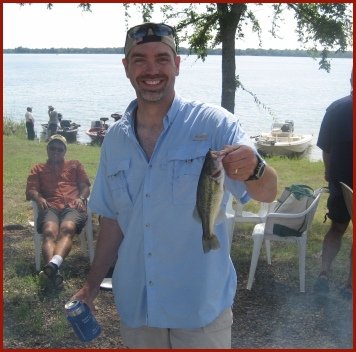 &nbsp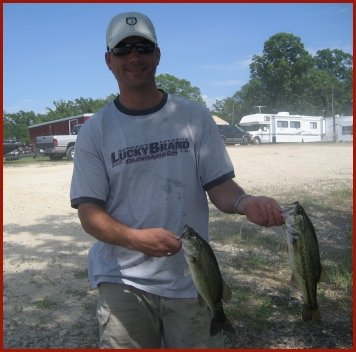 | | |
| --- | --- |
| Matt McCullough | Philip Sutton |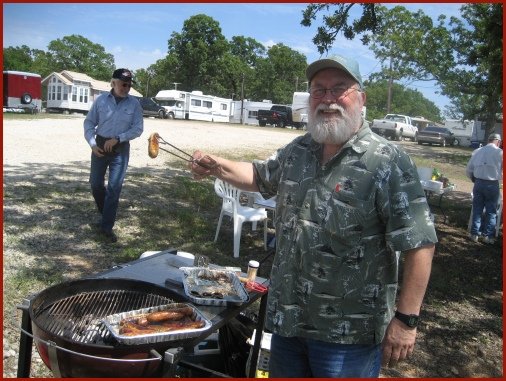 Dad did another great job cooking for us! He first grilled some heavenly mushrooms & brats. And then he cooked us up some delicious burgers. He is quite the charcoal chef!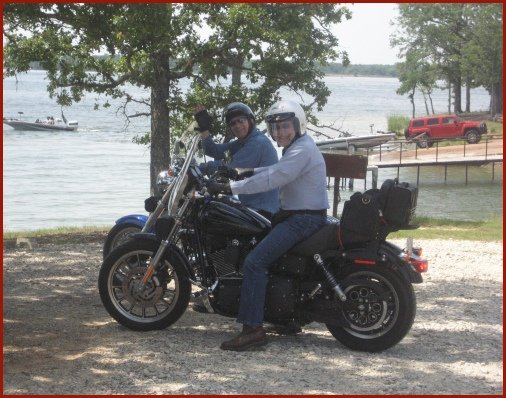 My riding buddies, Chuck & Barry, cruised over for the post-tourney cookout. They had great weather for a ride through beautiful East Texas. Chuck helped dad with some of the cooking and Barry fell in love with dad's grilled 'shrooms.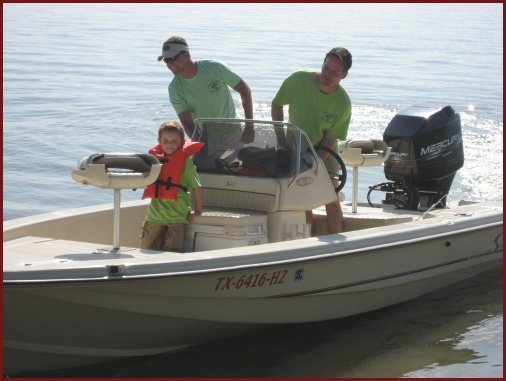 Jeff Jr. commands his boat after the post-tourney cookout. Jeff fished the tourney with his dad this year. He had a chance to become the first back-to-back champion, but without me putting him on fish like last year (Jeff fished in my boat last year) he didn't even weigh in a fish. Oh how the mighty have fallen :) That's his son Austin and brother Dustin with him in the above picture.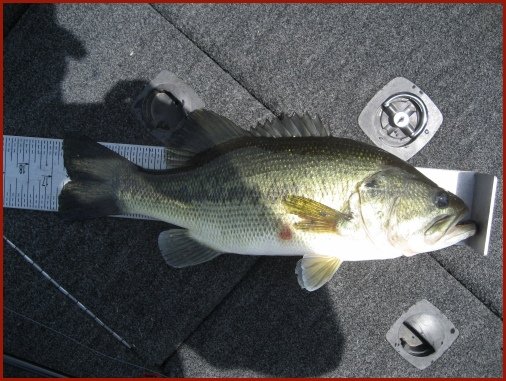 During the tourney I caught three slot fish and two small under slot fish. Not a bad day - but not great. Above is a picture of a bass I caught that was a quarter of an inch in the slot. That two and a half pounder measured 16 and a quarter inches so she had to be thrown back. That fish would have been heavy enough to have won me the $160 Big Bass Pot. I tried some night fishing after the tourney - most of
my big bass
have come at night. But I couldn't get a bite. That cool easterly breeze pretty much turned the fish off that night.

Return to my home page