Stoner's 15th Annual Catch & Release
Bass Tournament
May 16th, 2009 --- Lake Fork, TX

We got very lucky with the weather this year! A massive rain system hovered over the Dallas/Fort Worth area and slowly moved toward the lake only to fall apart just before getting there. So it ended up being cloudy, breezy and cool - quite pleasant actually. And the fishing was pretty good - there were no over-slot fish caught this year but quite a few under-slots were weighed in. And several folks said they caught nice slot fish. Lake rules define "slot fish" as being between 16 and 24 inches (roughly 3 to 10 pounds) - slot fish must be immediately released without being brought to the weigh-in.
Including myself, I only had 10 contestants this year. Normally I have around 25 -
last year
there was 36. But a confluence of events conspired against the tourney this year: cub scout camp outs, kids' soccer tournaments, corporate parties, etc. Just one of those things. From what I'm hearing, though, we should have a big turnout next year. As always, I want to thank the folks who came out and fished the tourney. I know it can be difficult to work the tournament into your schedules - and it's not cheap trailering a boat to the lake or renting one. Thank you!
See the
Official Results
section at the bottom of this page for a full roster of this year's contestants.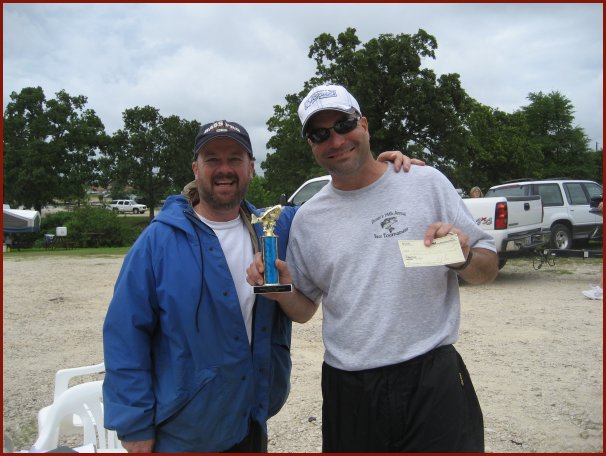 Walt Zartman - 2009 Champion
Walt (holding the trophy) usually does well at my tourney. In fact, he won the
11th Annual Tourney
back in 2005. Only Mike Dimond has won the tourney twice (1998 & 2000). Mike tied John Bell for the win in 2000, so Walt is the first person to have two wins on his own.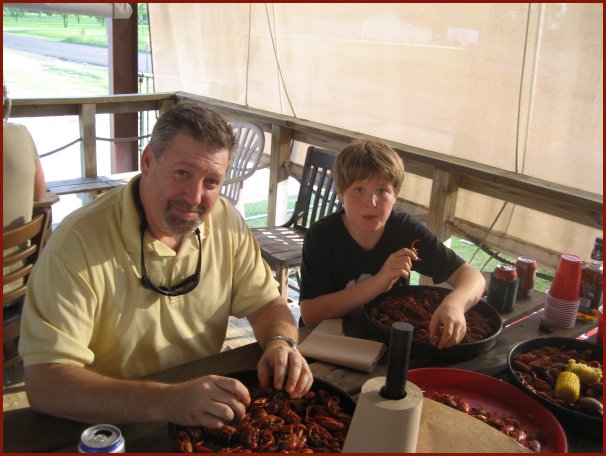 As usual, several of us met up at the Fisherman's One Stop on FM 515 the night before the tourney for some boiled crawfish. They aren't as good
as Brian's
, but they aren't bad! That's Gary Krumbholz in the above picture with his son Ryan.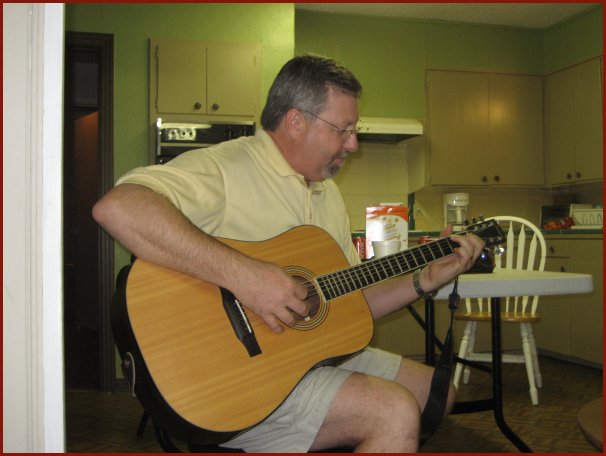 Gary was nice enough to bring his guitar and play for us in the Lodge at Oakridge Marina. He played a heckuva good version of James Taylor's "Fire and Rain" as well as several other tunes, some of which he wrote himself. Thanks Gary.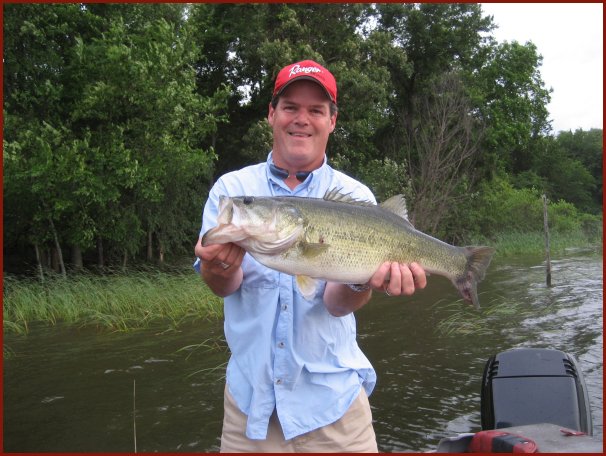 My buddy, Jeff Cotten, fished in my boat this year. I have to admit that he pretty much cleaned my clock. In fact, he came in second place
and
he caught that beautiful 6.6 pounder. Working the trolling motor in the moderately heavy winds and making sure that Jeff was in a perfect position to cast caused me to have a poor showing. Well, that's my story and I'm sticking to it :)

Jim Hancock came in third place and he caught this beautifully colored bass. I'm pretty sure that's a Kentucky Spotted Bass as opposed to the Florida Largemouth Bass that is more prevalent in Lake Fork.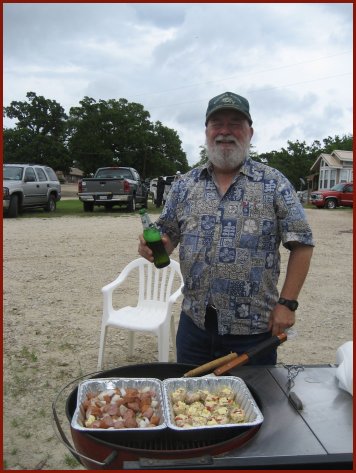 Dad came out again this year to cook burgers for us. He also cooked some wonderful smoked sausage and mushrooms for appetizers. Thanks Dad!

Official Results
10 contestants x $20 entry fee = $200 total payout
First Place........$75....Walt Zartman (6.38 pounds)
Second Place...$45....Jeff Cotten, Jr. (5.06 pounds)
Third Place.......$30....Jim Hancock (4.04 pounds)
Big Bass..........$50....Walt Zartman (2.60 pounds)

Contestant

Heaviest
Bass

Total
Stringer Weight

1. Walt Zartman

2.60

6.38

2. Jeff Cotten, Jr.

1.94

5.06

3. Jim Hancock

1.38

4.04

4. Theron Hall

1.56

3.78

5. Wayne Godwin

1.80

1.80

6.Wayne Zartman

1.46

1.46

7. Brad Stone

8. Gary Krumbholz

9. Ryan Krumbholz

10. Max Rhinehart
Note that some contestants may have chosen not to weigh-in their fish if they were small.
Also, some contestants may have caught "slot fish" (currently 16-to-24 inches) that can't be weighed-in.

Return to my home page