Stoner's 16th Annual Catch & Release
Bass Tournament
May 22nd, 2010 --- Lake Fork, TX

It was warm and windy this year, and a few of us got a little sunburned. But conditions could certainly have been worse. And everyone seemed to have a really good time. Most fishermen caught fish - and several "slot" fish were caught. Lake rules define "slot fish" as being between 16 and 24 inches (roughly 3 to 10 pounds) - slot fish must be immediately released without being brought to the weigh-in. I caught a 9.1 pounder, my second largest bass as of this tourney. But she was just a half inch shy of being out of the slot, and thus had to be released immediately.
Unfortunately, I forgot my digital camera this year. So a few of the pictures on this page were taken with a disposable camera. That's why the picture quality isn't all that good. Including myself, we had 18 contestants. That's slightly less than normal, but more than last year. Many thanks to those of you who fit my tourney into your busy schedules. Many of you rented boats, missed your kids' sports games and spent quite a few dollars on fishing licenses and lures. Thank you!
See the
Official Results
section at the bottom of this page for a full roster of this year's contestants.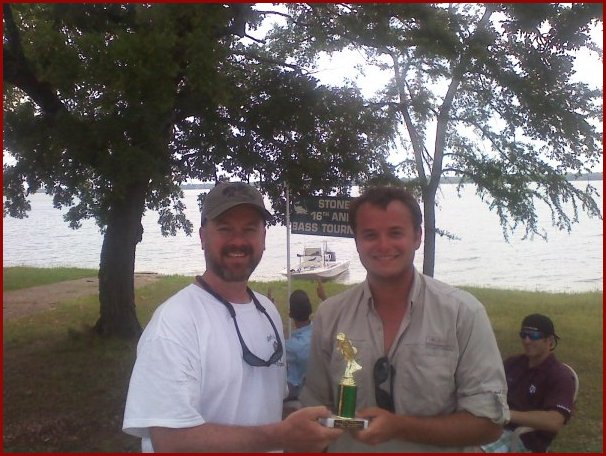 Reed Roberts - 2010 Champion
Reed (in tan shirt) won the tourney with a 5-fish stringer of under-slot fish weighing 6.36 pounds. Very nice.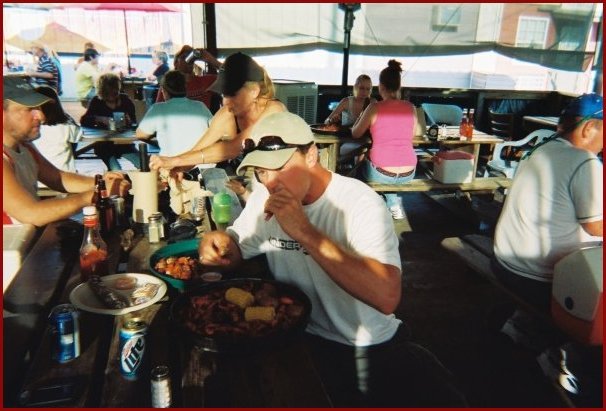 Dustin Cotten sucked the heads of the boiled crawfish at the Fisherman's One Stop on FM 515 the night before the tourney. Eating there has become a Stoner's Tournament tradition.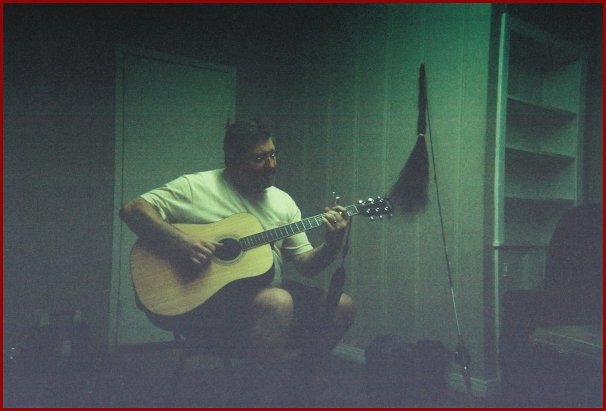 Gary played and sang for us in The Lodge again this year. What a talent!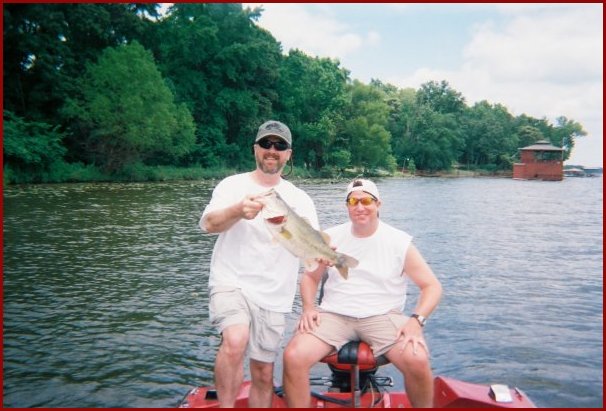 Steve Cox and Devin Dreiling fished with me in my boat this year. It was a hoot. That's me holding a three pound "slot fish" next to Devin.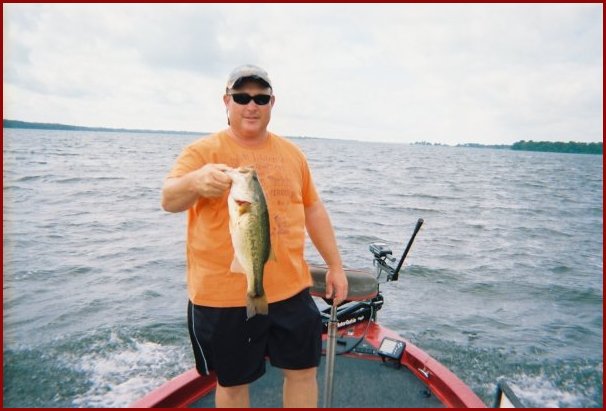 Steve Cox with a very healthy looking "slot" fish.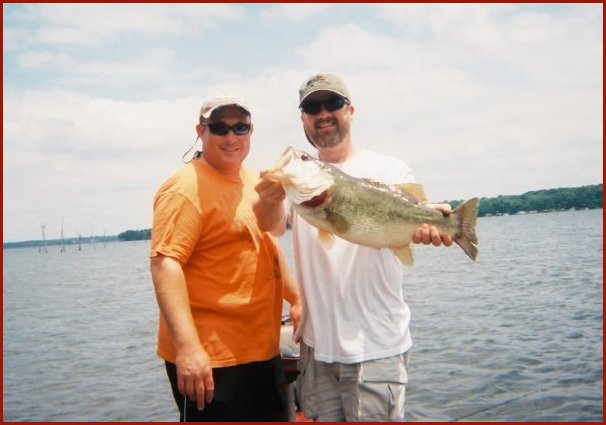 I was lucky enough to catch a 9.1 pounder this year! She bit a Culprit red-shad colored worm near lily pads in two feet of water. Unfortunately she was 23.5 inches long - just a half inch short of being out of the "slot". So I couldn't bring her to the weigh-in. But she swam off just fine, and I have some nice memories of her.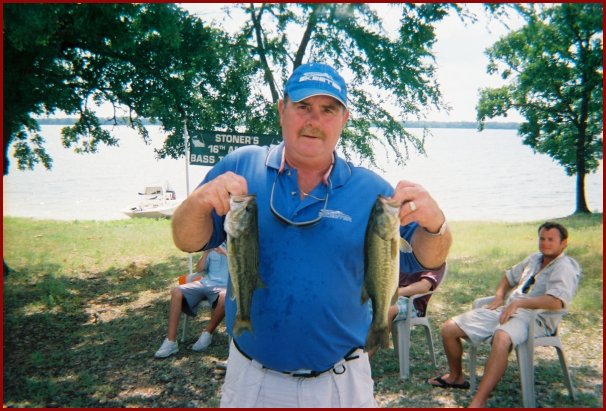 Wayne Godwin won 2nd place plus the Big Bass Pot.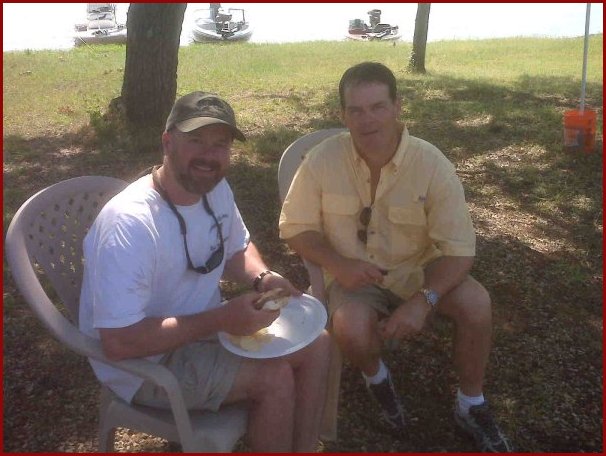 Jeff Cotten (yellow shirt) and me at the post-tourney cheeseburger cookout. You can just make out the sunburn on my legs and arms; I waited too late to put on the sunscreen. Jeff fished out of his year-old Ranger fish & ski with his brother Dustin.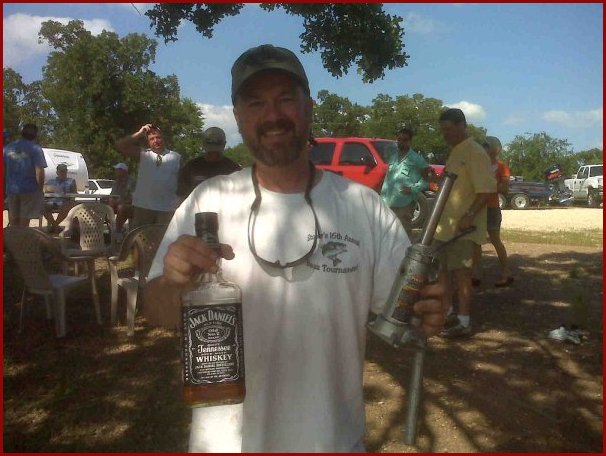 Unfortunately I had a blowout on the trailer as I was headed toward the lake on Friday. Luckily, I got the rig safely pulled off to the side of the highway. But my hydraulic jack didn't have the strength to raise the side of my trailer with the boat in it. I quickly figured out that the jack was low on hydraulic fluid. Not having hydraulic fluid with me, I poured a little Jack Daniels in it (yes, Jack in jack). And it worked - barely. I was able to jack up the side of my trailer just high enough so that I could change the tire. I knew watching the T.V. show, "MacGyver", all those years would eventually pay off! I'm pretty sure that the Jack Daniels ruined the seals on the jack - I had to buy a new one after I got home from the tourney. And it's possible that a jack filled with Jack could suddenly decompress at the worst possible moment - so try this at your own risk!

Official Results
18 contestants x $20 entry fee = $360 total payout
First Place........$135....Reed Roberts (6.36 pounds)
Second Place...$81......Wayne Godwin (5.92 pounds)
Third Place.......$54......Steve Cox (3.90 pounds)
Big Bass..........$90......Wayne Godwin (1.78 pounds)

Contestant

Heaviest
Bass

Total
Stringer Weight

1. Reed Roberts

1.40

6.36

2. Wayne Godwin

1.78

5.92

3. Steve Cox

1.66

3.90

4. Theron Hall.

1.70

1.70

5. Jeff Cotten, Jr.

1.68

1.68

6. John Manger

1.04

1.04

7. Brad Stone

8. Devin Dreiling

9. Dustin Cotten

10. David Rudd

11. Wesley Atkinson

12. Mathew Hanks

13. Gary Krumbholz

14. Ryan Krumbholz

15. Corey Hall

16. Tim Lowry

17. Roger Lowry

18. Stan Lowry
Note that some contestants may have chosen not to weigh-in their fish if they were small.
Also, some contestants may have caught "slot fish" (currently 16-to-24 inches) that can't be weighed-in.

Return to my home page