Stoner's 17th Annual Catch & Release
Bass Tournament
May 21st, 2011 --- Lake Fork, TX

Despite the meteorologists dire predictions, we had pretty good weather this year. A bit windy, but not too hot - and no rain during the tourney. And many contestants brought fish to the weigh-in. I also saw several pictures of nice slot fish (which aren't allowed to be weighed in). Including myself there were 20 contestants this year. As always, I thank you for fitting this tournament into your busy Spring schedules! You spent your hard earned money on motel rooms and boats and fishing equipment and countless other things. It's greatly appreciated.
See the
Official Results
section at the bottom of this page for a full roster of this year's contestants.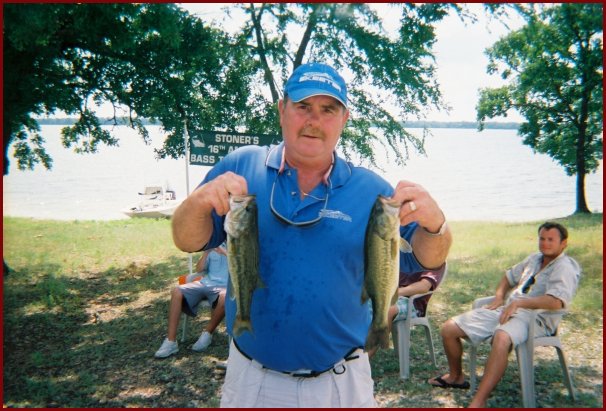 Wayne Godwin - 2011 Champion
Wayne always catches fish at my tourney. In fact, last year he came in 2nd place
and
won the big bass pot too. This year he won first place with a five fish limit weighing 7.94 pounds. Very nice. And he caught several other fish to boot. The above picture is actually from last year's tournament. I used my disposable camera to take a picture of Wayne at this year's tourney, but it didn't turn out.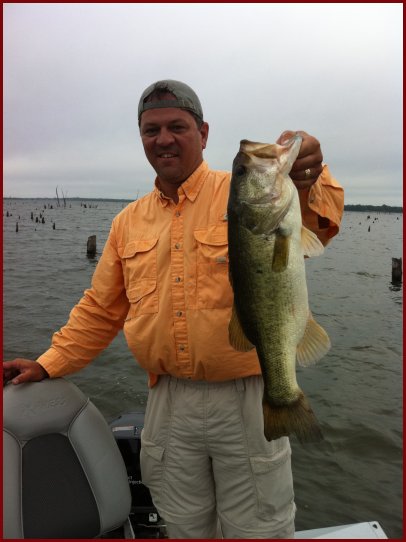 Brian Bergstrom with a very healthy looking slot fish. He and his brother, Michael, fished together again this year. They normally fish out of Brian's bass boat, but his boat was stranded at their Cedar Creek Lake boat dock due to extremely low water levels. So they rented a boat. They didn't have a fish scale with them, but that bass looks to be around 6 pounds. Very nice.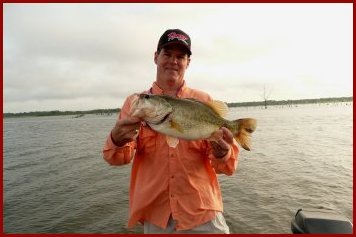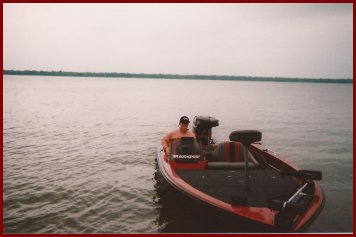 Jeff Cotten, Jr. with a nice 5 pound chunk. My ol' buddy Steve Cox was planning on fishing with me this year but he caught a cold at the last minute - so Jeff fished with me in my boat. Near the end of the tourney I hopped out to prepare for the weigh-in and cookout, and Jeff took off in my boat to get a few more minutes of fishing in.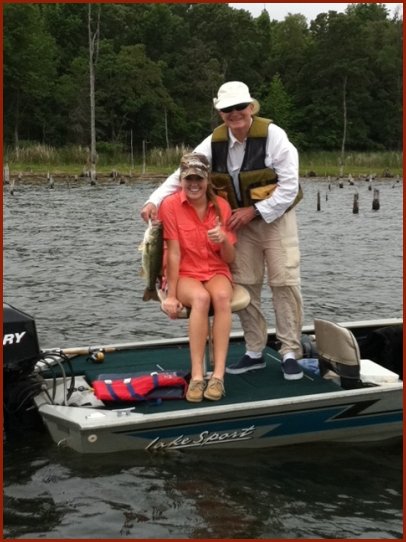 After missing the past couple of tournaments, my friend Scott Henry (not pictured) returned this year, and he brought several kin with him. Pictured are his daughter, Lauryn, and his father, Ron. Scott's son and father-in-law were also contestants. Nice group of folks.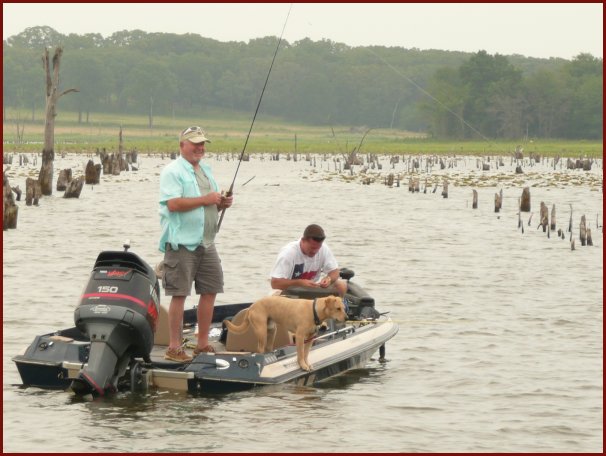 This year Jeff Cotten, Sr. (standing) fished with his son Dustin and Dustin's dog. It's always a hoot being around Sr., Jr. and Dustin. Funny guys - and all three know how to catch bass.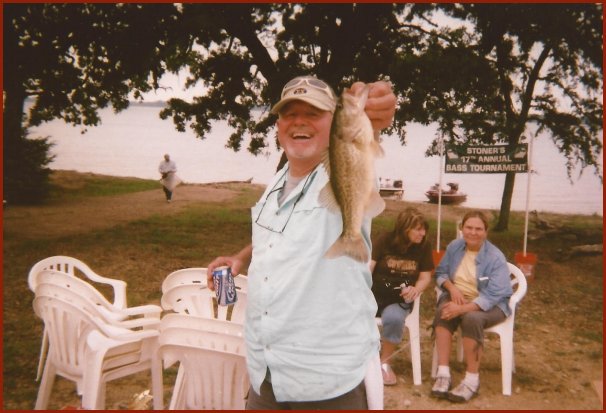 Jeff Cotten, Sr. with a nice under-slot fish. You sure can't tell it from this picture but Senior was a bit under the weather at the time, so I really appreciate him coming out and fishing with us!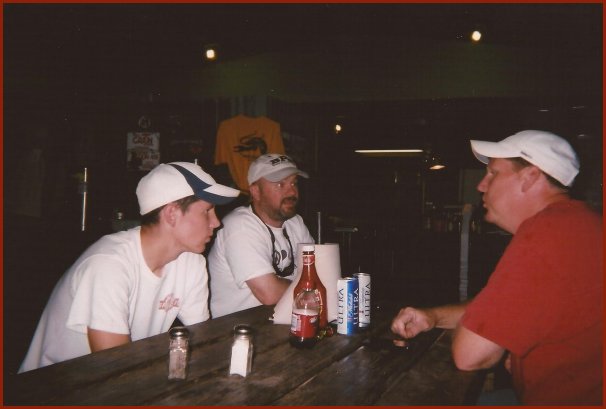 Each year several of us eat dinner before the tournament at the Fisherman's One Stop. They can boil up some really good tasting crawfish. That's me (beard) talking to Theron Hall (red shirt) and his son, Corey. Theron always catches nice fish at my tourney, but this year his son was in the money. Corey won 3rd place
and
the Big Bass Pot.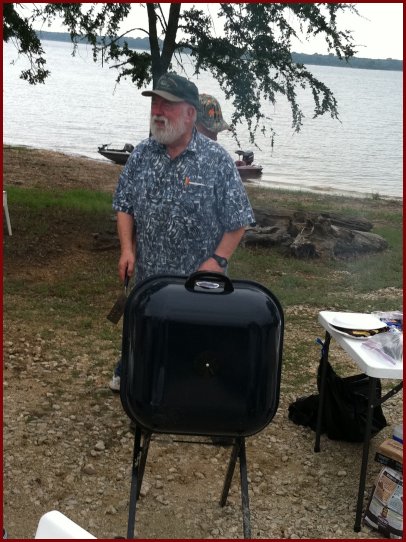 My dad was nice enough to drive out for the weigh-in and cookout again this year. He grilled some very good burgers - as well as sausages and sautéed mushroom caps. Thanks!

Official Results
20 contestants x $20 entry fee = $400 total payout
First Place........$150....Wayne Godwin (7.94 pounds)
Second Place...$90......Jim Hancock (5.62 pounds)
Third Place.......$60......Corey Hall (5.28 pounds)
Big Bass..........$100.....Corey Hall (2.32 pounds)

Contestant

Heaviest
Bass

Total
Stringer Weight

1. Wayne Godwin

1.94

7.94

2. Jim Hancock

1.94

5.62

3. Corey Hall

2.32

5.28

4. Dustin Cotten

1.98

5.24

5. Jeff Cotten, Jr.

1.46

4.16

6. Brad Stone

1.54

3.04

7. Brian Bergstrom

1.74

2.70

8. Jeff Cotten, Sr.

1.30

2.14

9. David Rudd

1.08

1.08

10. Michael Bergstrom

11. Theron Hall

12. Max Rhinehart

13. Scott Henry

14. Ryan Henry

15. Lauryn Henry

16. Ron Henry

17. C.K. Baker

18. Larry Stevens

19. Rick Stevens

20. Mike Lewis
Note that some contestants may have chosen not to weigh-in their fish if they were small.
Also, some contestants may have caught "slot fish" (currently 16-to-24 inches) that can't be weighed-in.

Return to my home page