Stoner's 20th Annual Catch & Release
Bass Tournament
May 3rd, 2014 --- Lake Fork, TX

We had beautiful weather for the historic 20th Annual Tourney! Clear skies, high of 85, and just a light breeze. Sweet. There were 32 contestants this year, including several new faces. As always, thanks to all who came out - I know it isn't cheap to buy fishing equipment and gas, or to rent boats. Thanks!
See the
Official Results
section at the bottom of this page for a full roster of this year's contestants.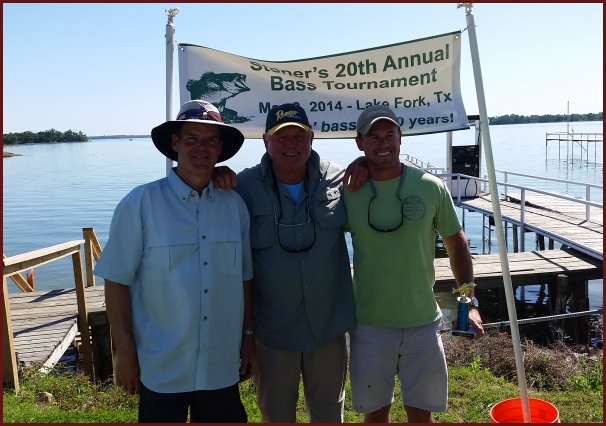 Dustin Cotten - 2014 Champion
Dustin (green shirt) won the tourney with a 5-fish limit weighing 6.54 pounds. The fishing was a little slow for most folks, but Dustin caught 20 fish that day!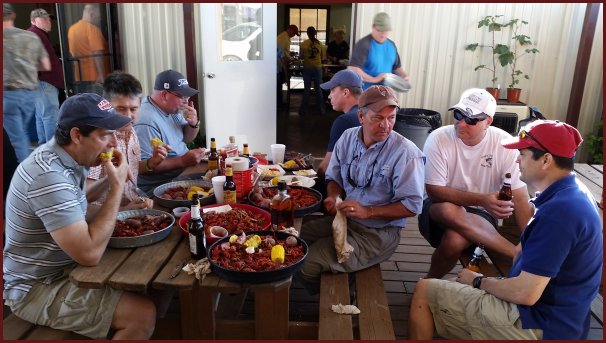 The annual eating of the crawfish at Bro's Patio the night before the tournament. Brian Bergstrom had just cooked up some wonderful crawfish at our annual Boil the weekend before. The crawfish at Bro's didn't measure up to Brian's, but it was still a good time!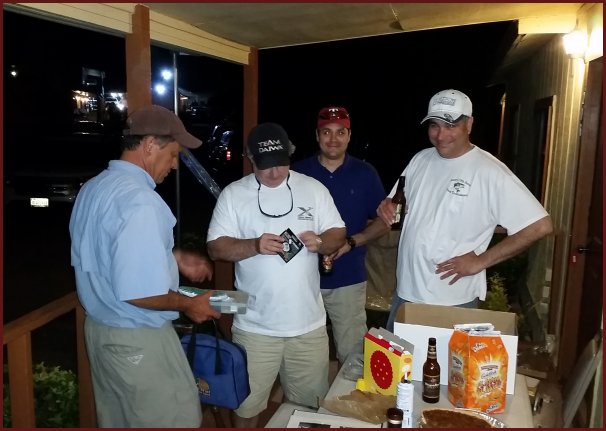 This was the first year that I hosted the tourney out of the Minnow Bucket Marina instead of Oakridge Marina. The Lodge at The Minnow Bucket only holds 10 people, and there isn't a community room where we could all gather. But the front porch was roomy and had a good feel to it. So several of us sat outside chatting (and laughing) until very late. Fun stuff.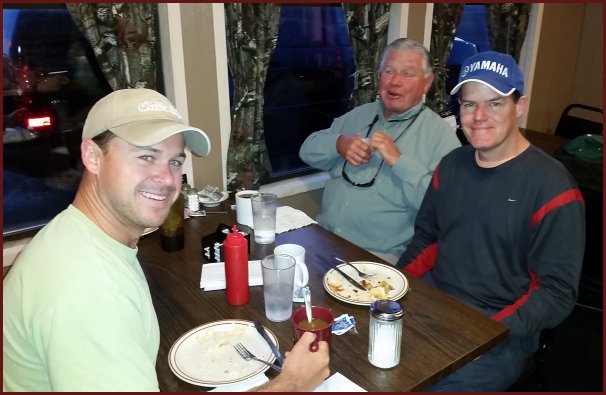 The Cottens having an early morning breakfast at The Minnow Bucket.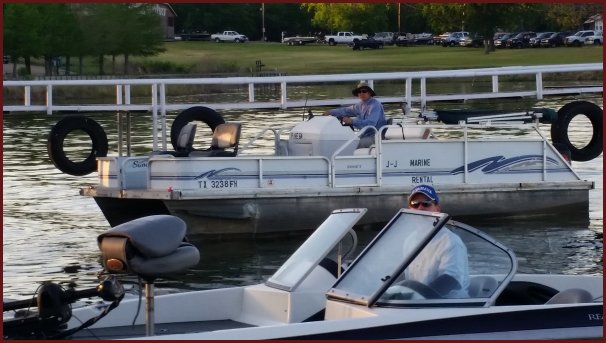 The morning of the tournament. Jeff Cotten, Jr in the foreground, and Jimmy Knight in the pontoon boat in the background.




My ol' buddy Jason Hale with a nice under-slot fish. Jason fished in my boat this year. We didn't catch too many fish, but it was sure a good time.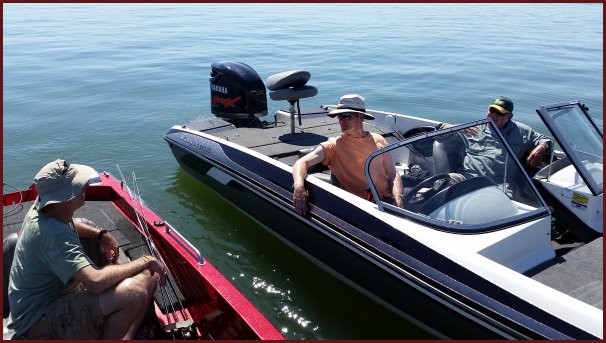 Jason & I crossed paths with Jeff Cotten Jr & Sr near the mouth of Little Caney. We fished near them for the next couple of hours. It's always a hoot fishing near those characters!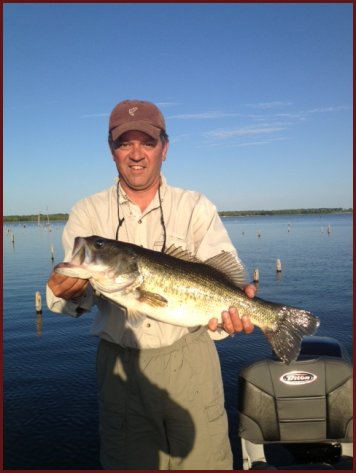 Brian Bergstrom with a beautiful six pound slot fish.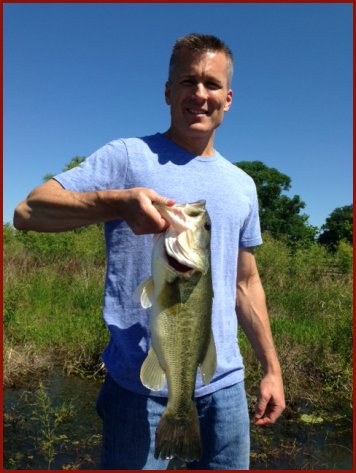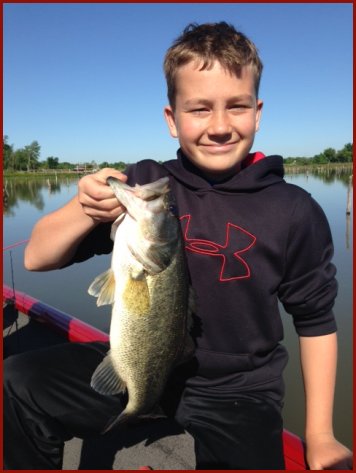 Scott Henry and his son with some pretty slot fish.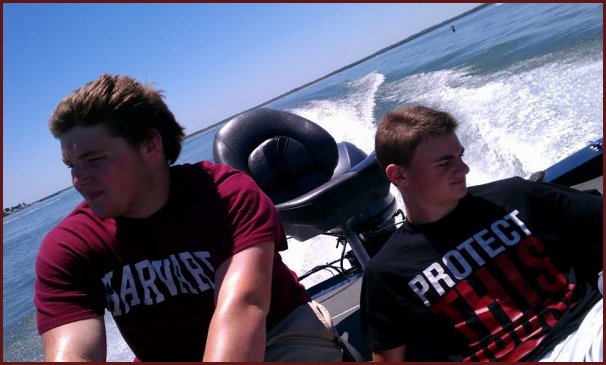 Ryan Krumbholz and Reid Thompson.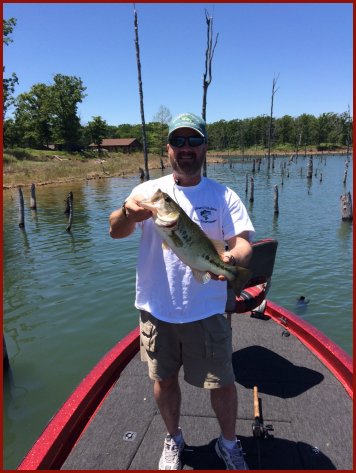 Me with a 3-pound slot fish - caught on a wacky-rigged finesse worm.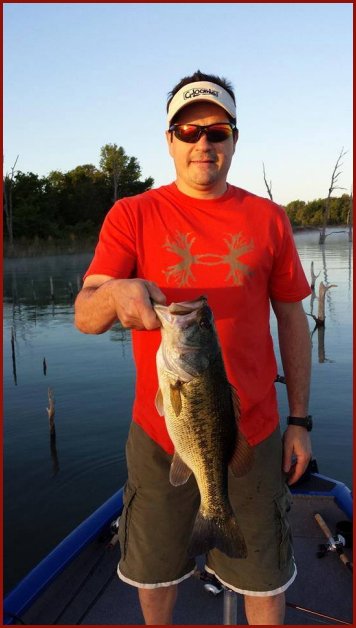 Wayne Zartman came in second place this year. Most of the fish this year were dark green and healthy.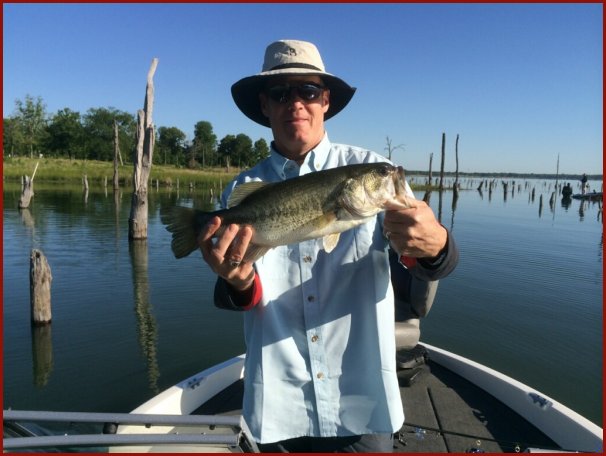 Jeff Cotten, Jr. with a slot fish.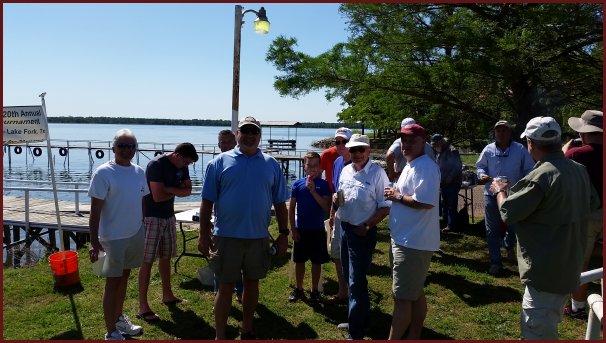 I found a small patch of grass next to The Minnow Bucket's boat ramp that worked well for the weigh-in & post-tournament cookout.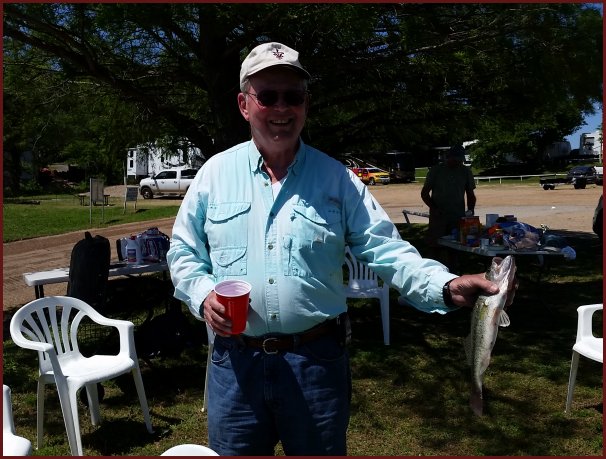 Max Rhinehart has fished many of my tournaments, and he always catches fish!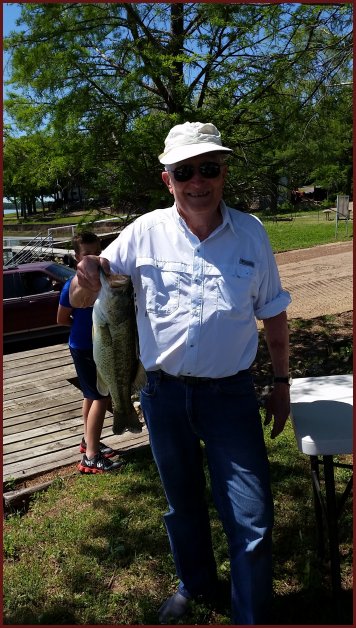 Ron Henry Sr. won the Big Bass Pot with this chunky 2.32 pound under-slot fish. Great fish.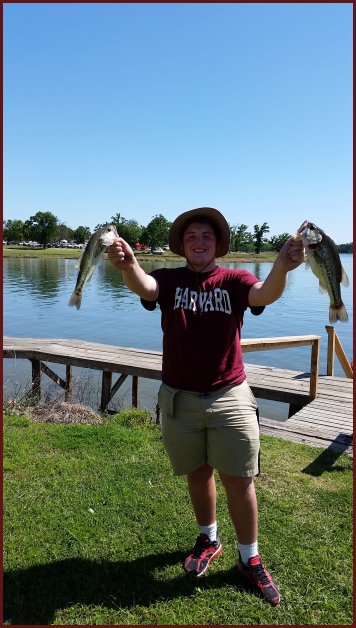 Ryan Krumbholz with two very nice under-slot fish.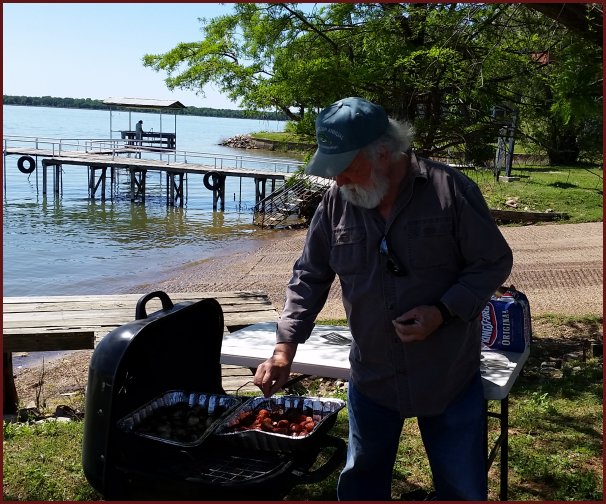 Dad came out once again to cook burgers for us. In this picture he is preparing two terrific appetizers: garlic butter filled mushroom caps, and sliced sausage. Thanks Dad!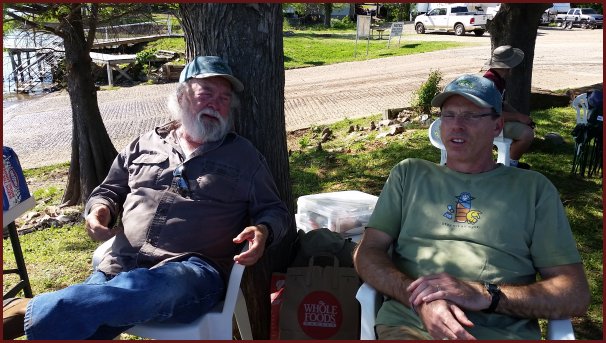 Dad appears to be saying some very wise words, but Jason is zoned out. That's been going on for over 40 years :)



Official Results
32 contestants x $20 entry fee = $640 total payout
First Place.........$320....Dustin Cotten (6.54 pounds)
Second Place.....$160....Wayne Zartman (6.30 pounds)
Big Bass...........$160....Ron Henry, Sr. (2.32 pounds)

Contestant

Heaviest
Bass

Total
Stringer Weight

1. Dustin Cotten

1.50

6.54

2. Wayne Zartman

1.98

6.30

3. Jeff Cotten, Sr.

2.04

4.92

4. Nolan Jackson

1.40

3.90

5. Lee Ward

1.60

3.36

6. Ryan Krumbholtz

1.94

3.06

7. Theron Hall

1.82

2.72

8. Ron Henry, Sr.

2.32

2.32

9. Paul Stover

1.72

1.72

10. Max Rhinehart

1.34

1.34

11. Jason Hale

1.20

1.20

12. Jimmy Knight

0.84

0.84

13. Walt Zartment

0.84

0.84

14. Brad Stone

15. Jeff Cotten, Jr.

16. Brian Bergstrom

17. Jeff Ritter

18. Mark Burgee

19. Sparky Eltz

20. Gary Krumbholz

21. Reid Thompson

22. Wayne Godwin

23. Ty Dyess

24. Corey Hall

25. Doug Whitley

26. Tommy Faulkner

27. Jim Rowley

28. Bill Rhinehart

29. Scott Henry

30. Ron Henry, Jr.

31. Ronnie Henry

32. Ryan Henry
Note that some contestants may have chosen not to weigh-in their fish if they were small.
Also, some contestants may have caught "slot fish" (currently 16-to-24 inches) that can't be weighed-in.

Return to my home page