Stoner's 21st Annual Catch & Release
Bass Tournament
May 2nd, 2015 --- Lake Fork, TX

What a great day to fish - high of 82, light winds, full lake. Too bad the fish weren't biting! The water was still pretty murky from all the rains that we've been (thankfully) getting over the past 3 months. A few fish were caught, but not as many as usual. Still, we managed to have a great time. Thanks to all who came out!
See the
Official Results
section at the bottom of this page for a full roster of this year's contestants.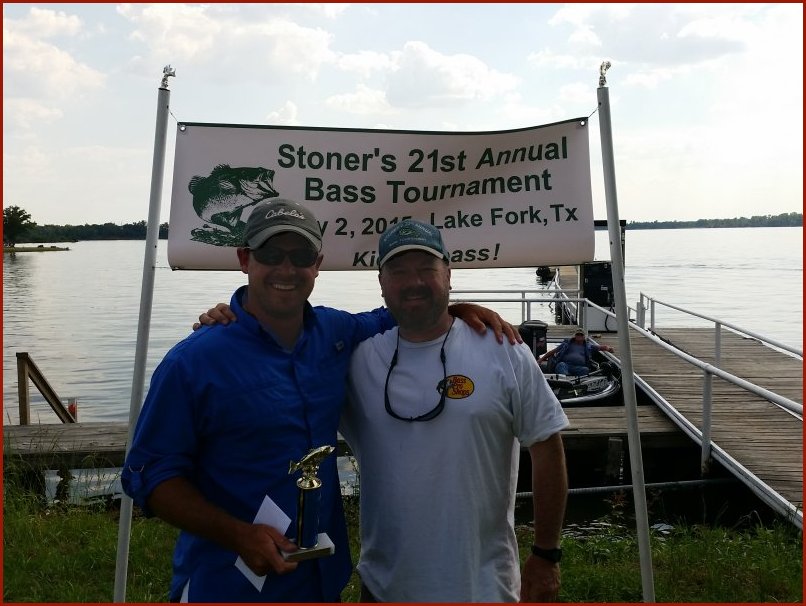 Dustin Cotten - 2015 Champion
Dustin (blue shirt) won the tourney for the second year in a row. He's our first back-to-back winner!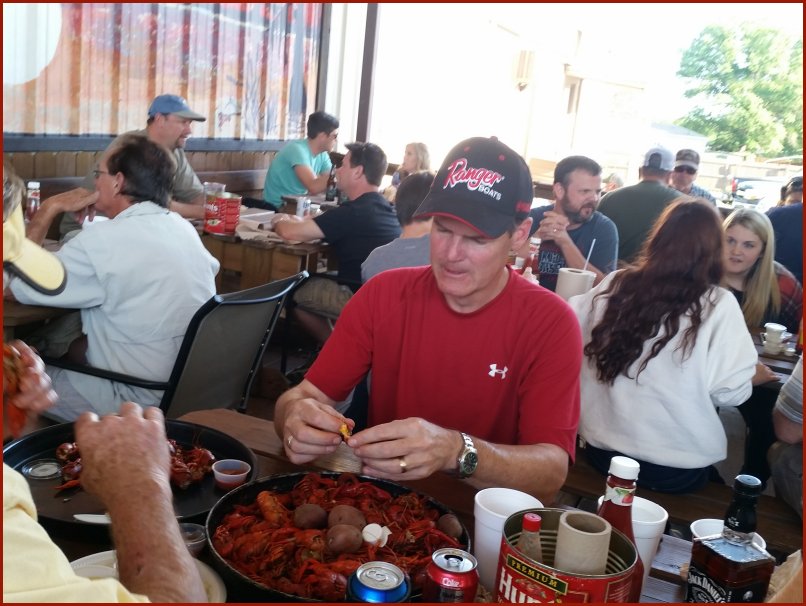 Jeff Cotten, Jr eating crawfish at Bro's Patio the night before the tournament. The ears of corn were very good, but the mudbugs were too salty and fishy - nowhere near as good as the ones that Brian Bergstrom cooked at our annual Boil the weekend before.




I rented the big bass lodge at The Minnow Bucket again this year. The front porch is fantastic. And once again, Gary Krumbhoz put on a great show. Jeff Cotten, Jr joined in some too. Fun stuff!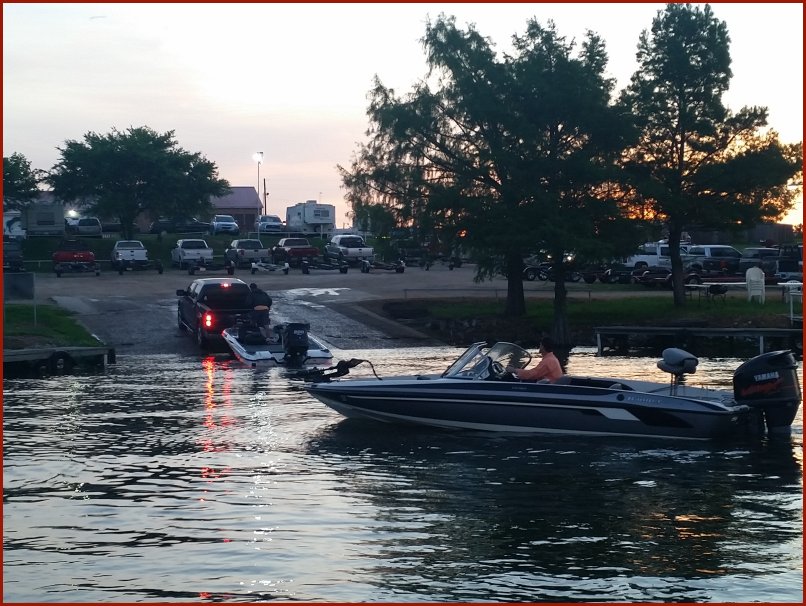 Approximately 7am The morning of the tourney. Jeff Cotten, Jr (orange shirt) in the foreground had just launched. And Brian Bergstrom is on the ramp. It was a beautiful morning.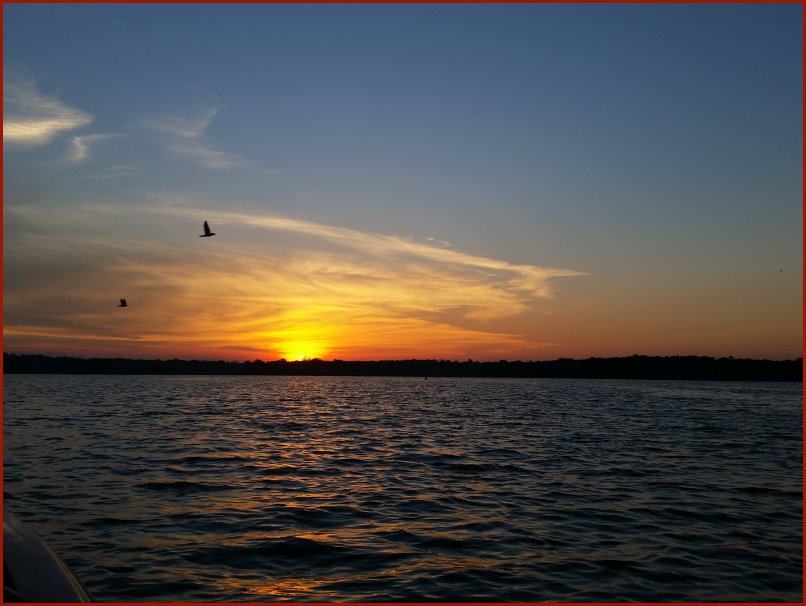 Sunrise from my boat.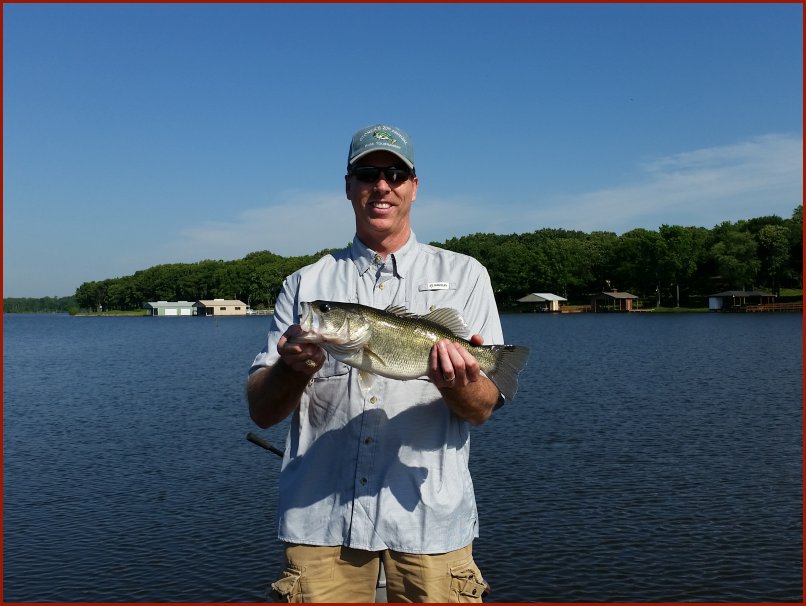 Jason Hale fished in my boat again this year. We didn't catch a lot of fish, but we had a lot of laughs. In the above picture, Jason is holding a 3 pound slot fish.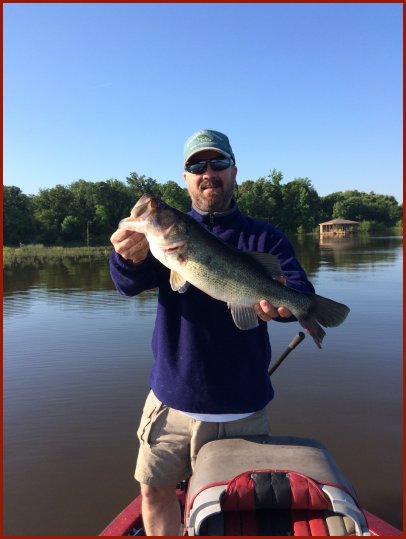 Me with a 4.5 pound slot fish I caught on a topwater frog. I think she has recently spawned and was thus fairly thin. She may have weighed 6 pounds a few days earlier.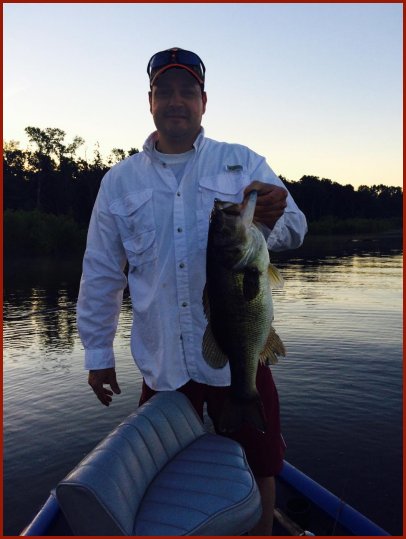 Wayne Zartman with a very nice slot fish.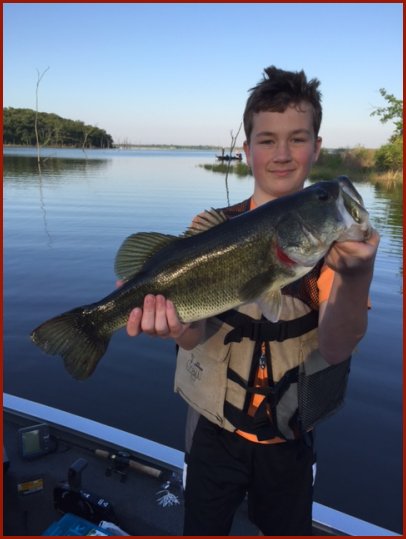 Ryan Henry with a beautiful 20-inch slot fish.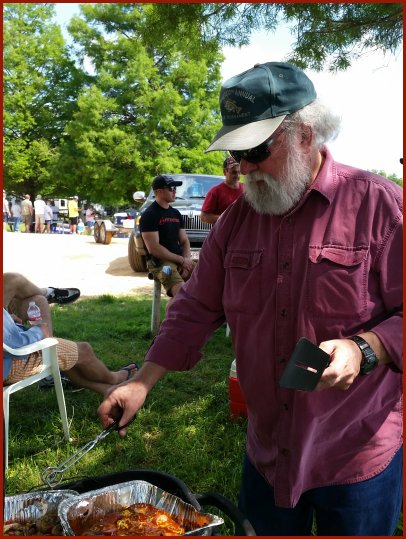 Dad came out to cook appetizers and burgers for us again. Thanks Dad!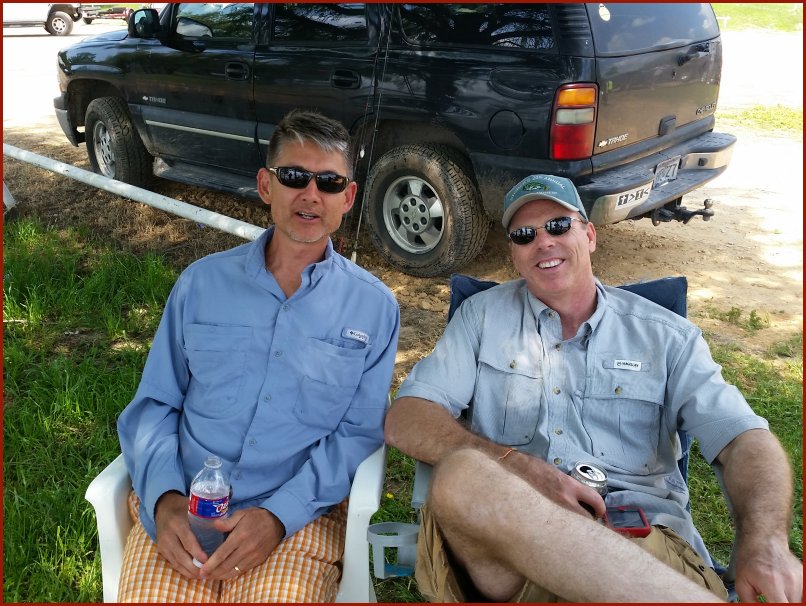 Jimmy Knight & Jason Hale at the post-tourney cookout.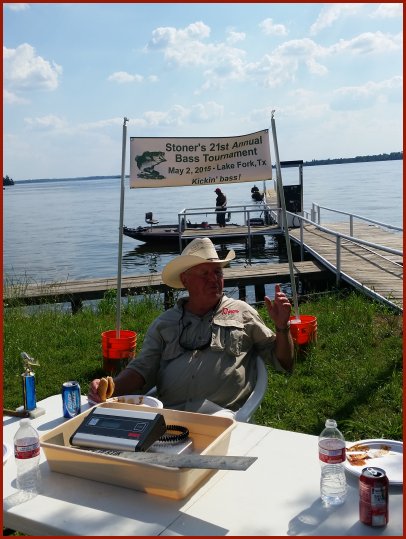 Jeff Cotten, Sr holding court at the cookout.




It's always nice seeing the Henry's at the tournament!



Official Results
30 contestants x $20 entry fee = $600 total payout
First Place.........$300....Dustin Cotten (3.12 pounds)
Second Place....$150....Wayne Godwin (2.50 pounds)
Big Bass...........$150....Walt Zartman (2.18 pounds)

Contestant

Heaviest
Bass

Total
Stringer Weight

1. Dustin Cotten

2.02

3.12

2. Wayne Godwin

1.32

2.50

3. Walt Zartman

2.18

2.18

4. Jeff Cotten, Jr.

1.80

2.16

5. Wayne Zartman

2.02

2.02

6. Scott Henry

1.48

1.48

7. Jeff Cotten, Sr.

0.40

0.40

8. Brad Stone

9. Jason Hale

10. Austin Cotten

11. Brandon Henderson

12. Josh Adneroli

13. Brian Bergstrom

14. Lee Ward

15. Jimmy Knight

16. Gary Krumbholz

17. Neil Sanders

18. Jim Rowley

19. Jim Kracht

20. Colt Kracht

21. Brice Watson

22. Ron Henry

23. Ryan Henry

24. Bruce Jenkins

25. Theron Hall

26. Corey Hall

27. Larry Stevens

28. Rick Stevens

29. Mike Lewis

30. David Lewis
Note that some contestants may have chosen not to weigh-in their fish if they were small.
Also, some contestants may have caught "slot fish" (currently 16-to-24 inches) that can't be weighed-in.

Return to my home page