Stoner's 23rd Annual Catch & Release
Bass Tournament
May 6th, 2017 --- Lake Fork, TX

Like the past several years we sure got lucky with the weather - high of 81 and very light winds. My thanks to everyone who came out - I had a ball.
See the
Official Results
section at the bottom of this page for a full roster of this year's contestants.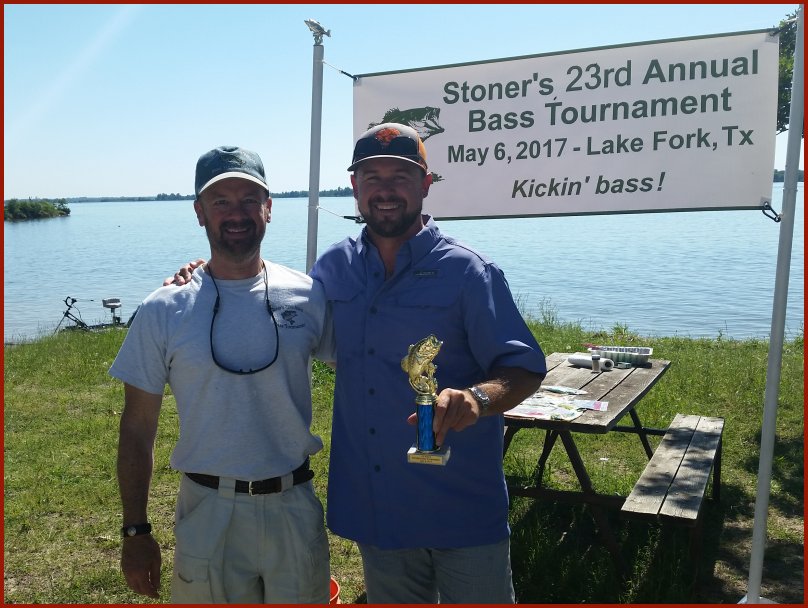 Dustin Cotten - 2017 Champion
Congrats to Dustin Cotten (holding the trophy) for winning the tourney for the FOURTH time in a row! The man is a machine. This year, Dustin had some stiff competition. The second heaviest 5-fish stringer weight was only 2 hundredths of a pound (i.e. 1/3 of an ounce) behind Dustin's!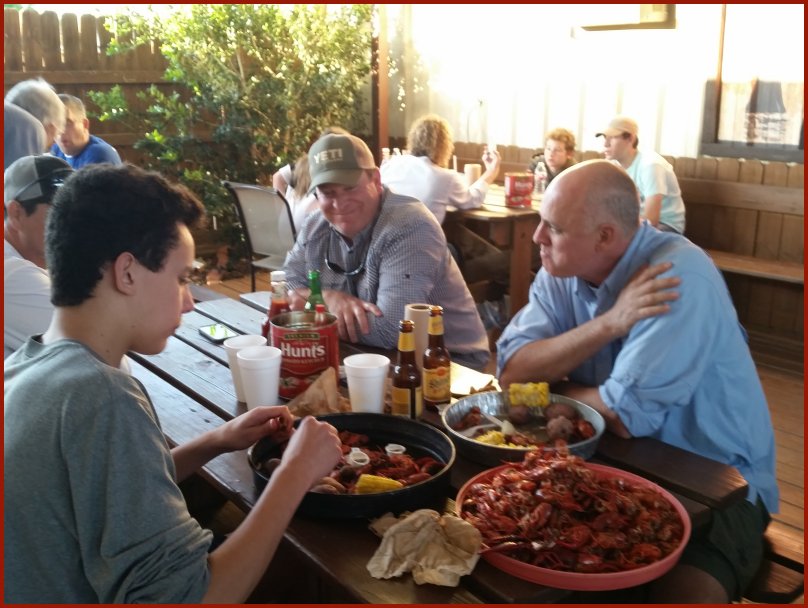 It was great seeing Thad Chapman (light blue shirt) at the tourney. We went to kindergarten together back in the day.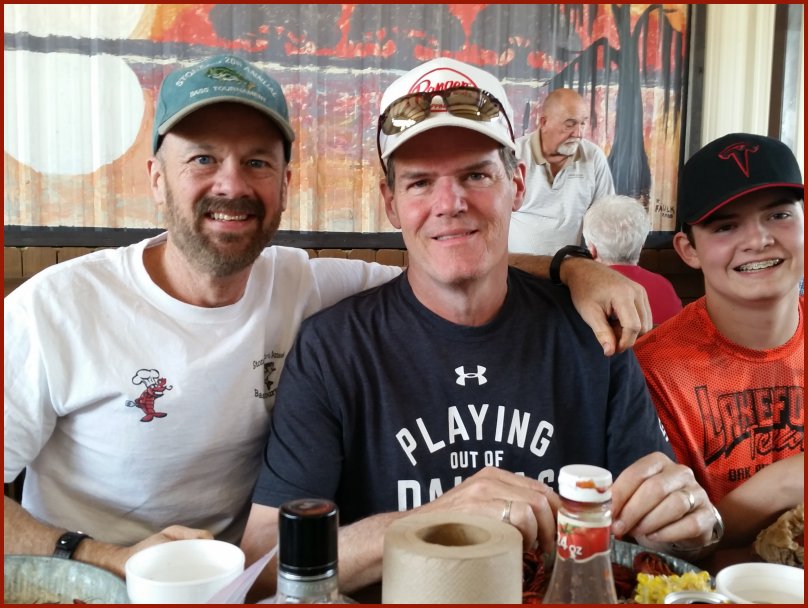 Eating crawfish at Bro's Patio the night before the tourney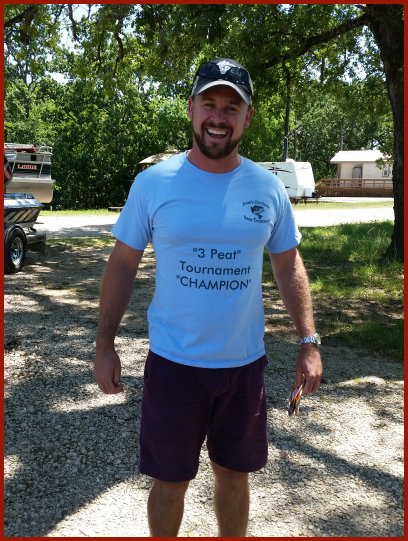 Great shirt! And Dustin backed up his confidence with his fourth win in a row!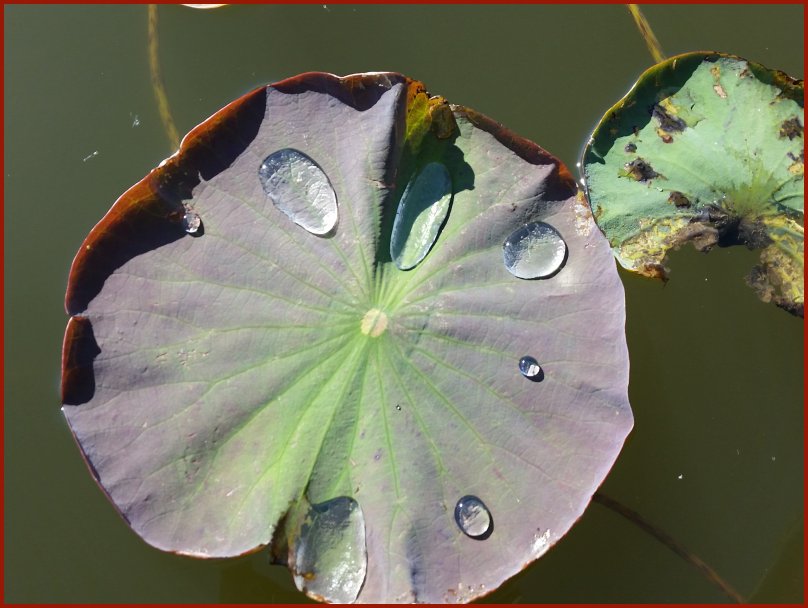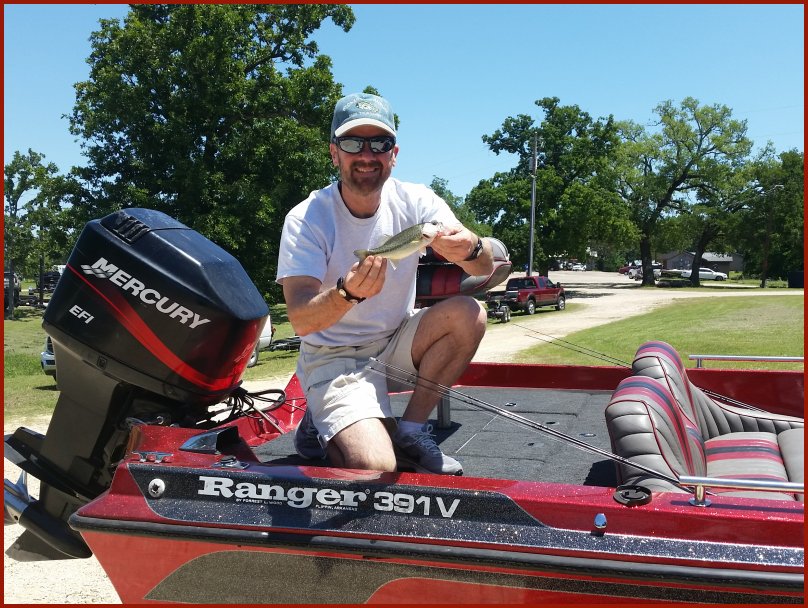 An alarm on my boat started going off anytime I got over 2,000 RPM's. So Jason & I stopped fishing at 11am. But I did manage to weigh in this monster!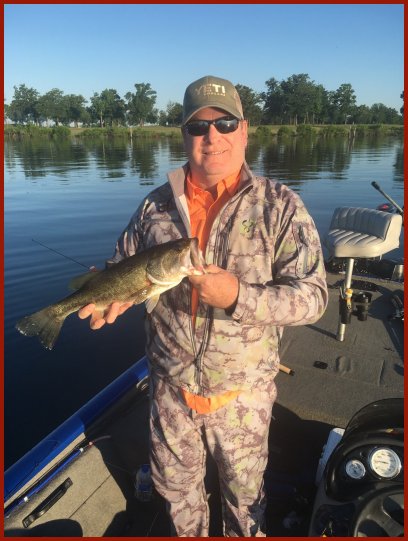 Neil Sanders with a nice slot fish. Unfortunately, Lake Fork rules specify that bass between 16 and 24 inches must be thrown back immediately. So they can't be weighed in at tournaments - but they're still fun to catch and release.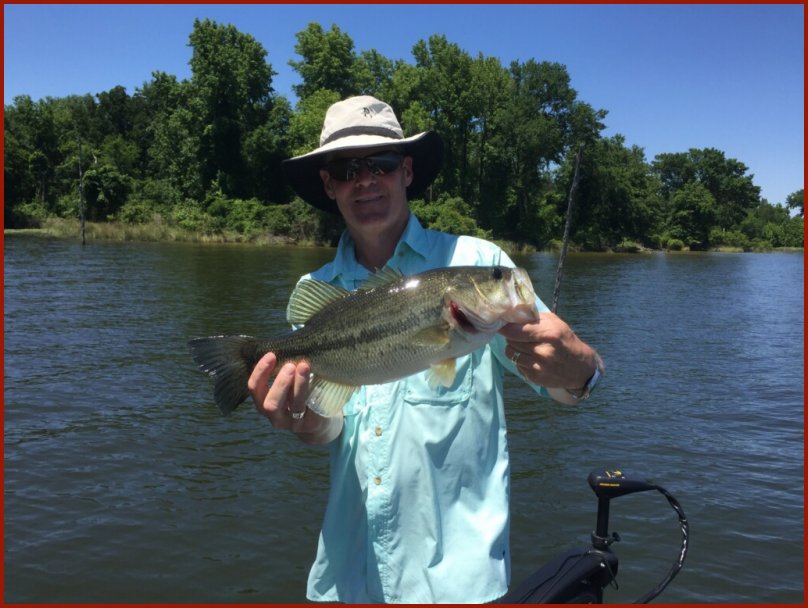 Jeff Cotten, Jr with a very healthy looking slot fish.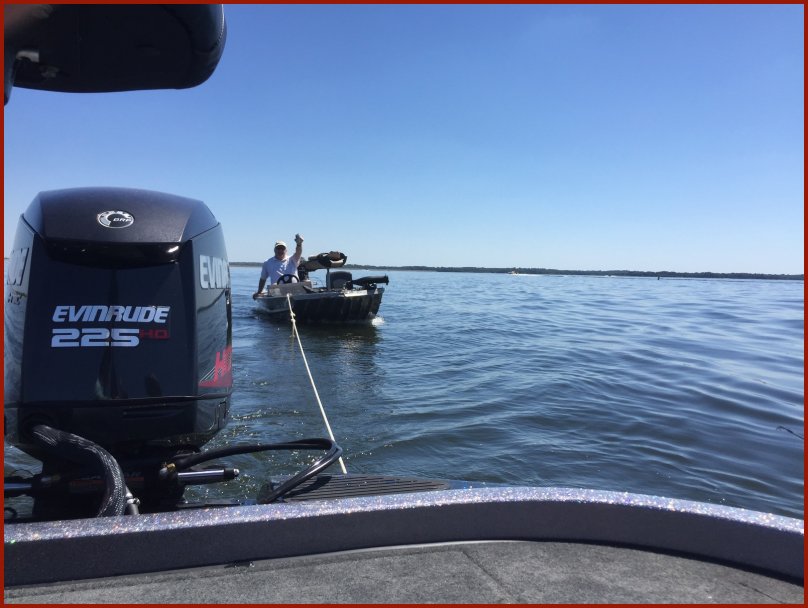 Gary's rental boat ran out of gas near the end of the tourney. I'm suspicious that the rental place didn't fully fill the tank up for him. Jeff gave Gary a tow :)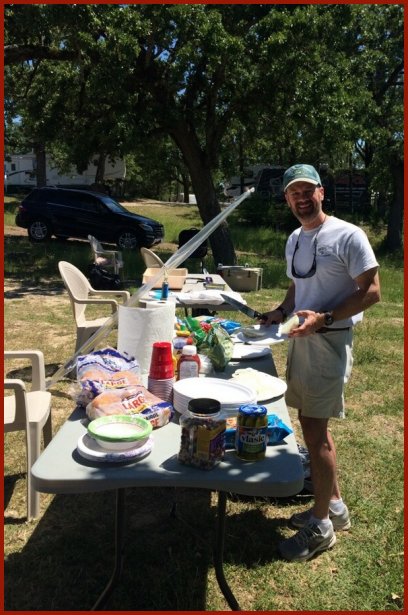 Me cutting onions in preparation for the post-weigh in hamburger cookout.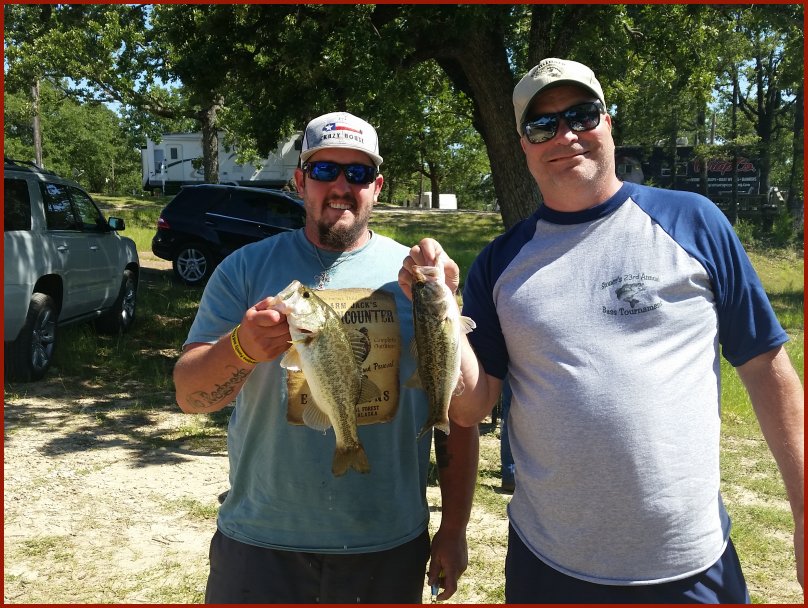 Some nice under-slot fish that are legal to weigh in.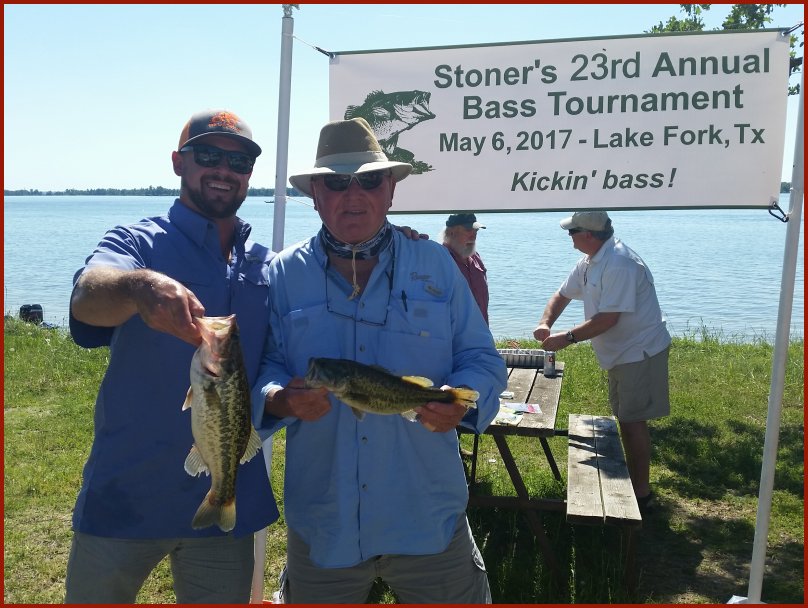 This year's winner, Dustin Cotten (darker blue shirt), with his dad Jeff Cotten Sr.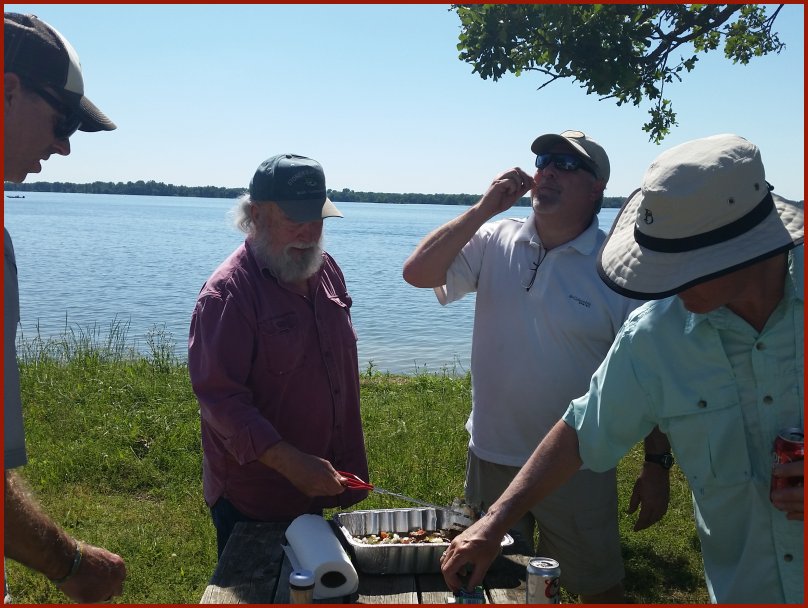 Dad did another great job with the appetizers and burgers!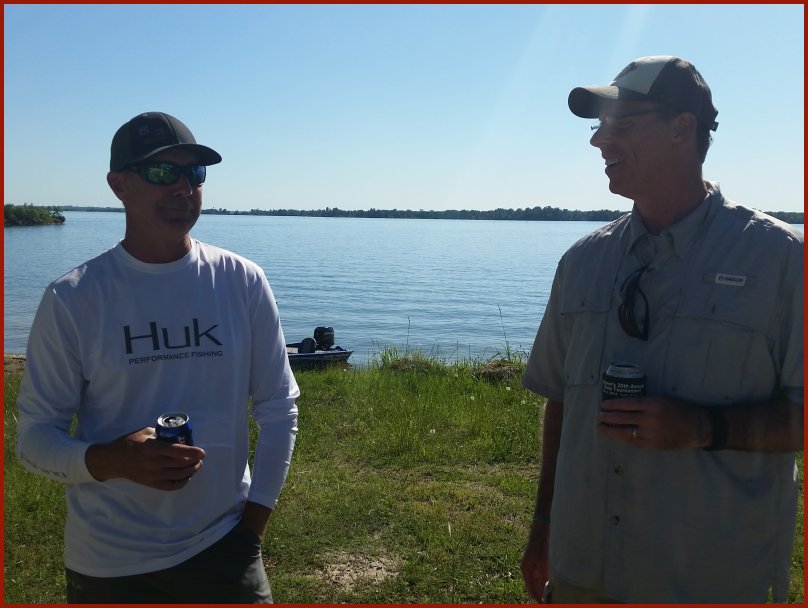 Myles Turner (white shirt) talking to Jason Hale after the weigh in.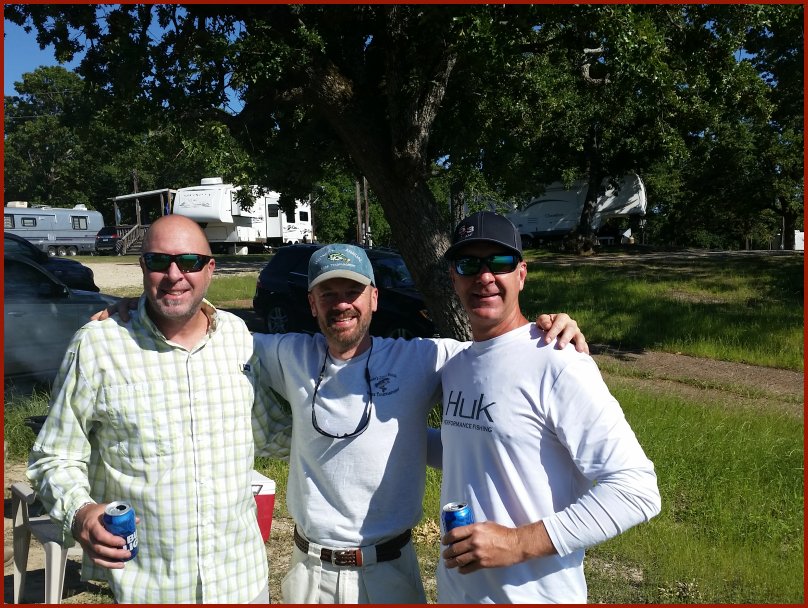 From left to right, Jim Rowley, myself, Myles Turner

Official Results
28 contestants x $20 entry fee = $560 total payout
First Place.........$280....Dustin Cotten (6.76 pounds)
Second Place....$140....Theron Hall (6.74 pounds)
Big Bass...........$140....Brian Harrison (2.32 pounds)

Contestant

Heaviest
Bass

Total
Stringer Weight

1. Dustin Cotten

1.84

6.76

2. Theron Hall

6.74

3. Corey Hall

5.94

4. Jeff Cotten, Sr.

1.86

3.54

5. Brian Harrison

2.32

2.32

6. Wayne Zartman

1.34

1.66

7. Colby Childs

1.44

1.44

8. Walt Zartman

1.14

1.14

9. Neil Sanders

0.26

0.26

10. Brad Stone

0.25

0.25

11. Jason Hale

12. Jim Rowley

13. Myles Turner

14. Jeff Cotten, Jr.

15. Austin Cotten

16. Wayne Godwin

17. Tye Dyess

18. Randal Dyess

19. Brian Bergstrom

20. Jeff Ritter

21. Larry Stevens

22. Rick Stevens

23. Mike Lewis

24. David Lewis

25. Gary Krumbholz

26. Doug Whitley

27. Thad Chapman

28. Joseph Chapman
Note that some contestants may have chosen not to weigh-in their fish if they were small.
Also, some contestants may have caught "slot fish" (currently 16-to-24 inches) that can't be weighed-in.

Return to my home page