Stoner's 26th Annual Catch & Release
Bass Tournament
May 7th, 2022 --- Lake Fork, TX

Due to the Covid pandemic, it had been three years since my last tourney. It sure felt good seeing everyone again! The predictions for blazing hot temperatures and high winds didn't occur, so it was a pretty pleasant day on the water. And a lot of folks caught fish. Thanks to all who came out - I know renting boats & motel rooms, buying fishing licenses & tackle can be expensive. I really appreciate it!
See the
Official Results
section at the bottom of this page for a full roster of this year's contestants.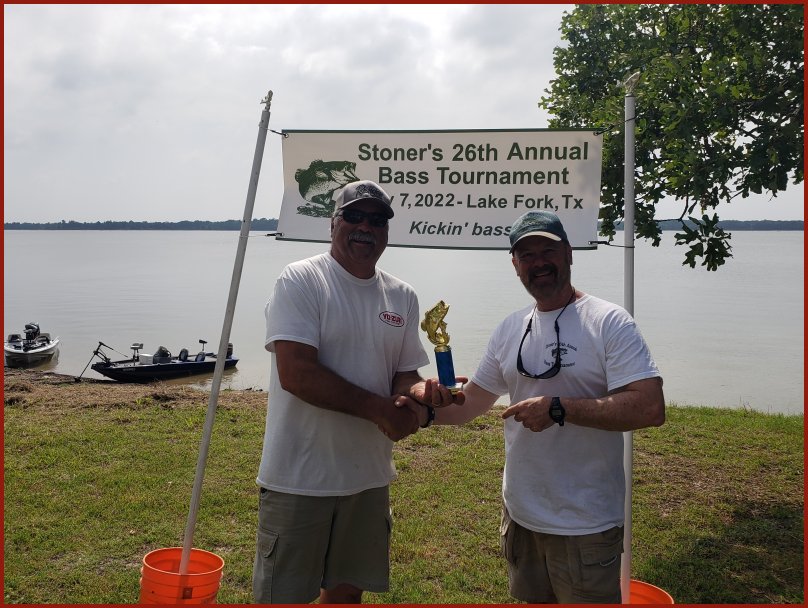 Mike Singletary - 2022 Champion
Mike caught a ton of fish during the tourney, and his 5-fish stringer of under-slot fish was over 8 pounds. Pretty amazing. He used a Texas-rigged red bug worm in 5 to 10 feet on lake points with stumps. Nice job!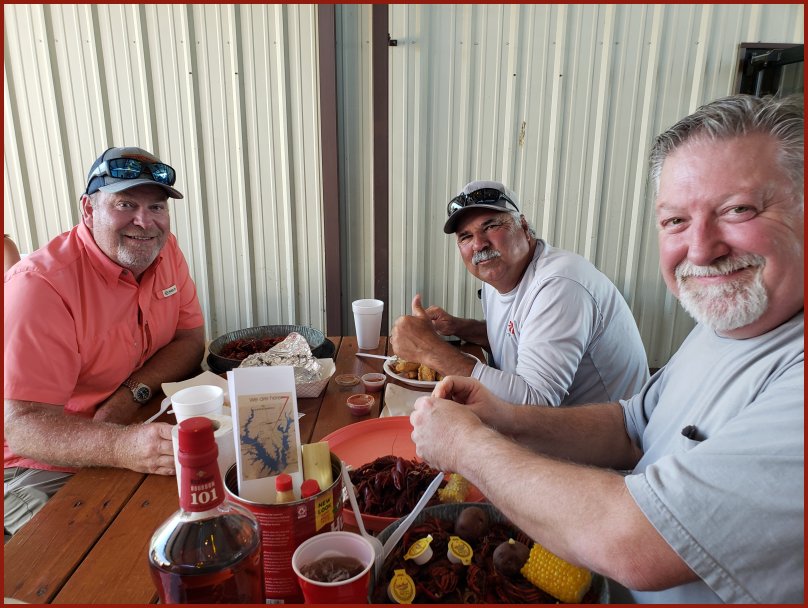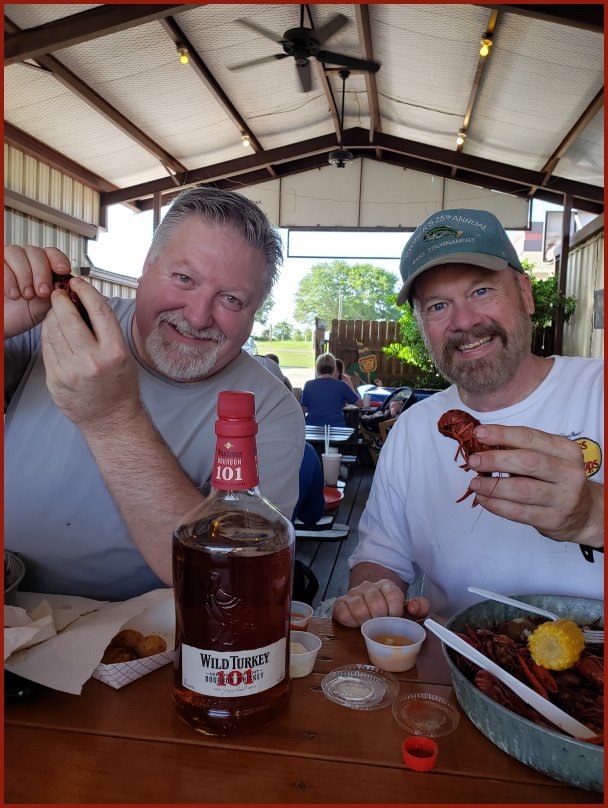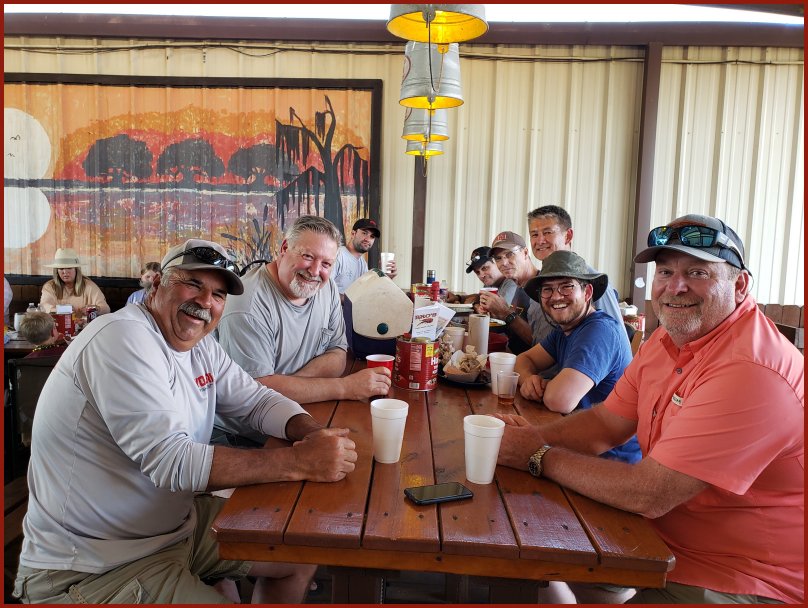 Eating at Bro's Patio the night before the tourney is a very fun tradition. Their boiled crawfish are quite good. We noticed some police activity near their restaurant while we were there, so I asked a worker what was going on. She whispered, "I think it's the dope" with a heavy east Texas accent. So that became the phrase for the rest of the weekend, LOL.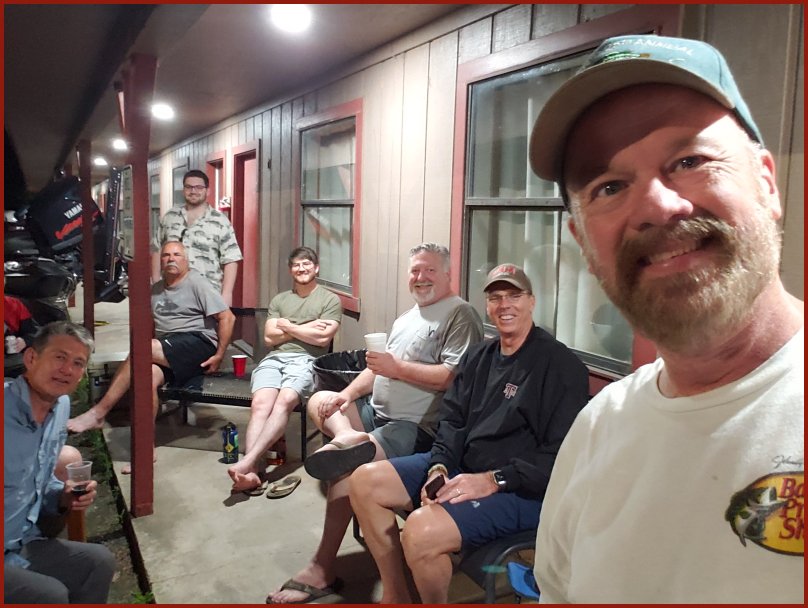 After eating at Bro's we hung out near the motel rooms at Oakridge Marina. Lot's of lies and old stories were told. Fun stuff!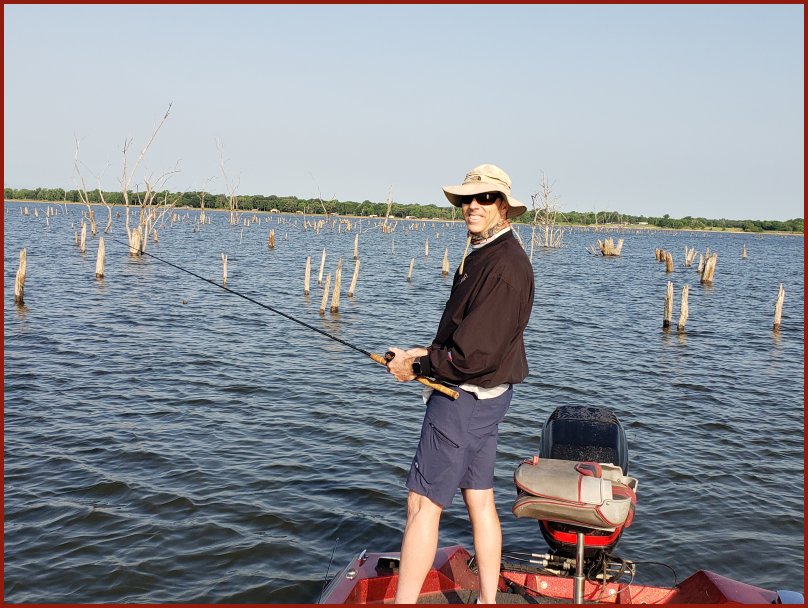 My fishing partner, Jason Hale.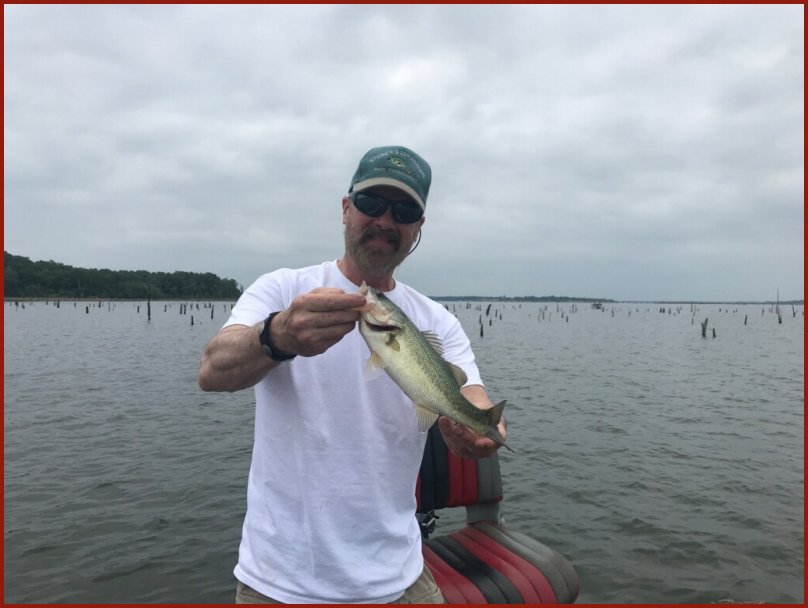 I only weighed in two under-slot fish. Here's a picture of one of them. I also caught a nice slot fish (that has to be thrown back), and a catfish, lol.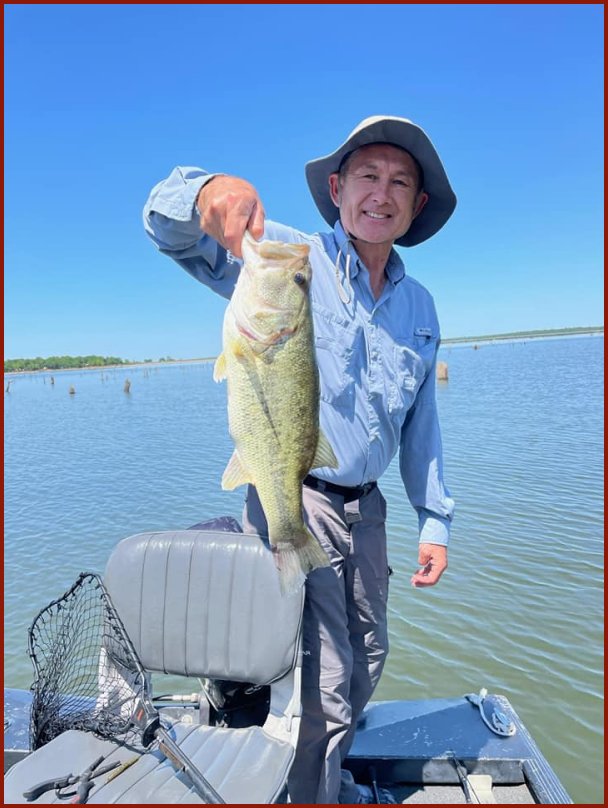 My buddy from junior high school, Jimmy Knight, with a nice bass. Unfortunately, that fish was in the slot (currently 16 to 24 inches at Lake Fork) so it could not be weighed in.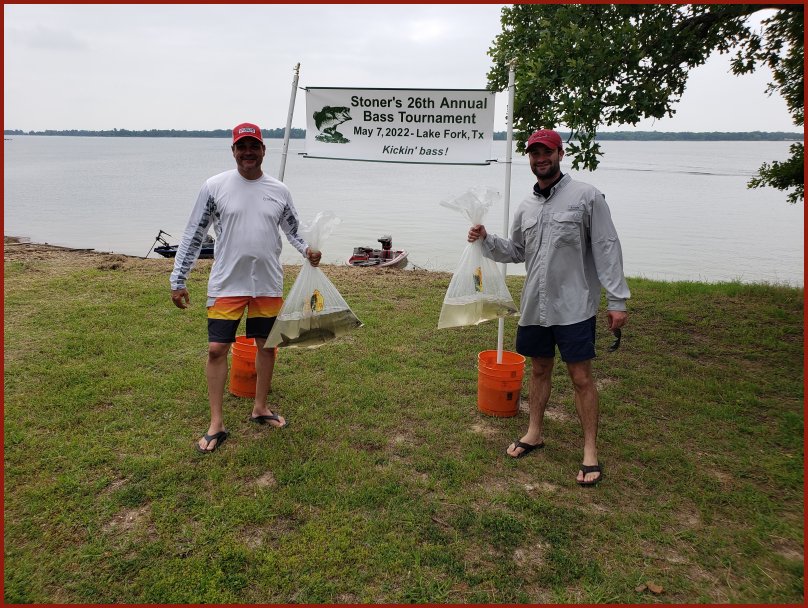 Wayne & Preston Zartman both had nice bags of under-slot fish.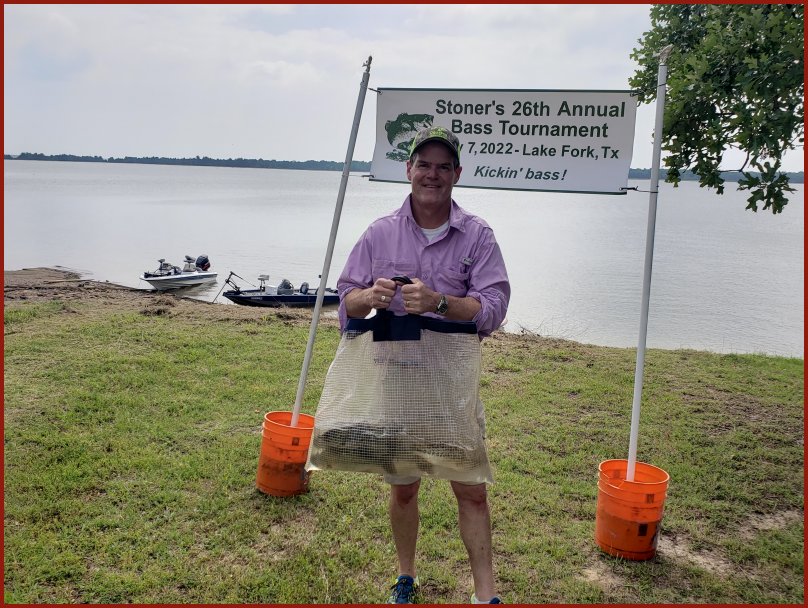 Jeff Cotten, Jr always catches fish. He weighed in a nice 5-fish limit of bass.




Jason cooked burgers and warmed up baked beans while I weighed in people's fish. Thanks Jason!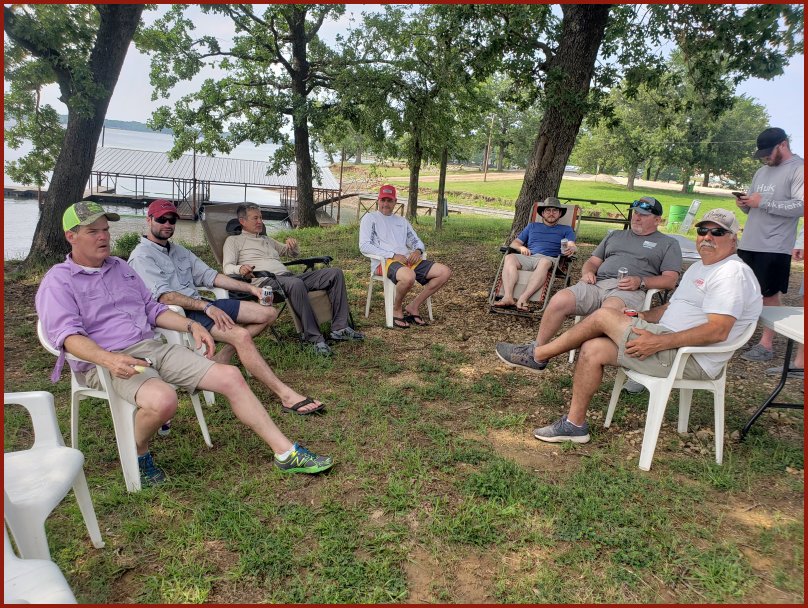 Resting at the post-weigh-in cookout.



Official Results
19 contestants x $20 entry fee = $380 total payout
First Place.........$190....Mike Singletary (8.08 pounds)
Second Place....$95....Wayne Zartman
Big Bass...........$95....Wayne Zartman
Note that I lost the paper score sheet from the tourney - that's why there are no weights listed. But Mike Singletary won with an 8.08 pound stringer, and Wayne Zartman came in 2nd place and Wayne also won the Big Bass Pot.

Contestant

Heaviest
Bass

Total
Stringer Weight

1. Mike Singletary

2. Wayne Zartman

3. Neil Sanders

4. Jeff Cotten, Jr

5. Brad Stone

6. Preston Zartman

7. Jason Hale

8. Jimmy Knight

9. Levi Knight

10. Paul Carson

11. Bob Carson

12. Rick Stevens

13. Larry Stevens

14. David Lewis

15. Mike Lewis

16. Gary Krumbholz

17. Ryan Krumbholz

18. Peyton Boyles

19. Carson Schriber
Note that some contestants may have chosen not to weigh-in their fish if they were small.
Also, some contestants may have caught "slot fish" (currently 16-to-24 inches) that can't be weighed-in.

Return to my home page