Stoner's 3rd Annual Bass Tournament
April 26th, 1997 --- Lake Fork, TX
---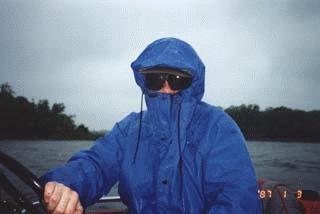 Brad Stone...Or The UNA Bomber?

My tournament this year was quite interesting. It rained over five inches during the tournament and we had winds up to 40 mph! It had been bad weather the previous couple of days so I was shocked that 21 out of 24 paid contestants showed up to fish. As it turned out, plenty of people caught fish that were in the "slot" (14 to 21 inches) but no one caught a legal fish. Thus, there was NO WINNER so I returned everyone's entry fee. Oh well, at least no one got hurt in all the bad weather.
---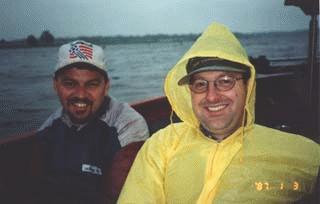 Brian & Gary Trying To Stay Dry

This year I had two friends in my boat, Brian Bergstrom and Gary Krumbholz. Gary caught a nice fish on the ridiculous "banjo minnow"...but the fish was in the slot. I must say that my fishing partners were very good sports that day and we managed to have a lot of laughs...but not a lot of fish.
---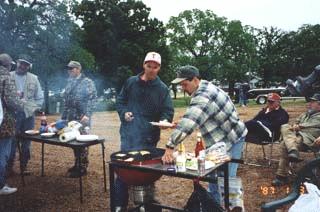 Jeff Cotten, Jr. and Brian Bergstrom Stuffing Their Faces

Thankfully, the rain let up long enough for me to have the post-tournament cookout.
---
Return to my home page