Stoner's 5th Annual Bass Tournament
May 22nd, 1999 --- Lake Fork, TX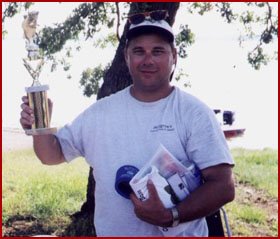 Billy Pettigrew - 1999 Champion

Well, we had great weather for the second year in a row! But the fishing was really awful. The lake had too much water in it so they were letting water out at the dam and that always turns off the bass. Billy just needed two under-slot fish to win first place. At least we had great weather and great burgers after the tourney!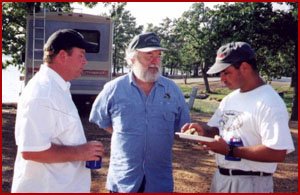 Deep Thoughts

I bet that Neil, Dan and David are discussing the upcoming motorcycle/mountain trip over their beer and burgers.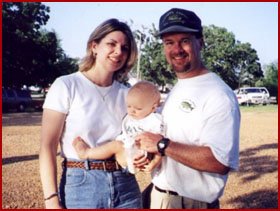 Linda, Robert & Myself

For the second year in a row, my friend Linda came to the weigh-in/cookout with her kids. Her husband, Matt, has fished the tourney twice now...maybe the third time will be the charm.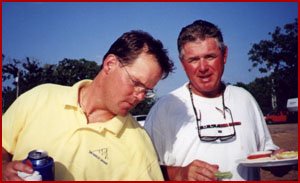 The Two Cottens

Jeff Cotten Jr. and Sr. fished the tourney together this year. Sr admitted to releasing two bass that were around 15 inches because he thought the slot was still 14 to 21 inches instead of 16 to 22. Those fish were legal and would have won him the tourney! Hmmm...is Sr red from being sun burned or just embarrassed?!





Below are three Windows Media video clips I got from Matt McCullough's video camera. Click here if you need the latest version of Microsoft's Windows Media Player.

Tommy Meserole missing a fish.
Tommy Meserole with lure in tree.
Matt McCullough holding an embarrassingly small bass.



Return to my home page