Stoner's 6th Annual Bass Tournament
May 20th, 2000 --- Lake Fork, TX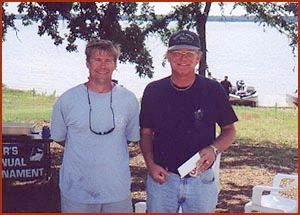 John Bell & Mike Dimond - 2000 Champions

We had a tie for first place this year - to the one hundredth of a pound! The fishing was kinda slow. I think last summer's bass virus coupled with very little grass growing in the lake this year (probably due to low water levels) has really hurt the fishing. But at least the weather was nice again this year. It poured down pretty hard Friday night but the next day was cool, cloudy and NO wind. Couldn't have been better.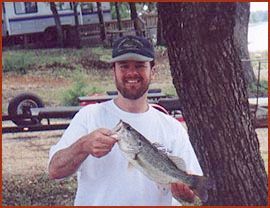 The "Big Bass"

That 1.98 pounder was enough to give me third place AND the Big Bass Pot. I actually had a decent day of fishing - four in the slot plus the above 15.5 incher that was a half inch under the slot. I have to admit that my fishing buddy, Jeff Cotten, put me on most of my fish. Funny how he only caught one fish all day though.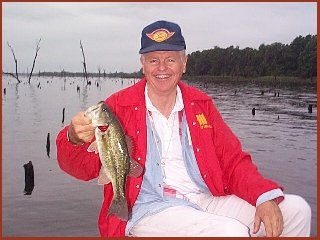 Dale McCullough

My buddy Matt McCullough fished with his dad, Dale, this year. This fish was in the "slot" by just an eighth of an inch and thus had to be thrown back. And thank goodness because I won the Big Bass Pot with my 15.5 inch fish!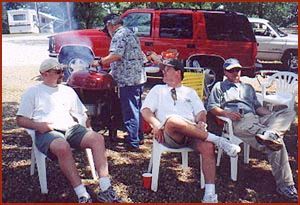 The Post-Tourney Cookout

My dad was nice enough to cook the burgers while I weighed in people's fish. This year the tourney ended at 3pm - a couple of hours earlier than before. This really helped us not get quite as tired. Man, it stinks gettin' old!



Return to my home page