Stoner's 9th Annual Bass Tournament
May 17th, 2003 --- Lake Fork, TX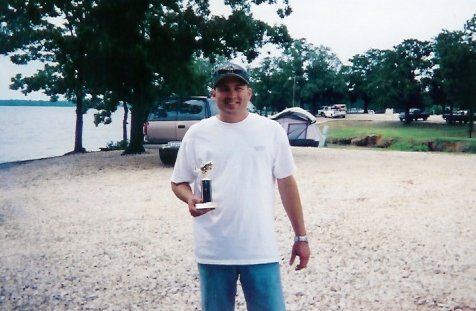 Scott Henry - 2003 Champion

It was another fun tourney! We had decent weather again. It was cloudy and amazingly cool - but the wind was a tad strong. Still, the cool weather was a pleasant surprise. Thanks to a couple of bachelor parties, several contestants that normally fish the tournament couldn't make it this year, but we still had 23 contestants - not bad. There were a lot of fish weighed in, and as you'll see there were several nice slot fish that were caught (but were immediately released, of course). So all in all the fishing was pretty good this year. Scott fished with my buddy Gary Krumbholz this year. Not long before the tourney Gary tore his ACL in half while playing soccer. At the time of the tourney he had not had surgery to fix it, so he was fishing on a bum knee - to say the least. You da man Gary.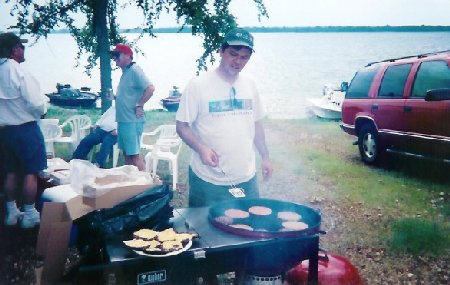 Brian Bergstom

Neil Sanders had to miss the tourney this year but Brian did a fine job stepping in and cooking the burgers. Unfortunately the small bass boat Brian and his brother rented didn't handle the waves too well and both Bergstrom boys were soaked from water crashing over the sides. So I bet Brian at least caught a cold - he sure as hell didn't catch any fish :)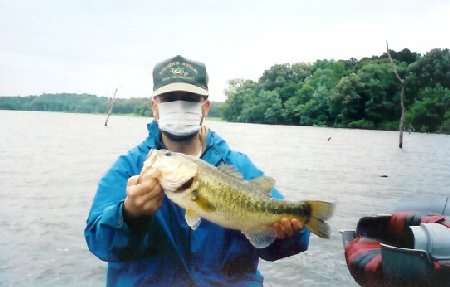 Brad Stone

I have a friend currently living in Taipei who actually contracted SARS several weeks ago and luckily made a full recovery. As a little joke I sent her this picture. That four pounder was the only decent sized fish I caught all day. Of course, it was in the slot so it had to be immediately released. I had the pleasure of fishing with my ol' buddy Jeff Cotten again this tourney. Between the laughs we both were able to catch a few under-slot fish and I even managed to somehow win third place this year.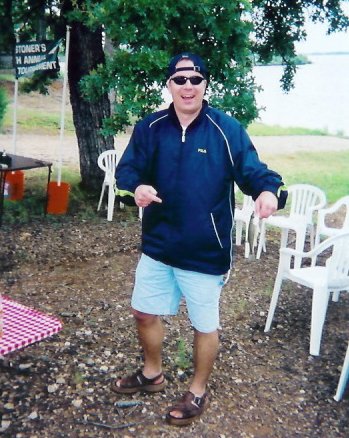 Small Fish Award?

Yes, that's actually a bass that Mike Bergstrom is pointing at. He just couldn't resist weighing in that little minnow. Well, I guess that's one fish more than his big bro weighed in!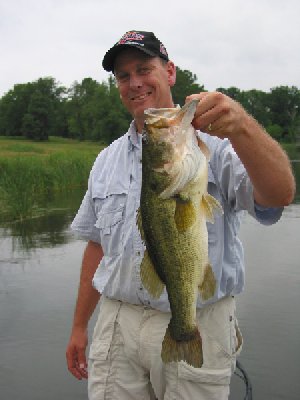 Ken Rawlinson

Ken caught this nice bass while fishing with my buddy Philip Sutton. Unfortunately the fish was in the slot and thus not eligible for the tourney, but I bet it was still a thrill to catch!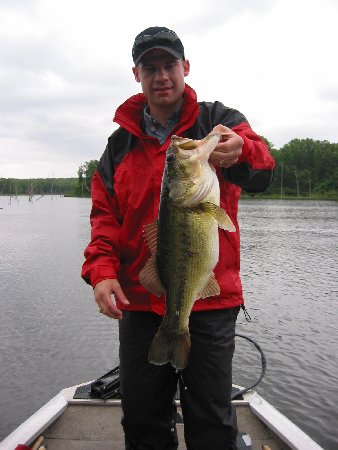 Robert Duren

Here's another very nice slot fish. Robert was fishing with my friend Courtney Moore during the tourney when he caught this healthy six pounder. The first time Robert fished my tourney, he won it. The next year he took second place and this year (his 3rd year) he took fourth place. I have a feeling Robert will be the first person to win this tourney more than once. But I'm gonna give it a hell of a try too :)



Return to my home page