"Sali"
(2002-2006)
Sali was put to sleep on August 16, 2006, she was only four years old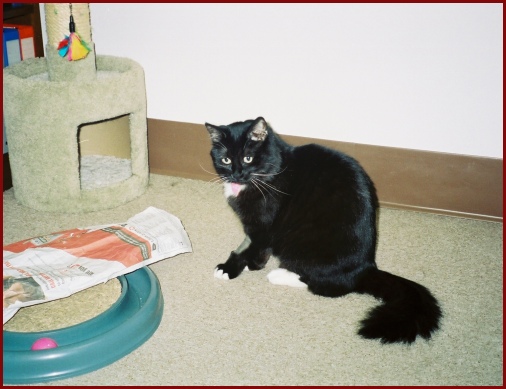 Sali was one of the most extraordinary kitties I have had the pleasure to befriend. She was playful and comical and atheletic and mischievous and confident. People were attracted to her. There won't be another cat quite like her, and when she died on August 16, 2006 she left some big holes in the hearts of a lot of people. She was only four years old. If you want to read a few paragraphs about Sali's short, remarkable life scroll down past the video clips.
Below are some pictures of Sali, followed by several short video clips.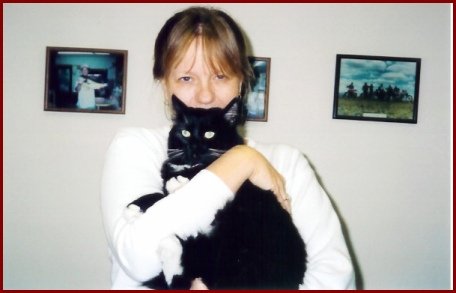 Nancy holding Sali back in March 2004. Sali was roughly one and a half years old.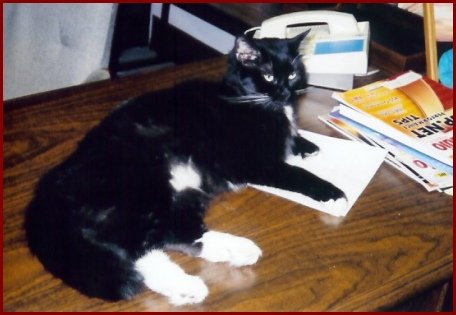 Sali often lounged on my desk - right on top of my work, of course. She's was a fairly head strong kitty - when she got something in her mind, there wasn't much that would stop her. She could be in the middle of playing with a ball and then suddenly decide it was time to eat. If you held her back, you could expect a little "love nip" to let you know she had something else on her mind :)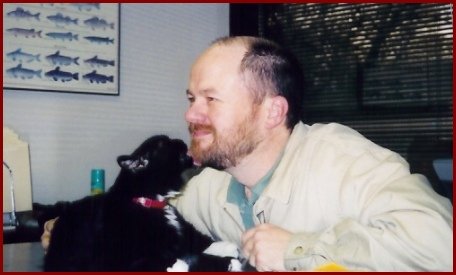 Sali often groomed my head and beard, LOL. I think Sali viewed me as a feline friend, so I was more than happy to let her to do it. She also liked to groomed my arm while I worked at the computer; sometimes she would groom one spot for so long that I'd get a small red rash from her rough tongue :)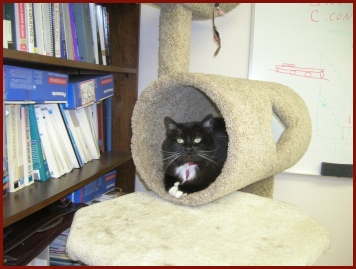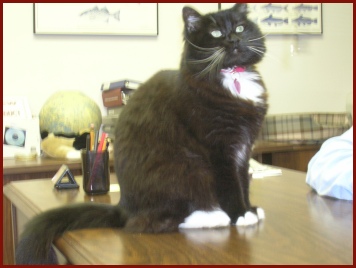 Sali - July 12, 2006 - nearly 4 years old
My mom only got to meet Sali a few times but got such a kick out of her that she came by my office one day to snap these pictures of her. They were the last pictures taken of Sali before she fell ill. I remember mom remarking that day how big and
"fluffy"
and healthy Sali looked. Sali did seem to be the picture of health. I got her to play fairly aggressively that day on her carpeted cat tower (left picture). She loved swatting at the end of the feather stick while up there and she would often get so tickled that she'd leap off the tower and sprint into dad's office. What a toot. Just three weeks after these pictures were taken, Sali showed the first signs of her leukemia. Two weeks after that she was gone.

Windows Media Player Video Clips
If you don't have the latest version of the Windows Media Player you can get the free version by clicking
here
.

Sali's first video (roughly 1 years old) - August 2003

Sali learning to play with feather - August 2003

Sali sleeping with tongue hanging out - August 2003

Sali playing with track-ball & feather - August 2003

Sali pouncing inside Coors Light box - October 2003

Sali playing in my office - March 2004

Sali grooming Brad's head & beard (bad audio) - March 2004

Sali excited after using litter box - March 2004

Sali chasing tail on carpeted tower Part I - May 2005

Sali chasing tail on carpeted tower, Part II - May 2005

Sali's third birthday - August 2005

Sali playing "soccer" - August 2005

Sali investigating new, large cat tower (age 3 and a half) - May 27, 2006
Note that the May 27, 2006 video was taken only a little over two months before Sali showed signs of her leukemia. And two weeks after that, she was gone. So Sali only got to play on that large cat tower for roughly two months - but she played on it hard. It was quite a sight. She would often get on it and meow at me to let me know that she wanted me to come play with the feather there. I was always happy to oblige.

Sali's Story
My friend Nancy and I found Sali wandering around outside our office building back on July 18, 2003. She was a beautiful "tuxedo" kitty with large white paws - especially her hind paws - and gorgeous, long white whiskers. We just had to help this girl out. She was approximately one years old when we took her in off the streets. We got her spayed and vaccinated. While she was at the vets, it was discovered that she had the Feline Leukemia Virus. We had hoped that she would just be a carrier for the virus and thus never actually contract one of the many cancers it often induces. But we would later be proven very wrong. Being a carrier for that virus made it difficult to find a good home for Sali. Cats with that virus could become ill at any moment and they could pass the virus to uninfected cats. I looked into shipping Sali off to an expensive pet sanctuary that provided nice accommodations to cats with the Feline Leukemia Virus. But I soon became far too attached to this sweet - yet endearingly independent gal. I just had to keep her, and I had to keep her away from my house cats so that they couldn't get the virus.
So dad and I decided to keep this spunky gal as our office cat. We named her "Sali" partly because it's the first part of our company's name (Salinon) and partly because one of our clients is Sally Beauty Company. She was such a joy to have around at work. Dad got a real kick out of her - as did Nancy, Kylen, Stan & Rick. I saw more of Sali during my waking hours than I did my cats at home, and soon we were close friends. I could read her visual cues and knew what she was about to do (e.g. yawn, stretch, meow for affection, play with her toys, roll on her back, etc.) before she actually did it. She often groomed my arms or beard - I wanted her to feel like she had a friend so I sure didn't mind it. Sali would let you know - either through "love bites" or "talking" to you - when she wanted you to do something (e.g. love on her or acknowledge her or play with her). She was independent yet headstrong; affectionate yet not sappy. Each morning she joined dad and Rick as they chatted over their morning coffee. Dad loved how graceful she was when she jumped on top of desks and tables. She was creatively playful; constantly coming up with new ways of having fun (playing with balls, sliding on my papers causing her to crash into the blinds, etc.). When Nancy would come over to visit me, Sali would often quietly creep behind Nancy's chair and then leap up to swat Nancy's pony tail, scaring the heck out of Nancy. LOL. Folks who were normally "dog people" fell for this gal. People couldn't get her out of their heads after having met her just once or twice. She was big and beautiful and playful and communicative - she had a presence you could not ignore. She somehow made you feel special by asking you to acknowledge her. She touched people.
On August 3, 2006 Sali fell onto her side and moaned when my friend Nancy came to visit her. I was on vacation at the time, but returned home as quickly as I could. It turned out that Sali was
severely
anemic. After undergoing some tests, including obtaining a small bone marrow sample, it was revealed that Sali had Acute Myeloid Leukemia - a terribly fast moving form of bone marrow cancer. The cancer prevented her red blood cells from maturing; leaving this young, normally-energetic gal suddenly weak and lethargic. The cancer was destroying her white blood cells and platelets too. We gave her a blood transfusion which seemed to give her a small amount of strength for a few days, but her health continued to decline. Her transformation was sudden and severe. During the two weeks that she was sick, she never purred and never meowed. Her once out-spoken voice was silent. I spent most nights with Sali at our office while she was sick. Sometimes she would curl up next to me on my pallet at night, sometimes she wanted to sleep alone under a table in the corner of my office. She was obviously not feeling well. We could get her to lick a little baby food off our finger, but she wasn't eating enough and she was losing weight. The anemia caused her to feel very tired; she rarely walked, she certainly never played. I hired a veterinary nurse to come to my office each day to give Sali her medicines (including a low-dose chemo) - I wanted such things to be as easy on Sali as possible. But Sali's health continued to decline. The prognosis was very bleak; there has been no medicine shown to help cats with this particular form of cancer. There was little hope of her even having a few healthy "good" days, much less a remission. Her oncologist (who is known for giving animals every chance possible) eventually said there was nothing more to try and that if Sali was her cat she would stop giving Sali any medicine. On top of all her other medical problems, Sali was constantly running a high "cancer fever" that we could not abate. That fever surely made Sali feel miserable. And her lethargy was heartbreaking to see; the lack of red blood cells was choking her quality of life. It was becoming hard for me (and everyone else who loved her) to watch her, of all cats, continue to go downhill. On August 16, 2006 - just
two weeks
after first showing outward signs of her leukemia - Sali had an episode where she began gasping for air and her hind legs couldn't support her weight. I had just taken her to get a blood test to see if we could try a second blood transfusion that night or if it could wait until the next morning. I was hoping that another blood transfusion would allow Sali to feel a little better for whatever time she had remaining, but the stress of the simple blood test caused Sali to lose her breath after she got back home. That episode only lasted for 30 minutes or so, but it showed me just how weak she had become. I hated seeing her struggle for air like that. This was all becoming too unfair to Sali - the cat I loved so dang much, the cat that was normally so confident and energetic. That night I had Sali put down. Nancy, Kylen, dad and myself were all with her as she passed away - stroking her and talking to her. She was only four years old, and she had shown signs of her illness for only two weeks. Her loss has been hard to take. Sali is deeply missed by the many people whose lives she so enriched, and I will never forget my special friend.

Other Related Links On My Site:
My Cats' Home Page
The Catrun
The Large Cat Enclosure
Catwalks Inside My House

Return to my cat page