Hill Country Trip - July 2005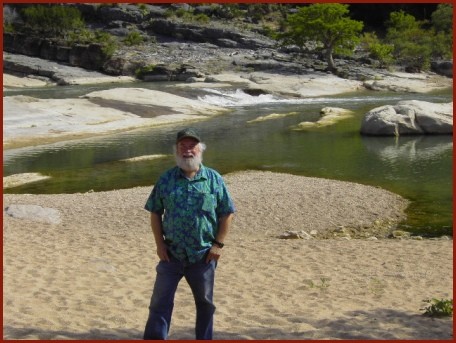 A few years ago Dad & I took a neat Father's Day 2002 trip to the Texas Hill Country. Three years later we took a similar trip. It was early July, so it was very hot, but certainly worth the effort. We saw many really neat places, and the famous Hill Country peaches were wonderful. The fresh homemade peach ice cream from Gold Orchards on Hwy 290 was heavenly. It's the best peach ice cream down there (and we tried several). We ended up bringing several quarts home with us in ice chests packed with dry ice. LOL. I took the above picture of Dad at the Pedernales Falls. The falls are located at a beautiful spot on the Pedernales River near Johnson City, TX. It was fairly dry when we visited, so the falls weren't roaring but it was still a very pretty spot.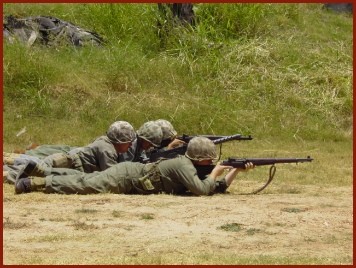 &nbsp
Dad & I stayed both nights in Fredericksburg, TX and we attended a really cool WWII show at the outdoor "Pacific Combat Zone" of the Nimitz Museum in Fredericksburg. I had seen this same show a few years earlier with Jeff & Tracy Cotten, but Dad had not seen it. He loved it - as did I. The folks in the show talked a lot about the different weapons used by the Americans and Japanese - and they did it in a way that was entertaining and very informative. They often fired the guns, with blanks of course. The power of these guns could be felt through out your body, which is what they wanted. They said they want ordinary Americans to learn about the harsh realities of war. It really makes you want to avoid war if at all possible. They finished the show with a demonstration of taking out a concrete Japanese "pill box". This consisted of a coordinated effort of several units laying down all sorts of ground fire and then a flame thrower torching it. Very, very impressive. They do this show 5 or 6 times a year on major holidays.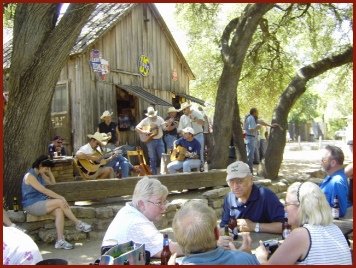 &nbsp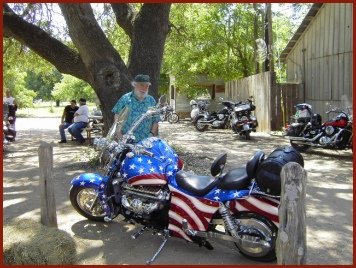 We managed to work in a quick visit to Luckenbach for a couple of beers. What a neat spot! Some locals provided wonderful live music - including a guy playing a washtub bass. There were lots of big street bikes there as usual - including the above patriotic, if not slightly gaudy, hawg that Dad is looking at.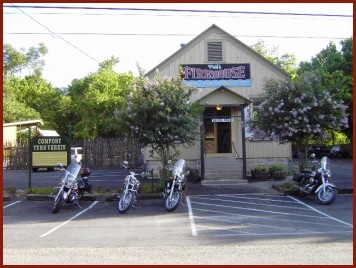 &nbsp
I was able to see a Monte Montgomery show down in Comfort, TX. Comfort is located 25 minutes south of Fredericksburg. My buddy, Jeff Cotten, lives only a few minutes from there so he met me at the show. Monte played at a bar called Phil's Firehouse. What a neat place! It was orginally built back in the 1860's and they added 4 bowling lanes to it (which are still in operation) in 1901. LOL. The outdoor music venue is surrounded by large trees and the cypress-lined Cypress Creek runs nearby. I'll definitely be back. The above right hand picture is of Monte and his band during sound check.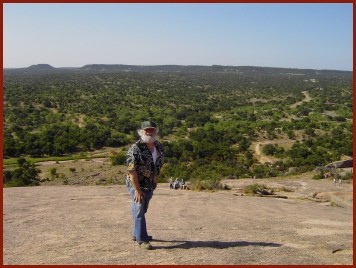 &nbsp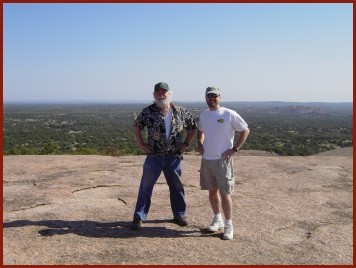 On our way home, Dad and I hiked Enchanted Rock, one of our favorite hikes. It's only about a 30 minute hike up - but it's fairly steep. And because we were there in July, it was hot. Luckily we were there in the morning when it was only 82 degrees instead of 102 degrees which was the predicted high for that day. The view is spectacular from the top. Enchanted Rock is located 30 minutes north of Fredericksburg and 20 minutes south of Llano. Of course, in Llano we ate at our favorite bar-b-que restaurant, the world famous Cooper's Bar-B-Que. Man, that place is good.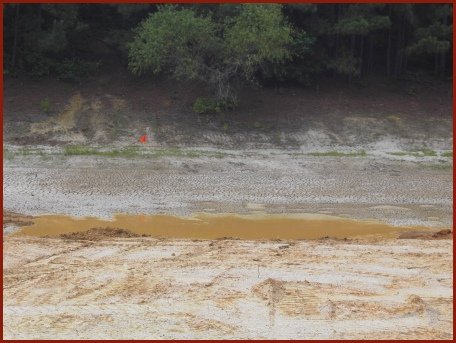 On the way home to Dallas, we learned that east Texas had recently received two inches of rain. We had just hired a guy to try to seal our leaky pond so we were curious if the pond site held any of the water. So we headed all the way over to Brushyland before going home. LOL. It turns out that there were a couple of 6-inch deep puddles - which was actually better than we thought. It had been so dry out there that we figured all the water would have been absorbed. Now that the land is water-logged, it would be a perfect time for a few more rains. That's probably not likely in July in Texas, but a boy can dream :)



Return to my home page