Mountain Trip - September 2001


I was fortunate enough to do two mountain trips this year - click here for the Tincup, CO page.

For the Red River, NM trip described on this page, me, dad, Neil Sanders, David Hood and Chris Agnes went to our favorite mountain getaway. The riding was great and the Aspen were beautiful. Be sure to check out the Windows Media File clips at the bottom of this page.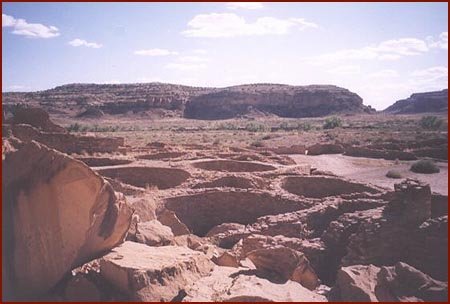 *** Chaco Canyon ***

Dad & I took off a few days before the rest of the group so that we could do a little sight seeing in western New Mexico. We visited Chaco Canyon, the Bandera Volcano & Ice Cave and "Inscription Rock" near El Morro. Great stuff. This picture is of the magnificent structure at Chaco Canyon called Pueblo Bonito which was built by the Anasazi (ancient native Americans) around 800ad.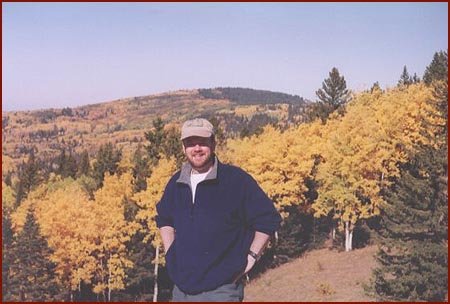 *** Brad Stone ***

Dad & I were driving on Hwy 64 from Chama toward Taos when we saw this beautiful grove of Aspen. We had to stop. The Aspen along this drive were truly amazing.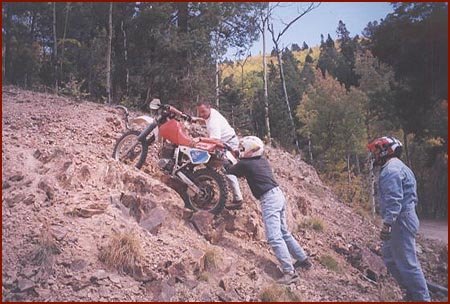 *** No-gas Hill ***

Chris Agnes had a little trouble on ol' No-gas Hill. It ain't an easy hill! That sucker is much steeper than it looks in a photo or on video (check out the Windows Media video at the bottom of the page). That's Chris pushing from behind with David near the handle bars and Neil looking on.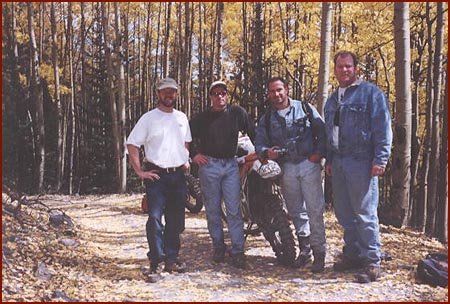 *** The Gruesome Foursome ***

From left to right: Brad, Chris, David, Neil
We were on a trail leading from the top of Mogul Hill and heading for Greenie Peak. Great Aspen!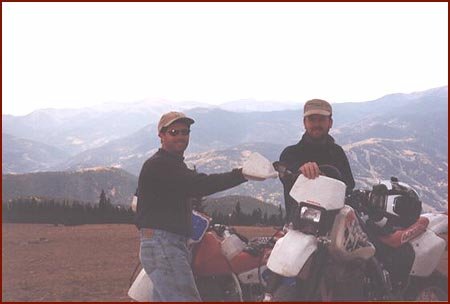 *** Greenie Peak ***
That's Chris (on left) and me. Very pretty spot!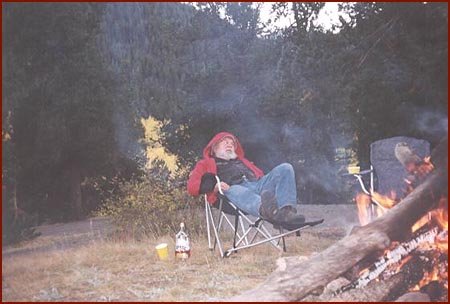 *** Dan on Aspen Hill ***

On the way to Goose Lake there's a beautiful overlook with lots of Aspen trees - so we named it Aspen Hill. And we decided to load down the 4-wheelers and bikes with chairs, charcoal and steaks and had a cookout one night up there. Riding back to our cabins in the dark was a hoot - especially at the creek crossing. Fun stuff.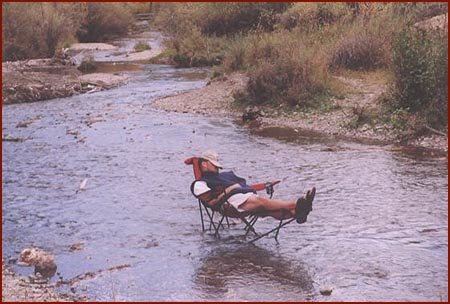 *** David Hood ***

On the last day of the trip everyone decided to take it pretty easy. Well, I got a wild hair and went up Gold Hill by myself. It's a great 30 minute ride and then an hour hike up to the 14th highest point in New Mexico (12,716 ft). I was in constant contact with everyone via my cell phone...so it really wasn't all that dangerous. When I got back from Gold Hill I found David relaxing to the sound of the river underneath him. Very nice.



Windows Media Player Video Clips
If you don't have the Windows Media player you can get the free version by clicking here. On some connections, the video may be a bit jerky as it "buffers" while streaming in the video.   In that case you might let it completely finish and then play it again.



Chris Agnes Attempting "No-Gas Hill" (1 minute, 31 seconds)

Me Cleaning "No-Gas Hill" (43 seconds)

Post-Steak Dinner On "Aspen Hill" (33 seconds)

Riding In Aspen Trees (42 seconds)

Return to my home page