Stoner's 19th Annual Catch & Release
Bass Tournament
June 1st, 2013 --- Lake Fork, TX

Another fun tourney is in the books. It was windy, okay
very
windy. But at least it wasn't hot and humid like
last year
. I held the tournament a couple of weeks later than usual to avoid the thousands of folks who fish the Legends Bass Boat tournament. There were other tournaments on the lake, but it wasn't nearly as crowded as last year. As usual, thanks to all who came out and fished this year - and rented boats, and bought fishing licenses, and bought gear. I know it adds up. But it sure is fun. I'm looking forward to next year's tournament -
the 20th annual tourney !!
See the
Official Results
section at the bottom of this page for a full roster of this year's contestants.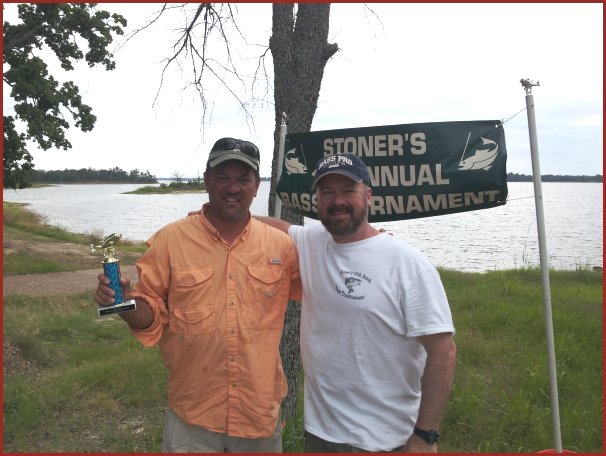 Brian Bergstrom - 2013 Champion
Brian (in the orange shirt) has always been great at catching trout, now he can add bass to that list!

The pre-tourney tradition of eating crawfish at Bro's Patio. That place is a hoot.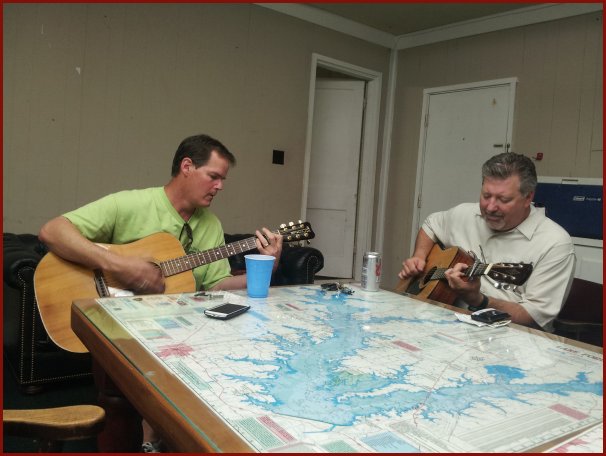 Jeff Cotten and Gary Krumbholz played and sang for us in The Lodge. Fun stuff!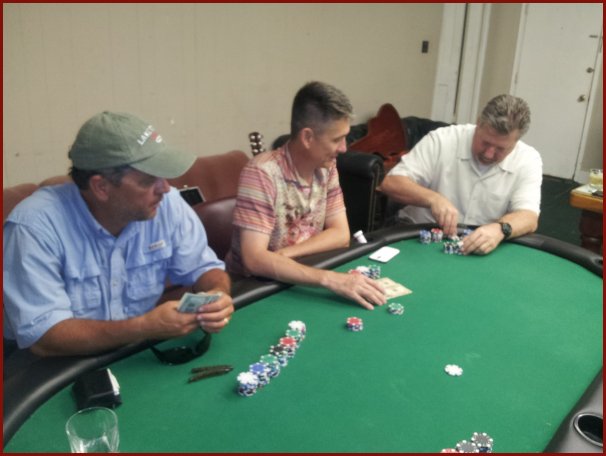 Playing poker in The Lodge. I don't mean to brag, but I was the big winner - to the tune of six bucks!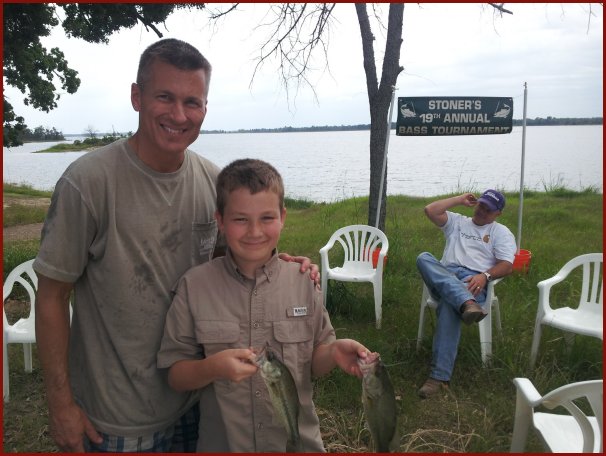 Scott Henry with son, Ryan. I always enjoy seeing the Henry's at the tournament!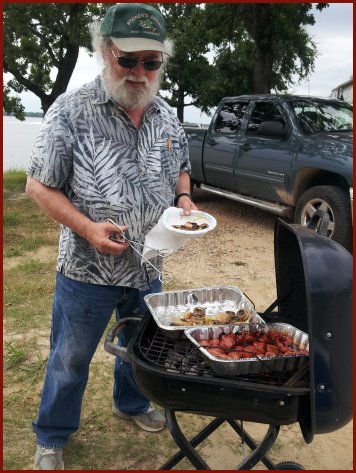 As in previous years, Dad cooked burgers and some fantastic appetizers after the weigh-in. Jeff also lent a hand with the tomatoes and onions. Thanks guys!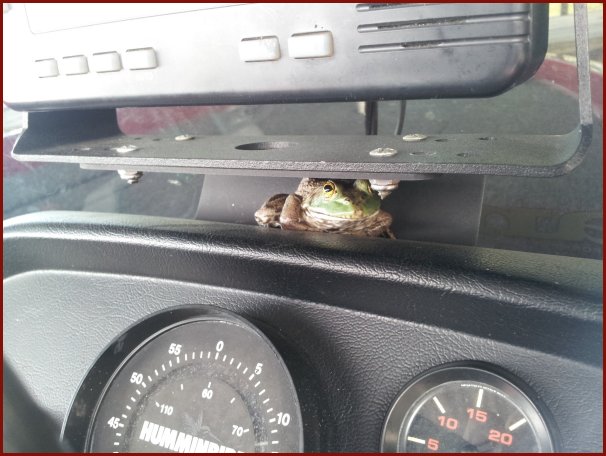 After the tournament, I found this cute little frog hiding out under my graph. After I took its picture, it hopped in the water - but not before peeing all over the dashboard.

Official Results
25 contestants x $20 entry fee = $500 total payout
First Place.........$250....Brian Bergstrom (5.14 pounds)
Second Place....$125....Mike Boydson (4.90 pounds)
Big Bass...........$125....Theron Hall (2.22 pounds)

Contestant

Heaviest
Bass

Total
Stringer Weight

1. Brian Bergstrom

1.98

5.14

2. Mike Boydson

1.64

4.90

3. Theron Hall

2.22

4.20

4. Brad Stone

1.12

2.94

5. Wayne Godwin

1.60

2.80

6. Corey Hall

1.10

1.84

7. Tye Dyess

1.32

1.32

8. Ryan Henry

0.86

1.30

9. Jeff Cotten, Jr.

10. Jimmy Knight

11. Jim Kracht

12. Brice Wilson

13. Jim Rowley

14. Tommy Faulkner

15. Scott Henry

16. Ron Henry, Sr.

17. Ron Henry, Jr.

18. Ronnie Henry

19. Lee Ward

20. Gary Krumbholz

21. Ryan Krumbholz

22. Larry Stevens

23. Rick Stevens

24. Mike Lewis

25. David Lewis
Note that some contestants may have chosen not to weigh-in their fish if they were small.
Also, some contestants may have caught "slot fish" (currently 16-to-24 inches) that can't be weighed-in.

Return to my home page