"Riley"
Riley is currently 10 years old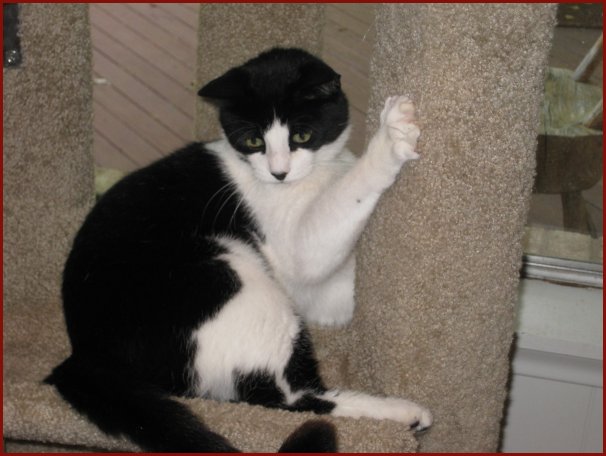 May 2010 - back when he was 2 years old
In May of 2010 my friend Nancy asked if I could foster a 2 year old male kitty that was in need of a home. The previous owner of "Regalito", as he was then called, had taken ill and reluctantly gave him up. After keeping him in my guest bedroom for just a couple of days, I knew I couldn't part with him. He was playful and affectionate and cute as could be. I wanted a different name for him, and Nancy came through like she so often does; she suggested
"Riley"
. Perfect.
Riley is a terrific kitty. Even when he's playing rough with a toy, he instinctively knows to be gentle with my hands. He often raises up like a horse on its hind legs to headbutt my hand as I walk near him. Like many black and white cats (like the late
Sali
) Riley has a big personality. So if he wants in a cabinet, he'll stick with it until he gets in. If I block off an entrance hole on the
catwalks
with a paper plate, he'll chew right through it. Little stinker. He also loves to bring in critters from the outdoor
cat enclosure
including cicadas, lizards and even grass snakes. He keeps life interesting!
Below are some pictures of Riley, followed by several short video clips.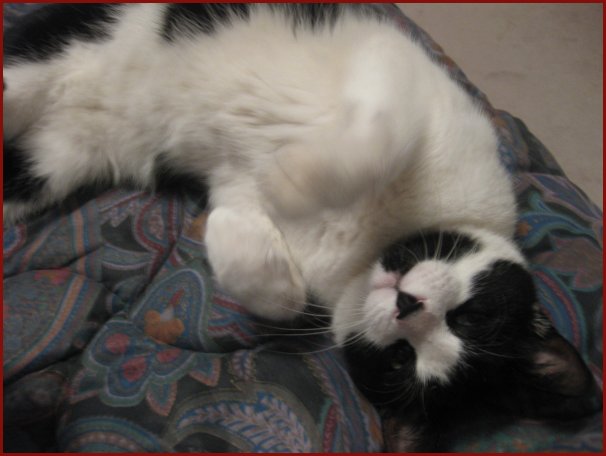 May 2010 - age 2 years
What a handsome guy!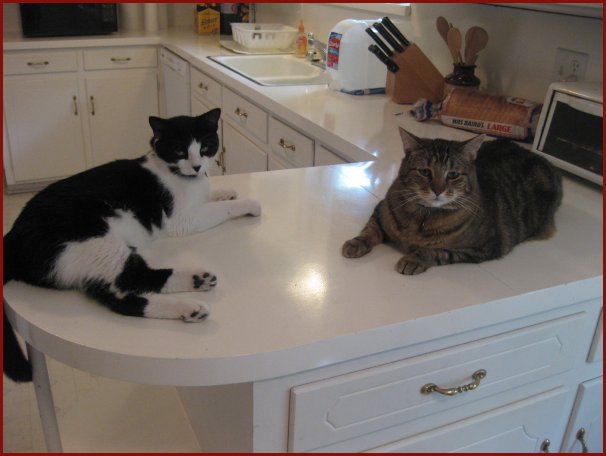 May 2010 - Riley age 2, Josie age 3
That's
Josie
(grey tabby) with Riley. Josie is very affectionate to people, and she tries to be affectionate to other kitties. But cats usually don't care much for Josie. Bless her heart. I think she was separated from her feline mommy at too early an age - so she may not have learned certain cat behaviors. And other cats seem to pick up on this and avoid her. But good ol' Riley likes her just fine. In fact, Riley and Josie became good friends rather quickly, and after just a few months together they began grooming each other (like
Tiger
and
Linda
did oh so many times). Very cool.
Windows Media Player Video Clips
If you don't have the latest version of the Windows Media Player you can get the free version by clicking
here
.

Riley exploring front part of house for first time (age 2 years) - May 18, 2010

Riley entering cat run for first time (age 2 years) - May 23, 2010

Riley in cat enclosure for first time (age 2 years) - May 23, 2010

Josie & Riley grooming (Josie 3 years, Riley 2 years) - August 2010

Josie & Riley grooming (Josie 4 years, Riley 3 years) - April 26, 2011

Josie & Riley grooming (Josie 4 years, Riley 3 years) - May 8, 2011

Other Related Links On My Site:
My Cats' Home Page
The Catrun
The Large Cat Enclosure
Catwalks Inside My House

Return to my cat page